Monochamus sartor: an unwanted pest
Scion is the leading provider of forest-related knowledge in New Zealand
Formerly known as the Forest Research Institute, Scion has been a leader in research relating to forest health for over 50 years. The Rotorua-based Crown Research Institute continues to provide science that will protect all forests from damage caused by insect pests, pathogens and weeds. The information presented below arises from these research activities.
From Forest Health News 122, September 2002.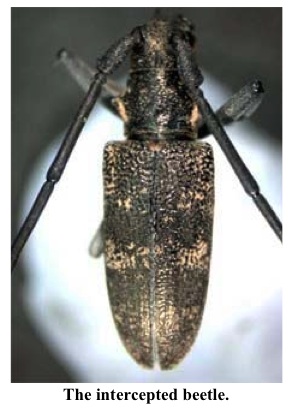 With increased trade there is now a greater awareness of the ability of forest pests such as the Asian longhorn beetle (FHNews 114:2) to hitchhike between countries on forest products such as logs and solid wood packaging (crates, pallets and dunnage). This has prompted more stringent regulation of the procedures governing the transport of these materials (FHNews 118:1-2). However, it has long been appreciated that commodity based border surveillance alone cannot completely protect either forestry or forest ecosystems. That is to say, pests can also arrive on goods that have no obvious forest links, as was demonstrated in a recent report by Gabby Russell of the Australian Quarantine and Inspection Service (AQIS Bulletin 15 (15):2). Gabby's item describes the discovery at Port Botany in Sydney of an exotic longhorn beetle, Monochamus sartor, by port workers unloading a shipping container of glassware, ceramics and tools from Europe.
Monochamus sartor naturally occurs from the European Alps to east Siberia principally on Picea and more rarely on Abies and Pinus species. This wood boring beetle is a timber pest in its own right but also has the potential to vector Bursaphelenchus xylophilus the causal agent of pine wilt disease. Records held at Forest Research show that living M. sartor adults have been intercepted at least four times between 1978 and 1999 at the Port of Auckland. Three of the interceptions where from pallets or cases constructed from pine or spruce, and the fourth from a shipping container. The points of origin of these intercepted beetles were the Soviet Union, Sweden and Italy. The New Zealand and Australian interception data highlight the value of such records in determining the types of organisms that are capable of arriving unsolicited in our region of the world and the pathways they will travel. The Sydney example also draws attention to the need for all workers "at the border" to have biosecurity awareness of potential pests.
Geoff Ridley, Forest Research
&nbsp
This information is intended for general interest only. It is not intended to be a substitute for specific specialist advice on any matter and should not be relied on for that purpose. Scion will not be liable for any direct, indirect, incidental, special, consequential or exemplary damages, loss of profits, or any other intangible losses that result from using the information provided on this site.
(Scion is the trading name of the New Zealand Forest Research Institute Limited.)