The true meaning of life
John Mortimer, New Zealand Tree Grower November 2018.
John and Bunny Mortimer co-authored an article for the NZ Dendrology Society which is the basis of this article, modified for the Tree Grower to produce a shorter account of John's life. John Mortimer passed away in May this year. As can be seen from the article he was a passionate tree man and contributed with distinction to the NZFFA. He was instrumental in establishing the Waikato Branch and served in several positions including branch president before moving up to national president.
I was born in Cambridge, New Zealand in 1924. I went to boarding schools in Hawkes Bay and Whanganui, then enjoyed four years of service in uniform. After World War II, I completed accountancy studies and became a chartered accountant. In 1949 I joined the Colonial Service and was sent to Cambridge University for training before being sent to Uganda.
This was a great place and an interesting job. As an administration officer I spent many hours on safari with a liking for the outdoors. With the British Empire disintegrating and the Colonial Service going the same way, I quit and continued my overseas experience down the Nile by boat, bus, paddle steamer and train, then through Europe to England. Then I took a ship back to New Zealand, although Uganda drew me back and I went there to work on tea plantations for the next three years.
The planting urge
I came back to New Zealand on leave in 1957 and did not go away again. I had met and married Bunny and further trips were put on hold until 1982 when we were both in our late 50s. In 1967 Bunny's father died and a portion of the farm became hers. That is when the planting urge began. Her father always wanted the farm to be 'treed', although he himself and later his son only enjoyed trees as long as someone else planted them.
The opportunity came when we decided to construct a golf course because a lot of trees are needed for a 45-hectare course. Most of the existing farm trees were pines, macrocarpa and eucalypts usually in straight lines alongside fences and ditches. Bunny went to work with books to study, spades to dig and buckets for watering.
There was a range of species that she found suitable but the losses were high − new staff took a while to find how wide a fve-metre gang mower really was.
The urge for trees was also demonstrated in planting the rest of the farm of about 20 hectares although there was another option. We felt that a good investment was to plant radiata pine, so we looked around for a suitable property. The construction of the golf course was a big financial drain, so we needed a cheap piece of land which we found between Hamilton and Raglan. The land was cheap because it was very steep and covered with gorse, blackberry and ferns. In those days the government encouraged forestry and there were some useful financial incentives so we went ahead with our planting. The rundown farm was 107 hectares. Eventually we planted 37 of them and put 48 hectares into the QE II Trust.
We had by this time become very interested in the NZFFA. In due course I was to become the national president and our first conference was in 1968. I still recall Bunny's comments before we booked in for the conference 'That is the sort of conference I would like to attend as there is a lot to see'. That was the way it went. We rarely missed a conference and covered much of New Zealand. Apart from forests there were invariably other non-forestry trees to look at in those four-day events.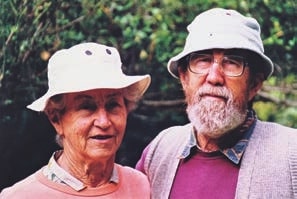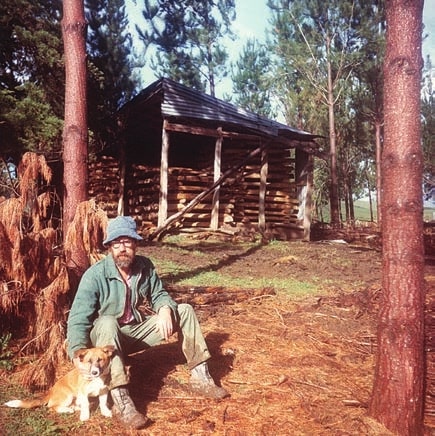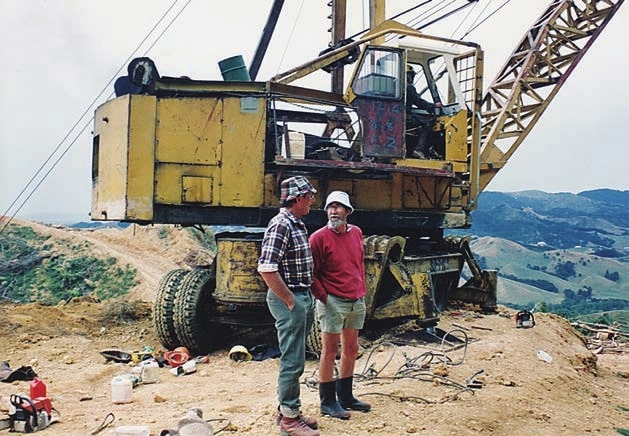 Overseas again
On the golf course we seemed to spend much time working and very little time in making money, so we sold it in 1981. We paid off our debts and with four other partners bought a property near Tauranga. There we lost much of our golf course proceeds to kiwi fruit, but we made some money on our deer although eventually we lost the property. It was a bit shattering at the time but there was a bright note. David McNeil said we should join the International Dendrology Society, which we did.
Our first significant trip overseas was in 1982 and it was a self-organised one. The effect of seeing some of those trees we had read about in the west of the United States was unforgettable − Sequoia sempervirens, Sequoiadendron giganteum, Pinus lambertiana and the bristlecone pine Pinus aristata.
While we were in the UK we met with the Royal Forestry Society and in 1985 they wrote asking if we wanted to go with their China tour which was being arranged by the Chinese Society of Forestry. In 1985 the Chinese hierarchy was not as welcoming as they are now and this 19-day tour was the first one of its type. Our hotel room looked out to a magnificent Pinus bungeana with almost white bark, which as we discovered was very hard to grow in New Zealand. We bought a couple of seedlings from Don Tantrum which were incredibly slow and they sort of disappeared when we moved homes. We had more success with Paulownia. We met up with the leading scientist on that species which is extensively used for animal fodder and timber.
Writing and training
Back at home things were looking up. We enjoyed our Charolais cattle stud, we gave advice to farmers about how to select and plant trees, and we backed that up by writing a book on the subject Trees for the New Zealand Countryside.
I was involved in St Paul's Collegiate School for many years. As chairman, I and the headmaster had major input into the commencement of Tihoi Venture School where all fourth form boys were obliged to spend half a year in all sorts of outdoor activities including time in the bush. More than 4,000 boys have now gone through the school and hopefully many of them developed a feeling for our native trees.
I was also very much involved with a new forestry investment for St Paul's in the King Country. The school cashed in on that planting a couple of years ago and now has about 200 hectares which have been replanted. It took 26 years to get to that first harvest and I am fortunate enough to see it start on the second planting.
For some time I wrote monthly articles for Growing Today, usually on trees. For several years I was on the executive of the NZFFA which regularly took me down to Wellington. One project as president was to oversee the construction of a pavilion named Mortimer Hall at the National Agricultural Fieldays site at Mystery Creek. For 34 years we conscripted NZFFA members for four days to help in our stand at the Fieldays.
Successful harvests
Our own forestry block continued to flourish, and we first harvested in 1989. Then 1993 saw a forestry bonus. It was our second harvesting and the timing was perfect. There was a worldwide shortage of logs and we were able to cash in on the high prices. Every month our bank balance exceeded our expectations.
Flush with funds we joined up with International Dendrology Society and set off again. We joined the Tasmanian tour which we thoroughly enjoyed as we saw parts of the countryside we had not seen before and as usual met some interesting people. The new 45-hectare Tasmanian Arboretum was exciting. It started in 1984 but already had a range of facilities including a labelling and an education centre, all designed for the long-term. Cradle Mountain was a worthwhile visit with lots of cantilevered boardwalks around the water's edge.
It was very dry in 1995 and Bunny was spending more than five hours a day hand-watering at Taitua. We lost some plantings including six out of eight of our Cupressus from Turkey. We took a group of American Forestry Association members over the property and one of them said 'Thank you for that short trip to paradise'. With the continued extension of planting on the property and the range of trees we felt that it was appropriate for it to be termed an arboretum.
We paid off the tax bill and found enough cash to join the 1996 Awesome America Tour, which it was. John Palmer is a forestry professor who has now run several more tours.
Bunny and I were both awarded Queen's Service Medals in 1996 for services to the community. Gallivanting around the world gave me no trouble, but at the end of 1997 a heart attack nearly stopped me doing anything at all. This was solved with a bypass operation and I was back in action again until a severe stroke in 2004.
In the meantime, Bunny and I started to look at all the photographs we had taken, especially those on tree barks, so we published the book Trees and their Bark. A lack of information on non-radiata and non-native timbers also saw us publish A Selection of Alternative Timbers. We have sold almost 4,500 copies of the bark book and recently had a new print run of Alternative Timbers.
Travelling again
In 2009 in our mid-eighties we were surprised to travel again to Europe, for the first time not in cattle class, and we were accompanied by two daughters and a partner as our minders, mentors and porters. Up to this point I have not mentioned children but we did bring up nine. They are for a different story.
My father, Clive Mortimer-Jones, had been the vicar of St Andrews church in Cambridge and he served in World War I as a chaplain. His final posting was at the small village of Le Quesnoy in France. Close to Belgium, this was the last battle for the Kiwis in that war. I did not learn about his time there until his war letters to St Andrews were discovered in 2004. A book on my father, A Strong Sense of Duty, was published by the New Zealand Military Historical Society in 2013.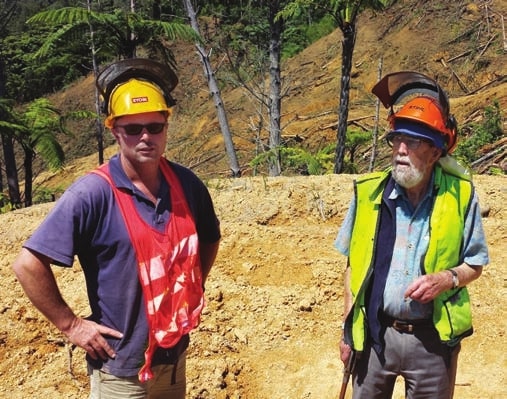 Cashing in the last of our 37 hectares of forestry in 1994 had set us up for any future new housing. We were wondering what should be done with Taitua as it was not suitable to share the property around the family. We wondered about giving it to the people of Hamilton and started negotiations with the city council in 1993. It took about three years until it was agreed that the whole property, including our home, would be given to the city. Although Taitua was in the Waikato district it was more appropriate for the city council to run it because of its parks facilities although the district council had a significant input by upgrading Taitua Road.
The joy of trees
We built a new house on a one-hectare block looking over Rotokauri Lake. Constructed of rammed earth and 15 different timbers it was everything we expected. Getting a bit older and seven years later we moved to a new retirement village overlooking many trees next to Te Rapa Racecourse.
In the meantime, the council upgraded Taitua's infrastructure needs, although with overplanting being evident a full-time arborist would be helpful. For more than 30 years we had planted trees and many of them were flourishing. Maybe we have lost some but there is an overall bonus. Last year there were 100,000 visits to the property and many visitors comment on the joy of being in the trees.
On our forestry block we replanted as we felled and in 2014 we logged the first of our second crop. We are hoping that after final harvesting the 107-hectare property will revert to native bush for the birdlife in perpetuity. As the Greek saying goes, 'He who plants a tree in the shade of which he will never sit has found the true meaning of life.'