Golden Downs forest Douglas-fir trial
New Zealand Tree Grower November 2018.
The following half dozen pages are the remaining the articles on the field days from the NZFFA Nelson conference earlier this year. The conference field days are very important, educational and enjoyable for attendees. On the final day in the morning we had a good look at a long-standing Douglas-fir trial. We then went on to visit the Gavin's property Otira for a very informative and pleasant concluding day to the conference.
On the last day of the Nelson conference the weather was fine, yet again. After a pleasant trip on the bus, the longest of this conference but still quite short, we arrived at the first stop. This was for us to look at some Douglas-fir and to see and hear a bit more about a research trial which has lasted almost 70 years.
The trees we were to see were planted in 1931 with the trial set up in 1949. It was then curtailed in 1982 when the Forest Research Institute decided that they no longer needed it. However, the various forest companies who have owned Golden Downs forest have maintained the process, taking measurements and recording the information, so in effect the trial continues.
The area covered by the experiment is 2.8 hectares and the trees were planted at 1,600 stems a hectare and then thinned to 450 stems a hectare. Three plots have been thinned from what they were in 1949, the fourth was left the same as a control.
Marketing pressure over recent years has led to all the forest around the trial area, except an immediate buffer zone, being clear felled between 1988 and 1994. This has caused changes to the plot with more light in the lower stocked plots encouraging understorey vegetation to become more prevalent. Wind in the un-thinned plot has meant that dead trees blew over prematurely. In 1999 and 2010 numerous dead spars within the control plot were a safety hazard so they were felled. No living stems were removed so this plot could still be considered an untended control even though felled stems are now evident.
| | Plot 1 - control | Plot 2 | Plot 3 | Plot 4 |
| --- | --- | --- | --- | --- |
| Stems per hectare | 451 | 136 | 210 | 210 |
| Average diameter at breast height | 53.9 cm | 81.6 cm | 73.4 cm | 71.8 cm |
| Average piece size | 4.0 cubic metres | 9.6 cubic metres | 7.7 cubic metres | 7.5 cubic metres |
| Volume per hectare | 1804 cubic metres | 1305 cubic metres | 1617 cubic metres | 1575 cubic metres |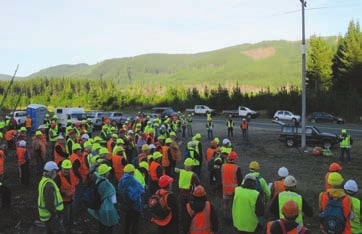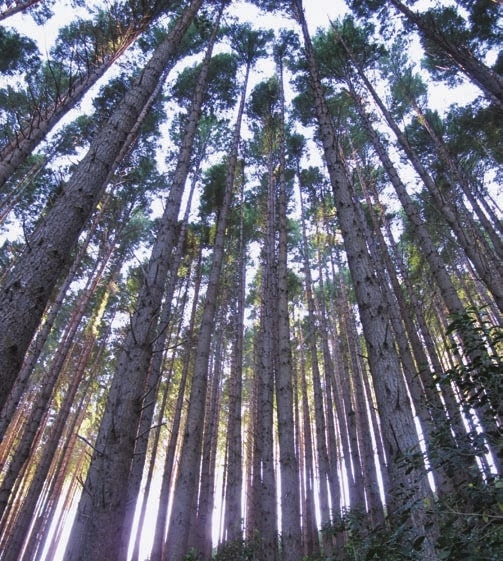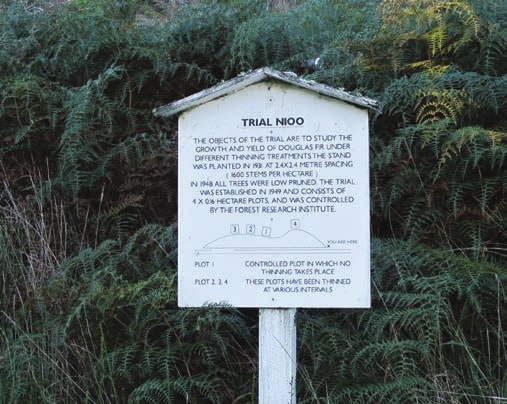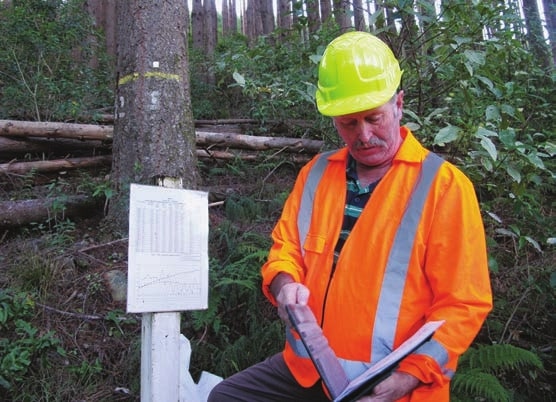 This trial is different from the way Douglas-fir is now planted and tended. However, it does show the potential of Douglas-fr on Nelson sites and provides valuable growth data to help validate and extend the limits of current growth models for the species. The measurements taken in 2010 give the figures shown in the table above.
The previous regime for Douglas-fir carried out by Nelson Forests Ltd included establishment at 1,200 stems a hectare, thinned to waste at between 14 and 17 years to 550 stems a hectare, with the aim of felling at 35 to 41 years. However, in 2002 Nelson Forests stopped planting Douglas-fir because they needed a reliable domestic supply for a sawmill which could get 100,000 logs a year, every year. This would require 10,000 hectares of Douglas-fir harvested on a sustainable basis. But there were only around 2,000 hectares able to produce good enough timber, meaning a sustainable yield of only 20,000 cubic metres a year, well below the amount needed.
We were told that this is a pity because Douglas-fir is much better than radiata pine as a structural timber, although the price is a bit higher. A lot of effort had been put into allowing Douglas-fr to be used untreated in a building and having a timber which does not need the addition of toxic chemicals for a long life should be an important selling point.
Another reason Douglas-fir is not being planted in Golden Downs forest now is that it struggles to compete economically with growing radiata pine although it has a lot of advantages, such as −
Better wind stability
More tolerance of snow
Lower fire risk
Low nutrient requirements
Low form variation
Better protection of erosion prone soils
Low risk of dothistroma and red needle cast
More easily managed for production thinning
Excellent wood quality properties.
Many Douglas-fir are planted by farm foresters in the region. It was suggested that the small-scale owners of Douglas-fir forests should amalgamate or aggregate harvested forests so that a sustainable domestic supply could be made available. This is not a new idea for small-scale forestry in general, but it is not easy to set up.
After the presentation we then walked through the 86-year-old trees. We had to dress in the required high visibility jackets and wear helmets so it was a colourful trail of conference attendees which meandered its way admiring some magnificent trees.