Fire prevention for woodlot owners
Rob Goldring, New Zealand Tree Grower November 2018.
Wildfires in forest plantations, other than being inherently dangerous for fire fighters, cause significant economic loss. They have the potential to spread beyond individual properties, exposing forest owners to considerable financial and business risk. With summer here and an El Nino forecast for New Zealand, it is vital we all take responsibility for doing what we can to prevent fire and reduce risk.
Since Fire and Emergency New Zealand was established in July 2017 we have been working alongside the forestry sector, and with others, to reduce the incidence and consequence of wild fires in forestry plantations. Last year Fire and Emergency NZ signed a plantation forestry rural fire control charter with the New Zealand Forest Owners Association and the NZFFA. Now that the service level agreements with the large forest companies are in place, our immediate focus is NZFFA members.
The Forest Fire Risk Management Guidelines are about to be produced for owners of large forests. They cover the four 'rs' of forest fire risk management – reduction, readiness, response and recovery. A version which is applicable to owners of small forests is planned to be produced within the next 12 months.
Managing the risks of wildfires
Fewer than one per cent of wild fires are started as result of lightning so forestry owners are in control in terms of preventing forest fires You can reduce your risk by being an advocate in your community – make sure you are educated about fire prevention and promote fire permits and keeping to their conditions among your neighbours. A local community working in your favour is an asset. Supportive neighbours are especially important when the forest owner is an absentee owner. Notification of fire problems are more likely to be from good neighbours than official agencies.
Plant a buffer of less easily burned native species around your trees. Manage the site by planting or clearing fire breaks, and keep the understory clear of flammable materials on public road edges, ridgelines or property boundaries. The Scion Flammability of native plants brochure is a useful guide.
Use reputable forestry contractors who follow forestry standards by keeping their machinery clean and well maintained. They should also have working fire extinguishers and good current insurance cover.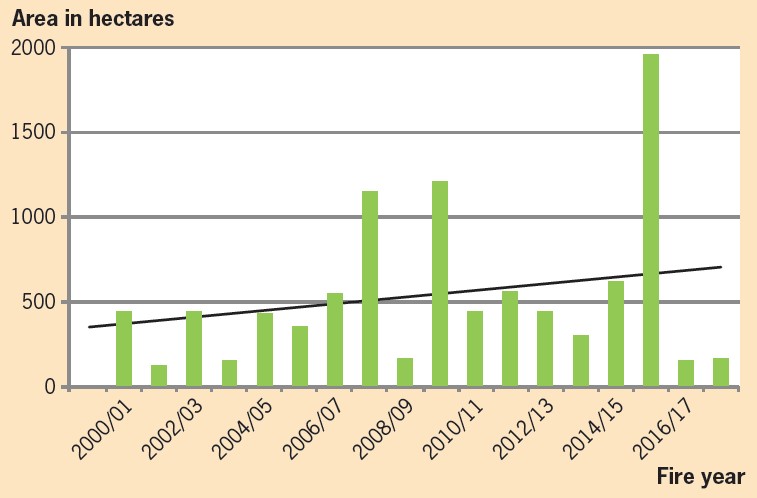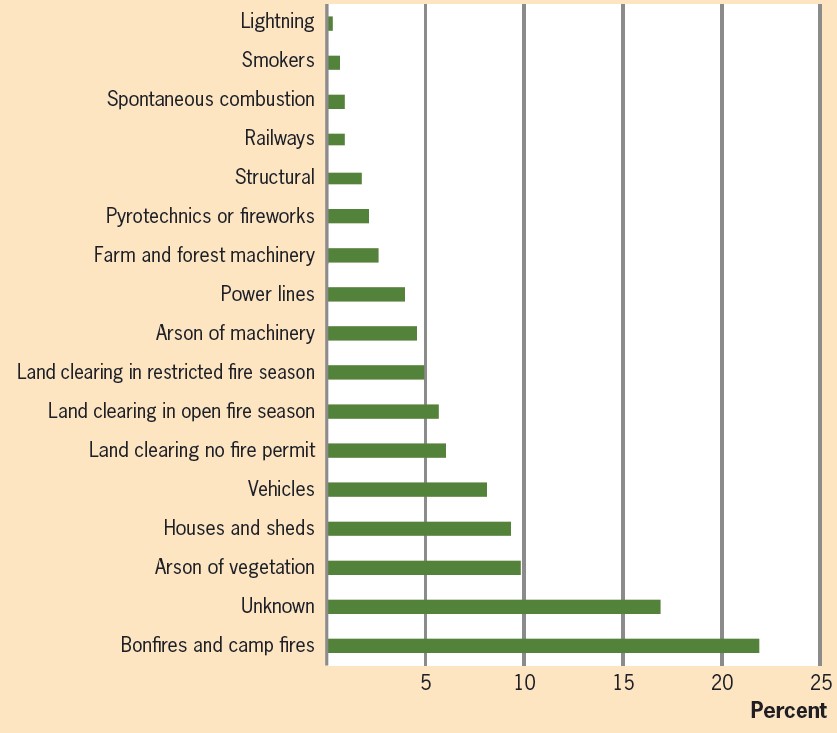 Arson and controlled burns
Unfortunately, arson is now a major cause of forest fires in New Zealand. Locked gates or barriers such as drains, concrete blocks or large trees across entry points will limit vehicles and reduce fire opportunities for vandals. Make it difficult for anyone to park and burn a stolen vehicle, to use your forest for drug cultivation or deliberately set a fire Be vigilant and report suspicious behaviour or report unknown caused small fires
About 20 percent of wild fires are managed fires which have become uncontrolled. Be sure you check your region's fire season status before you consider using fire for land management. You can go to checkitsalright.nz to apply for a permit online or call 0800 658 628. In the past decade, several New Zealand farmers have died as a result of land clearing where a fire got out of control, with the most recent cases resulting in maximum penalties as a result of legal action. Do not burn unless you have full control of the fire
Make sure you have a fire extinguisher, knapsack spray pump or shovel handy when undertaking any forestry operations. These fire-fighting tools are effective for a small fire which has only just started.
Access, good signage and insurance
Internationally, most wild fire fatalities are because people get trapped by fire during the first two hours of the fire getting out of control. One European study concluded that there is no safe position with wind and a pine forest.
In New Zealand, many of our private rural roads and bridges are not constructed to the same standards as public thoroughfares. Most fire trucks are limited to well formed roads and will not travel into forests unless it is safe to do so. It is vital that your property is clearly signed – bridge weight limits, water point access and 'rapid' number – so that fire fighters are able to get to your property in an emergency.
Reassess your financial risks and liabilities and find out if you or your contractors need insurance. A fire could originate in your small forest and spread to a neighbouring larger forest. This is why I suggest you consider you think about appropriate insurance cover. The point of origin or fire cause is the likely target for lawsuits from anyone suffering losses, so it is important to consult your insurance company before making insurance decisions.
If a fire starts
Only try to suppress a fire if it is safe to do so and you are confident you can contain it. Phone 111 immediately. Large fires were once small fires
Giving clear information to Fire and Emergency's communication centres will mean the right fire resources are sent out such as helicopters, fire equipment or heavy machinery.
Clearly state your address, road name number, approximate area burnt, what is burning, what is at risk, as well as the wind direction and strength.
Once you have provided this information, you may wish to −
Advise your neighbours, if they are likely to be affected
Move livestock which may be affected by fire or smoke
Wait at the road gate to give further information to fire fghters.
For any further information about fires and woodlots get in touch with a Fire and Emergency NZ staff member or contact me directly.
Rob Goldring has extensive rural fire management experience within the forestry sector. He is currently the National Advisor Fire Risk Management for Fire and Emergency New Zealand, based in Wellington.