Our timber, our house
Ken Stephens, New Zealand Tree Grower November 2009.
It was with some trepidation that I agreed to relate our experiences of building a house of timber, most of which we had sourced on our property. However, if it encourages other people to use alternative species, it will be worthwhile.
I spent some part of every winter since I left school, and even some winters while still at school, planting and pruning trees, so I could end up either liking or loathing them. I was fortunate to like them, especially the alternative species. No doubt the encouragement from my father would have played a large part.
When the plans for our new house were still only a dream, we decided to use as much of our own timber as possible in the construction. Realising that the lead time required to properly dry the timber naturally before it could be used was something like a year for every 25 mm of thickness, felling and sawing of required trees was set in motion.
The majority of the timber required was macrocarpa for window and door frames, doors, architraves, skirting, some ceilings and the office and kitchen joinery. We also used macrocarpa for a feature weatherboard wall.
Structurally, 162 lengths of 200 mm by 50 mm, each 4.8 metres long were used as floor joists and roof beams. One of our South Otago Woodwork Club members, Seaton Mills, made all the stairway joinery to a pattern we saw at Matakohe. Coinciding with the building of the house was the renovation of a woolshed. The builder required a number of 300 mm by 50 mm beams seven metres long as well as some other timber of smaller dimensions.
With a sawing list of the timber required for the two tasks, felling the trees began. We were fortunate to have inherited a closely planted row of macrocarpa around 100 years old when we purchased a property some years ago. We were also fortunate to obtain the services of a portable mill operator who had a skidder and a good level of skill. He specialises in milling macrocarpa.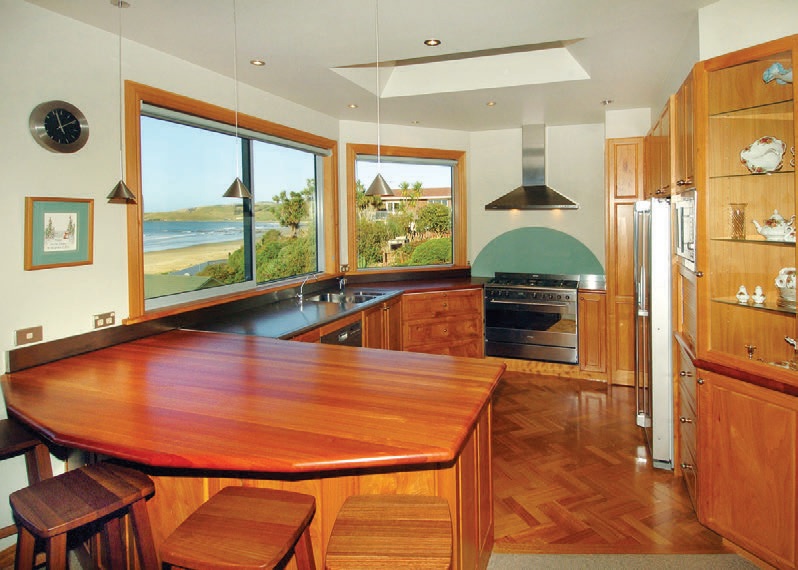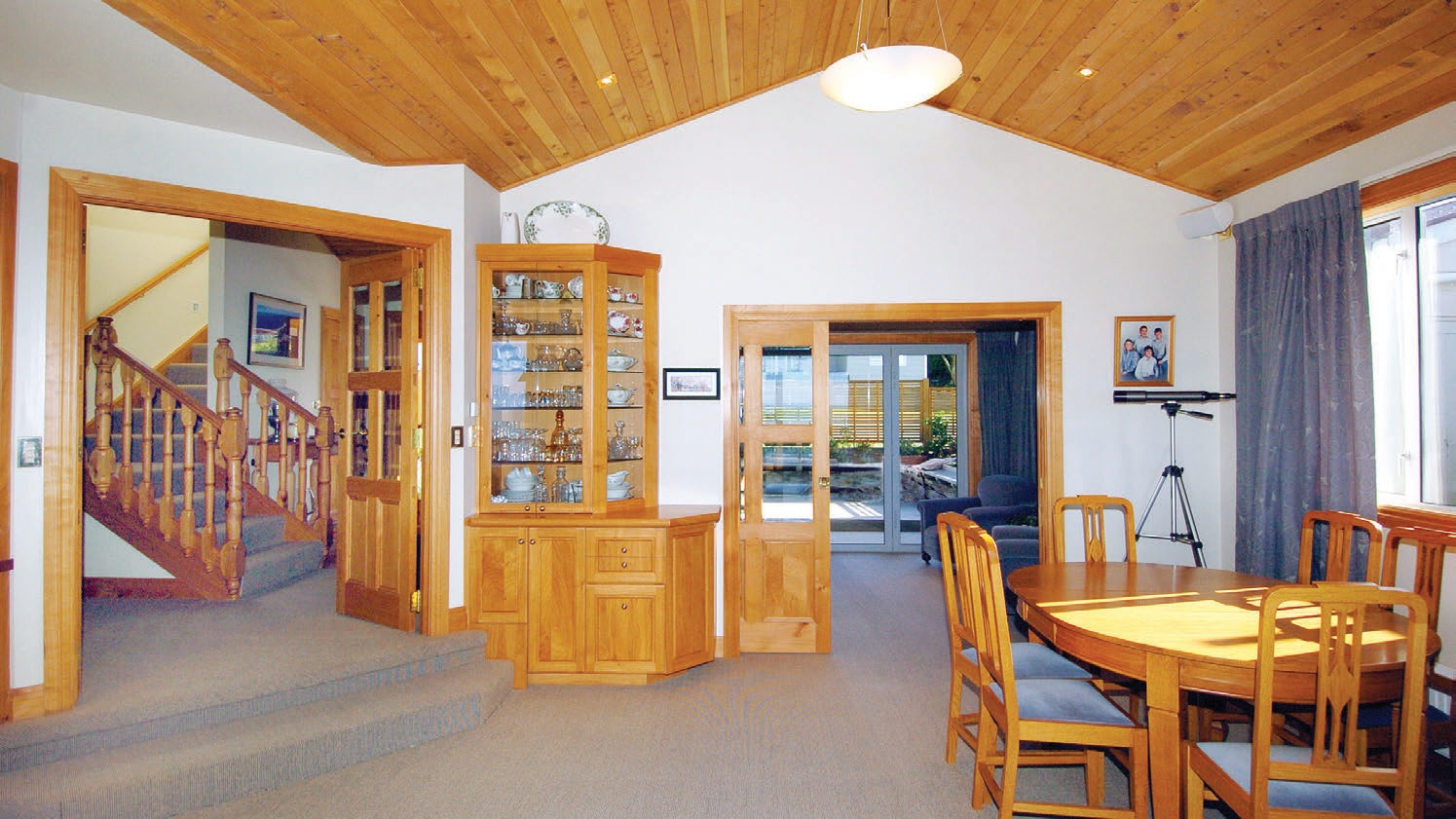 While there was a fair amount of characteristic fluting in the lower trunks, the fact that the trees were close together had encouraged a good level of self pruning and a reasonably good quantity of clear and dressing grades. The balance of the timber was sawn into useful dimensions, especially the clears and dressing quality. In total, we ended up with just over 40 cubic metres of sawn timber, some of which we sold to help pay for the sawing.
Stacking and drying
The next important step was the strip stacking of all the timber required for the house in a Dutch barn. We were well advised to paint the ends of all the boards to prevent end- checking. For this we used an old pail of acrylic undercoat.
The result was amazing, with no end splitting at all. Plenty of air movement under and around the timber while stacked for two-and-a-half years resulted in evenly dried timber which has been very stable.
Our next stroke of luck was to acquire the services of a very good machinist at Stuart Timber, Tapanui, who dressed the timber to a standard which needed little or no sanding.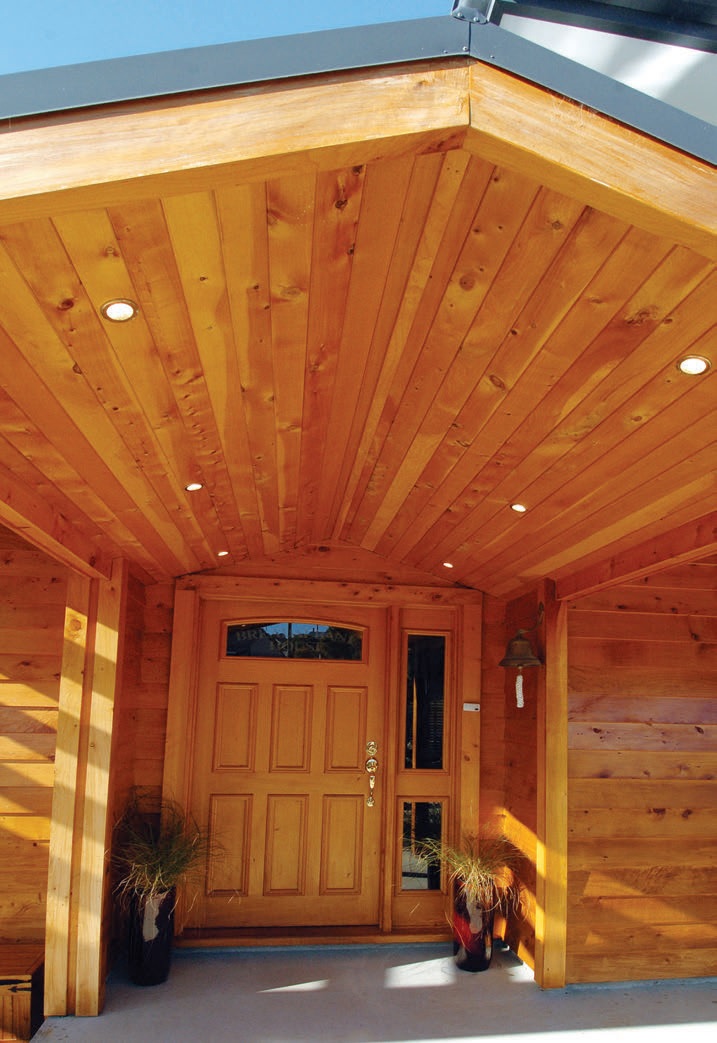 Other timber
The only timber which we purchased for the house was the Douglas fir framing and we were able to use our own tanalised 100 mm by 50 mm plates as in the building specifications. As a consequence of re-modelling the woolshed, we discovered several lengths of 150 mm by 50 mm heart rimu which had obviously been left under the shed when it was originally built in 1950 and was very dry. We used it for our ensuite joinery. The joinery in another bathroom was built by our son-in-law out of old totara posts from the farm.
All the doors, including our front door, and kitchen and office joinery were manufactured by Graham Wallace. We used Eucalyptus saligna from Kings in Carterton for bench tops.
As a result of a visit to the Davies-Colleys at Whangerei, we decided to use E. obliqua for parquet flooring in the kitchen and front entrance.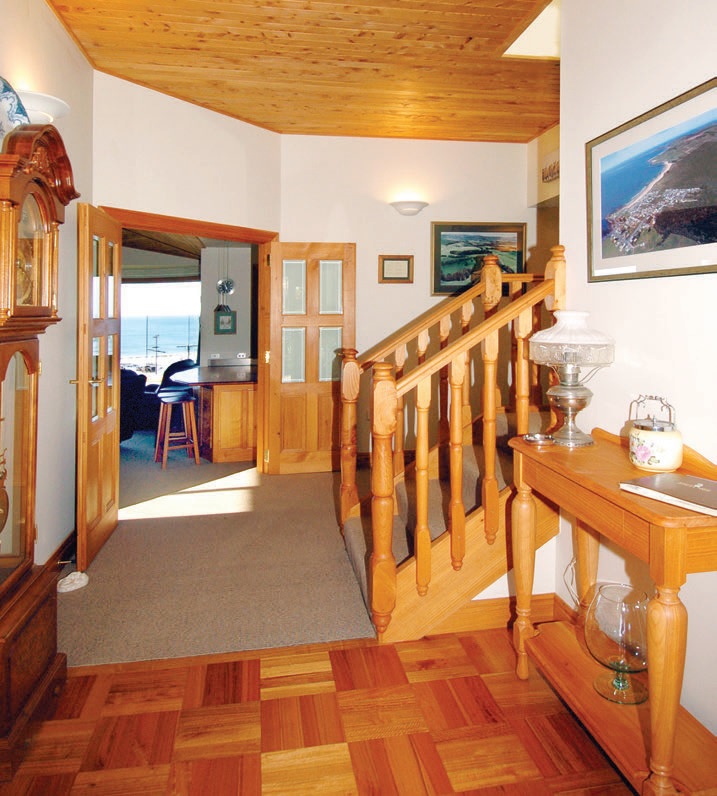 The final part of the project has been building some office shelving and bookcases, made from clear heart macrocarpa from trees which my father and I planted in 1965. These trees had been well pruned and two of the largest blew down in a storm three years ago.
We were very happy with the way the timber seasoned and machined and would recommend using cypress to anyone. We are grateful to the tradesmen, who all enjoyed working with the timber. It proved that macrocarpa is a good versatile timber for structural and joinery use.