Husqvarna South Island Farm Foresters of the Year 2011 - Neil and Pam Cullen
Ian Jackson, New Zealand Tree Grower May 2011.
New Zealand has numerous isolated valleys which are farmed to varying degrees, and have tremendous potential for forest development. One such valley is the Glenomaru Valley in South Otago, 25 km southeast of Balclutha and 10 km north of Owaka.
The upper half of the Glenomaru Valley is farmed by Neil and Pam Cullen who are this year's winners of the South Island Husqvarna Farm Foresters of the Year award. They farm Glenmore, which is two main ridges and a valley bottom, covering a total of 648 hectares.
The property is made up of 160 hectares in cultivated pasture, 250 hectares developed hill country, 130 hectares in indigenous forest, and 110 hectares in exotic forest species. With farm and forests of both indigenous and exotic species, Glenmore provides many magnificent vistas. The plantings have been made sympathetically with the landscape, and the view down the valley to the sea.
Neil and Pam have three adult children who have professions off farm. Neil and Pam are both actively involved in community affairs and cultural activities, while Pam is a teacher at South Otago High School in Balclutha. Neil has been active in the South Otago Farm Forestry Association for over 20 years, and has been on the National Executive since 2006.
They received the Landcare/ Transpower award for sustainable farm forestry in 2006. Neil has a continuing involvement in the Clutha-Agricultural Development Board, which began in the 1980s with the aim of improving profitability on sheep farms. This has included four years as its chairman.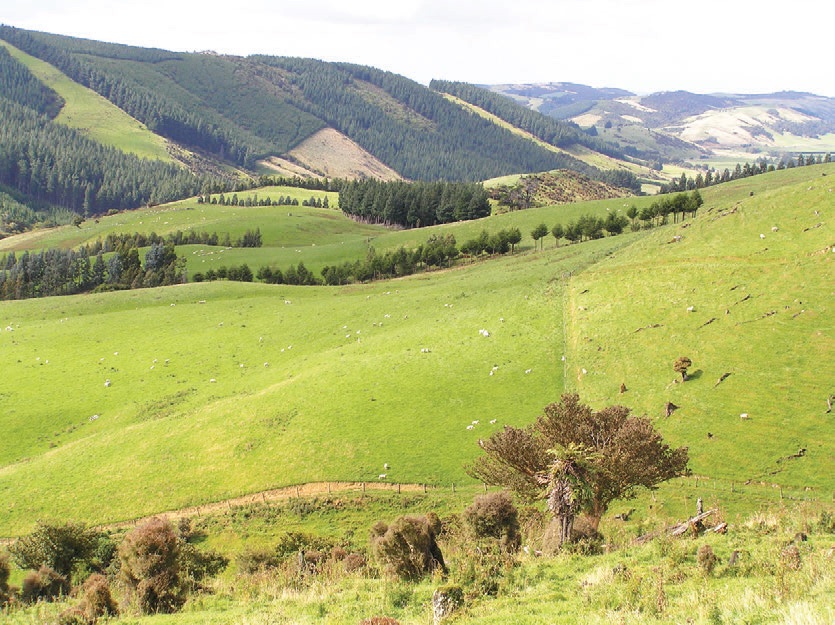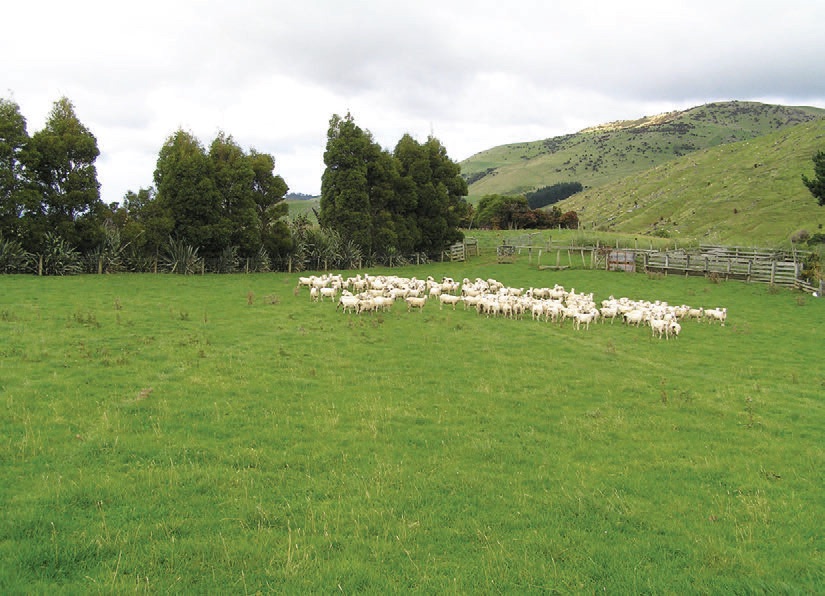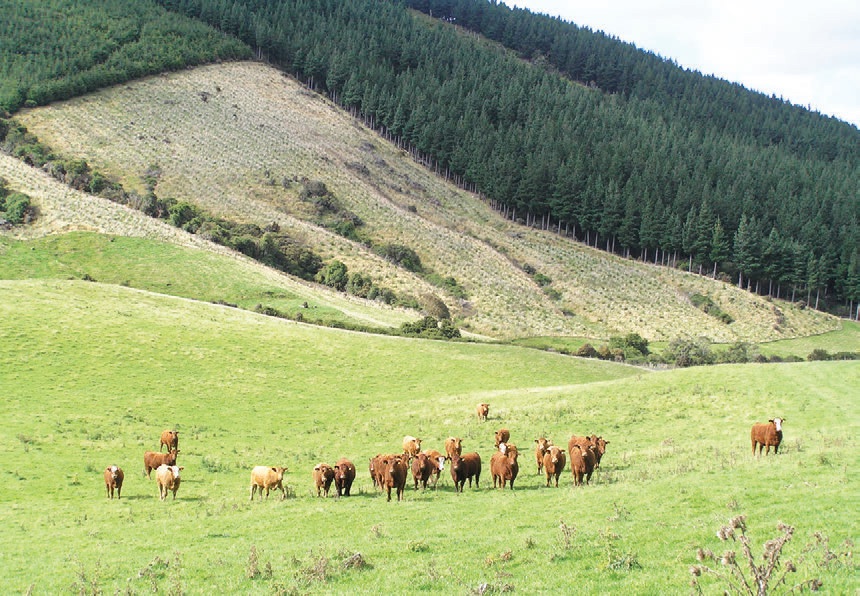 Family partnership
The Glenmore property was purchased in 1970 as a family partnership while Neil and Pam farmed at Lovell's flat, near Milton. They managed the property with a brother and their father. They bought the property outright in 1993 and in 1996 Neil and Pam also purchased a neighbouring 110 hectares.
While there are some fertile river valley soils, much of the land is made up of steep hill country yellow brown earths, and peat recently developed out of heavy bush. The property ranges in altitude from 50 metres above sea level to 450 metres above sea level. It is only 10 kilometres from the coast and no hard frosts occur, however a couple of snow falls are recorded each year which may cause tree damage. The soil overlays shaley rock and rocky outcrops occur on the hills.
Bush cleared
The farm was quite undeveloped in 1970 with a lot of bush clearing required which was carried out with the aid of a Land Development Encouragement loan. The original cover was of a mixed podocarp forest which had been logged in the 1950s and 1960s with totara, rimu, and matai extracted. Stumps of these are still prominent on the hill country. Large areas produced poor pasture and were prone to bracken invasion which cows helped to reduce. Fortunately gorse has not encroached into the valley although it would grow here very well.
The Cullen's run 2800 ewes, bred from a Perendale base, achieving 140 per cent lambing. They also run 95 cows with all stock finished on the property. A total of 90 hectares is deer fenced and 47 weaners were run in 2010. But no deer are farmed now because of TB problems and damage to waterways, soils, and trees.
Forestry
| | |
| --- | --- |
| Indigenous forest | 130 hectares |
| Radiata pine | 86.5 hectares |
| Douglas fir | 14 hectares |
| Cypress species | 7.5 hectares |
| Other species | 2.0 hectares |
The Cullens have significant areas of forest all well maintained and of high quality. The areas of species grown are in the table.
The Cullens have registered their forests under the ETS and claimed their credits. But they are not necessarily intending to sell all of them, although some credits have been sold this year to finance future planting. An application for an AGS was recently declined, because of questions about the state of a resident pepper tree in 1990 and whether 30 per cent of the area was covered at that time.
Radiata pine
When Neil and Pam purchased the property in 1993, there were 45 hectares of radiata pine which were then harvested. This was at the time of the price spike, and 700 tonnes per hectare of logs return $44,000 net per hectare. The area of radiata pine has been increased by planting areas not suited to livestock grazing and now represents a sizable asset. Eleven hectares of 31-year-old trees are now ready for harvest.
All trees have been pruned and thinned to produce high quality clear wood, with predominantly GF 17 seed stock being planted. Neil aims at a stand density of 350 stems per hectare and pruning to six metres. The area grows short fat trees but with the high rainfall, large volumes are achieved.
The trees grow large branches, but south west winds can be a problem causing wind damage, top breakage and toppling in wet soils. Trees have been planted on infertile ridges and steep faces, in peat soils and bracken prone areas. Trees are definitely the best and most economic use of these areas.
Cypress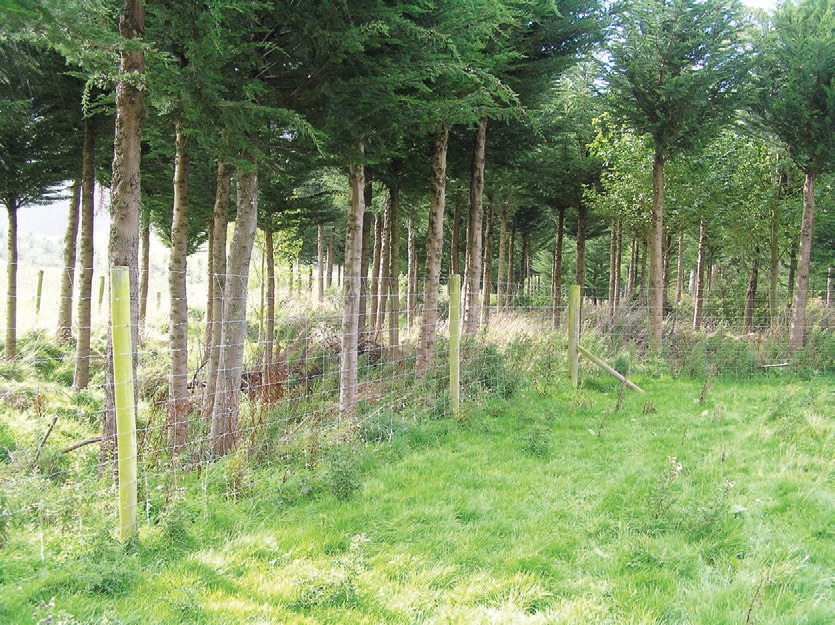 Neil has considerable interest in cypress species which perform well in this area. Originally macrocarpa was planted, but the form was variable with big branching and short fat trees resulting. Cypress canker appears to be of little problem.
Ovensii is showing good form and lusitanica grows well. In a cypress trial a cross of Cupressus torulosa and C. lusitanica bred by Dean Satchell look promising and at 18 months of age are between one and two metres tall. The Ferndown clone of Leyland cypress has been planted in several areas.
Other species
A multitude of other timber species are being grown on Glenmore. The area grows very good Douglas fir and the Cullens have 14 hectares of this species in various age classes. These will ultimately produce high volumes of high quality wood on these south faces. There is a redwood trial with the Kuser strains which do not look to be doing very well, with a nearby seedling block of redwood showing better growth and form. With the proximity to the coast and the high rainfall redwood is likely to grow well here. Numerous eucalypt species are being grown, both for shelter and timber production. Sitka spruce has been tried in several areas and so far does not show insect damage.
Shelter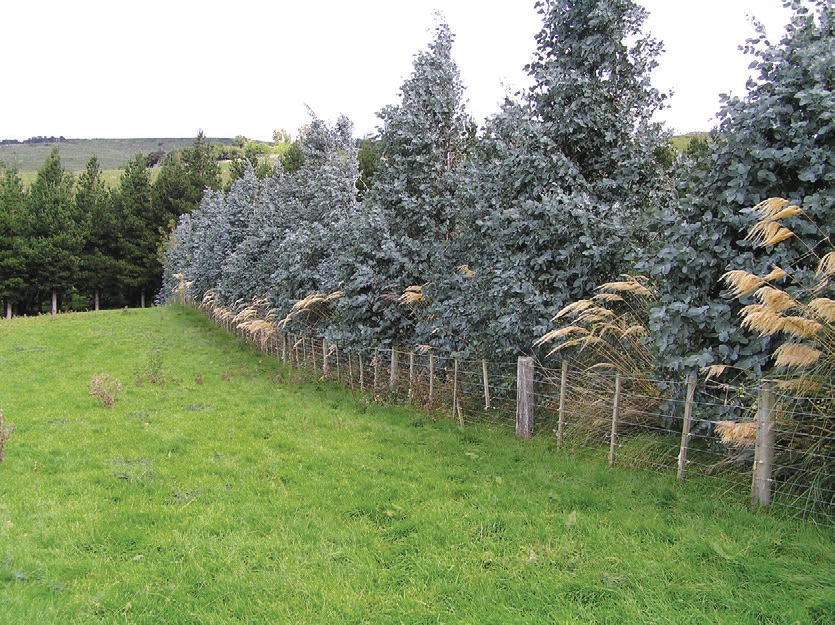 As well as the forested areas and woodlots the Cullens have planted 2.5 kilometres of shelter. Species used include Eucalyptus cordata, E. johnstonii, flax, macrocarpa, poplar, and radiata. With the natural topography and strategic shelterbelts, Glenmore is a well sheltered property. This was recognised at the 2000 South Otago farm forestry conference, where the Cullens received the Neil Barr award for excellence in farm forestry.
QEII covenants and riparian plantings
As some areas are recently developed out of bush and there is some difficult steep country in places, significant areas of indigenous forest still remain. This includes 130 hectares of which there are now 90 hectares under QEII covenants. These are impressive with a multitude of species including rata, matai, totara, kamahi, mahoe, pepperwood, fuscia, kowhai and pittosoprum now being protected from grazing animals. Adjoining the property on the upper limits of the valley is the DOC Glenomaru bush reserve, a significant area of thick bush, which provides a magnificent backdrop to Glenmore farm.
The Glenomaru creek flows down the valley bottom for the entire length of the farm. This is a very picturesque stony and rocky bottom creek. Neil and Pam are endeavouring to fence and plant this creek. Much of this has been done, mostly with indigenous species in areas other than where forests are beside the creek. Species used include flax, toi toi, kowhai, olearia, coprosma, pittosporum, cabbage trees and totara. Several ponds and wet areas have also been fenced and planted.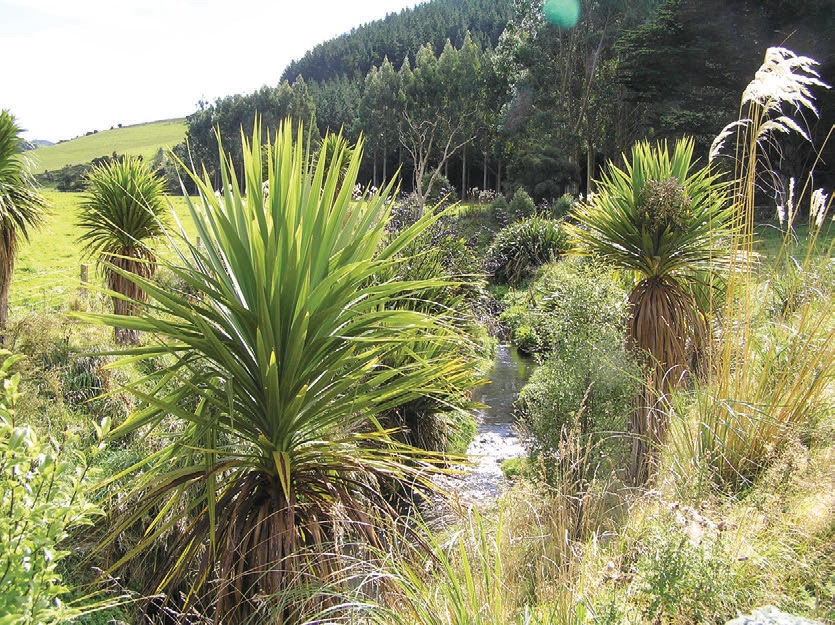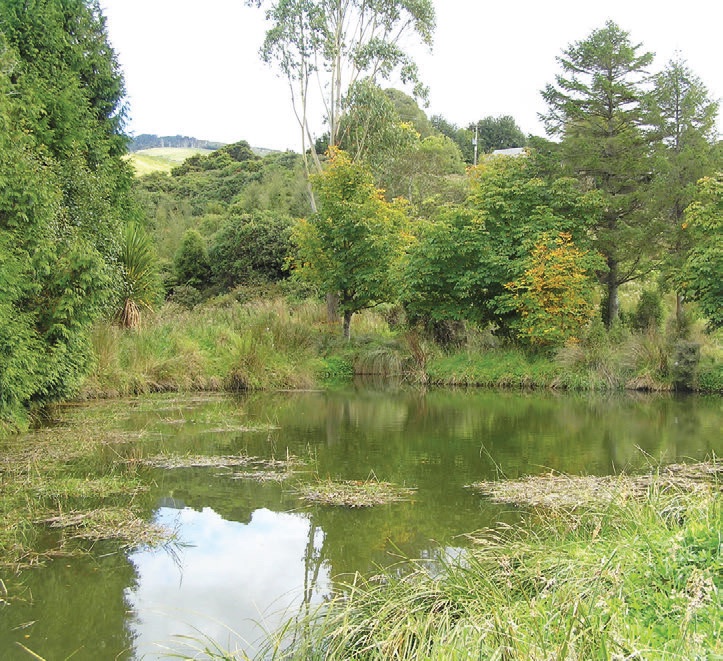 Future plantings
A further planting of 30 to 40 hectares of Douglas fir and cypress hybrids are planned for the next two years. The Douglas fir will be of the Pomohaka strain which was produced by Ernslaw One. In addition, beside this area about 10 hectares will be allowed to revert back to indigenous bush and ultimately forest.
Route to succession
Glenmore is an impressive forest farm and an asset that Neil and Pam Cullen have built up over many years. It is a high producing livestock farm in its own right, but in future years the value of timber production is likely to surpass the livestock.
With much of the forestry on one ridge and the farm on another it provides a valuable and possible path to retirement or succession. The farm area could be sold and the significant forests retained, providing a sustainable harvest and income in perpetuity. Overall Glenmore is an excellent example of farm, forestry and conservation in operation in an appealing environment, and is a credit to the Cullens.