Japanese cedar comeback
David Sampson, New Zealand Tree Grower May 2008.
Some years ago, Cedar Lodge Nurseries started growing Cryptomeria japonica Japanese cedar by cutting propagation. However it was not until early customers started coming back and reporting on the exceptional performances achieved that we really believed we were on to something. As a result, we now have a demand for our selected cutting grown Cryptomeria in the tens of thousands.
Special clone
Many years ago when the horticultural boom started in Taranaki, people copied what was planted in the Bay of Plenty and used willows and Cryptomeria. These seedlings did not do at all well in Taranaki's strong winds. The growth performances were very irregular within the row, with some trees struggling even to survive. The idea soon developed that these seedling grown Cryptomeria were not suitable for Taranaki conditions.
However, the advent of cutting-grown plants has seen trees all belonging to one clone from only one parent plant that was selected by us for its form and vigour. We now have a young adult tree that bypasses the delicate juvenile stage. The result is that the young tree grows strongly, withstanding all winds except those severely salt-laden. This clone we have called Cryptomeria japonica Egmont. We have trademarked the name Egmont, meaning that a licence to produce the clone is required.
The growth rate of the cutting grown Egmont is not far behind that of the fast growing cypress Leighton Green. We use them extensively as shelter around our nursery. The trees are evenly shaped with compact upright form. In fact you can almost put a spirit level across the tops, they are so even.
Cryptomeria withstands heavy trimming well and can be kept very narrow. It filters the wind rather than creating a solid barrier that creates turbulence on the windward side. Many thousands have been planted, mainly in Taranaki and beyond over the last five to 10 years, and are now showing up as impressive shelter lines.
Demand exceeding supply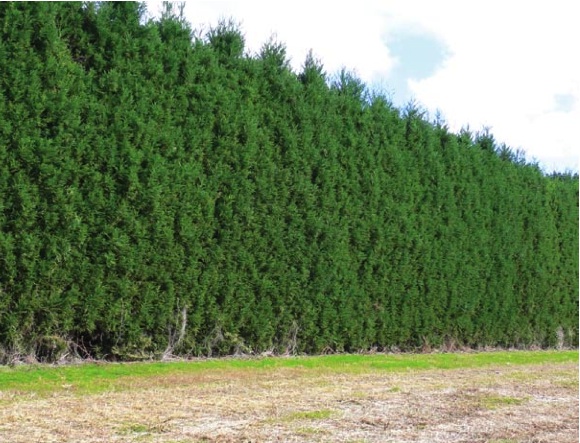 This article so far could have been written six years ago. The update is that the demand for Egmont has exceeded supply each year with approximately thirty thousand being sold last season, mostly in Taranaki. Demand over the rest of New Zealand is increasing, as Egmont's performance becomes more widely known.
Experience shows that Egmont is very reliable, as it has no diseases or pests of consequence and soil pathogens do not bother it at all. It is extremely resistant to wind throw and breakage. It will tolerate damper soils than many other trees. In fact it requires adequate soil moisture to grow well so it is not suitable for the drier areas of New Zealand.
The resistance to damage from severe windstorms is a great attribute of Cryptomeria. This was borne out firstly by the Bola storm of some years ago and subsequent reports of localised storms since. Cryptomeria was still standing virtually undamaged while other varieties of trees suffered severe damage around it. This is an extremely important consideration when establishing shelter belts. A toppled tree can damage valuable crops, cost a lot to clean up and leave a wind funnel in your shelterbelt, which is hard to fill.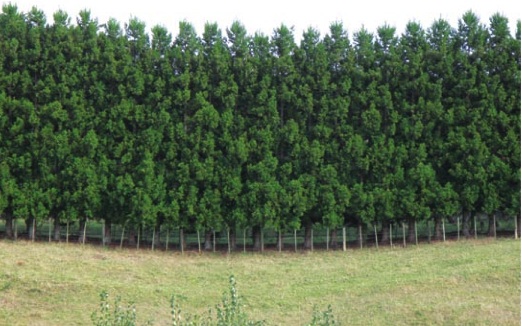 Most of the Egmont we have sold is for shelterbelt plantings, but some small timber plantations have also been planted. This brings up the subject of timber production. Cryptomeria is a native of Japan where it is the main timber-producing tree. I suggest it could be a worthy alternative to radiata. My experience of growing trees is mainly in Taranaki and when asked by customers what to grow for timber other than radiata I find it difficult to recommend anything other than Cryptomeria.
Our many years of growing conifers in our nursery, have, unfortunately demonstrated to us that the incidence of cypress canker cannot be ignored. I cannot in all honesty recommend any of the cypress varieties for plantation forestry. Egmont was selected as a shelter tree and its timber quality is unknown. I understand that timber quality selections with Cryptomeria clones have been done in Japan. I believe attention in this direction could be advantageous to those interested in another option for a timber producing tree that has proved to grow well in so many locations in New Zealand.