Threats to radiata pine
Dean Satchell, New Zealand Tree Grower May 2007.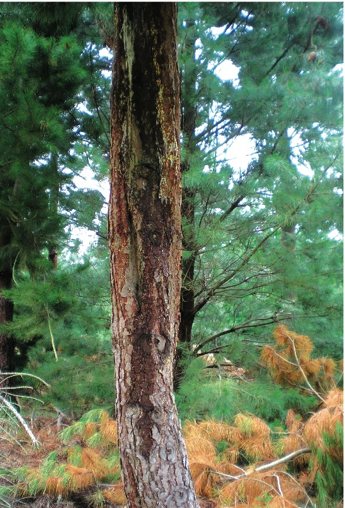 At the recent forest health workshop in Rotorua, Ensis held a series of excellent presentations on radiata pine diseases currently being worked on. In summary, monitoring continues for dothistroma, cyclaneusma needle cast, physiological needle blight and nectria in our radiata forests, with particular attention to nectria in the South Island.
Nectria flute canker
This fungus disease remains confined to the lower half of the South Island and it is expected the effect will be greatest there.
Fluting appears more common after winter pruning, but flutes can also be found on unpruned trees. A strong correlation was found between stub size and risk of infection, and fluting was rarely associated with stubs smaller than 30mm diameter. Immediate fungicide application reduced fluting, but did not eliminate the disease. Winter pruning resulted in more infection than summer pruning.
Ensis has also established that –
Moisture is required for spore release and dispersal, rain dispersed fungi generally result in patchy distribution and spread of the disease is slow.
Nectria grows best at warm temperatures, but growth and spore germination can occur at a wide range of temperatures.
Infected radiata pine shows active resistance response and study of early disease development is in progress.
A number of strategies are being developed to deal with nectria.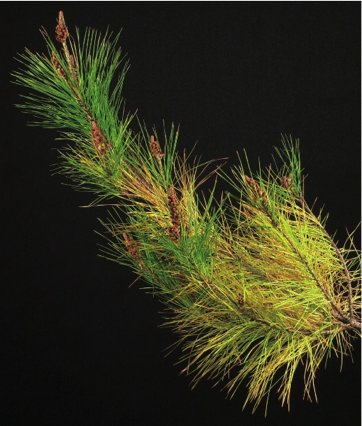 Higher planting stocking minimising branch size may be one solution in Southland. Studies are also under way to determine whether the present practice of transporting radiata seedlings from the South Island to the North Island can transfer the disease. The conclusion is that nursery stock is very unlikely to represent a pathway for transport of nectria. We will just have to wait and see.
A field guide for use in the identification of nectria flute canker has been prepared with funding from the Nectria Focus Group, the Forest Health Research Collaborative, and the Forest Biosecurity Research Council. A need for such a visual guide was identified because of the range of symptoms seen – in particular, wide variation in stem fluting and the potential to confuse nectria flute canker symptoms with those of other diseases such as diplodia whorl canker.
Dothistroma, cyclaneusma and physiological needle blight
Ensis is working on a CLIMEX model for dothistroma to improve the prediction of disease development in order to plan spray operations more accurately. Cyclaneusma needle cast has been found to be most severe in the central North Island and on the East Cape. Ensis is developing an economic impact assessment.
Physiological needle blight is a disorder that usually affects radiata pine trees 12 years or older. Sporadic outbreaks have caused alarm over the years, particularly in Northland, East Cape/Poverty Bay and Westland. It is possible that physiological needle blight is caused by water stress and age related changes in tree physiology and Ensis is researching this hypothesis.
Armillaria
An extensive report on armillaria root disease has been completed by Ensis. Methods being developed to control this disease include establishment of stands using robust planting stock either physiologically or genetically more resistant to infection, dipping roots in a trichoderma based product prior to planting, and treatment of stumps with competitive decay fungi to deny armillaria an innoculum substrate and thereby reducing its ability to attack adjacent pine trees. Studies at Lincoln University are showing great promise in the use of trichoderma.
Exotic pests and diseases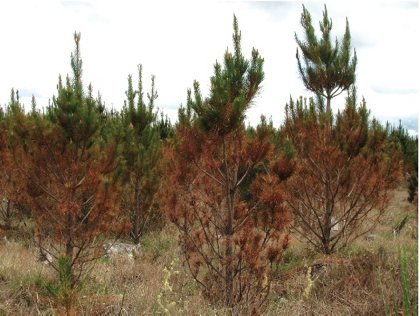 Western gall rust is viewed as a serious threat to radiata pine plantations if it were to arrive in New Zealand. However risk analysis shows that the likelihood of it establishing in New Zealand is minimal because the seasons in the northern hemisphere are out of phase with ours, and it is unlikely spores can transport in the atmosphere across the tropics. The other major pathway for transporting the disease is from importing plant material, although importing radiata pine seedlings is prohibited. A regional climate matching exercise has been undertaken by Ensis, indicating that the central North Island, Nelson and Otago are the regions of New Zealand with the closest climate match to areas of North America where western gall rust is found.
Pests of radiata pine have been studied by Ensis in Europe recently in order to provide useful indicators of exotic pest threats to New Zealand. The pine processionary moth Thaumetopoea pityocampa is a particularly serious pest of radiata pine in Europe.
Pine pitch canker Fusarium circinatum has been recently found in Chile, one of our main competitors. Its significance there has not yet been determined. Ensis has been assessing its severity overseas in order to predict the likely effect of pitch canker should it arrive in New Zealand. Pitch canker appears to be more severe on sites with a high nitrogen level.
Condition monitoring system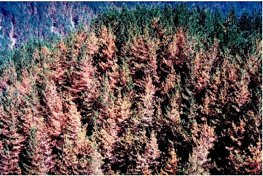 The Forest Owners Association is proposing long term radiata forest condition monitoring and has applied to the MAF Sustainable Farming Fund for funding to get the ball rolling. Biologist Gordon Hosking acknowledged the complexities involved but is assessing crown transparency as a measure, and the potential of remote sensing
for condition monitoring.