The Forest Industry Safety Council report
Allan Laurie, New Zealand Tree Grower February 2017.
The work of the Forestry Industry Safety Council (FISC) continues to gain momentum under the Chairmanship of Dame Alison Paterson and the management of National Safety Director, Fiona Ewing. I am the NZFFA representative on the Operations Advisory Group of the Council which is chaired by Fiona. I am impressed with the commitment and work she and her small management team do.
This is my first report back to the NZFFA following the first full year of the work of the Operations Advisory Group and I am delighted to say that I consider the work of FISC to be important and extremely effective in guiding the forest industry, via FISC, with the motto − Together Towards Zero.
The most important message in this report relates to www.safetree.co.nz. If you are in any way involved in the forest industry you should be registered on Safetree. This is the communications medium for FISC. If you are not already registered, please do so.You will then receive regular updates on available resources and useful information about the work within the broader health and safety space in the forestry industry
To quote directly from the home page 'Safetree is an injury prevention programme for the forestry sector – from forestry owners and bosses, right down to individual crew members.'
This website is part of the results of the work we do in the Operations Advisory Group. The resources you can find here are extensive and set out in a way that is easy to research and read.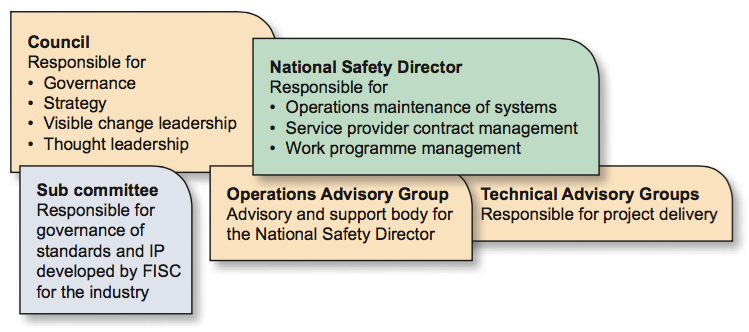 I am also very impressed by the commitment clearly evident around the table. We are represented by industry training providers, corporate managers, health and safety managers, contractors, union representatives, WorkSafe NZ and of course small growers. The structure of the Forest Industry Safety Council consists of three layers of industry representation and involvement as shown in the chart above.
There are several projects within FISC receiving the most attention. There are many more but the table below summarises the current focus areas.
| Programme area | Background | Focus |
| --- | --- | --- |
| Individual competency and certification | People working in high risk tasks have the skills and knowledge to work in a safe manner. Recognition of professional growth and celebrating success is promoted. | Designing and structuring competency regimes for individuals, initially focussing on highest risk areas. |
| Contractor company certification | Safe, professional and sustainable contracting companies | Setting up a programme of certification for companies with a focus on compliance, culture and consistency. |
| Industry wide training | A professional industry attracting and retaining capable people who are ready for work and have essential, as well as technical skills. | Structuring a review of training resources and capability to ensure easy access and total involvement. |
| Growing a safety culture | Companies operate in a mature learning safety culture with involvement across all parties. | Continuing an industry wide programme of engagement and holistic involvement. |
| Incident learning review | A true learning culture is established in the industry and progress to analysing and reviewing successful work. | A multi faceted programme of receiving information then disseminating this back to industry in a way to generate maximum learning. |
| Risk management | Move from hazard identification to promote control of critical risk areas. | Working closely with Worksafe to ensure a clear understand of risks. |
Our work will continue through 2017 with haste and purpose. With the recent announcement of further funding from the Forest Growers Levy Trust we can proceed with confidence knowing current programmes can be continued and others developed.
Allan Laurie is the NZFFA representative on the Operations Advisory Group of the Forest Industry Safety Council.