Working to reduce injuries
Julian Bateson, New Zealand Tree Grower February 2015.
This is a bit of a different article on safety. For a change it is at the beginning of the magazine and introduces a series of other articles on the results of the Independent Forest Safety Review with views from the NZFFA, the Forest Industry Contractors Association and the Forest Owners' Association. These articles are well worth reading.
As we know 2013 was a dreadful year for accidents in forestry and the review, paid for by those involved in forestry, was set up to find ways reducing injuries and fatalities. The good news is that even while the review was being planned and worked on, there were significant improvements in safety in 2014 to a level which no one expected. Unfortunately there was one death caused in a forestry accident early in the year, which is one too many, but it is well below the number in 2013.
Injury reduction
The injury rate showed a substantial reduction which continued throughout the year until the end of October, the latest month for which we have information. Worksafe figures show that the average number of injuries in forestry accidents each year since 2009 is between 160 and 180, about 14 each month. These fell to 8.5 a month, a drop of around 40 per cent, giving a total of 85 by the end of October. Initially these figures were being dismissed as being just a blip, but as they stayed almost the same over the 10 month period, they are obviously not a blip.
There will be a number of reasons for this sustained fall in injuries. Worksafe started a series of assessment visits and inspections at the end of 2013 which continued well into 2014. There were over 1,000 assessments resulting in 160 prohibition notices and shutdowns as well as many other written warnings. In addition, workers and managers in the industry were well aware of the problems and the negative publicity as a result of the problems in 2013 so were likely to be more attentive to safety.
Number of injury accidents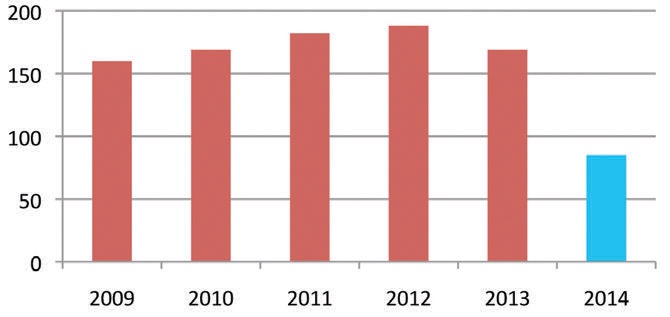 Year
Whatever the reasons, the result was quite amazing and shows what can be done with a little more effort especially from government departments. Implementing the review should have added beneficial effects but we must not forget that the injury and death reduction in 2014 was not the result of any review.
The role of farm forestry
The challenge for small-scale forestry is to work towards making sure that there are no injuries and deaths in their sector of the industry. This will be difficult as there are over 10,000 small-scale forest owners. The NZFFA has been allocated some money from the levy to improve communication, particularly with respect to safety, with the thousands of owners who are not members of the NZFFA.
Improvements will not be difficult because at the moment communication with the non-member owners is close to zero. Communicating effectively will be a lot harder and it will be a significant long-term and costly process. Most importantly we need to avoid the current assumption, particularly prevalent in government departments, that by putting stuff on a website means the communication has been effective.
For example, there was a recent important amendment to the forestry approved code of practice. Worksafe were content that just making it available on the website was sufficient. This is a very important amendment as it clarifies the role and responsibilities of a principal in forestry contracts. It is particularly relevant to farm forestry. Did you know about it? Have you seen a copy?
The NZFFA need to have good information on their website, but this is only a small part of the communication process. Field days are one of the best methods we have in getting good information out to members and non-members. But with field days we must make sure that we are seen to be showing the best practice, particularly in relation to health and safety.
This means that any practical demonstration of pruning, felling, milling or similar activities do not breach any of the safety rules, regulations and guidelines. Remember, the land owner and the contractor are responsible if there is any accident causing injury. We should be ensuring that all possible safety rules are followed and we need to be the shop window for these high standards at all field days throughout New Zealand.
Julian Bateson is the NZFFA health and safety representative