A Canadian tree breeder's view on cypresses in New Zealand
John Russell, New Zealand Tree Grower February 2010.
My daughter and I arrived on a damp and chilly afternoon in early July at the Gavins' farm on the Buller River. Terry and Claire met us in the ubiquitous New Zealand ute. The Gavins were obviously busy – they had just been clearing brush and had a cabin full of guests. Nevertheless, they welcomed us with open arms and with friendliness that included a meal, companionship by a warm woodstove and a peaceful night's rest. As we were to discover, Kiwi hospitality was universal throughout our farm forestry travels.
A tree breeder
I am a tree breeder working with cypress species in British Columbia. Western red cedar is the second most important commercial species next to Douglas fir on the west coast and its beautiful red, durable heartwood is in high demand for outdoor products.
Yellow cedar or Alaska cypress, a minor commercial species, commands the highest prices for its straw-coloured, even grained, durable heartwood − see the article here. Yellow cedar has had many taxonomic names. The genus currently is under consideration as Callitropsis and a decision will be made in 2012. Both cypress species have well-funded breeding programmes.
My graduate supervisor at the University of California at Berkeley was Bill Libby, who many of you know. This, along with my 25 years of working with cypresses, explains my passion for all things clonal. However, my tree breeding experiences have shown me the importance of maintaining large sexually recombined populations which are properly tested over multiple environments. This is especially important in the light of climate change predictions, as well as for exotic species. The development of durable populations adapted to future, perhaps unknown, biotic threats may be necessary to ensure forest survival and health, and as a source of future select trees.
During my first trip to New Zealand in 2005, I helped measure and assess cypress genetic trials throughout the country. My trip in 2009 was sponsored by Future Forests Research Ltd to help in developing a new cypress breeding strategy for New Zealand. To learn about the wealth of experience here with cypresses I interviewed scientists who worked with the species, and visited industrial, research and farm plantings, as well as sawmills. Together with tree breeders at Scion, with input from the Future Forests Research Ltd, a new direction in cypress breeding and improvement is now being implemented − see article here.
Success stories from cypress
The warmth we enjoyed from the Gavins was repeated throughout our trip – homemade and generously hosted meals, fresh local produce, with excellent coffee and tea. This hospitality was mirrored by the work ethic, ingenuity, resourcefulness and dedicated passion to cypresses of all the farm foresters we met. One exclaimed, while viewing a recently pruned plantation of mixed cypress clones, that it was marvellous and aesthetically pleasing. This was true also of nursery growers and end users of cypress timber. I finished my home in British Columbia with western red cedar and yellow-cedar, and it was wonderful to see the farm foresters' pride in their homes finished with decorative cypress and other exotic and native woods. The highlight was Bevan Walker's home in Richmond, an excellent example of locally grown specialty timbers expertly milled and installed.
I saw many healthy productive cypress plantations of varying ages and silvicultural treatments. The best results always occurred where the right species, seedlot or clone was established on a suitable site, and where silviculture was applied to solve local, site-specific challenges. This latter point was a real revelation for me where a standardised operating protocol is used for most industrial forestry situations in British Columbia.
Other success stories included developing hardy varieties for Northland climates, pruning and spacing regimes to minimise canker and toppling, developing silvicultural regimes and niche markets for high site index wood products.
Highlights from touring around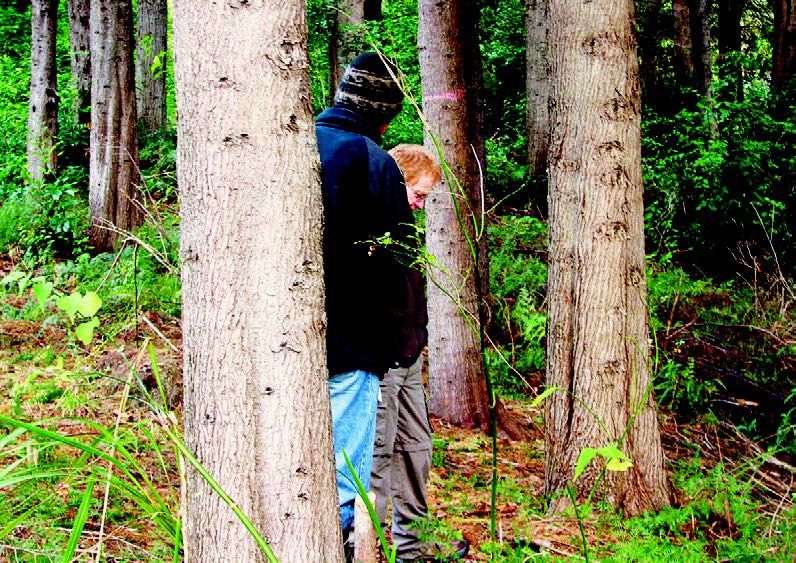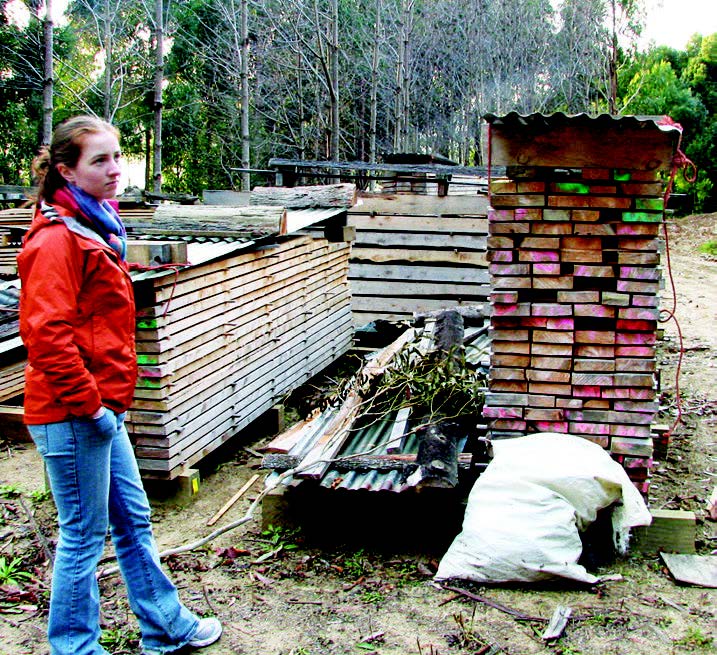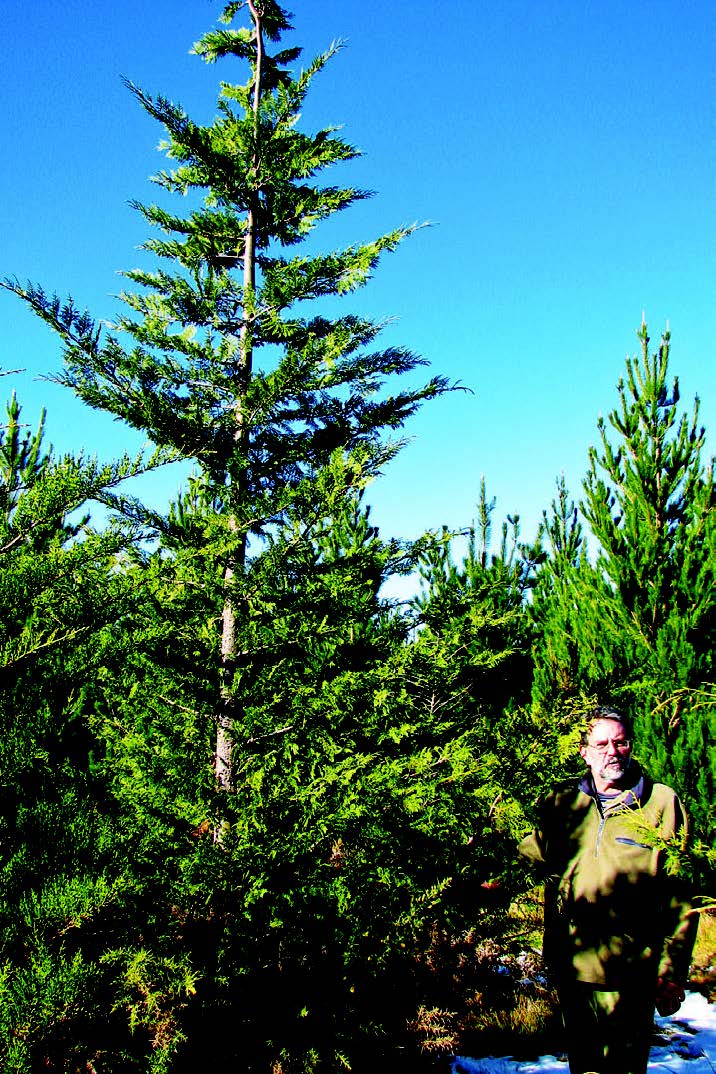 A real highlight was walking through healthy mature cypress plantations beginning to produce potentially durable timber. Another was seeing a logging truck unload plantation grown macrocarpa logs, with a high percentage of heartwood, at Tiritea sawmill in Palmerston North. I was also impressed with sawmill efficiency and use – total use of the wood from clears right down to sawdust for animal bedding. We could certainly use a few lessons in British Columbia on wood use.
Some clones had exceptional growth and form. Early growth was very good for the Ovens hybrid cypress clone on productive sheltered sites. Most of the better ovens clonal plantations were on the South Island, but this clone also did well on some North Island farms. Another exceptional performer was a pure lusitanica clone called 'Blue Hays 4' on Denis Hocking's farm at Bulls.
Imagine the enormous potential for elite clones selected for wood durability as well as growth and form from clonally replicated new hybrid seedlings with known selected parentage. Benjamin Lee's farm boasted a great 10-year-old lusitanica plantation sourced from the Gwavas progeny trial. Planted on both sides of a gully, the plantation illustrated the effect of microsite on growth and the tremendous tree-to-tree variation in this seedlot in form, colour and branching, possibly enhanced by hybridisation.
Another highlight was tramping through a field trial of two year old hybrid seedlings from various parental species in the Kaingaroa Forest with Mark Self and Charlie Lowe. I helped with breeding at the Long Mile in 2005, and supplied selected pollen from our British Columbia yellow-cedar programme that fathered most of these hybrids, so it was especially rewarding. The better seedlings from this trial have recently been cloned through cuttings. Stay tuned for more cypress hybrids with improved yellow-cedar fathers.
Challenges for cypress
I did encounter a few problems along my tour as well. Canker was widespread, but I was surprised it had not yet developed into a severe epidemic. Planting stock and silvicultural regimes to increase canker resistance were not always successful. Poor growth, form and canker were typically the result of not using the most suitable species or cultivar for a site. Not all clones performed well at all sites.
A few pure macrocarpa clones performed poorly at several farms – perhaps an indication of inadequate testing or poor siting. Overall, I was very encouraged by farm foresters who accepted problems as a challenge, understood the issues, and were keen to move forward. Only one I met was discouraged with the prospects of cypresses in New Zealand, but he became more optimistic as we discussed the issues and prospects.
Yellow cedar and climate change
I have a vested interest in assisting with future tree improvement efforts for cypresses in New Zealand. The challenges yellow cedar is currently facing are expected to get worse as climate changes. This may include canker, which is currently not a problem. Warmer temperatures are already affecting species distributions, including trees and pests. We are already seeing devastating effects in British Columbia forests as over 623 million cubic metres of lodgepole pine have been killed by the current mountain pine beetle outbreak. Yellow cedar dieback is another climate change related source of mortality.
British Columbia is currently developing climate-based seed transfer guidelines to mitigate expected effects. This will involve moving existing adapted populations further north and higher in elevation, and potentially using new conifer species currently growing south of our border. With our wealth of native tree species and genetic diversity, we have not commercially planted exotic species. Climate change is causing us to reconsider. However introducing exotics has potential risks and is controversial. Gradually introducing southern exotic species such as macrocarpa and lusitanica by hybridisation with yellow cedar is one option that may work well.
New Zealand cypress tree improvement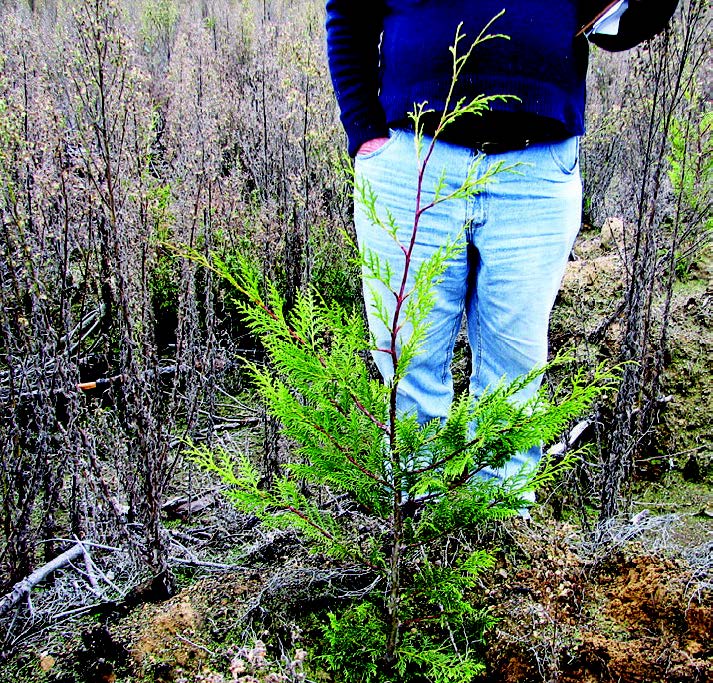 Cypresses have had a long and colourful history in New Zealand. From the initial shelterbelt plantings to clonal plantations, there has been a tremendous amount of effort and foresight put into cypress farm forestry. This has led to many diverse approaches to define and attain the perfect cypress tree. Should we focus on hybrids instead of pure species, deploy seed orchard seedlots or clones, chase durability, produce radiata-like fast-growing fibre, or spend limited research funds developing canker resistant macrocarpa at the expense of other, perhaps easier attained goals? These thoughts were at the forefront when the new cypress tree breeding strategy for New Zealand was being developed.
Like the researchers and foresters I met, I have developed my own opinions and convictions. Following up on most of my ideas, I found they had already been investigated by forward-thinking Kiwis. However, the following are what I consider the main points. We would welcome your input via a forthcoming online survey.
Put aside differences
It is time to put aside differences and develop a true cooperative approach to cypress improvement, broader than the current FFR cooperative infrastructure. The ingenuity and enthusiasm I found when solving cypress problems by individuals does not necessarily translate to the best approach to tree improvement.
Resources, although limited, are available to properly source, test and measure material from both advanced generation and hybrid breeding populations, and select elite material for operational plantings. Prior knowledge and experience are real assets here. Cooperation can come in many forms and can include providing land and in-kind assistance for field trials, putting aside special interests and past differences, as well as sharing experiences and material.
One goal of the new plan is to test and select for canker resistance. I am going to first be pessimistic on this topic then end with a note of optimism. To date, only a handful of tree breeding programmes worldwide have been successful for selecting and deploying pest resistant populations and all have been large cooperative endeavours.
There needs to be a substantial commitment of resources to adequately understand resistance mechanisms, host/ pathogen interactions, inheritance patterns, durability of resistance and deployment risks. Current macrocarpa clones identified by farm foresters as canker resistant, as well as selections from the Gwavas second generation progeny trial, are excellent sources for the breeding programme, but may not result in sufficient resistance.
Durable partial resistance may only be developed by identifying and selecting for multiple resistance mechanisms to avoid over-reliance on a single trait. Luckily biology is in our favour. Cypresses have abundant, unique secondary chemicals that confer substantial resistance to many pests. Examples include heartwood durability and foliar pests. Secondary chemicals are highly heritable and have phytotoxic effects. If sufficient diversity in resistance mechanisms is represented in selections, seed orchards will produce durable seedlots. Resistance can also be exploited by hybridisation and subsequent clonal selection.
Biological tools
Cypresses have evolved unique biological tools that can be used to our advantage in breeding programme development. While other tree breeding and deployment programmes spend millions of dollars to develop a biological system foreign to that species, farm foresters have already applied the natural rooting ability of cypress by deploying clones. Other tools include relative ease of hybridisation, simple induction for early flowering and maintenance of cutting donor stock juvenility.
The future of cypresses in New Zealand is durable heartwood. An efficient and potentially successful approach to increasing durability is through hybridising macrocarpa and lusitanica with yellow cedar. Studies show heartwood durability is intermediate for Leyland clones between the two pure species parents.
A properly designed hybrid breeding and clonal testing programme should show significant improvements. The deployment of selected clones, however, will only result in increased durable heartwood if rotation ages are long enough to produce high heartwood to sapwood ratios, and for significant quantities of fungicidal secondary chemicals.
Clonal production
A benefit of creating new hybrid seedlings is juvenile cuttings for clonal production. Proper siting and maintenance of donor stock is crucial to a successful clonal programme using rooted cuttings. Maintaining donor juvenility provides many benefits including stable clonal performance from repeated propagation cycles, minimal loss of elite clones due to rooting problems, increased nursery rooting and stock quality.
Using juvenile cuttings will bring the cost of a rooted cutting down to less than 50 per cent above normal seedling costs. In addition, stock quality has a significant effect on plantation establishment and subsequent early growth. As nurseries gain experience with juvenile material, increased stock quality and decreased costs should result in clonal forestry being more feasible for large scale plantations in New Zealand.
Seed production
Seed production from improved orchard selections is an important component of future cypress development, as is obtaining viable seed from breeding orchards for macrocarpa and lusitanica, as well as hybrids with yellow-cedar. To obtain this will require the development of induction techniques to promote viable pollen production and adequate female cone initiation, especially for macrocarpa.
Cypress timber needs branding for international and domestic markets. Planting of cypresses is currently at the whim of executives and foresters but industry needs to plant more. Some foresters estimate that 15 to 20 per cent of industrial forest land could support cypresses. A viable market would support more of a planting commitment and get New Zealand to the critical level where more markets open up, revenue starts flowing in, and more resources could be spent on research and development.
Two things
I wish I had more time to visit additional practitioners and sites. On my last farm trip I learned two things I thought I already knew. First, I thought I had documented all the cypress clones grown in New Zealand, until Denis Hocking introduced me to 'Blue Haze 4'. It was a great looking lusitanica clone representing the enormous potential of cypress clonal forestry with proper testing and juvenility maintenance.
The second thing? Do not touch wire fences.