A new plan for cypresses
H S Dungey, J Russell, C B Low and G T Stovold, New Zealand Tree Grower February 2010.
Cypresses are popular with growers and end users alike due to their attractive wood and relatively easy processing properties. Cypresses are generally medium to low density with little variation from pith to bark and high dimensional stability. These properties make them ideal for furniture and high value indoor use. The average wood density of cypress species is about 400 kg a cubic metre although this does differ between clones and species. The heartwood of a number of cypresses has been shown to have high durability. Nevertheless, heartwood durability of all species is not always accepted as sufficient for use as outdoor cladding by regulatory authorities.
There are approximately 9,000 hectares of cypress planted in New Zealand, over 4,000 of which are located on the South Island's West Coast. Rough sawn cypress timber for the year ended 31 March 2009 was estimated at 20,518 cubic metres.
Matching the market
In order for us to grow this resource, it is important to have trees in the ground that match market requirements – for both furniture and durable timber. The new breeding strategy proposed by Future Forests Research, a new partnership between the New Zealand forestry industry and Scion, aims to provide trees to fit with the two main end uses of cypress −
Timber durability to meet New Zealand external cladding standards
Timber appearance to provide clear timber with good figure and colour for furniture.
There are a number of species and clones currently planted in New Zealand, including macrocarpa, lusitanica and some Chamaecyparis nootkatensis. Macrocarpa and lusitanica have been the centre of the Scion-based breeding programme that began in 1983.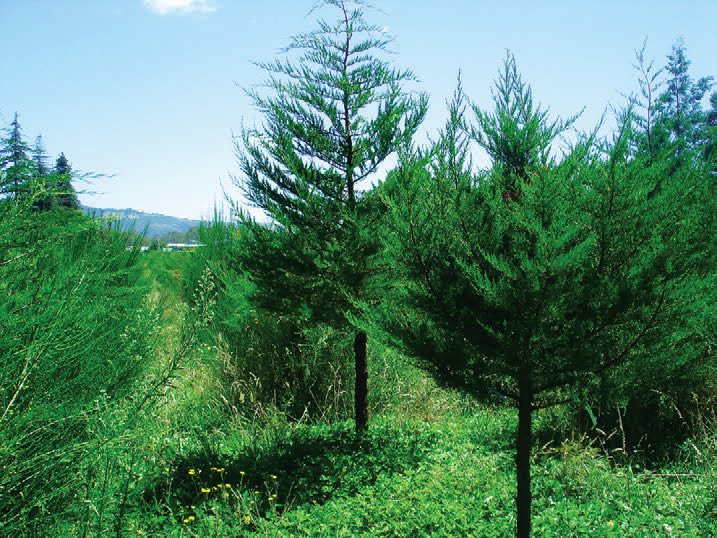 In the breeding strategy, these species will remain the key pure species of the programme, but will be bred within species using open pollination. Only field tested canker- resistant selections will be used in the macrocarpa breeding programme and a new seed orchard of macrocarpa will be set up which is geographically isolated. This seed orchard will also form the basis of future macrocarpa breeding population. The highly durable Chamaecyparis nootkatensis, a species with superior timber stiffness and durability, will be integrated into the programme as second generation improved pollen from the British Columbia improvement programme.
Hybrid clones
The focus for deployment will shift to the production of hybrid clones rather than clones of the pure species. Hybrids will be produced using controlled pollination and mass supplemental pollination with the aim of obtaining highly durable and canker resistant progeny. Crossing will be undertaken between the best available selections.
We will test the hybrids as clones and seedlings and will re-create specific crosses to act as a benchmark throughout the trials. We will also attempt to use the hybrid population to create a controlled hybrid swarm, where outstanding individuals are used in creating the next generation of hybrids. All selections will be transferred to seed orchards through grafts as soon as they become available.