The new organisation Fire and Emergency New Zealand
Kevin O'Connor, New Zealand Tree Grower August 2017.
On 1 July 2017, all urban and rural fire services were amalgamated into one new organisation, Fire and Emergency New Zealand. While this is a significant change for the fire sector, there will not be much change for small-scale forest owners and growers. You can expect Fire and Emergency New Zealand to be there when you need them, just as the Rural Fire Authority and New Zealand Fire Service were previously. The creation of a single fire and emergency service should mean better coordination between rural and urban services, improved support of the thousands of volunteer firefighters our fire services rely on, and increased money for equipment and training in rural fire services.
New Zealand previously had many separate rural fire authorities, run independently of the urban-focused New Zealand Fire Service. In short, for many years, fire services have been provided by 40 organisations with different structures, ways of working and means of funding. The Fire and Emergency Act was passed by Parliament in early May. It replaced the legislation governing fire services − the Fire Service Act 1975 and the Forest and Rural Fires Act 1977. The new legislation recognises signifcant changes in New Zealand's demographics and the role of firefighters over the past 40 years.
Volunteers still needed
Volunteers make up around 85 per cent of fire services personnel, relying on them particularly in rural communities. With greater numbers of New Zealanders living in towns and cities, volunteers for rural firefighting are becoming harder to attract and keep. The same applies on the outskirts of cities as people travel into the centre of the cities to work. Volunteer brigades and voluntary rural fire forces have previously run independently, but now all volunteers will become Fire and Emergency New Zealand personnel.
This does not mean volunteers become employees, but it will make it easier to support volunteers, hear their feedback and act on their suggestions and concerns. We have brought together a wide range of volunteer and career personnel from urban and rural sectors to help make things and different in the future. These working groups will continue to contribute to the new organisation's approach to supporting and strengthening the volunteer workforce. Funding has been set aside for the next three years for this work.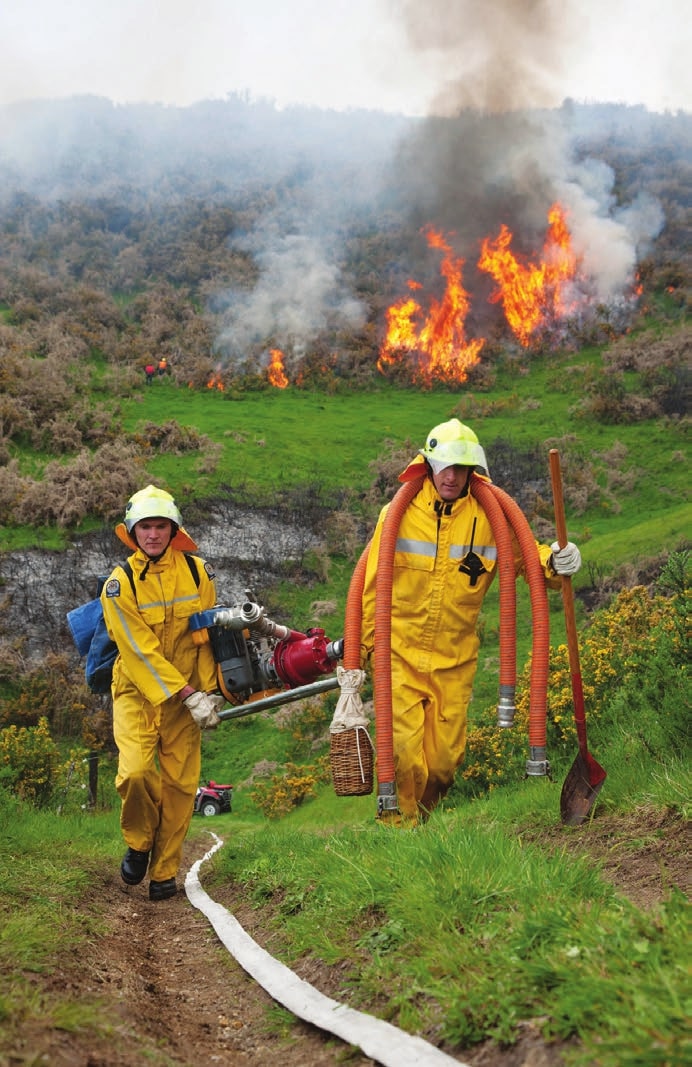 Fire and other emergencies
As we know from recent floods, we are seeing more emergencies caused by extreme weather. Firefighters used to just focus on fire but in recent years they have done a lot more, including responses to motor vehicle crashes, medical emergencies, hazardous materials spills, storms, floods, earthquakes and a wide range of other rescues.
In some locations, half of the work is fire response and the other half emergency response. While many rural firefighters are already responding to this range of incidents, they did not have the legal mandate for this work. They were given that mandate under the new Act.
The government has approved extra funding of $303 million over four years for Fire and Emergency New Zealand, including a large component to cover under-investment in rural fire services. Funding for rural fire services has previously been variable across the country and often from local council rates. This has now changed, with the fire levy the principal source of funding. It will have a noticeable benefit for rural communities as equipment, gear and training are reviewed and upgraded, particularly in areas at higher risk of fires
Minimal change
The principle behind the transition to Fire and Emergency New Zealand is for minimal change from day one. We already have fire services which are successful, respected and in many communities, well-loved. We have taken the best of rural and urban, and focused on what will make them even better.
These are the biggest changes in a generation and we are taking the time to get this right. Three years have been allowed for the integration of urban and rural systems with complete unification over the following years.
It did not make a lot of sense to have 40 separate organisations providing fire services in a country with a population the size of a small city in other parts of the world. But not everything can be run from Wellington. Fire services are part of the community and every community has different conditions and circumstances which need to be taken into account. Feedback has been consistently clear − rural communities do not want to be dictated to by a head office in Wellington.
The creation of one fire service means Rural Fire Authorities and Enlarged Rural Fire Districts no longer exist. A new type of committee will be introduced to ensure the voice of the community and stakeholders, such as forestry, are heard and understood. These Local Advisory Committees will be advisory rather than having a managerial or governance role, and will ensure Wellington headquarters hears and understands the fire and emergency risks and needs of the regions. Local Advisory Committees will be made up of people from the local community and will be established from mid-2018 following public consultation on their boundaries.
Changes to funding
Councils are no longer funding rural fire services. This means property owners no longer have to pay for the council's firefighting capability from their rates. Instead, funding for all fire services is from the fire levy paid in fire insurance. The 2017/18 fire levy rate was increased for the first time in eight years to cover the extra costs of the wider scope of work. Public consultation on the levy for future years is expected to take place in 2018. A modern penalties and offences scheme will be introduced, replacing the use of cost recovery for rural fires Fire and Emergency NZ has an important role in education about compliance under the new legislation. Under the new Act, serious offences may be prosecuted through the courts which will be able to impose higher penalties, but the emphasis will be on educating and encouraging communities to be responsible.
Even with a national fire service in place, insurance still has a part to play. Fire suppression insurance is still a good idea for protecting your crops, or for third party liability if a fire starts on your property and spreads to other properties.
Commercial forestry companies
Forest companies have been involved in designing a new agreement with the New Zealand Forest Owners' Association. The agreement sets out the fire management responsibilities, who will pay for what, and how things will operate in an emergency.
Fire and Emergency NZ will carry out fire control much as Rural Fire Authorities did, including fire control measures, developing fire plans, setting restricted and prohibited fire seasons, and fire permitting. Using fire as a land management tool also continues. To keep day-to-day operations running smoothly, many of the current rural leadership roles have been retained, and there will not be any signifcant changes at a firefighter level. You can find out more on the website: www.freandemergency.nz
Kevin O'Connor is the National Manager Rural, Fire and Emergency New Zealand.