Clean and green – controlling weeds in planted forests
Carol Rolando, Brenda Baillie, Loretta Garrett and Michelle Harnett, New Zealand Tree Grower August 2015.
Herbicide use in planted forests is changing in response to consumer demand for wood and wood products from sustainably managed forests.
Six years of research at Scion, focussing on minimising the effects of weed control without sacrificing tree growth, has provided a good understanding of the economically viable and environmentally safe options available to forest growers.
Controlling weeds can be a never-ending task. The tough exotic weeds which spring up everywhere seem to have features especially designed to thwart farmers and foresters. The warm and wet north has the widest variety of weeds, buddleia blooms in the central North Island and gorse grows everywhere. Weed control is essential during a planted forest's establishment phase, usually during the first three years after planting. Weeds compete for water and nutrients, and when they grow faster than young trees, they also compete for light. As a result, trees grow more slowly, rotation times are extended, and in some situations, a significant number of trees may die. Effective weed control usually requires the use of herbicides.
Herbicides in planted forests
There is a perception that the forestry industry uses a lot of herbicides, but the amount used is relatively low compared with other intensive land uses. As part of Scion's programme around improving weed management, forestry companies were asked which herbicides they used and when, how much they used, and the method of application.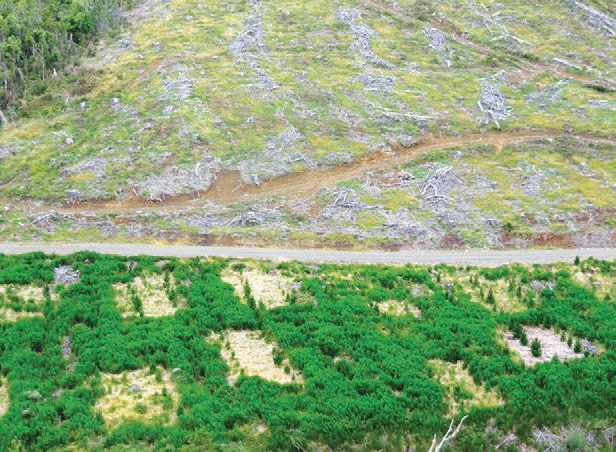 Six forest management companies, representing about 41 per cent of the planted forest area, with forests from Northland to Southland, responded to the survey. All the respondents carried out weed control before planting, usually aerially spraying a combination of glyphosate and metsulfuron in late summer and early autumn. After planting, most companies applied a mix of terbuthylazine and hexazinone, either aerially or as a spot application over the trees. These ingredients are not toxic to pine trees at the recommended application rates and they remain active in the soil, continuing to control weeds for a season after application.
Using the survey results, and applying some basic assumptions, the estimated amount of herbicide used in planted forests is around 447 tonnes a year. This sounds like a lot, but herbicides are only used once or twice at the beginning of 25 to 30 year rotations. Averaged out over a whole rotation, the amount used is about 250 grams on a hectare each year.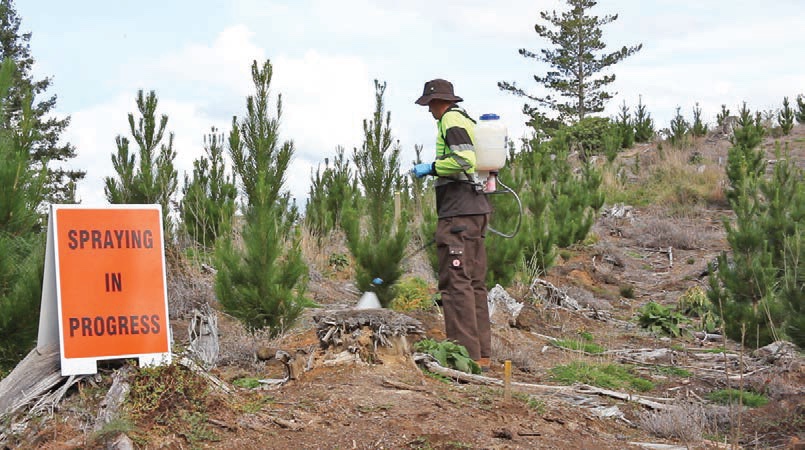 Minimising the environmental effect
Greater environmental awareness and an appreciation for the need for a social and environmental licence to operate are growing within the forest industry. Social licence to operate can be thought of as acceptance within local communities and wider society of the activity and operations of forestry companies.
The forest industry wants to ensure that its activities do not affect soil, water and biodiversity. Environmental certification schemes also provide assurance to consumers that wood products come from sustainably managed forests. One string to this bow is ensuring that management activities, such as use of herbicides, are carried out in ways that minimises risks to the environment.
Between 2007 and 2015 the environmental certification body, the Forest Stewardship Council, rated the widely used herbicides, terbuthylazine and hexazinone as highly hazardous. This presented a real problem for the certified forest industry.Without economically viable weed control, forest productivity and profitability can be severely affected. Fortunately, during this period the herbicides could still be used under special conditions, one of which was to undertake research to find alternative herbicides.
June 2015 marked the end of a six year research programme to search for alternative non-chemical and chemical control methods, and also to get hard data on the environmental fate of terbuthylazine and hexazinone in planted forests. This was funded by forest owners via Future Forests Research, the Forest Owners Association, MBIE and the MPI Sustainable Farming Fund.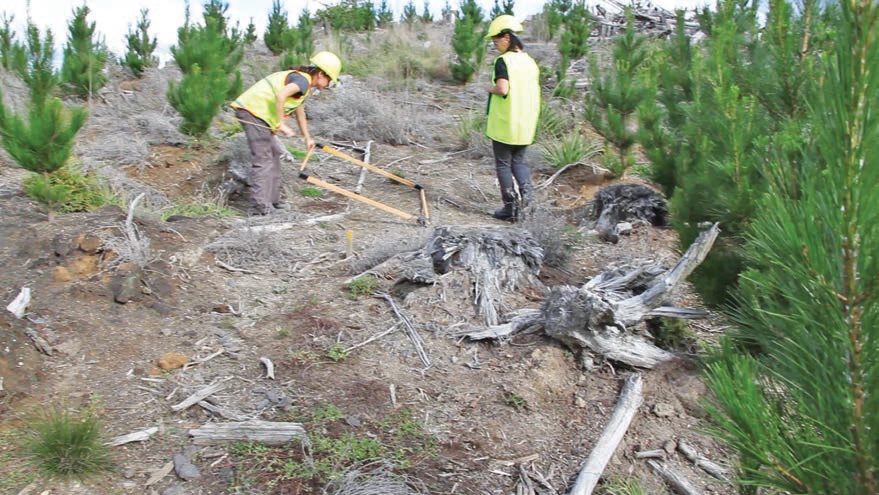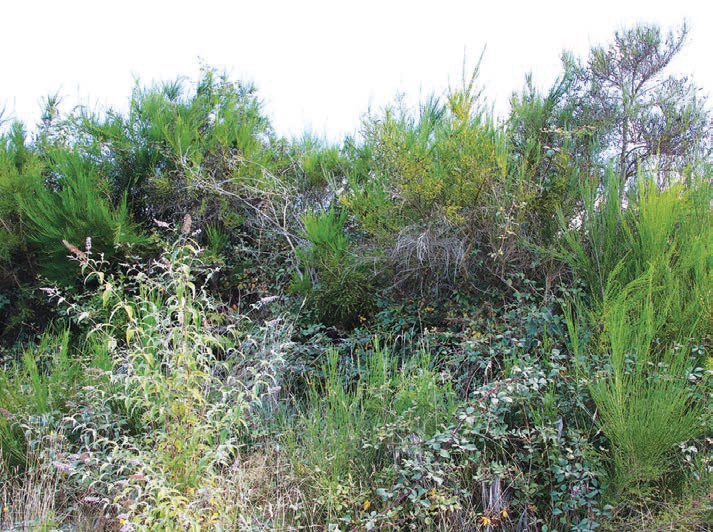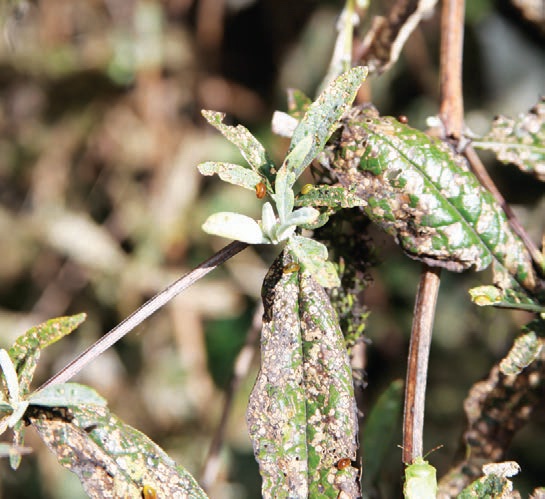 Alternative herbicides
A total of 10 different active ingredients were tested in 18 field trials in forests from Rotorua to Dunedin over a period of three years to see how effective they were at controlling weeds in the first year after planting. It was obvious which herbicides were effective and which were not. It was disappointing to discover that few of the alternatives could match the performance of the current industry standard which was a mix of terbuthylazine and hexazinone. Only two other combinations came close – terbuthylazine (Gardoprim) and mesotrione (Callisto) and terbuthylazine and clopyralid (Versatill) applied as mixes, but even then there was some growth loss in the young trees.
Environmental fate
Brenda Baillie and Loretta Garrett from Scion also looked at what happened to terbuthylazine and hexazinone in the planted forest soil and fresh water environment, with the objective of investigating whether or not the herbicides posed any long-term risk to water quality in real world conditions. A block of recently planted pines in Kaingaroa Forest was aerially sprayed with a mix of terbuthylazine and hexazinone.The pines were in pumice soil, which makes up about a quarter of New Zealand's planted forest soils.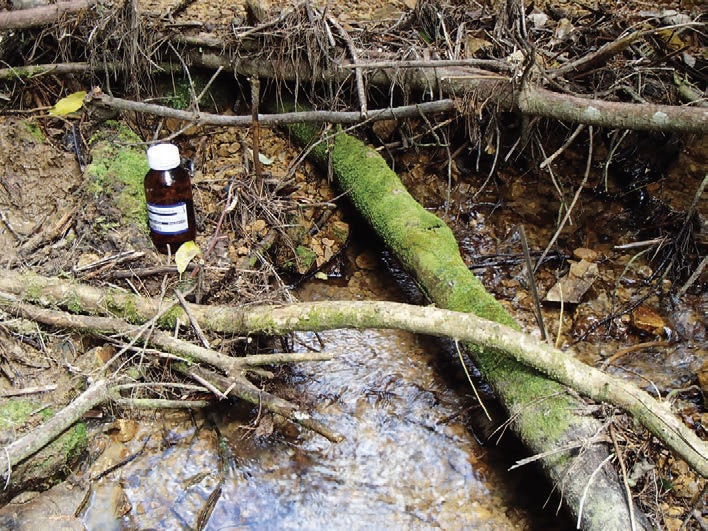 The highest concentrations of herbicides in the water were found on the day of spraying and after rainfall in the following month. Apart from those exceptions, the herbicide concentrations in the stream were below drinking water standards of New Zealand and World Health Organisation and rapidly diluted further downstream. The herbicides stayed predominantly in the litter and top soil layers and degraded rapidly. The risk of them leaching from the site was highest in the month following aerial spraying. After that time, the amount of active ingredients remaining on site was low.
Soils with low levels of organic matter are most vulnerable to herbicide leaching and pumice soil falls into this category. The management of the forest floor and retaining harvest residue, which is high in organic matter, play an important role in determining the environmental fate of both herbicides in low organic carbon soils.
The best laid plans
Just as the work programme drew to a close, the New Zealand and World Health Organisation removed terbuthylazine and hexazinone from their list of prohibited chemicals. On the positive side there is solid evidence that the industry is using the most effective chemicals for weed control and that these are not negatively effecting the surrounding environment. Other chemicals have been identified which could be used in certain conditions. In the ever changing and regulated operating environment it is good that forest growers have real data on which to base any further decisions around herbicide use in their forests.
Knowing which herbicides are the most effective, it is possible to focus on using them more efficiently and reducing the amount used. Targeted application of herbicides using spot weed control, combined with non-chemical control methods, is one example of how herbicide input can be minimised in the long term. For foresters with small and medium sized forests on accessible terrain, spot herbicide application is likely to be one of the most viable and cost-effective control methods.
Non-chemical weed control
Non-chemical weed control methods were assessed early during the research programme. Options such as over-sowing, mulching, manual or mechanical weed control, in the context of large scale forestry operations, were not viable. They were more expensive and resulted in growth losses.
Of the methods evaluated, the estimated costs of manual control and mechanical control were around $500 a hectare. In contrast, the costs of using weed matting rose to around $2,500 a hectare. For comparison, spot weed control costs were calculated to be $105 a hectare although these figures do not account for possible tree growth losses.
The research focus was on large-scale forestry operations. Foresters with small and medium sized forests will have different concerns and priorities, including wanting to avoid using extra chemicals in their operations. Where labour, equipment and geography are not a problem, non-chemical methods become more practicable.
Biological control of weeds
Scion also led a biological control programme for buddleia, one of the most invasive weeds of the central North Island. This weed has the potential to cause severe growth losses in radiata pine forests as they become established. The buddleia leaf feeding weevil Cleopus japonicus was released in 2006. It has spread widely since its initial release and is severely affecting the growth of mature buddleia in many parts of the central North Island.
In the short term, it is unlikely that the weevil will affect forest weed control operations and the need to use herbicides during the first two years after planting. However, it may well provide a long-term management option for buddleia which grows on roadsides, across farms and gullies and in sensitive riparian and conservation areas across plantations and farm forester estates.
A weed-free future?
The New Zealand forestry industry has some unique problems to deal with when it comes to weeds. Unlike most other countries, the plantation trees grown are generally non-native, as are the weeds that invade planted and native forest and farmland. While there is a desire to reduce the amount of chemicals added to the environment, there are real risks in using weed control methods which are ineffective.
Applying the right amount of the most effective herbicides accurately, and at the right time, is the best way to control weeds in large-scale forests and reduce chemical use. Owners of small to medium size forests have a wider range of potential opportunities to reduce or eliminate herbicides using manual and mechanical methods combined with weed suppression using some type of ground cover.
The overall finding from the programme is that the forestry industry is using the most effective herbicides on the market, and they do not have a lasting effect on the planted forest environment. By using spot application where possible, the amount of herbicide used can be drastically reduced. These results will help the planted forestry industry in New Zealand remain economically viable and meet its sustainability objectives, allowing the continued promotion of wood as an environmentally friendly resource.
Carol Rolando leads the Weed Research Programme at Scion, scientist Brenda Baillie works in the area of freshwater, Loretta Garrett is a soil scientist and Michelle Harnett is a science communicator.