Singing the Cullen song
Nick Ledgard, New Zealand Tree Grower August 2012.
While returning to Telford in the bus after a dinner during the recent conference in Balclutha, we sang songs and told jokes. With due respect to the fine voices of John Millett and Bill Wise, the best voice belonged to Neil Cullen. However, his jokes could be improved. Coincidentally, the next day we visited Glenmore, the 650 hectare property of Neil and Pam Cullen, where their song turned out to be equally good.
The Cullen's won the Husquvarna South Island Farm Forester of the Year award in 2010, so I will not repeat much of what was said in that Tree Grower report of May 2011. Let us focus on other impressions left after the morning's visit.
Overview and bird song
The buses dropped us off on the airstrip overlooking Glenmore, which stretches from one side to the other of the relatively steep-sided Glenomaru valley. Such overviews are a great start to a field day, as it outlines clearly what you are in for. This view was even further enhanced by the clear singing of many tui and bellbirds, a chorus which became even louder as we walked down the slope alongside tall belts of eucalypts, pine and Douglas fir. It was so impressive, that one doubter asked 'Where can I buy those tapes?'
Use of the dark faces
The Glenomaru valley runs east to west, and most of the tree planting was on the shadier slopes facing south. This is logical land use, as not only are these the least favoured by grazing animals, but they also grow the best trees. All the same, experience had taught Neil to put gates into all the blocks to allow for animal shelter during storms – especially snow. In addition, if my experience is anything to go by, to allow any animal intruder to be readily returned to the paddock alongside. Seeing a sheep nibbling recent plantings is bad enough, but raising a sweat trying to catch and remove it is even worse.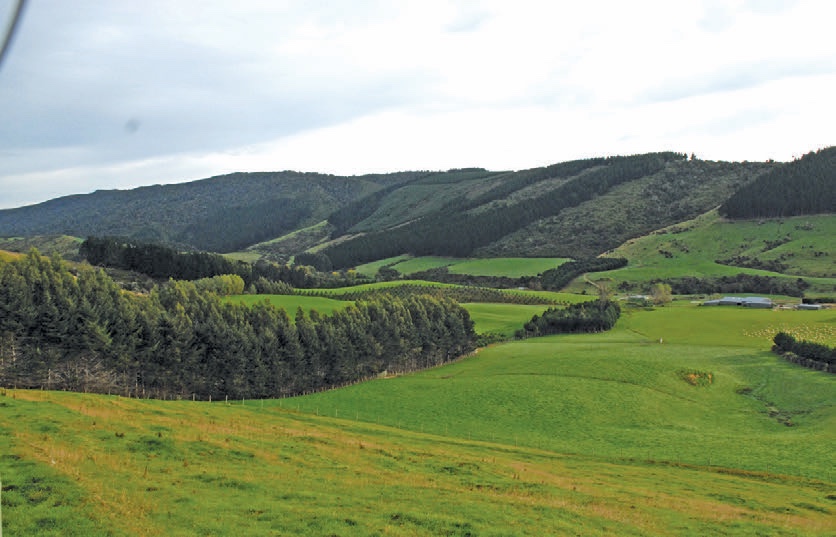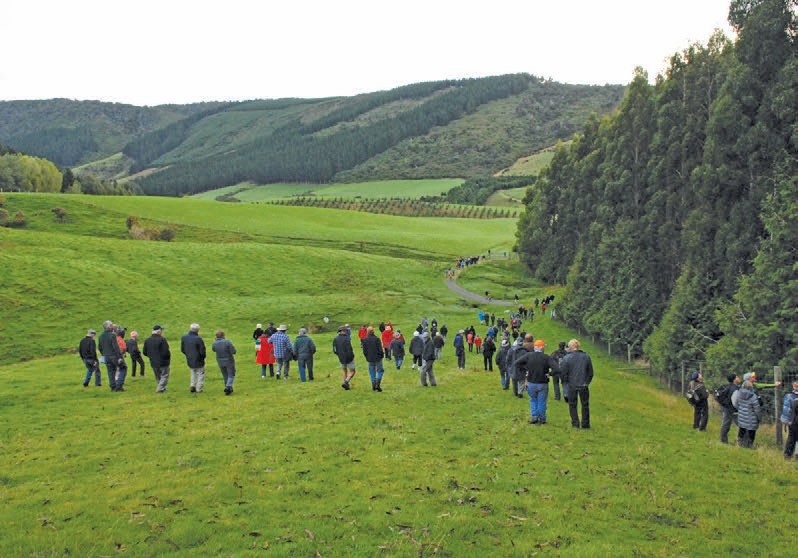 Cypress plantings
As is usual on farm forestry field days, plantation silviculture generated the most vigorous discussion, and our first major stop by a cypress block was no exception. A few years ago, Neil had planted a mixture of Ferndown and Ovens cypress clones on the south-facing banks of a small stream, at a stocking of around 600-700 stems per hectare. He wanted input and some clarity about the choice of clones and where to next relative to thinning and pruning.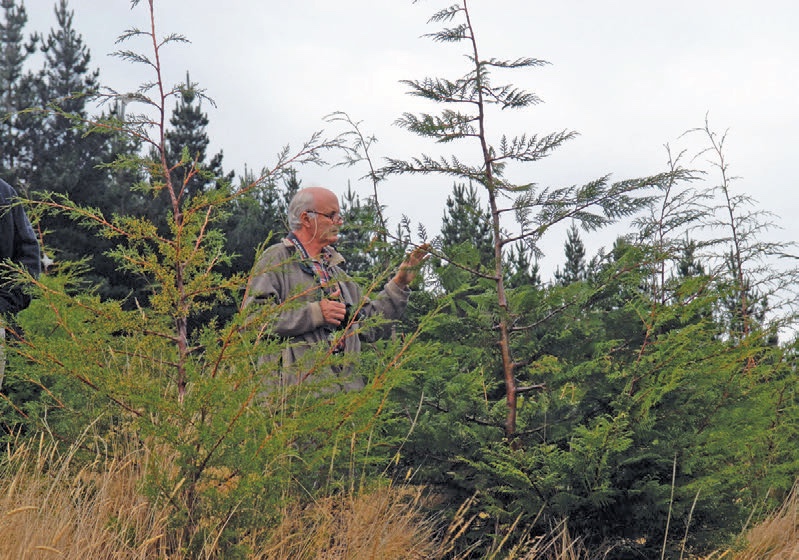 He got the input, but I am not sure about the improved clarity. All the experts featured, and as one finished, another stepped forward with hand out-stretched for the microphone. Patrick Milne, Dudley Franklin, Dean Satchell, Denis Hocking and Ian Nicholas.
I am not being cynical, as all made good points, but I did wonder whether the lesser-informed, who were wanting to learn how to manage their own cypresses walked away any the wiser. Exactly the same thing happened during a field-day at the 2011 conference in Masterton. As it turned out, the best-bet options were much more clearly spelled out at the afternoon's mature cypress session hosted by Ken Stephens, but unfortunately many of us had been 'over-cypressed' by that stage and were keen to divert to the dairy farm option instead.
Native forest
Neil and Pam have 130 hectares of native forest, most of which has been QEII covenanted. Right alongside is a Department of Conservation reserve containing mature podocarp forest in its original state. I do not think I was the only one who would have dearly liked to take a closer look at that.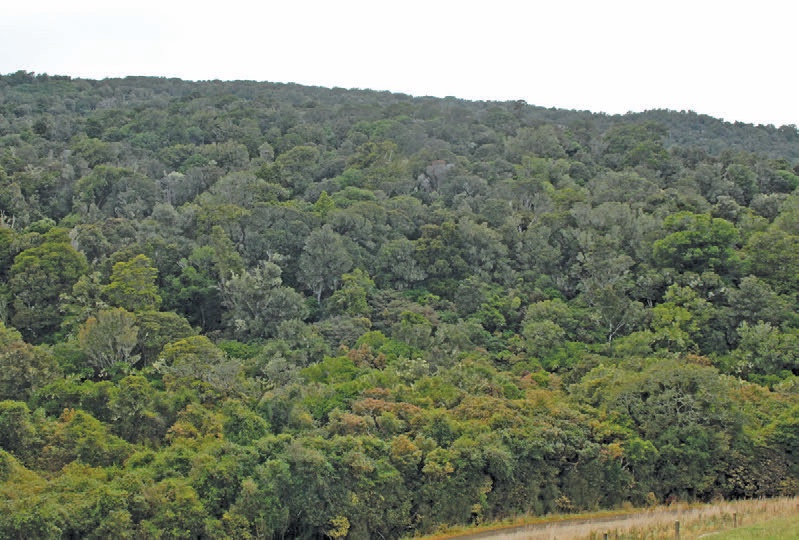 Near to the reserve was a large block of radiata pine planted by Neil's father, and approaching 30 years of age. As we passed by in the bus we could look across the stream and see a vigorous understory of native species. I suspect that a closer inspection may well have revealed a presence of young rimu, totara and matai – as the parent seed source was only a few hundred metres away. Way up north, in the Opepe reserve alongside the Taupo-Napier highway, all the young matai, miro and totara are mostly growing under scattered old-man radiata wildings, where the native birds have flown to perch after feeding in the ancient podocarps alongside.
We all love native trees, and I do not think we sufficiently recognise the role of introduced conifers as a nurse for the slower native starters such as beech and the podocarps. These, after all, are the eventual canopy species we desire most.
Riparian plantings
Our last stop was alongside the Glenomaru stream, which had been fenced off in order to minimize sediments, animal contaminants and farm nutrients from reaching the water flow. This was being achieved by the planted flaxes, toetoe and native shrubs and trees and the rank grass growth in between.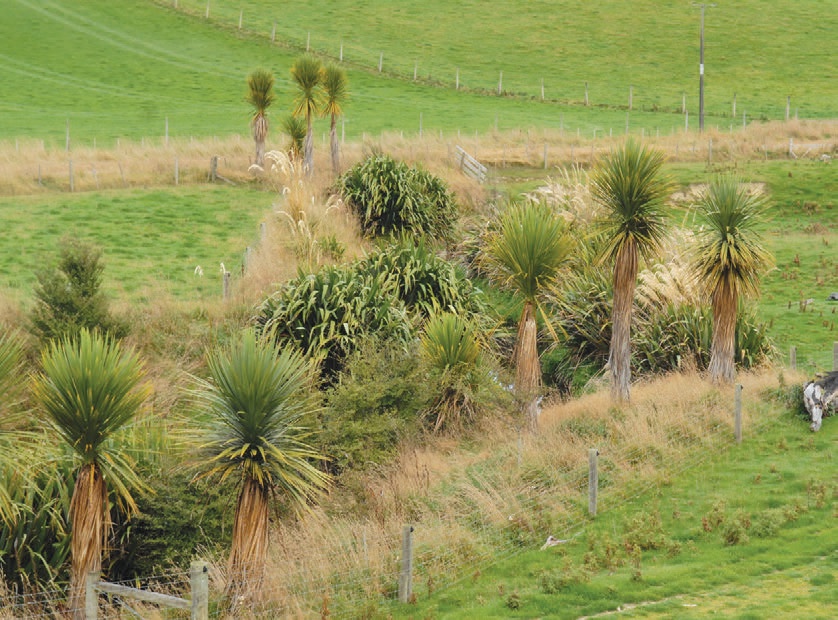 We were addressed by a young Otago Regional Council environmental officer, who was obviously well informed on riparian matters. We all agreed with her description of what we were seeing as representing a Rolls-Royce example of waterway vegetation and planting. However, to many of us, her address was perhaps a little too patronising – more suitable for a school class rather than a mature audience possessing many times her age and years of experience. Hopefully, some subtle person can pass on that message, as her knowledge was excellent, and if put across appropriately will most definitely influence many in the right direction.
Old homestead sites
Two of our stops were by former homestead sites from the first settler days. This was made clear by the remnant old fruit trees and a lone barrel-straight monkey-puzzle tree with just a few live branches at its top. The gauntness of that old tree alluded as to how tough it must have been in those early days, especially if the property consisted of dark slopes, where the sun only just peered over the ridge top during winter days. Apparently, it was too much for one wife left alone while her husband went to war – she also departed when she became just too depressed.
Even more recently, a Country Calendar programme featured the last cattle drive before the abandonment of a reverting farm not much further up the Glenomaru valley.
Needless to say, farm abandonment is not even a remote consideration for the Cullens. Their property has many examples of best land use practice, and it was obvious to all those present why they were the winners of the Husquvarna award in 2010. I really enjoyed visiting an excellent property, and on reflection, Neil's excellent singing on the bus the night before was just the right prelude.