Landcare Trust Award for Innovation in Sustainable Farm Forestry 2010 - Michael and Michelle Anderson
Author not published, New Zealand Tree Grower August 2010.
Sometimes the boundaries between farmland and park become blurred. This is certainly the case at Lyndale farm owned by Michael and Michelle Anderson, the recipients of the Landcare Trust Award.
This 490 hectare property is located near Hokonui, 50 km north of Invercargill. Lyndale farm is a model of how farmland, plantations, shelter, livestock, riparian plantings, and indigenous bush remnants can be integrated in such a way that production, environmental protection, and aesthetics are all maximised. The property is a high producing one, and a fine example of all that is advocated in integrated and sustainable agriculture.
The long term
Michael is the third generation of Andersons on the property having set up in partnership with his father in 1975, and then later with Michelle. They have a long term outlook towards sustainability, retiring wet clay hillsides to trees, fencing water ways, creating good shelter and covenanting indigenous bush remnants.
Some of the fencing and plantings were initially for farm management reasons, but now the environmental reasons are just as important. Michael's grandfather had a nursery and he collected seeds for him and grew some of the trees himself. Some of these trees are prominent on the farm today. Michael's first plantings were in 1980 and he has taken an active interest in growing his own macrocarpa cuttings.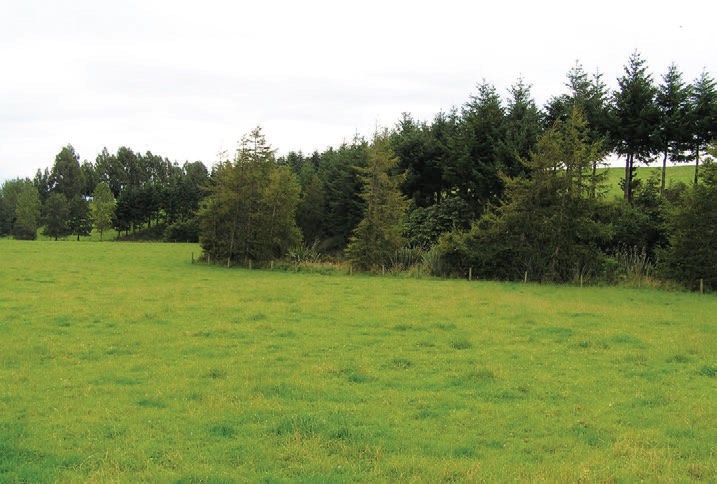 Riparian plantings
Butlers Creek runs the entire length of the property and with a rocky bottom and clay sides, it runs all year. The Andersons have fenced much of the creek to keep stock out, giving rise to excellent water quality. A number of pond plantings have been carried out, with a mixture of deciduous trees, indigenous species and conifers.
QE II Covenants
Lyndale has significant areas of indigenous bush remnants of which the Andersons are justly proud. A 17 hectare block was covenanted in 1983, and also soon to be covenanted are a further 7.5 hectares, with another 13 hectares of scattered remnants mostly fenced and protected.
Shelter, amenity and forestry
Because of the variable weather the Andersons have established an extensive network of well planned shelter. Amenity and shelter areas cover an estimated 22 hectares.
Extensive and well managed forest cover 40 hectares. Early plantings of seven hectares of Douglas fir were made in 1967 and 1970, mostly on sidings and along the creek on the farm. One of these areas has been covenanted to be logged in the future, then left to regenerate into indigenous species which are already prolific in the understorey.
Sustainability needs passion
If any of the environmental groups or politicians need an example of what is being done for sustainable agriculture and forestry in New Zealand, then they need to look no further than the Hokonui property of Michael and Michelle Anderson. This has been going on quietly and methodically for a number of years and generations. It is a fine example of what a deep affiliation with the land, knowledge, passion, and hard work can achieve. Few properties or farmers in New Zealand would be more suitable as recipients of the New Zealand Landcare trust award, and provides a wonderful case study for sustainable agriculture on a high producing farm.