Husqvarna South Island Farm Foresters of the Year 2010 - George and Terry McMeeken
Author not published, New Zealand Tree Grower August 2010.
George and Terry McMeeken farm 295 hectares at Feldwick, 25 km north of Tuatapere in Western Southland. George and Terry are long time members of the Southland branch and are active in their community. They are great advocates of the use of trees to achieve integrated and sustainable land use, and have provided advice on all aspects of tree growing to neighbours and the wider Southland area.
George and Terry McMeeken operate a neat property which is producing well. Their land is a showcase of how trees can augment a farm landscape, provide stock shelter, protect water quality, and produce a valuable financial return.
The property consists of mostly rolling hills which are fertile and free draining, as well as some heavy, poor draining soils on the flats. The climate is considered temperate, snow is not a problem, and the rainfall averages 1000 mm spread evenly throughout the year.
Planting and logging
Forest plantings now cover 37 hectares with 22 hectares of radiata, seven hectares of macrocarpa, five of Douglas fir and the balance in eucalypts. There is a variety of poplars in gully plantings and over two kilometres of shelterbelts. In addition are the amenity plantings with more planned, and several areas of wetland and regenerating scrubland. These indigenous areas have been fenced and macrocarpa planted around the edge for weed control and protection.
When George and Terry purchased the property there were 15 hectares of five-year-old radiata pine planted on steep sidlings. They low pruned these after purchase, and followed this with a medium prune and thinning, with a contractor employed for the later high prune.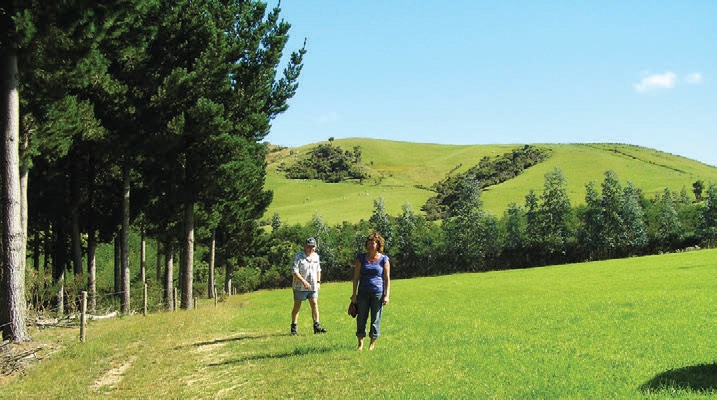 These three blocks have produced high quality and high yielding plantations. Five hectares were logged in 2007 and 2008 producing 777 tonnes per hectare with a nett return of $36,190 a hectare. All trees were sold into the domestic market in Southland.
A further 10 hectare plantation is due for harvest, and with improving log prices, the nett return for the McMeekens looks very promising. It shows that returns from trees can match or better most farm enterprises, given proper management, location and climate.
Macrocarpa and Douglas fir
Several blocks of macrocarpa have been planted ranging in age from seven to 17 years. Originally the Longwoods strain was planted but Strathallan has also been used. These are being, or have been, pruned to six metres and show very good form and no problems with canker.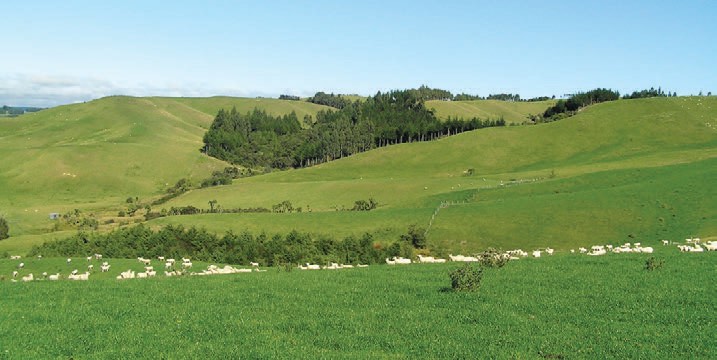 As has been done by other farm foresters, eucalypts were inter-planted as a nurse crop, but this has caused problems of competition, and they have all now been removed. A small block of lusitanica has been planted to compare the growth of this species with that of macrocapa, and so far they look good.
In order to diversify the forest plantings the McMeekens have recently planted Douglas fir in a four hectare site that previously grew radiata pine. The health of the trees is a tribute to inoculated plant stock and good planting. These trees, now nearly two years old, are thriving but weed competition from broom and gorse are threatening.