Case Study: McIntoshes
Partnering for success
Overview
For Wanganui farmers Dougal and Di McIntosh, joint venture forestry has proved the key to survival through tough times, enabling them to maintain their forestry plantings and generate cash flow for farm development. Now a new type of partnership with Horizons Regional Council is taking their hill country sheep and beef farm to an even higher level of sustainable land management - and they're still planting.Today the property runs 6,830 stock units, mostly as a high performance sheep flock, but it's been a long slog to get it to its current level of productivity.
Dougal's grandfather bought Ratamarumaru just before the first World War with the bush still on it. However no-one in the family lived on it until he and his brother came and lived on it in the late 60s. The two became partners in 1970, then Dougal and Di bought the family out in 1980. At least half the farm at that stage was scrub and gorse. A lot of effort went into clearing this in the 60s but Dougal says he's been battling gorse ever since. "That's the irony - if we'd had the foresight to clear the scrub and put it into trees we would be on our third rotation now," he says.
Dougal and Di's vision is to develop a sustainable farm business that will help support future generations of their family as well as provide for a quality lifestyle in retirement, and afforestation is helping them achieve these goals.
They've always been committed to planting trees for timber production and for aesthetics on their property. However following two severe weather events trees have assumed even greater importance, with the McIntoshes entering into a ground-breaking joint venture forestry partnership with Horizons Regional Council that is enabling erosion-prone parts of the farm to be converted into forestry.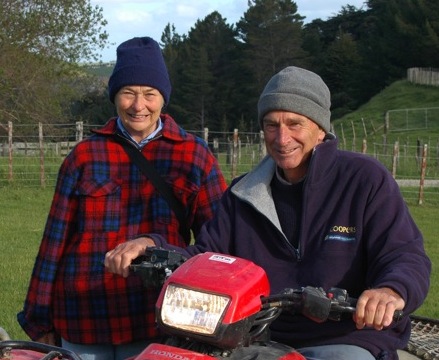 The Whole Farm Plan prepared as part of the process by Landvision consultants Lachie Grant and Sarah Dudin identified some 181ha of the home farm vulnerable to erosion and not suitable for livestock, and 75 percent of the land so steep that livestock farming is limited. And with the fundamental viability of the farm at risk if future severe weather events caused further erosion, "business as usual" was no longer an option. Forestry is adding a significant income stream to farm revenues while converting vulnerable hillsides to a more sustainable land use. At the same time annual cash flows from the joint venture will allow the McIntoshes to boost productivity on the rest of the farm, offsetting the economic impact of such significant land use change.
Land description
The McIntosh's traditional sheep and beef farm is in moderate to hard hill country in the upper reaches of the Kai Iwi catchment, at Brunswick north of Wanganui. Although the farm is considered summer moist, an autumn dry period can often be experienced. It rises from 180m up to 420 m asl. The total area of the property is 1,124.9 ha with an estimated 594.9 ha in pasture, 333.1 ha in forestry and 182.4 ha in indigenous bush or scrub. Approximately 81% is hill and steep land formed from weakly consolidated sandstone - siltstone base, and the remainder is undulating to rolling downlands formed from volcanic loess and alluvial flats.
The Whole Farm Plan has identified a further 200ha that needs planting to strengthen farm sustainability, with a consequent reduction of 1300su.
Access throughout the farm is good, with well established logging roads and farm tracking.
Stock water consists mostly of natural stream water within the harder hill country and reticulated water throughout the better country.
Large areas of indigenous bush remnants and regenerating scrub (more than 100ha in total) are a feature of Ratamarumaru and most are fenced off from stock.
Click here to see Land Use Capability map.
Environmental issues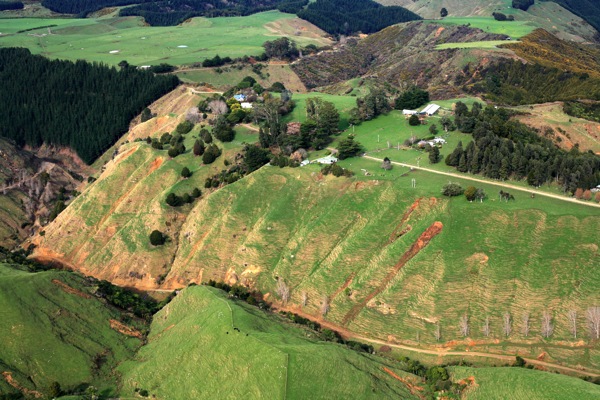 The major environmental concern for the McIntosh's property is erosion and the resulting sediment contribution. The erosion risk ranges from moderate to severe for large areas of the hill country, mostly as soil slip and gully erosion, and dramatically worsened by severe weather events in 2004 and 2006. Flooding highlighted the vulnerability of culverts and bridges to high rainfall events particularly with summer high-rainfall events on north-facing sandstone country that tends to dry out.
Many perennial waterways are already well protected with non-pastoral vegetation. Large areas of sensitive hill country have already been afforested for erosion control as well as commercial returns, with some areas now into their second rotation.
Farm Operation
The farm winters around 6,830 stock units in total, in a ratio of 65:31:4 sheep:cattle:deer. A flock of approximately 4,400 MA ewes plus 1,200 ewe hogget replacements is maintained, and a herd of 200 MA Angus cows. The increase to an extra 200 ha in forestry will reduce the total stock by 1300 su.
The ewe flock is a Composite breed and has had Highlander rams go across the base flock for the past eight years. The lambing performance has been improving in recent years with a docking result of 125% now being achieved.
Lambs are sold either prime or store depending on pasture cover, time of year and market prices. Typically 300 - 400 (12%) are sold prime off mum at weaning at 32kg or better liveweight. Post weaning the target drafting weight is lifted to 38kg liveweight.
Ewes are shorn pre lamb in July and then again in January (including 2 tooth's) following weaning. Lambs are also shorn in January. Ewe hogget's are shorn in July.
The Angus herd is of a smaller frame size to aid in stock mobility on the hill country. Calving commences in September normally behind a wire. Heifers calve for the first time as three year olds. Calving performance is good averaging 90% annually. All progeny born are retained to 18 months of age with the top 50 heifers mated and the remainder sold. Steers are sold store in the autumn period. All dry cows are sold along with any cow that fails to rear a calf.
A small herd of fallow deer (200 hinds and replacements) is maintained on the property but for all intents and purposes this represents a hobby with little or no financial gain.
Soils
The soils on the farm are primarily derived from volcanic parent material so have characteristically high ASC levels. This slows the speed at which soil phosphate levels can be improved. However, a positive of this feature is that the soil does not require regular sulphur applications.
In 1998-99 the McIntoshes became part of a SUBS (Soils Underpinning Business Success) group. These government-funded discussion groups were driven by AgResearch. Typically each consisted of around 10 farmers who would visit each property, and identify soil types, strengths and weaknesses, and possible opportunities and options. Dougal says that in some ways this was a forerunner to the Whole Farm Plan.
"It was a neat programme and the most stimulating thing we've done because it proved to be the first step to everything we've undertaken since. That same philosophy goes for all farms... identify your soil types and acknowledge their strengths and weaknesses."
Click here to view farm soil map (pdf)
Fertiliser and Nutrient Management
Soil fertility is variable on the farm. An average of 240t of superphosphate is applied to the farm each year, equivalent to an average phosphate input level of 31kg/ha. This is above maintenance and the investment being made in lifting soil fertility is underpinning improved livestock performance, with the lambing percentage lifting as a result of improved pastures.
The roles of trees on the property
History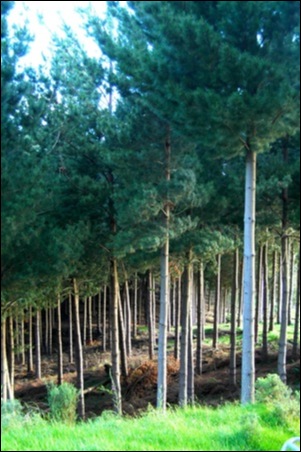 Forestry is the logical and most appropriate land use to control eroding hill country and protect the farm from the impact of future severe weather events, but it's been on the McIntosh radar for over three decades.
Dougal planted his first block of radiata pine in 1974, with the help of a Forestry Encouragement Grant and the support of NZFS extension officer Tom Muir (a.k.a. "the wee Scot", as Dougal affectionately calls him). He says the grants were good schemes, in that the cost to the government was a relatively cheap way of getting the trees into the ground, especially after taking the tax, income and employment that flowed on from that.
Planting was also encouraged by Ian Moore, the field officer for the Wanganui Kai Iwi Catchment Scheme. More trees followed thanks to the Forestry Encouragement Grants, in 1976, '77, '78 and '79, and by this time totalled about 120ha. However by the beginning of the 80s the grants were harder to get and cash flow from farming just wasn't there. Dougal McIntosh recalls how it all collapsed in 1984 when the forestry grants were taken away by "that bloody Roger Douglas and his mates", which suddenly made the forestry investment a huge liability.
"It was extremely worrying. Along with the rest of farming, hill country farming just ran into a brick wall, particularly if you had any form of debt - and I think the bulk of us did. It was a very bitter time and a very tricky time for forestry."
Even so, they planted two more blocks of radiata in 1985 and 1986, pretty much in the spirit of "going down fighting". There wasn't much option... the blocks needed to be planted because they couldn't keep the weeds off them as there just wasn't the cash flow to do that. Ever positive, Dougal recalls that he was starting to gain the benefit of hindsight he should have had 20 years earlier - realising the importance of integrated land management.
Joint venture opportunities
Worse was to come, however. By about 1990 the McIntoshes were virtually broke and looking to change banks. No-one else would take them on, until one bank said they would if Dougal and Di could come up with a certain amount of money. The only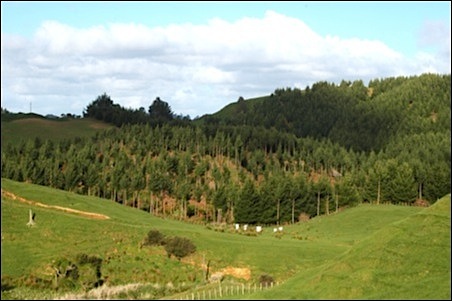 saleable asset other than the whole farm was the forestry. They formed the 120ha of forest into a joint venture made up of 24 shares and Dougal and Di kept half of it. A family trust took another 3, and they sold the other 9 shares to outsiders. However they consider themselves fortunate in that they knew the people who bought the shares.
The new investors not only brought finance into the forest but also brought an urban perspective and business skills, which Dougal sees as the strength of the partnership. There is still one of the original partnership's blocks left to harvest, in 2012. Two new partnerships were formed in 2000 and 2002 and the bulk of the original partners are also involved in these ventures.
Another crucial step came during a SUBS field trip to the farm.
"One day I was looking at this really steep hill with one of the guys from Horizons. It was due for its next weed re-spray, it was eroding and an awful paddock. I asked what would you do with this piece of ground, and he replied, plant trees. I exclaimed, well how on earth can I afford to plant trees! And he said well we'll give you a kick off... so we got something towards planting trees."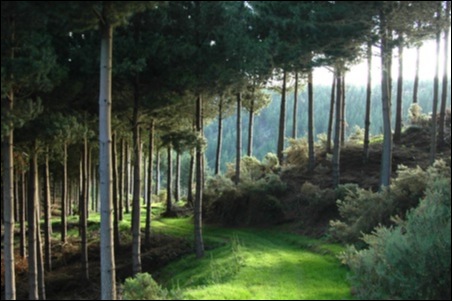 Everything was coming together at the same time, with the realisation of the relative strengths and weaknesses of different land pockets, the encouragement from Horizons and rising farm prices.
"The boom of 2000-2004 was a wonderful time," says Dougal. "It was then that I thought why not try another JV. I put it to the partners and the neat thing was that our children and some of their children came in as well, so we are into the second generation of partnering.
"We formed these next two partnerships to plant steeper country. In the first year we planted pine, then I became aware of the interest in redwoods so we planted redwoods the second and third years. With the joint venture providing cash flow there was a cash input from the forest I could inject into the rest of the farm with fertiliser and fencing etc so we actually increased our stocking rate despite taking nearly 200ha out of production and putting it into forest. So it was all very exciting."
Then came the extreme storm of February 2004, the first of three 1-in-100 year events to strike the McIntoshes in a two year period.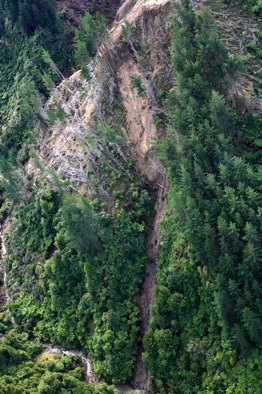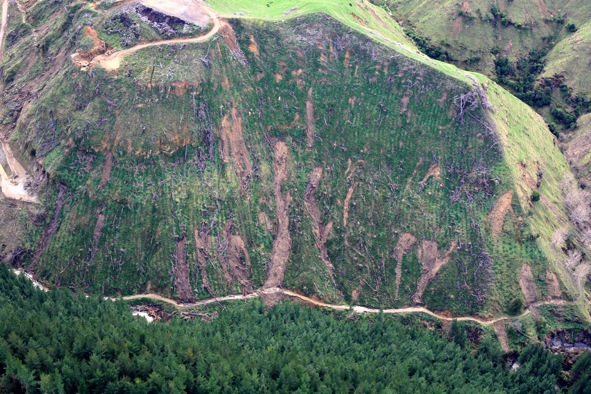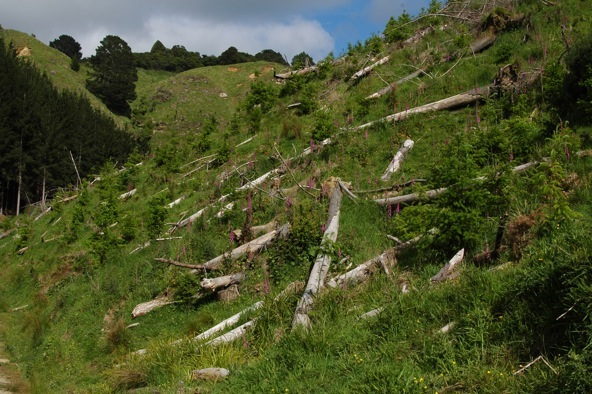 Clouds with a silver lining
In response to the 2004 event, Horizons Regional Council set up its Sustainable Land Use Initiative to develop a package of solutions with the aim of protecting people and assets from future storms, protecting the soil asset upon which the rural economy depends and reducing the region's future reliance on government relief.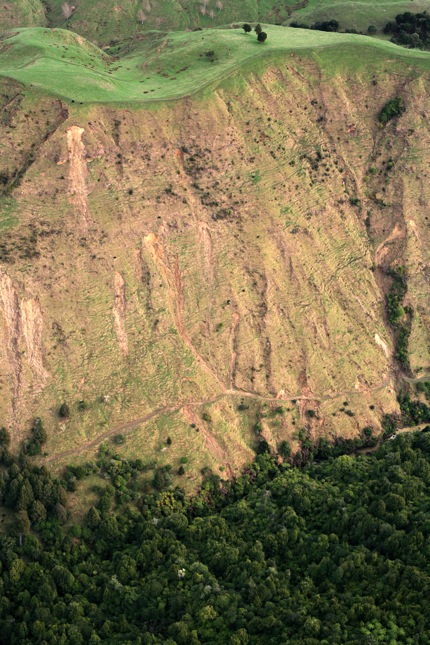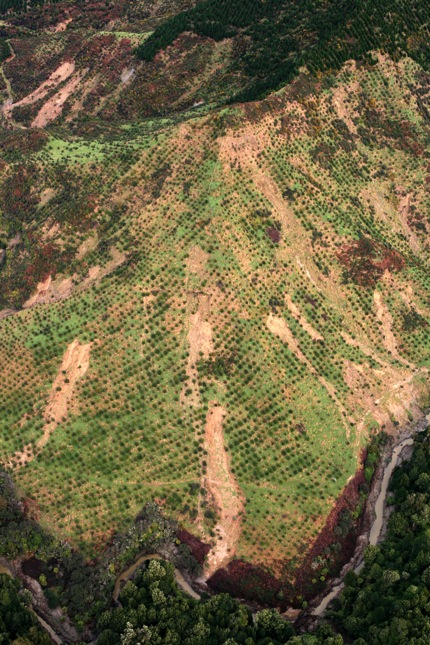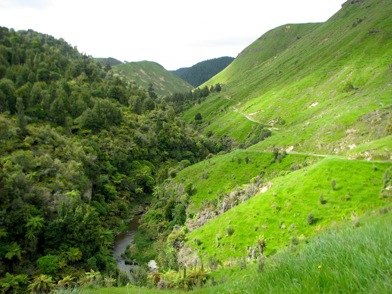 The key tools underpinning this strategy are the One Plan and Whole Farm Plans (WFPs). The One Plan is a new regional plan to manage natural resources for the next decade, combining six separate Regional Plans covering air, water, land, river and lake beds and the coast, plus the Regional Policy Statement. Hearings on the proposed One Plan will continue until the middle of 2009.
While the One Plan is rule and regulation based, Whole Farm Plans are a voluntary, non-regulatory, incentive-based approach to achieving similar goals. The focus is primarily on resource conservation (soils, land, water, vegetation) and sediment management, but it also extends into enterprise development, acknowledging that the environment and farm businesses cannot be treated separately.
After initial scepticism, more than 130 farm plans were completed in the first two years. Horizons aims to work with 1500 farmers by 2017 to help fund environmentally sound land management techniques including retirement, conservation and commercial plantings, fencing off wetlands and watercourses. Both Horizons Regional Council and the farmers commit to ongoing responsibilities for the implementation and maintenance of each plan.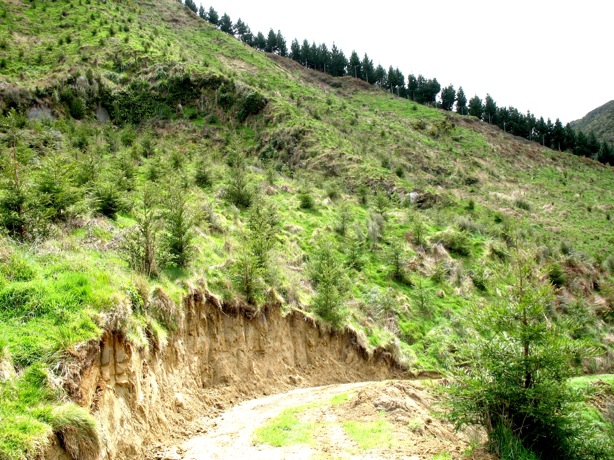 The McIntoshes say their WFP process has been a very positive exercise. Produced by LandVision consultants Lachie Grant and Sarah Dudin, it included:
A review of the existing farm business using benchmarking, a SWOT analysis etc;
Assessment of land, water, living heritage and farm production resources;
Identification of environmental issues and recommendation of tailored best practice;
Planning of an integrated long-term farm business plan and 5-year environmental programme, and
The design of a follow-up procedure to clarify responsibilities, monitoring, maintenance and support.
The report identified that some 181ha of erosion-prone land should be retired from pastoral use to ensure the long term sustainability of the land and given the potential for financial loss as a result of severe flooding and erosion caused by severe storm events.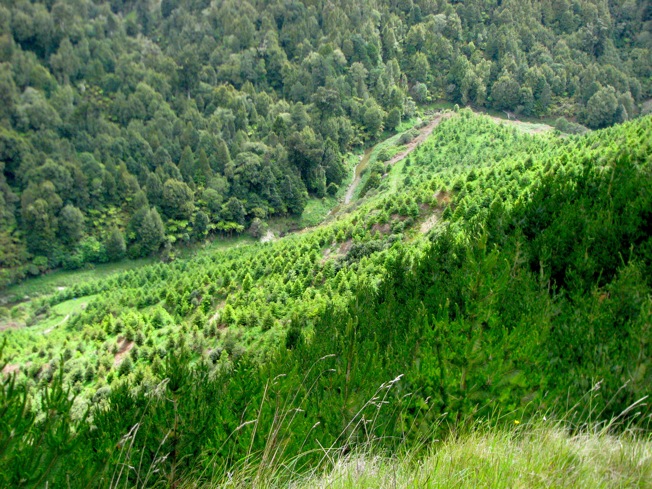 While problem areas are inevitably a major focus, many complementary strengths have been identified that could create real opportunities for the farm business. These will help offset the reduction in stock units from retirement of land - for example, by continuing to lift sheep performance levels, further intensification of the better parts of the home farm, and utilising the equity level of the farm to develop the property further, as well as lift farm cash flow as a result of higher livestock productivity levels. The WFP also included recommendations for fertiliser and nutrient management, grazing management, pasture production and intensification strategies.
"We're lucky because our better land is on the top of the hills, so we've got the versatility and we have huge riparian buffers," says Dougal, acknowledging that other land owners in the region don't always enjoy the same flexibility.
The Whole Farm Plan acknowledges the huge amount of work the McIntoshes have already undertaken, noting the large areas of sensitive hill country already afforested for erosion control and commercial benefits, and waterways well protected with non-pastoral vegetation. Large areas of indigenous bush remnants and regenerating scrub enhance the biodiversity value of the property.
However with the erosion risk ranging from moderate to severe for large areas of the hill country (mostly as soil slip and gully erosion) the Plan's recommendations centre on changing the land use where current usage in the long term is considered unsustainable.
Soil slip erosion is one of the most common forms of erosion on the property. Where it is only slight and there is adequate soil depth it can be controlled with space planted trees, but where the severity is greater or the soil depth shallow, afforestation or retirement was proposed.
Ten blocks covering approximately 200 ha were recommended for afforestation. Harvesting, access, site and species suitability have all been considered for selection of the recommended forestry sites, with species selection including eucalyptus, lusitanica cypress, radiata, a gully in red alder (Alnus rubra), Himalayan cedar for production purposes, blackwoods using regenerating scrub as a nurse crop, and Douglas fir.
Approximately 12.5 ha has been recommended for managed retirement from grazing, mostly areas with moderate to severe erosion that struggle to carry more than four stock units, but where there is poor access or conditions for short rotation forestry. Sheep grazing will be continued in the short to medium term, but with no further inputs such as fertiliser or scrub clearance. With time, these areas will naturally revert back to native bush. One 7.0 ha managed retirement block will have oaks planted for long rotation, high value timber production and beautification.
Controlling gully erosion in the soft sandstone belt is a high priority, as active gully erosion creates over-steepened hill faces and soil slip erosion. The areas of highest priority are those adjacent to roading or tracking infrastructure and good pastoral land. For these areas a series of debris dams in association with gully planting has been recommended.
Other key recommendations include targeted space plantings on easy to moderate hill country prone to erosion, controlling persistent weeds and enhancing indigenous bush. The WFP also identifies shade and shelter as an important animal health issue, noting that while the property already contains significant vegetation for shade many paddocks need more provision for shade during the hot summer period.
For more information and a map of recommended plantings click here
For more information about the estimated cost of afforestation recommended in the Whole Farm Plan click here
So how has Dougal reacted to what the skeptics might describe as a bunch of bureaucrats telling him what to do?
"Well, we had a very large part in accepting how the whole farm plan was written, so it wasn't just a question of it arriving and us saying heck they're really hitting us hard? We had a lot of input, right down to what species we wanted to plant where, and whether the boundary of a particular piece of erodible land should be expanded or shrunk.
"No, in our personal instance it was an empowering thing, because when we were with Lachie and Sarah they'd keep asking "well what do you want to do?". We sought their advice, but the decisions written into the plan can really be sheeted home to Di and me. That's why I think that for our farm the Whole Farm Plan was a very positive exercise.'
He believes people who have been on their land for a long time, even if they have not had access to lots of finance and high tech advice, do have an instinctive ambition for their land and a feeling for its capability and potential. For the McIntoshes, the Whole Farm Plan drew on their hopes and dreams, and is also a mechanism to demonstrate the vital role of trees as part of an integrated land management strategy.
"We're bona fide farmers, not just nice tree hugging people," he stresses. "The whole point of what farm forestry is trying to achieve is exactly the 'whole farm' philosophy."
In 2006 the Brunswick district suffered a very local storm which affected only 90-odd farms. It was a deluge, causing catastrophic erosion in the hill country. In places the McIntoshes lost over 20% of the grass. This event got no publicity, but it was a much bigger blow to those affected than the 2004 storm. Two years after the 2006 event the scars were just as vivid as the day after the storm.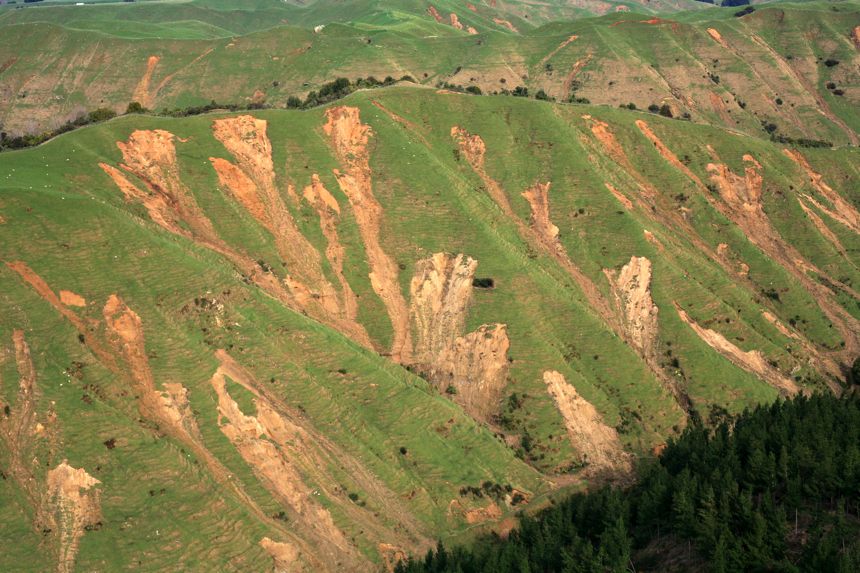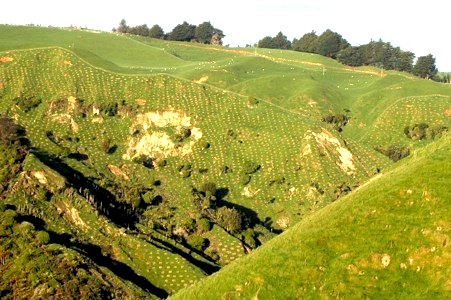 "I have this huge fear that if we have another one of these, suddenly the farm would rapidly become uneconomic, because if we keep losing our pasture we're stuffed," says Dougal. "That's why I really fell over myself to get a whole farm plan, to see what I should be doing and whether that gave me any ability to attract outside funding. I'm most concerned that we finish getting the trees in and growing because we're still vulnerable for at least 6-8 years before they start having a positive effect in terms of root mass."
However none of this comes for free. The WFP arrived after three cataclysmic climatic events "and there was no cash ability". While the WFP identified areas that urgently needed to be planted no-one was investing in forestry. The solution, after considerable negotiation, was an innovative joint venture partnership with Horizons.
"There was initial criticism of Horizons for being slow to respond after the '04 storm, but I think we were all so intimately involved? the devastation was just outside our windows and all the rural people could think of was what are they doing to help me. But Horizons had to get their One Plan established so that it was (a) workable and (b) bomb-proof. This is why they had all the public meetings, to get the best for the region.
"We went to a monitor farm just after the '04 storm when Horizons was talking about the concept of the One Plan and there was just withering scorn poured on these poor guys? Now more and more farmers are asking how they can take part in the whole farm plans and get the benefits from them. That's the reality sinking in and the benefit of a bit of thought and time. No farmer will turn 180 degrees overnight - your whole life is bound up in the farm and you've got to have a mind change to adopt new things, but particularly something that is so completely alien - to have, in effect, bureaucrats advising you what to do.
"There are the personal benefits to our individual farm - that's where you really start off - but then those benefits flow on to a wider community and ultimately to the wider community of New Zealand as a whole. It's not just the McIntoshes up at the head of the valley who are responsible for all the mayhem and damage down the river so therefore I think that there's got to be a partnership. The whole point of the One Plan and the whole farm plan is an exercise in prudent land use and it still gives the farmer the individuality to do many things...unless he's flying in the face of sensible land management."
Forest management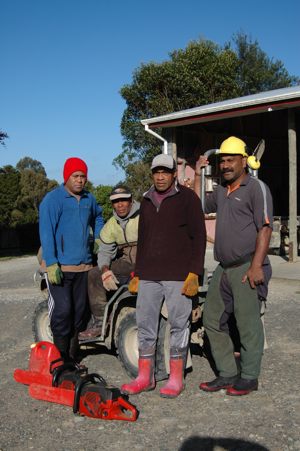 Because of the terrain, the basic planting regime is 1100 stems per hectare, thinned to 200. Everything is pruned because Dougal believes that small farm-sized woodlots have got to keep all their options open. Because their forests are so isolated - and all very high cost hauler country - the McIntoshes really need to get the highest value from all of their products. The work is done with a crew of full time employees.
After the 2006 storm they managed to straighten up some of the windthrown pine, but also replanted. With little information available a few years back on windthrow risk and how to alleviate it, they had followed the popular treatment of the time, which was to do all the pruning and then just one final thin when the trees were about 10 or 11.
"We hadn't quite finished the block, and it was devastated because it was just these tall, very vulnerable spindly trees. Now we're going back to the old system of two or three thinnings so that we're always taking out the crook trees, the double headers or whatever and we're getting down from about 1000 to about 500, then from 500 down to 250, toughening them up progressively."
Harvesting
The 20ha planted in 1974 was harvested in 2000, the McIntoshes' first and only planned harvest. Everything since has been because of storms and wind throw, but with the 2000 operation they were able to get roads in and do everything in a planned way.
The one unplanned thing - and something of a cautionary tale - was during road lining (cutting trees out to put the tracks and skid sites in). Dougal thought he could do all the marketing, but realised after two days ringing around trying to market the logs that he just didn't have the necessary skills.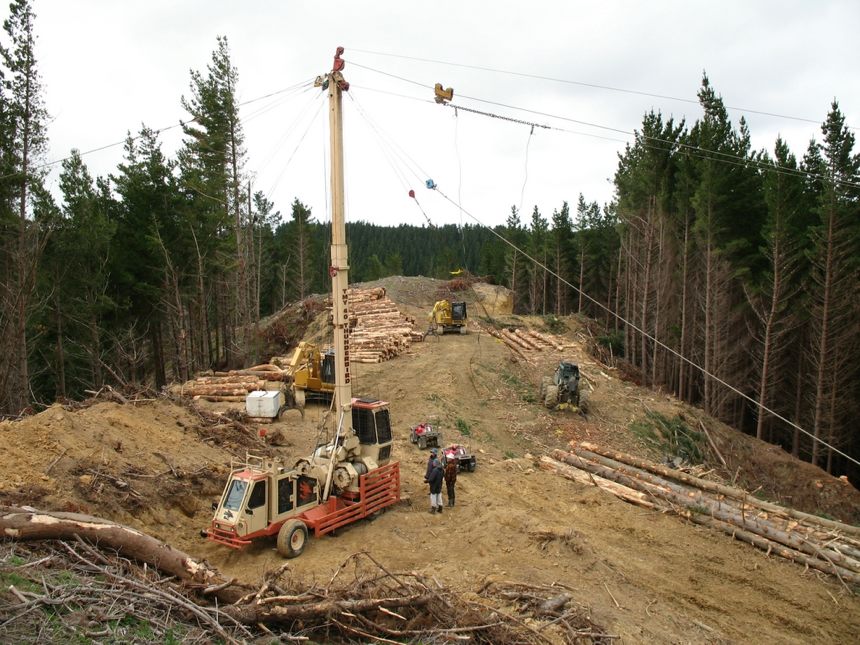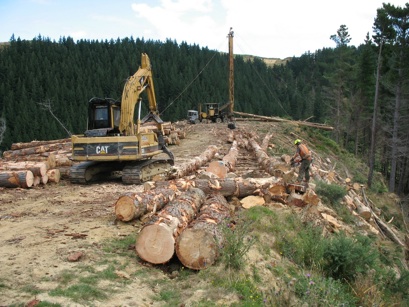 "I realised how out of my depth I was and turned the road line over to someone else straightaway," he admits. "It's a bit like selling your stock - you've got to have a stock agent, and you've got to have a marketing agent for forestry, I'm convinced of that. If you're selling specialty timbers and in direct contact with New Zealand buyers and users it's probably different, but with radiata the different logs have different markets and different end uses and it also ties in with the freight. Sometimes logs seem to travel vast distances but because it's all part of a contract the freight is often cheaper to a distant mill than it is to a closer mill so the net return is better."
A lot of roading was required, including a 5km main access road. This was completed at a cost of approximately $22,000/km including a concrete bridge - not bad when the council allows for $150,000 per km for this style of road. Dougal describes the resource consent process as a very practical exercise, and they got a 20 year consent which will get them through all the trees planted before 1986.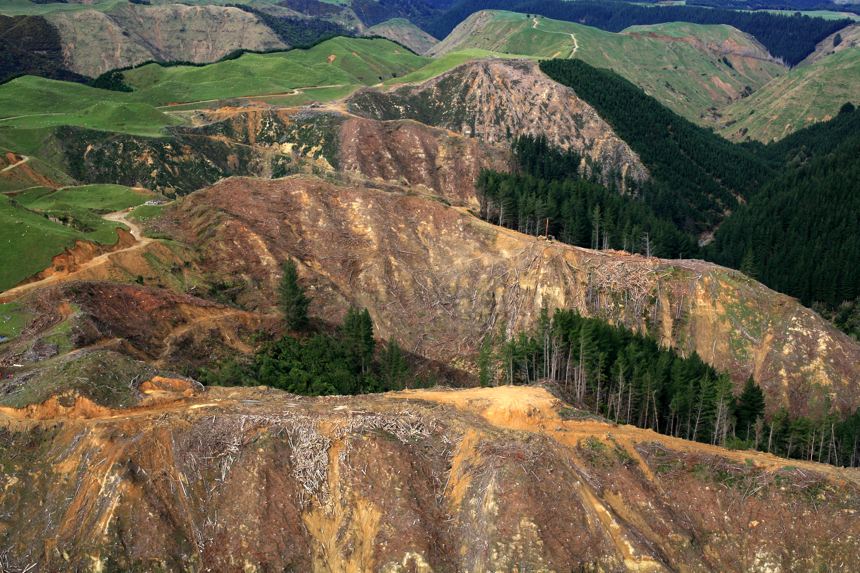 The returns
How did revenues compare to other farming operations? At time of writing Dougal based his calculations on five sheep to the acre, which he described as "pretty good".
"If you assume 100% lambing - 5 lambs - and they were worth, say, $60, that's $300. Then the other income might be wool and whatnot, but then you've got the weeds, the fertiliser to come out of that so perhaps you're looking at $250/ha nett annually (and we never have a nett here!).
"Then say you harvest 500m3/ha and it averages $30/m3 nett - that's roughly $15,000. Based on a 30-year rotation that's $500/ha/pa nett - that's the simple arithmetic of it. But when we did that 2000 harvest, the one that we planned, we actually netted $57/m3 and the dollar was high so there's a huge difference. You could add all sorts of things - the cost of money, forest cost which is about $2000/ha spread over that, $1000 to plant it and $1000 for silviculture, and all those details - but the basics are pretty obvious, that the forestry is still ahead even at a time when forestry was low and meat was reasonable. And you should be able to get 550m3 with better silviculture...500m3 is not a very high volume return, particularly at 30 years, but it's easier to calculate."