Newsletter 145, April 2023

In this issue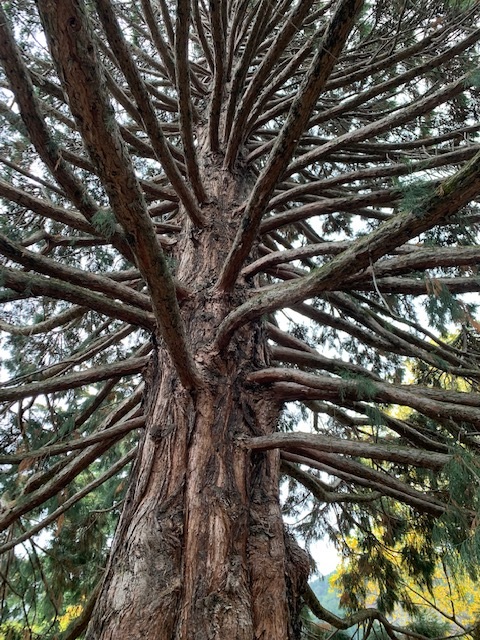 Sequoiadendron giganteum Wellingtonia - Queenstown Botanical Gardens
President's Update from Neil Cullen
At our recent conference in Timaru I was elected as your President. This is my second term in this role and already I can see that the demands and expectations have increased markedly since 2019.
Fortunately Graham West and the other office bearers are committed to spreading the load by filling some of the responsibilities the President has previously shouldered alone.
For those who do not know me I farmed in South Otago for more than 40 years and became increasingly addicted to planting and managing trees as part of our farming operation. With the next generation running the farm I have now more time to concentrate on forestry and all the issues that our organisation must deal with.
Over the several decades that I have been a member I don't believe there has been a greater need than now for a strong Farm Forestry Association promoting the wise use of trees on farms and supporting the small scale forest owners.
Cheers Neil.
NZFFA President
Offshoots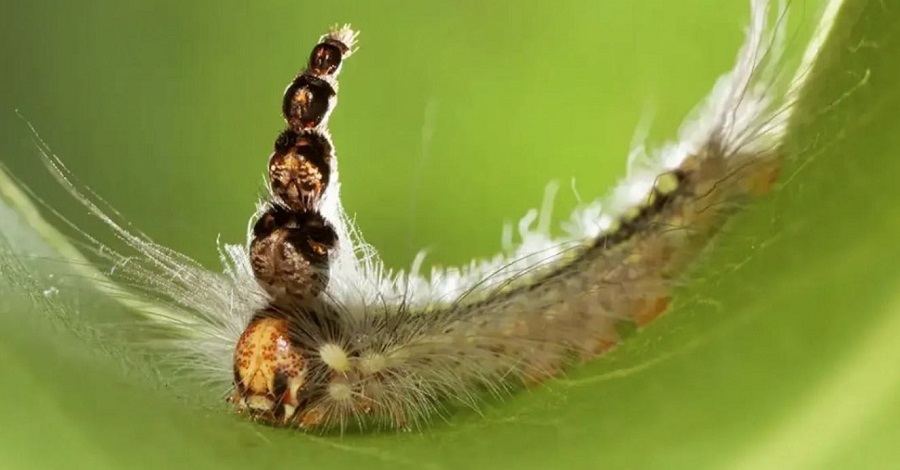 For more information on these events, they are posted on the NZFFA website »
Branch secretaries, please make sure you notify head office of any branch or action group events.
---
Positive moves within the NZFFA Executive
Vaughan Kearns - Vice President
For a number of years there has been a lack of farmer representation on the NZFFA executive. I am glad to be able to report that following the AGM this has been addressed to a great extent.
We are extremely lucky to have a steady hand at the helm with the election of South Otago farmer, Neil Cullen who was elected President after the retirement of an extremely busy Graham West at the AGM.
Graham has done sterling service for the organisation and has taken us ahead in several areas and will maintain close ties to many of the organisations where he has represented us previously. Neil of course has held the President's role before. He will notice how the influence of the NZFFA has grown, even in the years since his first appointment.
With a good supportive team around him, we are expecting that he won't find this position as taxing as has been the case previously.
Further farmer representatives come through the new appointments of North Canterbury sheep and deer man Gary Fleming, who takes the place of Patrick Milne, who has retired, and David Forsythe, ex Waikato dairy farmer from Te Awamutu.
With Bull Beef and Poplar campaigner Tim Forde of Hawkes Bay remaining, this leaves four well rounded men to represent the farming sector from within our organisation.
We have lost a good man with a science background with the departure of Pat Milne, but with new recruit Les Dowling from Rotorua joining us we maintain the good position of two men with science backgrounds, the other being immediate Past President, Graham West.
Neil has appointed sawmill director Vaughan Kearns (the writer) as his Vice President. I intend to take as much load off the boss as I can so that his role can be less onerous than it was during his previous term. This might be a good place to confirm that I have no intention to push for the top job. I believe that it remains in the best interests of the Association, that we continue to have landowners with farming experience leading us.
We have a new Secretary in Hamish Levack and Treasurer in Howard Moore. Hamish and executive member Michael Orchard are the two career foresters within our ranks.
After the Executive meeting held yesterday, April 20th the team reads as follows:
Patron: Eric Appleton, Nelson
President: Neil Cullen, South Otago
Immediate Past President: Graham West, Bay of Plenty
Vice President: Vaughan Kearns, Middle Districts
Secretary: Hamish Levack, Wellington
Treasurer: Howard Moore, Wellington
Administrator: Liz Chamberlain, Wellington
Executive committee:
Egon Guttke, Wellington
Tim Forde, Hawkes Bay
Dave Forsythe, Waikato
Gary Fleming, North Canterbury
Michael Orchard, West Coast
Dougal Morrison, Kapiti Coast/ Wellington
Les Dowling, Bay of Plenty
Laurie Bennett, North Canterbury
Michael Gravatt, Northland
The New Zealand Farm Forestry Association is running 18 extension workshops throughout New Zealand in May and June to target potential tree growers.
National FFA President, Neil Cullen says the timing is ideal of farmers who are interested in diversifying their long-term farm income.
"Trees are not just about the timber potential. They also protect the land and store carbon."
Neil Cullen says farmer and landowner participants will also learn about the benefits of planting different species to help mitigate climate change, provide shade and shelter, reduce erosion and improve water quality.
"This is particularly timely and important when we note the huge areas of erosion caused by the cyclones in Northland, Tairawhiti and Hawke's Bay in January and February. That's why there will be a focus on alternative species to help control erosion."
Please go to Opportunities from Trees to find out where the workshops are being held and to register.
Neil Cullen and NZFFA appreciate the support from Te Uru Rakau – New Zealand Forest Service to be able to run the workshops.
WorkSafe is Aotearoa New Zealand's primary workplace health and safety regulator. We lead, enforce, contribute to, and promote improved health and safety at work, and energy safety. Our vision is "ka haere nga tangata katoa ki te mahi, ka hoki hauora, haumaru mai ki te kainga" - everyone who goes to work comes home healthy and safe.
We work across all wahi mahi (workplaces) in Aotearoa, including the farm and forestry sectors.
We support businesses to reduce work related health risks, connect with leaders who can influence and control health and safety risks and take responsibility, and work with workers and organisations to improve how work is designed and delivered for better health and
safety outcomes for all.
Thanks for visiting us at the Farm Forestry conference in Timaru. We look forward to connecting with you in the future.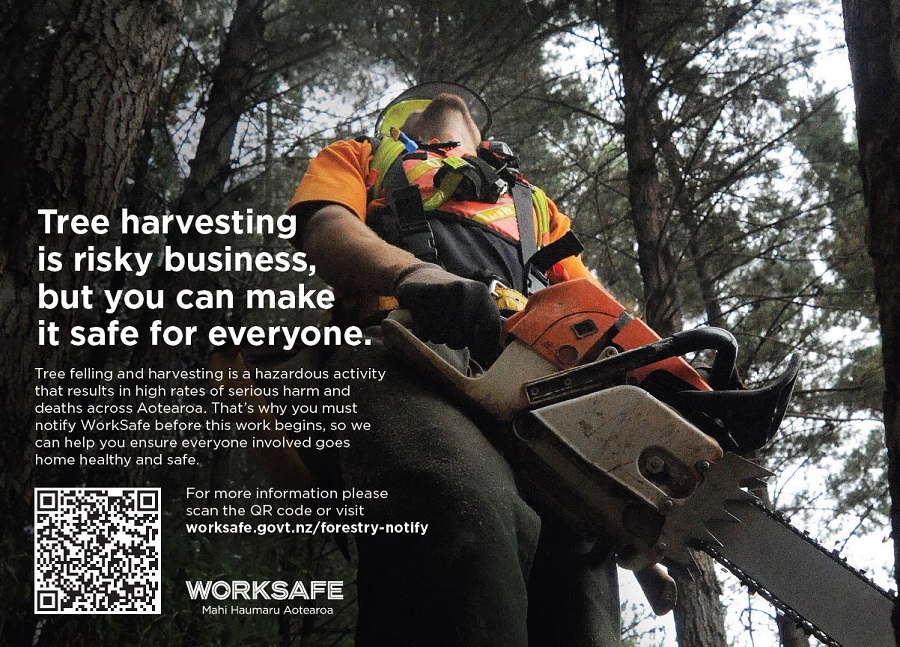 Bay of Plenty held a successful Field Day on 18 March 2023. The focus was Carbon Forestry Sinks.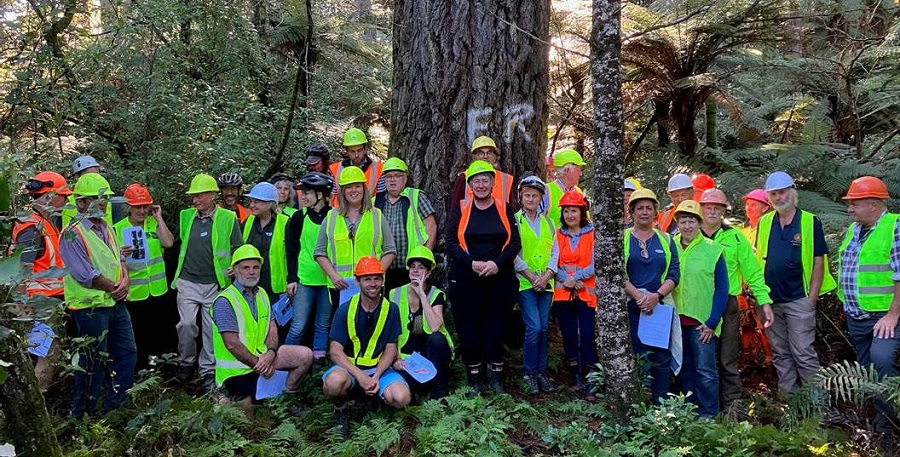 The field day drew to a close at the Kaingaroa old cop stand, established in 1921 and at 100 years old contains 84 trees per hectare that are carrying around 2,000 tonnes of C02e per hectare. Photo credits. Viv Barr.
The day started at Gee Road, Rotorua, surrounded by some of the 500 hectares of radiata pine new land established since 2018 on the three stations owned by Ngati Whakaue Tribal Lands.
The group observed radiata pine established within a birds flight distance of tall timber native forest acts as a nurse crop for the natural seeding of natives by birds as demonstrated at the Horohoro site.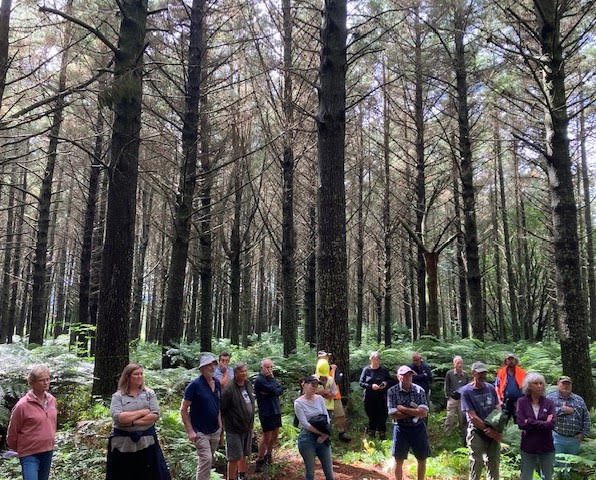 The final crop stocking demonstration planting at Horohoro well illustrates the carbon issued under the lookup tables or measured for forest land registered under the ETS greater than 99 hectares. The lookup tables result in this forest (irrespective of tree stocking per hectare) to be yielding a total of 780 tonnes per hectare. Many/most forests established today under the NZ ETS purposefully establish and carry for as long as possible (before thinning may need to be applied) high tree stockings per hectare that can produce 50-100% more carbon than what is available using the lookup tables. Growers with less than 100 hectares can join together under a single entity to take advantage of the much higher yields of carbon using the field measurement approach.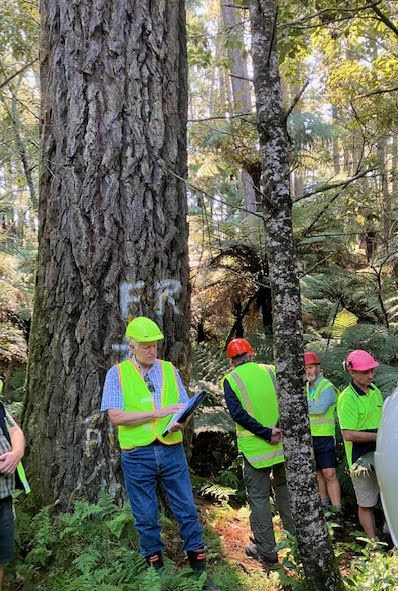 Graham West presented a high interest study confirming that radiata pine and other species have all been significantly underestimated when using the regional lookup tables. Furthermore study results clearly showed that exotic forests can sequester carbon at greater rates than indicated by the ETS Lookup Tables and do not collapse from old age. Instead, they reduce in stand density with age through the steady attrition of weaker trees, they are likely to continue to add carbon, and remain standing well past 100 years of age. The trend to low stockings allows light into the stand at older ages and aids the transition to indigenous species on the right sites. Graham advised that work was in train to correct the lookup tables.
One of the participants was Jamie Heather from Carbon Critical. His businesses web site contains an interactive dashboard that enables the user to obtain carbon net zero (preferably by 2040). The dashboard is contained here Carbon Critical Net-Zero Challenge
Jeff Tombleson concluded the field day with the comments that all forest types and species contributed to maintaining NZs forest carbon sink. From a national and long term perspective the establishment of radiata pine nurse crops at scale that naturaly transition to natives were the solution to addressing NZs requirement to establish 1.3 million hectares of new forests.
Jeffs final comments were encouragement to farm foresters under the NZ ETS to wring it out for everything it's worth, and most importantly "make hay while the sun shines".
President: Neil Cullen president@nzffa.org.nz

Newsletter editor: Dean Satchell dsatch@xtra.co.nz

National Office: Liz Chamberlain admin@nzffa.org.nz

Members
The members area of the NZFFA website can be accessed by using your email address and password to log in. Your email address MUST be the address you have provided to NZFFA for your subscription (which happens to be the one this newsletter was sent to...).
If you don't have a password or can't remember it, you can get one very easily. Just follow the instructions here. Any problems logging in then email me.
Dean Satchell, website administrator
e-Newsletter
If you are receiving this e-newsletter and don't want to, please notify NZFFA by replying.

Disclaimer: Personal views expressed in this newsletter are those of the writers and do not necessarily represent those of the NZ Farm Forestry Association.