Events:

---
Advertisement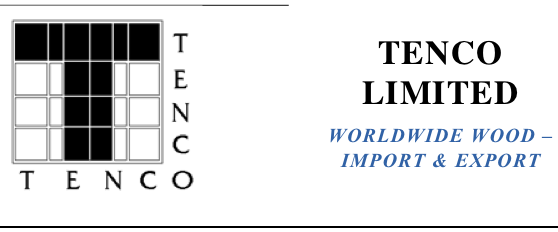 About Tenco
Tenco is one of New Zealand's largest exporters of forest products. We have built to this position since 1991 when the company was set up to export lumber to growing Asian export markets. Experience and reputation count; from small beginnings Tenco has become the largest independent exporter of New Zealand lumber and New Zealand's 4th largest log exporter. Tenco has a regular shipping program of their own log vessels and in combination with these and other ships currently calls at 7 New Zealand ports (5 North Island and 2 South Island).
Tenco buys standing forests. Tenco currently has a number of forests which they purchased at harvestable age to log over a number of years for export and domestic markets. Tenco also regularly buys smaller tracts of forest to harvest immediately or immature forests to hold until harvest time. Tenco is interested in broadening the base of owners from whom it purchases forests and stands of trees. A deal with Tenco is a certain transaction. The owner and Tenco will agree on a value of the tree crop and then Tenco will pay this amount to the owner either in a lump sum amount or on rate per volume unit out-turn from the forest depending on the nature of the tree crop.
Tenco knows there are a lot of farmers who have trees that are close or ready to harvest and will be asking themselves how they should proceed with the sale of their trees. For some farmers the kind of certain transaction with money in the bank could well be appealing. Tenco is actively interested in buying harvestable forests or trees from areas including all the North Island (except the Gisborne and East Coast districts) and Nelson & Marlborough in the South Island .
If you own a forest in this area (16 years and older) and are ready to enter into this kind of agreement Tenco is interested to develop something with you.
Please contact: Josh.Bannan@tenco.co.nz
Work: +64 7 357 5356 Mobile: +64 21 921 595
www.tenco.co.nz
Conference 2019
"Fast Forward" 15-20 May 2019, Rotorua
The Bay of Plenty Branch welcomes you to the 63rd Annual Conference that will be based in Rotorua with field-trips across the Bay of Plenty.
This Conference and Expo will bring together: technical and economic information, land owners and investors, service providers, new technologies and policies, new ideas and fresh perspectives, along with plenty of time to catch up with old friends and make new acquaintances.
Organised by the BOP Branch of the NZ Farm Forestry Association, this is an Annual Conference at a water-shed moment in forestry. Key issues for farm foresters at this time include:
Land-use and the One Billion Tree initiative
National Policy Statement on water quality
Launch of the NES-FP and proposed changes to the ETS
Productivity Commission's Low-Emissions economy report
The vote for continuance of the Forest Grower Levy
Graham West
Organising Chairman
For further information please contact Ph: 0274 410353
More &raquo
---
Forest Phenotyping Workshop
Presenting the proof of concept and modelling approach. How can industry take it up?
Two identical workshops will be held:
Friday 3rd May 2019, Christchurch (at Scion, 10 Kyle St)
and
Thursday 9th May 2019, Rotorua (at Scion, 49 Sala St)
Introduction
The development of the forest phenotyping platform has been one of the core elements of the GCFF programme and now provides the information resource that forest managers, researchers and tree breeders can use to understand how the interaction of genetics, environment and management affect productivity and wood quality.
Purpose of the workshop
This workshop will present the proof of concept of the phenotyping platform, methods and modelling approaches and how the tool can be used.
We seek input on how growers and managers are interested in using the phenotyping platform, particularly to inform precision forestry or to identify outstanding trees in the forest to inform future deployment.
For further information and to register online »
---
Hawkes Bay branch field day and AGM
When: Saturday 13 April from 10.00am
Where: The entrance to Bridgewater is on the right hand side of Puketapu Road, just before Puketapu Village. Look out for the HBFFA banner
In an attempt to muster plenty of members for our AGM, your committee and field day hosts, the Alexander family, have come up with something pretty special.
This year's AGM will be held on an exclusive private island – in Puketapu Lake.
This well-known lake is the crown jewel of the Alexander's Bridgewater property. Once a degraded swamp, Roger Alexander has spent 30 years restoring and developing the lake into what it is today. This involved clearing invasive willow trees, excavating built up silt and creating a series of islands. An extensive programme of native and ornamental plantings followed.
Puketapu Lake is now habitat for large numbers of eels, bullies and a wide range of wetland bird species, including Royal Spoonbill. The lake provides a stunning en- trance to the Puketapu Village and has been used to host community events.
Roger will be on hand to discuss the history of the Lake, his various plantings and some of his other projects including a 'Monet style' garden. An impressive stand of redwood are worth a mention, as are the 84 grand oak trees that line the entrance way to nearby Springvale.
As usual, all of our HBFFA members, their families and friends are invited.
What to bring: Bring suitable clothing, a life jacket if you have one. A picnic lunch and a couple of dollars for a raffle. A BBQ and some refreshments will be catered for at the end of the field day, but you may wish to bring your own snacks and refreshments.
---
Oceania Ecosystem Services Forum 2019
Creating healthy communities and ecosystems for a resilient future.
Christchurch, 2-6 September 2019.
Hosted by SCION, the 2nd Oceania Ecosystem Services Forum (OESF) will build on the success of the first in Brisbane, Australia in 2017, which raised the profile of the value of ecosystems in decision-making in the Oceania region. OESF 2019 aims to bring together policy-makers, businesses, community leaders and researchers with the aspiration of 'Creating healthy communities and ecosystems for a resilient future'.
OESF 2019 objectives:
to connect communities, businesses, policy makers and researchers working on ecosystem services and resilient [ESP in partenership] communities;
to showcase diverse practices, policies and knowledge (practical, traditional, indigenous, academic) that contribute to increasing the health of communities and ecosystems;
to discuss new and diverse approaches and actions that stakeholders use to address climate change, biodiversity and sustainability;
to source opportunities for jointly designing and conducting research projects or applications of ecosystem services in practice;
to provide a link between ecosystem services researchers, practitioners, decision makers and knowledge holders in the Oceania region, with the international ecosystem services community and programs (e.g. IPBES, IUCN, GEO, SDGs); and
to support the implementation of ecosystem services science and practice at local, national and global levels.
---
(top)