Field day - Killens farm, Kaikohe
Dean Satchell, March 2020
14 March 2020.
Ross Killen hosted this field day with his father Bruce and Ross's brother in law Shane Tobin.
The farm is 300 hectares and running sheep an beef, with mixed-age forestry and farm shelter.
We started the field day at a block of pruned lusitanica planted by Shane and Wendy in 2001. At 19 years old these trees were high pruned and looked very impressive. Noting that the canopy is closed and no light is getting through to the forest floor, the stand is clearly fully stocked and diameter growth will have slowed to a standstill. It looked to me like about half of the trees needed thinning to achieve the diameters required to justify the pruning. Big diameter pruned trees are very valuable and this should be the objective. However, the risk is that residual trees are more subject to windthrow after thinning, so the recommendation was to thin slowly but progressively down to a much lower stocking.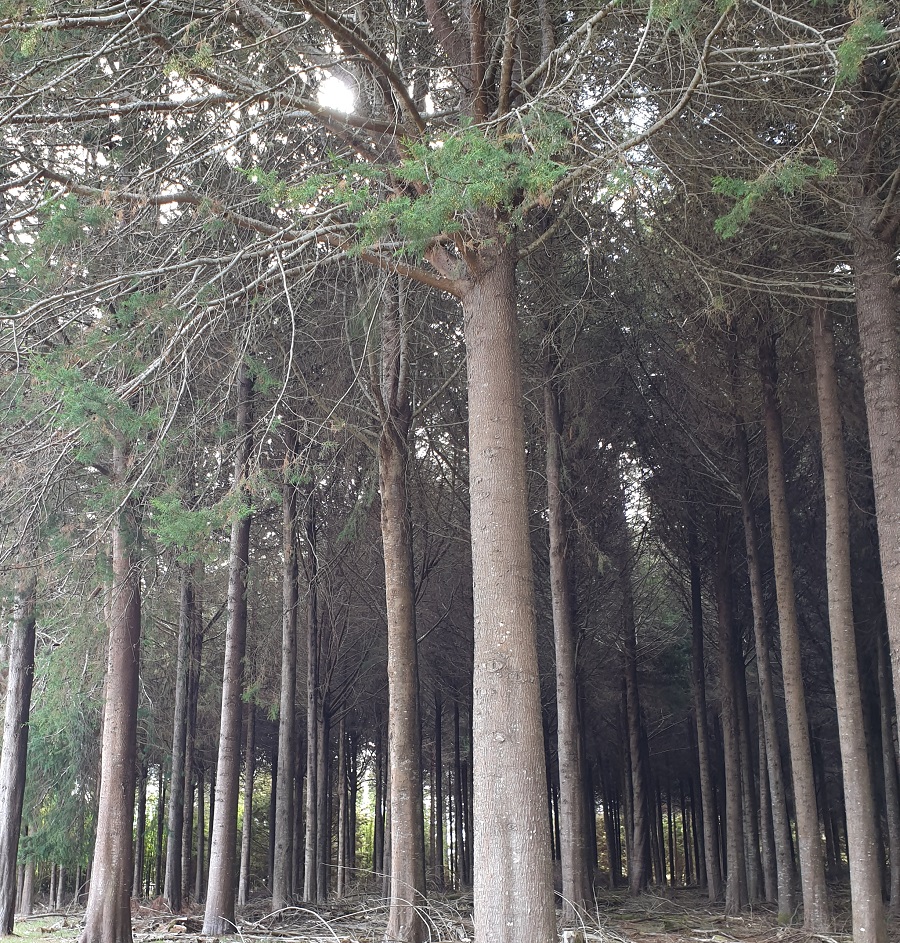 2001 pruned lusitanica
Next we visited the cattle yards, which were built from totara harvested from the farm. These were CCA treated and reconstructed in 1965. Rowsell's sawmill at that stage were not allowed to sell treated totara, but were allowed to treat on behalf of the owner. Rails were made from smaller diameter material split in half. Strainers and posts were sawed with one flat face for nailing rails to. No failures were evident in any of the strainers, despite being in the ground for over 50 years. The CCA treated totara has remained in a very sound condition and looked to me way better than I'd expect radiata would after that time. This "experiment" should be documented for future reference as totara is generally considered to not be very treatable with preservatives. Bruce described the treated rails and posts as "sound as a bell". There were also some untreated old-growth totara rails intact from the original untreated years put in by his father in 1913. Bruce also showed us some pitsawn old-growth totara gate timber, weathered but still sound after 100 years. This doesn't rot in the air, it eventually just weathers away.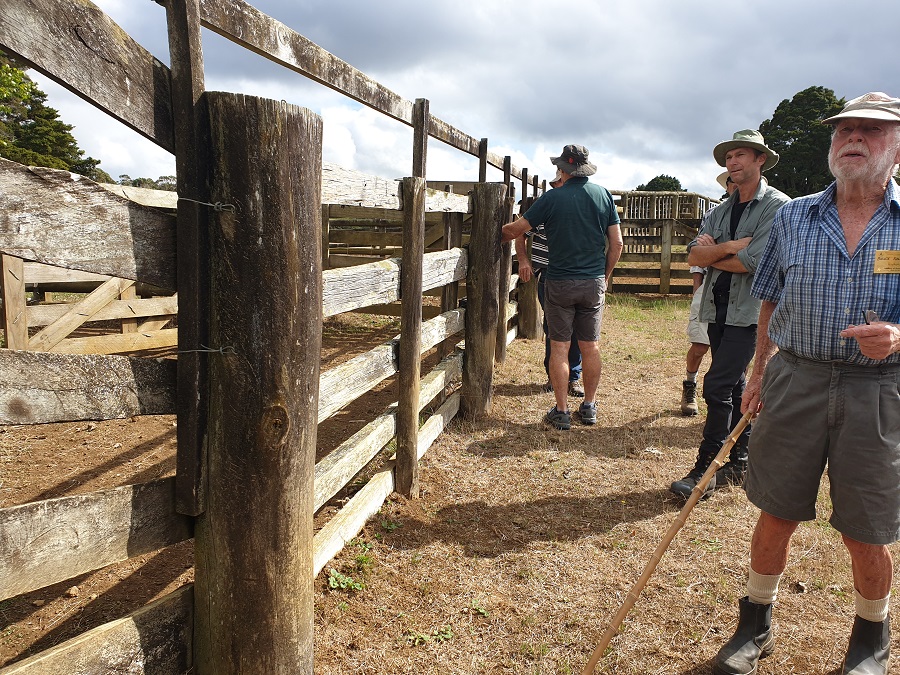 Bruce describing the history of these cattle yards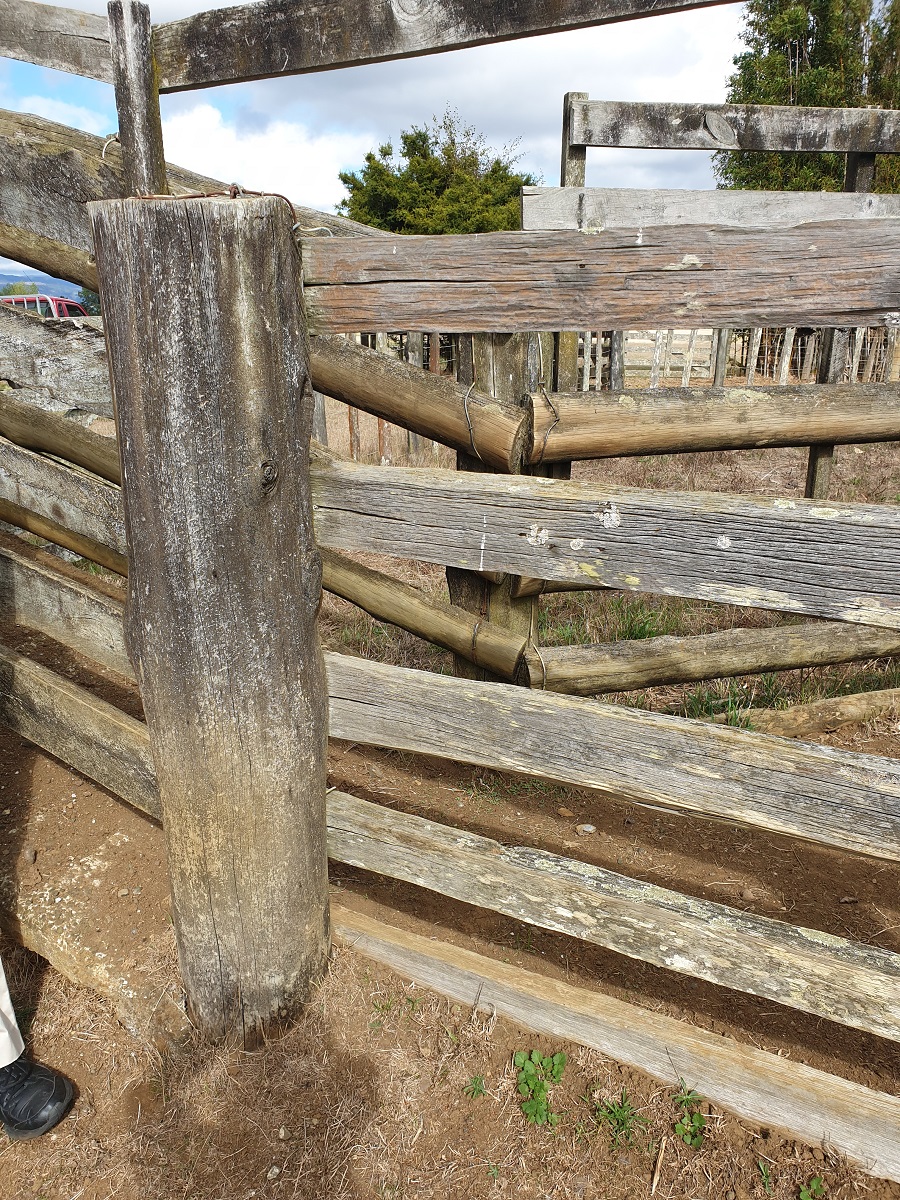 Treated totara posts and rails after 50 years
The property also has the original shanty built from split slabs in 1910, an old red shed (built after the war) and house (built 1924), all by Bruces father.
Next visit was a block of pruned Ovensii cypress planted in 1996. At 24 years old these trees looked good. They were planted at a final crop stocking and the pruned butts were looking good, but with some ramicorns and heavy branching upstairs. There aren't many blocks of Ovensii of this age around - they looked healthy, initiating discussion on the potential for Northland as a timber crop, along with its timber properties.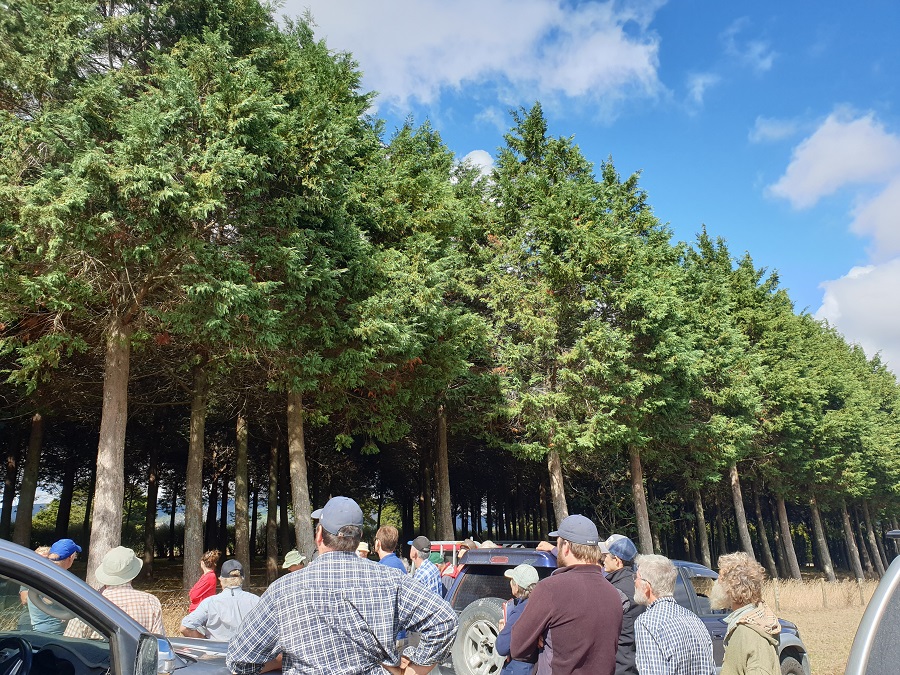 Ovensii cypress stand
The next visit was an agroforestry experiment with Eucalyptus saligna planted at 15 m spacings in 1972. At nearly 50 years of age these trees were big, but form was not flash. What appeared to be historical wind damage to the leaders has resulted in deformation and very few straight trees. With hindsight the group agreed that this agroforestry experiment has failed and is not how one should grow saligna for timber - which should be planted at a high stocking and progressively thinned to keep only the best trees to grow large.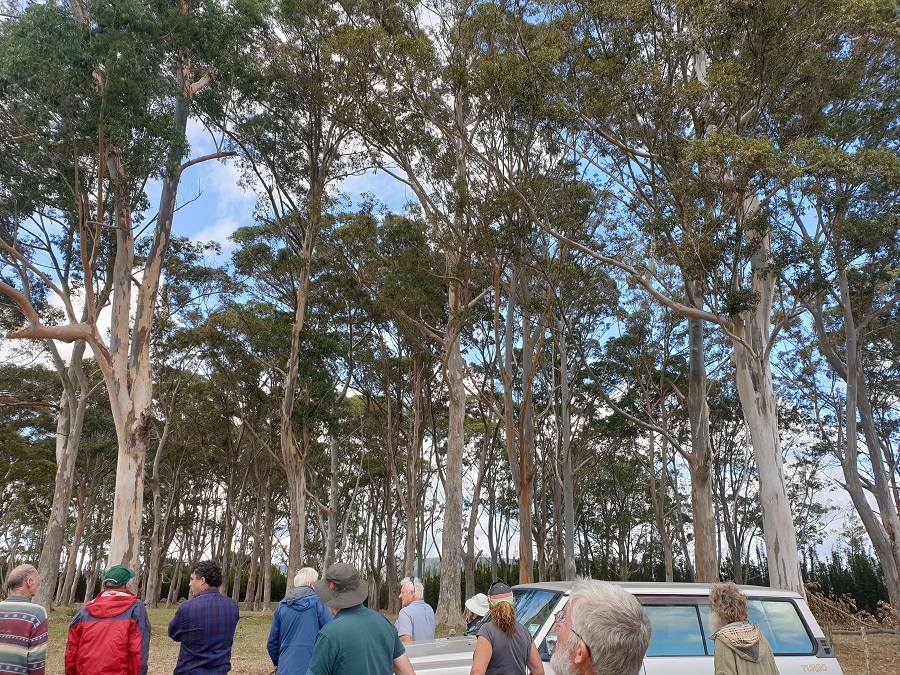 1972 E. saligna agroforestry experiment
The next stop was a shelter row of pruned radiata pine planted in 1987. These trees were very large and have served well as a farm shelter. Some present felt that there were not enough trees to justify bringing in harvest equipment and that profitability would likely be low from these trees as a consequence. However, the pruned butttlogs were of a very impressive diameter and I wonder if these could be milled using a portable mill onsite and the clearwood timber sold for a healthy profit. However, the headlogs are not very pretty so I'd imagine there would be a resulting mess.
Next stop was lunch at the milling site where Li Legler and Mick Edwards were milling some very impressive 1971 planted Eucalyptus muelleriana. At 50 years old these awere large trees and the milling strategy was for Mick to mill the large logs with his rimu circular sawmill and for Li to mill the smaller logs with his woodmizer bandsaw. This was working really well and they both gave us milling demonstrations. Mick is flatsawing 4x1 for decking and flooring while Li is focussing on quartersawn product. Li gave a demonstration of his milling methods on a blackwood of the same age, the timber was very impressive.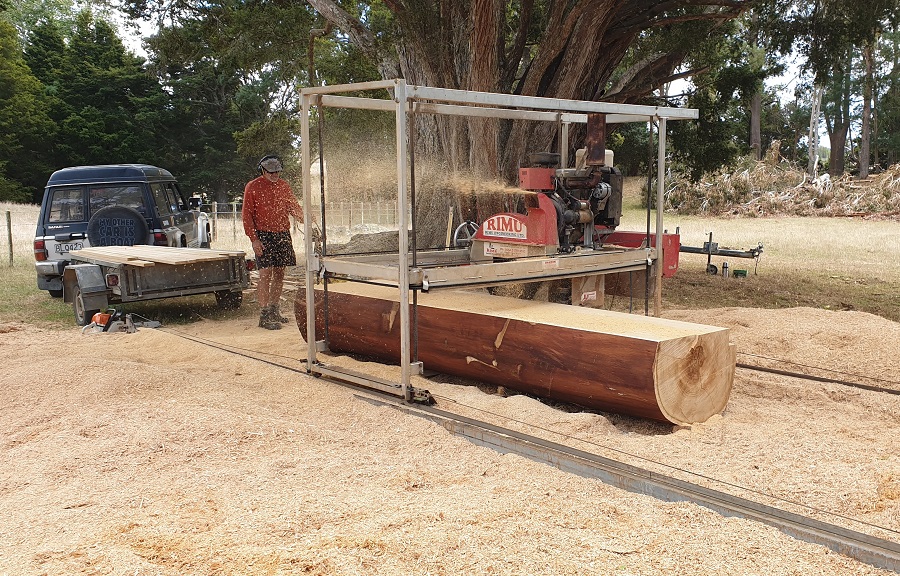 Mick milling E. muelleriana with his rimu mill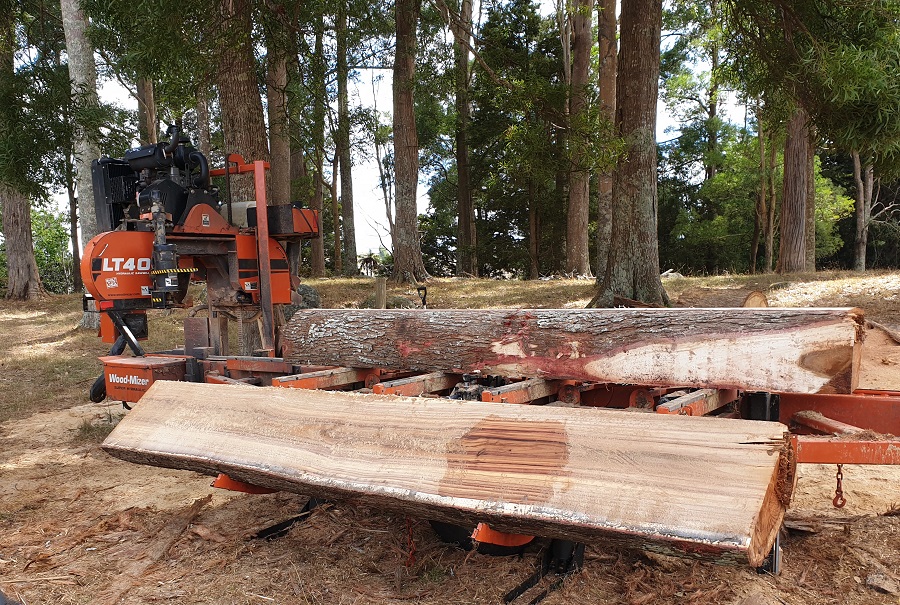 Li milling blackwood on his woodmizer bandsaw mill
After lunch we looked at a 2013 lusitanica planting which has been meticulously pruned. Silvicultural management was discussed, in particular DOS (diameter over stubs) and the need to minimise this through regular, timely pruning.

2013 lusitanica
Next stop was a stand of older lusitanica and redwoods (1994) adjacent to a stream.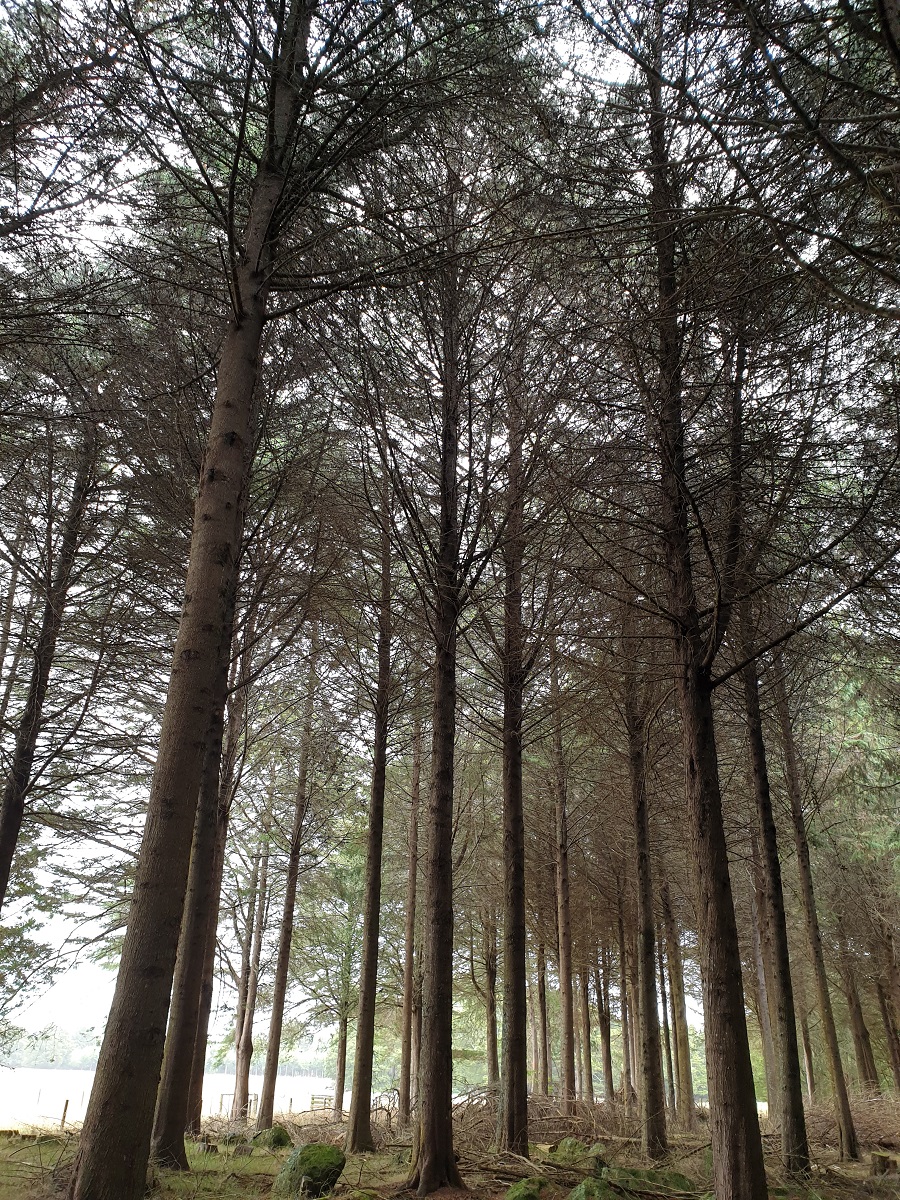 1994 lusitanica cypress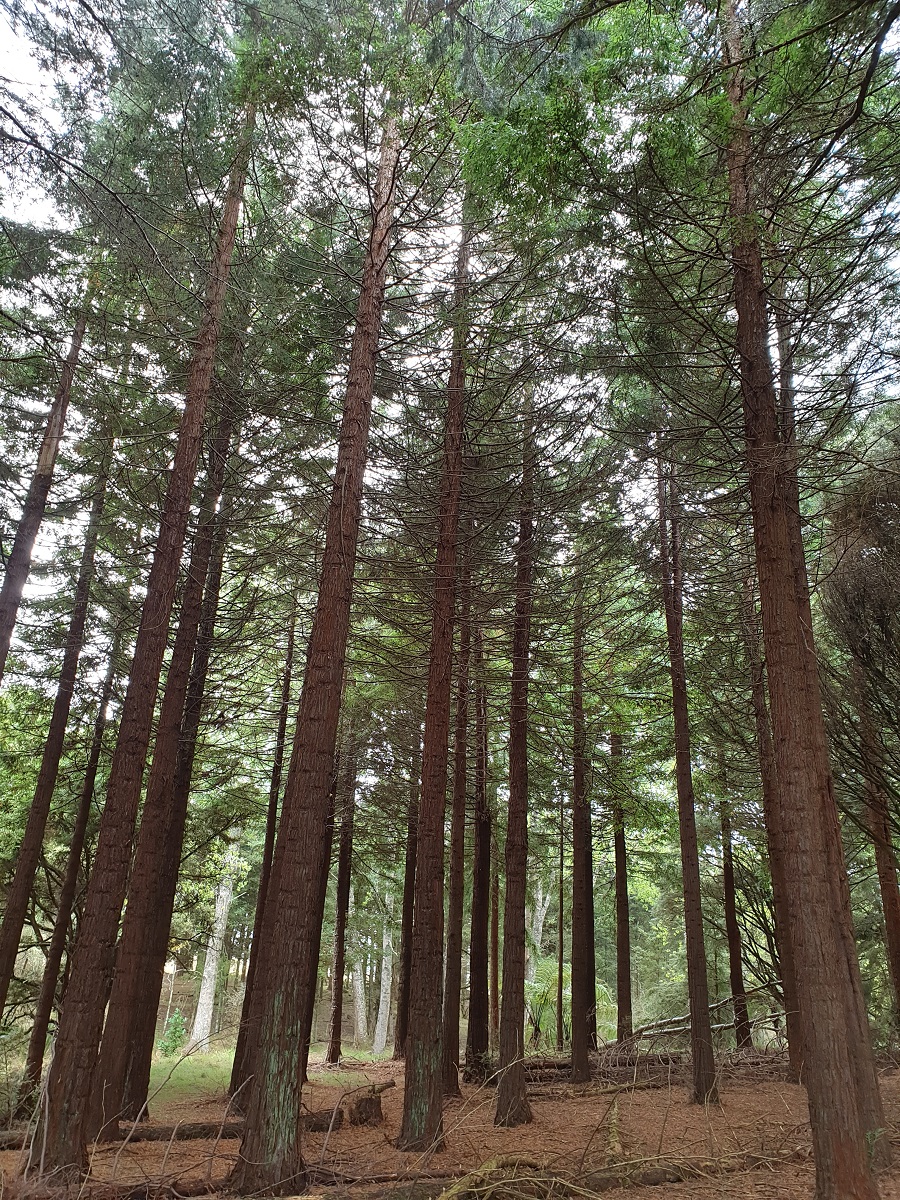 1994 redwoods
The redwood in particular was very beautiful. Standing among a grove of redwood always seems to be a humbling experience and for many this was the highlight of the day. Adjacent to these were some older redwood planted in 1952 and some cryptomeria planted by Bruces father in 1925.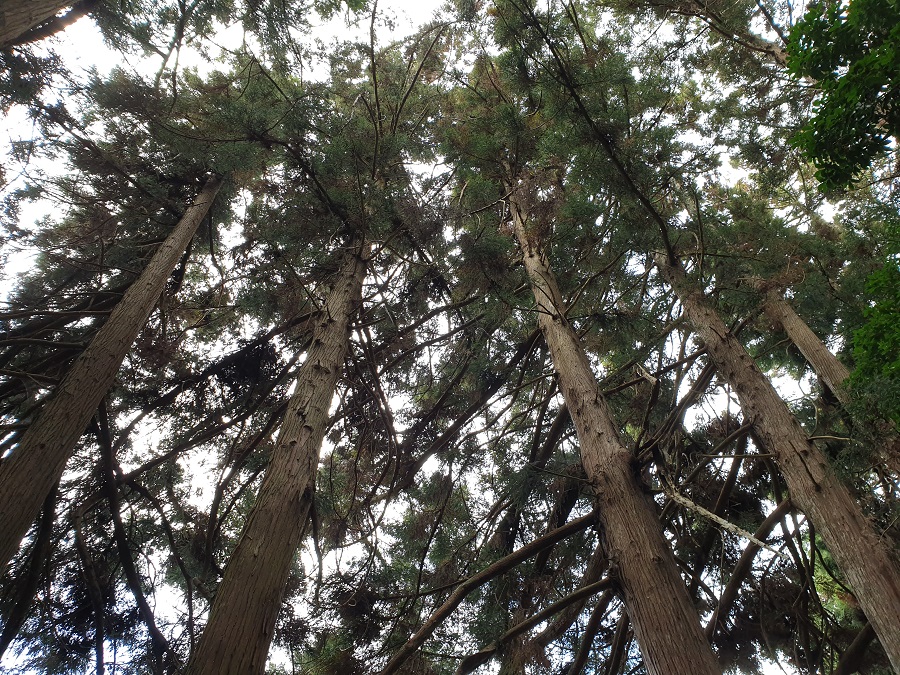 1925 cryptomeria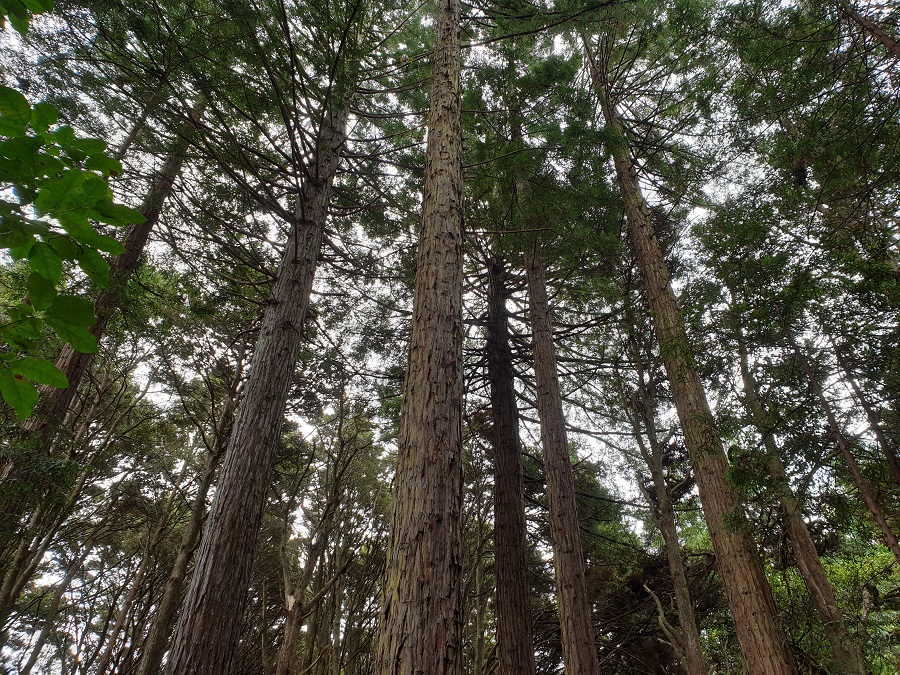 1952 redwood
Then we had a look at new riparian plantings using a range of native plants such as flax and kanuka and discussed the project to fence off the watercourses on the farm, supported by the Northland Regional Council's Environment Fund.
Next stop was poplar and willows for soil conservation and shade. These were a range of ages and were doing a good job adjacent to intermittent watercourses and gullies.
The field day covered a large part of the Killen farm and was well organised by Ross, who planned the day and provided the commentary for each stop. Because I forgot my notebook I have only covered some of what we saw and discussed on the day, but a very worthwhile field trip for the thirty or so farm foresters who attended and saw a wide range of tree plantings spanning over 100 years on this stunning Kaikohe farm. Many thanks to Ross and family for inviting us to see the achievements and improvements made to this farm by three generations of passionate farm foresters.