Battery-operated pruner for forestry
By Dean Satchell, May 2020.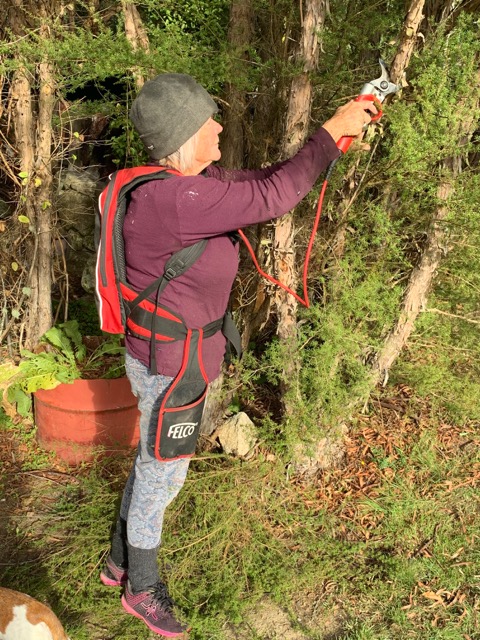 Last year Claire and Terry Gavin invested in the Felco 820 pruning shears and 880 powerpack, a battery-operated industrial pruner for clearwood pruning their cypress plantation near Murchison. The tool comes equipped with a backpack housing the lightweight lithium polymer batteries and a robust pruning shear head with a lead connecting the two.
Claire and Terry wanted a tool suited to heavy pruning work. This tool cuts branches up to 45mm diameter. This is an improved model with a larger jaw, which is required for forestry pruning.
The tool itself weighs just under 1 kg and the battery backpack under 3 kg. The idea was for a tool that one could use all day without fatigue. Claire and Terry report that the Felco 820 does the job really well. It's easy to use, doesn't feel heavy when pruning above the head or after a period of hard pruning. Claire reports its "great for people our age... strength in the hands and shoulders is not required. I'll prune for 3 hours, go home for lunch, go back and do some more. And its really fast."
"The system is very light and well balanced, with a well placed pouch, very comfortable to use."
"It's really safe, not likely to cut fingers off. Click to activate, click again to open the jaws, then click it shut and put in the pouch."
"Most branches can be cut with this tool, it will cut through anything you can fit it around". There is a technique required to use the tool correctly, but this is easily mastered. The Gavins had to have it repaired once, a blade broke, but this appears to have been a one-off issue. They're also not sure if it can be used in the rain, because they don't like to prune when the ladder is wet and slippery.
What this tool has done is to make their forestry operation manageable, a task that was becoming more difficult with time as branches grew and conventional tools required more stamina than this couple could provide. Now it's fun.