Are you harvest-ready?
Why being able to press go whenever you like is the smartest position to be in...
If your forest is over 20 years old, you should be thinking about getting Harvest- Ready. It is the best investment you can make for your near-mature forest or woodlot. It doesn't matter if the log market is up or down, being Harvest- Ready means you can respond quickly when you decide you want to harvest. Many forest owners are disappointed when they decide to harvest their trees only to find out that it may take many months before they can actually commence harvesting. Often by the time they are ready to harvest, the motivating reason for them wanting to harvest has changed. Being Harvest-Ready improves the responsiveness and liquidity of your forest investment.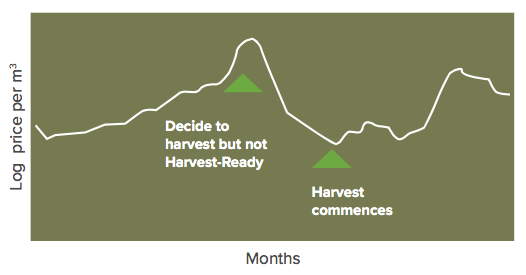 What does becoming Harvest-Ready involve?
Selecting your harvesting and marketing manager
Mapping the forest or woodlot
Harvest planning and engineering
Estimating the volume and grade of logs in the forest
Obtaining consents and permits
Resolving any access issues
Scheduling harvesting contractors and marketing planning
Planning for the next crop of trees
Harvest-Ready is about reducing the delay from the time you WANT to harvest, to the time you DO harvest.
"The 90's planting boom means that we've already seen an immense demand for harvesting contractors and forest owners competing for harvesting spots when market prices are high. This situation is likely to get much worse. The best thing you can do mis become Harvest-Ready so that you are positioned to take advantage of favourable market conditions" Peter Weblin, Chief marketing officer, P.F. Olsen ltd
From PF Olsen's "Essential Information for 1990s forestry block owners"