The genetics of Phytophthora pluvialis in New Zealand
Scion is the leading provider of forest-related knowledge in New Zealand
Formerly known as the Forest Research Institute, Scion has been a leader in research relating to forest health for over 50 years. The Rotorua-based Crown Research Institute continues to provide science that will protect all forests from damage caused by insect pests, pathogens and weeds. The information presented below arises from these research activities.
From Forest health News 279, February 2018.
Red needle cast (RNC), caused by Phytophthora pluvialis, has been a significant disease in plantations of Pinus radiata in parts of New Zealand since at least 2008. The first symptoms of disease are olive coloured lesions on needles, which may contain dark resinous spots or bands. Later, needles in the lower part of the crown turn red, before being cast prematurely (Fig. 1). In severe cases, the entire crown can be affected.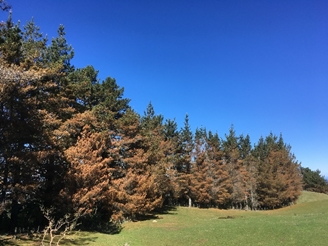 To date, P. pluvialis has only been reported from New Zealand and the Pacific Northwest of the USA. In New Zealand it has been reported from radiata pine and Douglas fir (Pseudotsuga menziesii). In the USA, it has been isolated from Douglas fir, streams, rain traps, soil and tanoak (Notholithocarpus densiflorus).
The main aim of this study was to determine if P. pluvialis was native or introduced to New Zealand. To help answer this question, genetic markers (single nucleotide polymorphisms) were identified from the genome of P. pluvialis and used to compare the genetic diversity of populations of P. pluvialis from New Zealand and the USA.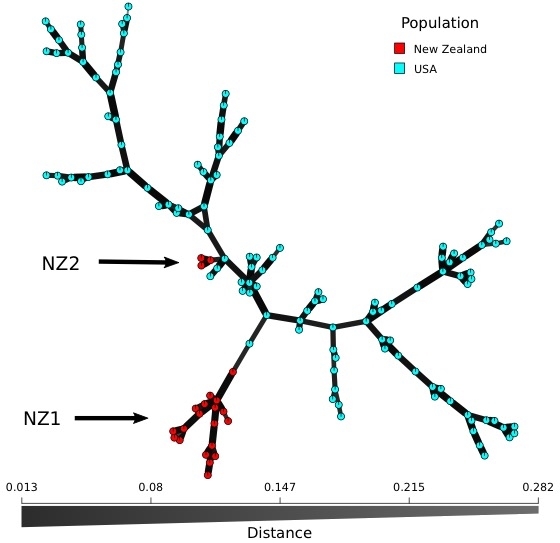 Results of this study indicate that P. pluvialis was introduced to New Zealand. The New Zealand population of P. pluvialis has very low levels of genetic diversity, half that of the USA populations. This is shown in a minimum spanning network (Fig. 2). Isolates from the USA make up most of the network (contain most of the diversity), while isolates from New Zealand form two small clusters. Isolates from the USA clustered together based on geographic proximity, which was not the case for the isolates from New Zealand.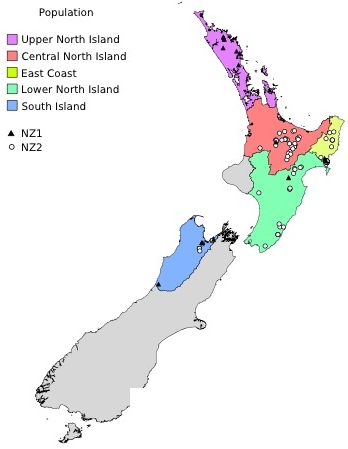 Interestingly, isolates of P. pluvialis from New Zealand formed two groups, termed "NZ1" and "NZ2", which may suggest two separate introductions. The majority of isolates grouped in NZ1, potentially indicating an earlier introduction than NZ2. This is supported by the finding that NZ2 is more closely related to isolates from the USA (Fig. 2). Most NZ2 isolates came from Northland (Fig. 3), possibly suggesting a second introduction of P. pluvialis occurred in this region.
This study shows the importance of a maintaining a strong biosecurity system to protect New Zealand's primary industries. The genetic markers used here can be used to monitor the population dynamics of P. pluvialis in the future.
This research has been published as:
Brar et al. (2018) Genetic diversity of Phytophthora pluvialis, a pathogen of conifers, in New Zealand and the west coast of the United States of America. Plant Pathology. doi:10.1111/ppa.12812
Simren Brar (Massey University)
This information is intended for general interest only. It is not intended to be a substitute for specific specialist advice on any matter and should not be relied on for that purpose. Scion will not be liable for any direct, indirect, incidental, special, consequential or exemplary damages, loss of profits, or any other intangible losses that result from using the information provided on this site.
(Scion is the trading name of the New Zealand Forest Research Institute Limited.)