A new quick coupler for woodlot harvesting
Rob Prebble & Keith Raymond , New Zealand Tree Grower November 2022.
A quick coupler which lets harvesting machine operators rapidly change machine attachments has been on the radar of the Forest Growers Research Automation and Robotics Programme for some time. Small-scale harvesting operations stand to save expense by needing fewer machines on-site, as well as benefitting from better health and safety. This article outlines some promising developments with a new quick coupler currently undergoing trials in a commercial harvesting operation in south Waikato.
Background to quick couplers
One of the highlights of the 2013 Elmia Wood forest harvesting demonstration was a quick coupler called the Fiberdrive developed by Fiberpac AB of Sweden. This quick coupler allowed a base machine to change quickly and safely from a processor head to a log loading grapple in just a few seconds without the operator leaving the cab.The New Zealand contractors watching the demonstration saw the potential for reducing the number of logging machines required in harvesting operations.The quick coupler would be suitable where production is constrained by a limited landing size or where the processor or loader may have spare capacity.
The concept was investigated to determine the economic advantages of introducing an automatic quick coupling mechanism into steep country harvesting.The results showed that such a mechanism would have the most advantage where there was one base machine with a processor head and a loading grapple at production levels of around 200 to 230 tonnes a day.This would improve machine use and reduce overall logging costs.
The prototype
Fiberpac AB did not make a coupler suitable for grapple processors commonly used in clear fell harvesting.The heavier weight of up to 4,800 kilograms, larger oil flow and 360-degree continuous rotation requirements of these heads meant that a local development of a quick coupler mechanism was required.
Forest Growers Research started to explore options to build a quick coupler. Doherty Engineered Attachments Ltd of Tauranga undertook to build a first prototype in 2019. This was not successful due to difficulty in aligning the hydraulic fittings when coupling together. Alternative options were explored with other manufacturers such as Oil Quick AB of Sweden.
These attempts failed to gain any traction until Forest Growers Research became aware of the Steelwrist product from Sweden. At Mystery Creek field days in 2021, a company called Synergy Equipment Ltd demonstrated a range of tilt rotators used in earth- moving operations and quick couplers.This re-ignited interest in the project.
Project development
Synergy Equipment Ltd was contacted to see if they could supply a suitable product large enough for forestry.The larger Steelwrist SQ series couplers have sufficient capacity to handle the oil flow required and the company was keen to work with Forest Growers Research to expand their range into the forestry sector. Synergy Equipment Ltd,Total Hydraulic Solutions Ltd of Rotorua and AB Equipment Ltd of Taupo, a local machinery supplier, entered a joint venture to set up a prototype machine for the industry to test.
Synergy Equipment Ltd supplied the Steelwrist SQ80 quick coupler and adaptors. AB Equipment supplied a brand-new Sumitomo SH300-6 excavator with a Waratah 624 harvester head, an Ensign 1770 fixed head grapple and a standard bucket.Total Hydraulic Solutions installed the quick coupler and adaptors on the machinery and attachments and undertook to provide backup technical support.
Woodlot harvesting
The computers were programmed to adjust settings to match the implement connected.The operator manually selects the attachment on the touch screen and the hydraulic settings are adjusted. A cradle was also built to support the processor for easy coupling and un-coupling.This was considered essential for ease of connection and to maintain the good hygiene which prevents any contamination of the hydraulic system. Forest Growers Research funded the purchase of the coupler and the costs of installation and commissioning.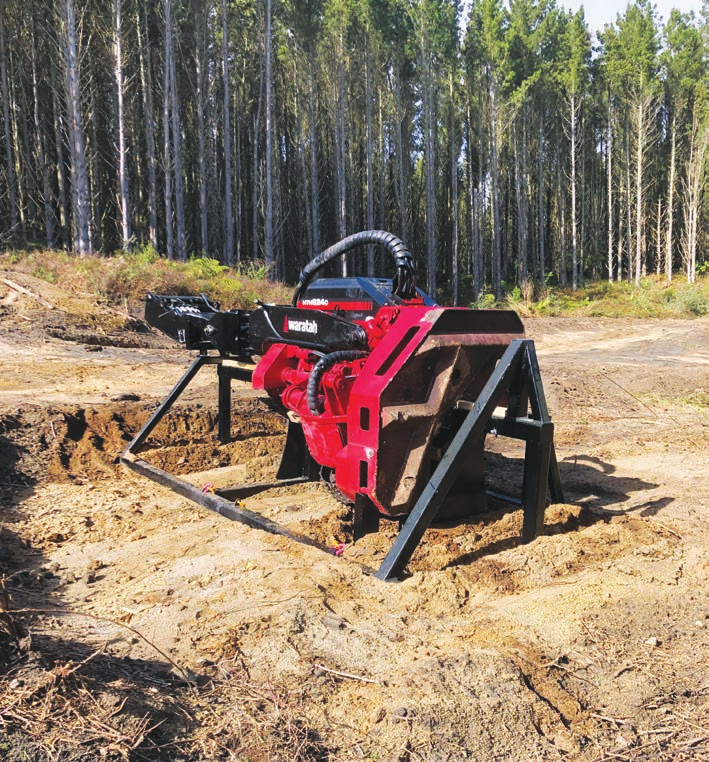 Testing
In August this year, the Steelwrist Quick Coupler mounted on the Sumitomo base machine, along with the three attachments, were transported for initial trials with contractor Loggabull Ltd, in south Waikato.The quick coupler machine is working alongside a full production crew for a period of commissioning, minor adjustments are being made and the operator is spending time on it, getting used to the different operating mode and the process of changing from one attachment to the other.
There are other advantages in machinery being able to carry out more than one task on the landing, including improved safety. Reducing the number of machines from two to one means less congestion, not having two machines competing for space and encroaching on each other's working zone. Less space for the machine working zone means a smaller landing space is required.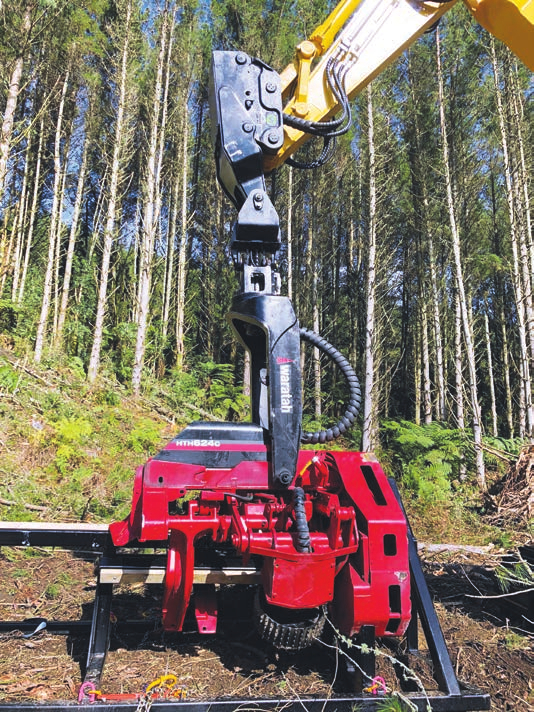 Initial trials and time studies
Initial time studies have shown that the process of changing from Waratah harvester to another attachment is taking approximately four minutes, substantially faster than the alternative of manually swapping attachments. It is expected that this time will decrease as the operator gains experience.
A brief activity sample study of the combined machine activities shows that the main activities with the grapple are sorting and stacking – 28 per cent
of working time, delimbing and processing – 40 per cent, with the remaining walk and change functions occupying another 23 per cent of the time.The balance of time, just under 10 per cent, is delay which is surprisingly low for a prototype machine.The change over time was only five per cent of the total working time.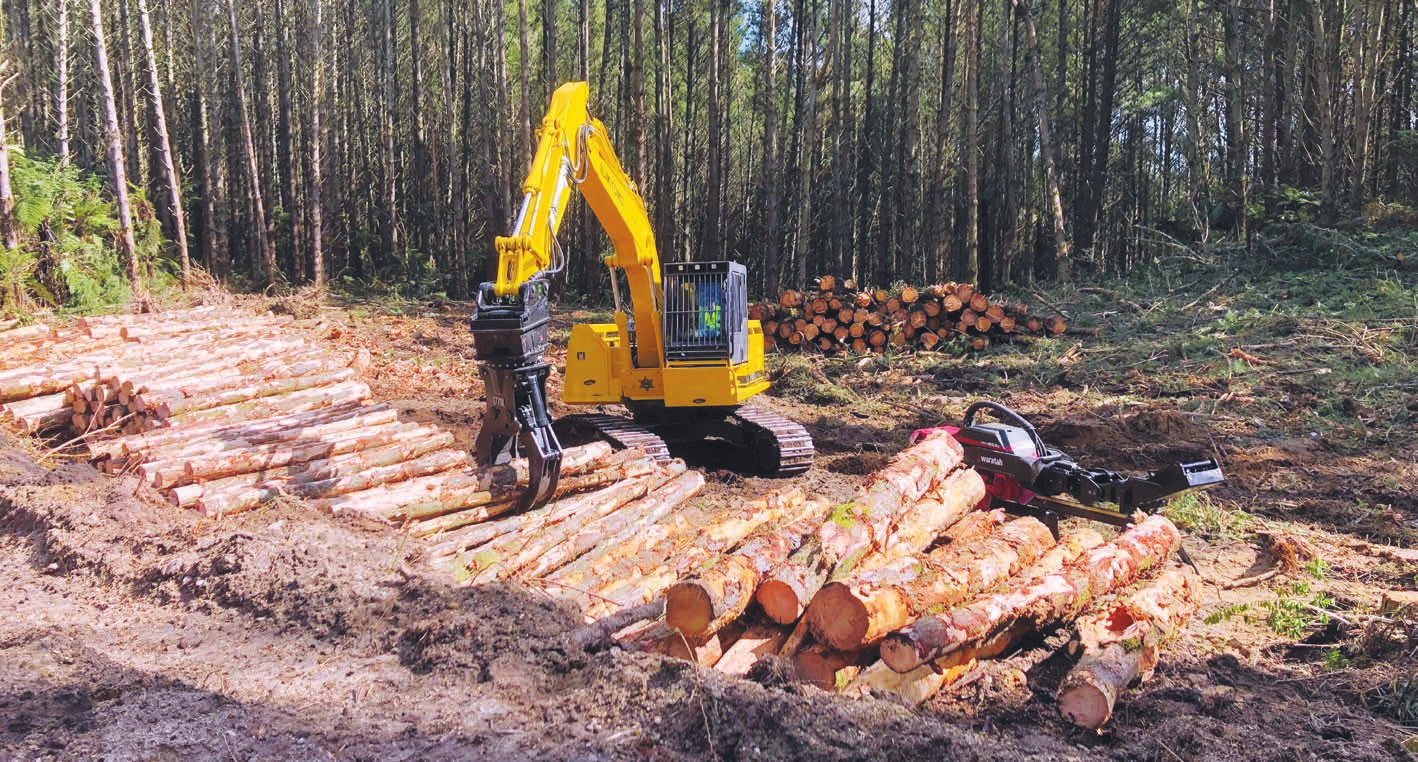 The future
Earlier work showed that the savings possible when using a quick coupler to share base machines in harvesting operations exceeded $2.80 a tonne at production rates below 220 tonnes a day.This highlighted the potential of the automatic quick coupler in lower production operations. It is particularly applicable to smaller, lower volume operations not using mechanised felling.That would include many woodlots where, due to various operational constraints, daily logging production is often less than 220 tonnes.
However, every forest has difficult harvest areas where high production is difficult. Sharing base machines by using quick coupler technology would be advantageous even for owners of large forests.
The Steelwrist SQ80 quick coupler on the base machine is a promising new development for harvesting.
It is the first time a coupler has been installed with a large grapple processor and other heavy-duty logging attachments.The early signs are that this set-up will have an important place in lower volume harvesting, in road- lining operations and those where multi-use of machines and manpower is essential.Trials and development of the quick coupler will continue.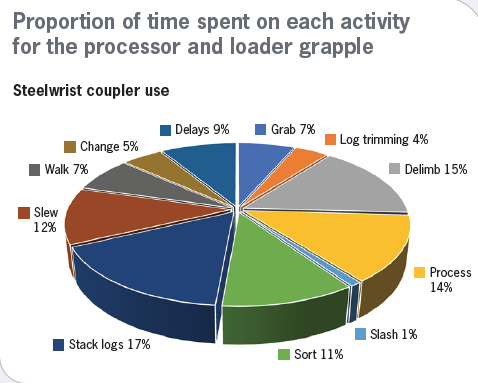 Rob Prebble is a Project Coordinator in the Forest Growers Research Automation and Robotics Programme.
Keith Raymond is the Forest Growers Research Automation and Robotics Programme Manager.