Forestry acronyms and organisations
Howard Moore and Lynne Wallace, New Zealand Tree Grower November 2017.
If you dislike the unnecessary use of acronyms, this article may be a hard one to read. The aim is to improve your understanding of some of the various organisations in the forestry sector and the associated acronyms you may come across. I hope it helps. Editor.
The main players
NZFFA is the New Zealand Farm Forestry Association. It is us, an organisation made up of small-scale foresters, originally comprising farmers with woodlots, but now with a much wider membership.
NZFOA is the New Zealand Forest Owners Association, and represents the owners of New Zealand's large commercial plantation forests.
These two organisations are linked in several ways. We share office space and both have input into the FGLT.
The FGLT is the Forest Growers Levy Trust which collects a levy on all logs sold at the mill or the wharf, for industry-good programmes and research. The FGLT is administered by a board of industry representatives, four elected by large-scale commercial growers and two by small scale-scale growers, with an independent chairman. Recommendations to the board pass through a committee made up of 11 members from the NZFOA and two from NZFFA. The NZFOA provides secretarial services to the FGLT.
Under the FGLT are several committees, one of which is SMEC, Small and Medium Enterprise Committee, set up to help ensure the interests of smaller forest growers are covered in the work funded by FGLT.
FISC is the Forest Industry Safety Council, established in response to the Independent Forestry Safety Review. FISC is the first true tri-partite industry-led body in New Zealand with the mandate to work across the full plantation forestry sector, representing one voice in health and safety. Ian Jackson is the NZFFA representative on the committee. Our esteemed editor, Julian Bateson, is on one of the working groups.
IRIS is the Incident Recording Information System for improved work-place safety. It is used to collect and analyse data to help identify causes of accidents and allow contributors to benchmark their health and safety performance against industry averages.
ACOP is the Approved Code of Practice for forestry. ACOP offers practical guidance to those engaged in forest operations including planning, establishment, silviculture, harvesting and transportation of log and log products, on how they can meet their obligations under health and safety regulations.
WPMA is the Wood Processors' and Manufacturers' Association which advocates on behalf of the wood processing sector. Its membership spans the whole wood supply chain, turning logs into high value end products including pulp, paper, sawn timber, panels, laminated products and mouldings.
FICA is the Forest Industry Contractors Association, formed to give a common voice on relevant issues and to aid development and improvement in forestry contracting. FICA has approximately 150 members made up of logging contractors, silviculture contractors and a range of associates.
Woodco is the Wood Council of New Zealand, a pan-industry body which represents the common interests of the forestry and wood processing sectors. Members include the NZFFA, NZFOA, WPMA and FICA. NZ Wood is a major promotional and development programme to promote New Zealand forests and wood resources to improve our economy, society and way of life.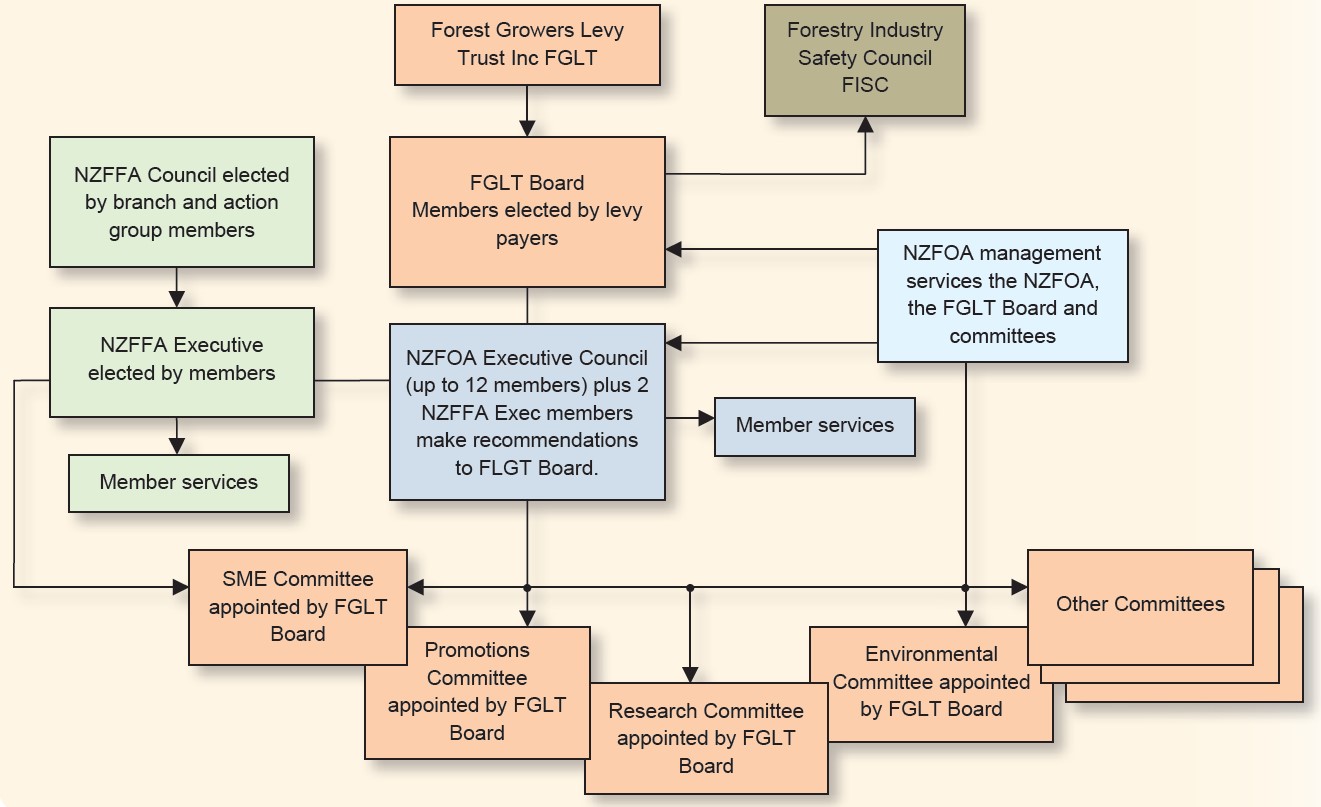 Scion
Scion is the trading name for the New Zealand Forest Research Institute Limited, a Crown Research Institute which carries out scientific research for the benefit of New Zealand. There are several acronyms associated with this organisation.
FIF is Forest Investment Finder, Scion's model of forest economics, which models the revenue for the forest grower given harvest intentions.
GCFF is Growing Confdence in Forestry's Future, a research programme run by Scion to make radiata pine forests more productive.
HTHF is Healthy Trees, Healthy Forests programme run by Scion aimed at phytophthora diseases responsible for red needle cast, kauri dieback and losses in horticultural crops.
NuBalM is Scion's Nutrient Balance Model, which enables forest growers to predict the supply of nutrients to their planted forest estate over multiple rotations.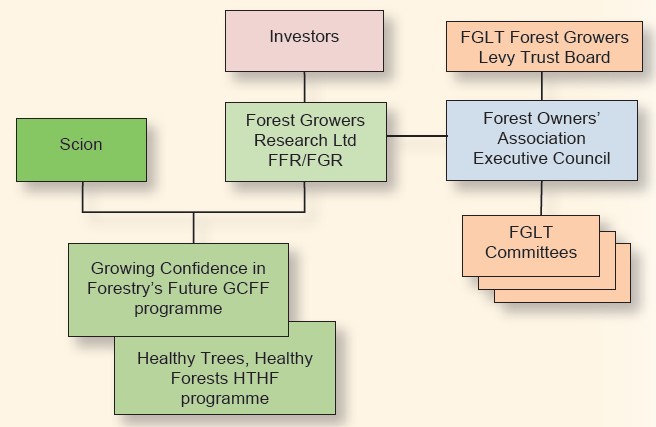 Ministry for Primary Industries
MPI is the Ministry for Primary Industries, which aims to maximise export opportunities, improve sector productivity, manage food safety, increase sustainable resource use, and protect New Zealand from biological risk. Some of the many acronyms associated with MPI are listed below.
SFF is the Sustainable Farming Fund, a grant scheme for farmers, growers or foresters to tackle a shared problem or develop a new opportunity.
NES is the National Environmental Standard for Plantation Forestry, drafted by MPI to improve the way we manage the environmental effects of commercial forestry.
SLMACC is the Sustainable Land Management and Climate Change Research Programme, a grant scheme to enhance and support adaptation to climate change
AGS is the Afforestation Grant Scheme, offering $1,300 a hectare for growers to plant new small to medium-sized forests
HEL is Highly Erodible Land, hill country with a potential for severe erosion, or with a potential for moderate erosion but where sediment will enter directly into waterways.
SLUI is the Sustainable Land Use Initiative, a programme run by Horizons Regional Council with funding from MPI to reduce erosion through better land use.
ECFP is the Erosion Control Funding Programme, administered by MPI for Gisborne district landholders and community groups to help reduce wide-scale erosion.
NEFD is the National Exotic Forest Description, an annual survey of forest owners which provides a detailed description of production forests to help with policy planning and industry development.
Ministry of Business, Innovation and Employment
MBIE is the Ministry of Business, Innovation and Employment, formed in 2012 by bringing together the Ministry of Economic Development, Ministry of Science and Innovation, Department of Labour and Department of Building and Housing. Some of their many acronyms some are listed below.
NSC is the National Science Challenge, a funding programme for research to tackle some of the biggest science-based issues and opportunities facing New Zealand.
PGP is the Primary Growth Partnership, a joint venture between government and industry which invests in long-term innovation programmes to increase the market success of primary industries.
SWP is the Speciality Wood Products Research Partnership, an MBIE and industry funded research and development programme aimed at alternative timbers.
MfE is the Ministry for the Environment, the government's principal adviser on the New Zealand environment and on international environmental matters.

NOF is the National Objectives Framework, originating from the Land and Water Forum recommendations for a national framework for setting freshwater objectives, administered by MfE.
Fire
On the subject of fire things have become a little simpler since July when two separate organisations were merged into one.
NRFA was the National Rural Fire Authority, an organisation to reduce the number and consequence of wildfres in rural areas.
NZFS was the New Zealand Fire Service, responsible for fire safety, fire prevention and fire extinction.
These two became FENZ, Fire and Emergency New Zealand which has responsibility for rural and city fire fighting
Some other organisations
FFR is Future Forests Research Ltd, formed in 2006 as a method for Scion to attract industry funding. It is now Forest Growers Research Ltd or FGR, trading as Future Forests Research. The diagram on the previous page shows how they all ft together.
NZDFI is the New Zealand Dryland Forests Initiative, a programme to develop genetically improved stock and management systems for ground-durable eucalypts.
FSC is the Forest Stewardship Council, an international not-for-proft organisation that sets standards for responsibly managed forest.
PEFC is the Programme for the Endorsement of Forest Certifcation, an international not-for-proft organisation promoting sustainable forest management similar to FSC.
NZIF is the New Zealand Institute of Forestry, representing New Zealand's forestry professionals, providing a forum to exchange ideas, opinions and information.
RPBC is the Radiata Pine Breeding Company, whose shareholders include major forest growing companies in New Zealand and Australia, and works to genetically improve radiata pine.
TTT is Tane's Tree Trust, encouraging the use of New Zealand indigenous tree species for biodiversity, landscape, cultural benefits, and the option for sustainable production of high-quality timber.
Internal NZFFA
The NZFFA itself has a number of special action groups frequently referred to by acronyms.
AMIGO is the Acacia Melanoxylon Interest Group, an action group of growers, researchers, nurserymen, and commercial users which is the main source of information for blackwood.
FIAG is the Forest Investors' Action Group for those primarily concerned with investment forestry.
IFS is the Indigenous Forest Section, a special interest group involved with growing and managing native trees
FFT is the Farm Forestry Timbers Society, a not-for-proft incorporated society for promoting and distributing locally grown speciality timbers in New Zealand.
EAG is the Eucalypt Action Group, which focuses on growing eucalypts for the timbers' decorative appearance, natural durability, strength and hardness.
CAG is the Cypress Action Group, which collates existing research and pools the experience and knowledge of farm foresters growing cypresses.
SAG is the Sequoia Action Group which focuses on the promising potential for sustainably plantation-grown redwood in New Zealand.
Wood councils
Regional wood councils provide a collective voice for the forestry sector in their areas. Each is made up of members across the supply chain, growers, consultants, loggers, processors and exporters.
SNIWC is the Southern North Island Wood Council, members of which own or manage about 164,000 hectares of forest and are involved with three regional councils and 17 district or city councils.
EWC is the Eastland Wood Council which provides a collective voice for the forestry industry in the Eastland region. It encompasses the Gisborne and Wairoa District Council areas and stretches from the Mohaka River in the south to East Cape in the north.
NWC is the Northland Wood Council which is a regional association representing the larger plantation forest owners and forest managers operating in Northland.
SWC is the Southern Wood Council set up in 2001 to promote, encourage and coordinate the sustainable economic development of the forest products industry in the Otago and Southland regions.
You will come across many more acronyms related to finance, climate change and scientific research. Next time someone talks weird collections of letters, ask them to explain. But be warned, asking such questions can make you very unpopular at meetings.
Lynne Wallace is relatively new to forestry, owns a small forest and is a member of the Forest Investors' Action Group.
Howard Moore is a Wellington branch member, a member of the Forest Investors' Action Group and business analyst with over 30 years of experience in forest finance.