Have you got anywhere to plant trees?
Jean-Paul Praat, New Zealand Tree Grower November 2016.
This article about harvesting is from a slightly different viewpoint. The author was the investor and he wrote the article originally for those unfamiliar with growing a woodlot.
Have you got anywhere to plant trees? That is how it started, a question which led to a significant cash injection into a dairy farm business currently coping with the low payout. At the time of the question it was 25 years ago, on a newly purchased dairy farm on the terraces of the Oroua River, in the Manawatu. The farm had been running a mob of sheep on the steep, wet and shady sidlings which flanked flat productive paddocks of silt loam and this was not an attractive option for the new owner.
The catalyst for the question was an opportunity to which a forester had alerted a budding agriculturalist at university. It was suggested that for a cash injection of around $2,000 a hectare you could get a return of $20,000 a hectare in 25 years or more. In addition, if you did the work of planting spraying, pruning and thinning yourself, the only cash required was to buy trees and some herbicide, potentially as little as $300 a hectare. This was based on radiata pine clearwood regime and a saleable yield of around 500 tonnes of wood per hectare. There were risks. Who knows if the price in 25 years will be the same, but given the potential, it seemed worth it at the time.
The deal was agreed
Where could you find the land for this money-making deal? It turned out that you did not need to own the land. A forest could be established with the land owner retaining ownership of the land and the forester owning the trees. This solved a land management problem given the sidlings were unsuitable for grazing dairy cattle, prone to slips and if left unmanaged, would grow only blackberry and barberry. These days we would call this prevention of erosion and sedimentation of waterways.
A deal was struck. Tree ownership was registered against the land title for a set period with the new forester to foot the bill for the trees and manage the growing forest. It was agreed, via a contract, that returns from wood sold would be split 50:50 after harvesting and marketing costs had been deducted.
Planting begins
In winter of 1991 four hectares of radiata pines were established on the largest and most at risk area. In 1992 a further 10 hectares were established with the help of Taskforce Green which provided subsidised labour for on-farm projects such as tree planting. This included four hectares of alternative tree species such as blackwood, Douglas-fr and lusitanica. In the process of establishing the new forest, the dairy farm was further developed by the removal of large old macrocarpas, re-fencing, cow race upgrades and new troughs. The farm was bordered by a sealed road on two sides providing easy access to the forest blocks.
The advantage of this arrangement was that the farmer did not have to risk his capital or become sufficiently knowledgeable about forestry to manage the trees for profit or pay someone else for that expertise which could entail other risk. It can be difficult for someone not experienced in forestry to judge if work such as pruning or thinning is being carried out correctly and on time.
In this case land ownership has changed twice since the trees were planted. The current farm owners produce organic milk. Each successive landowner has enjoyed the benefits of improved property value due to the land stabilisation, aesthetic value and provision of shade and shelter for livestock. Landowners are unlikely to establish forestry if they think they may sell in the next five or 10 years. A partnership under the Forestry Right system can overcome this hesitation.
Forest management
The work of pruning and thinning was carried out by the investor and his contractors. It was suggested at the time that one person could tend eight hectares of forest with weekend and holiday work. When the forest was 10 years old over 100 tonnes was harvested as production thinning. While it felt good because logs were sold and not simply thinned to waste, the harvest income was about equal to the costs. Generally, it is more cost effective to thin to waste rather than production thin unless harvest costs are low and log prices are good because, although it is marginal economically, damage to remaining crop trees may result during the process.
Several major slips occurred during the first five to seven years of forest growth. These slips were planted with poplars to stabilise soil and improve the quality of pines on the slip edges by keeping branch size in check. In later years, notably 2008 and 2015, small areas of the main blocks were knocked over by the wind. In late 2015, just under 25 years since planting, and a minimum age for harvest, with some risks now clear it was decided to assess potential income.
Choosing a harvest manager
Several harvest management companies were approached, some never returned emails or telephone phone calls.
It seems that not all harvest managers are interested in harvesting farm woodlots. After some initial discussions Forest Owners Marketing Services assessed the stands of pine in October 2015 and indicated a nett return after harvesting and management costs of around $10,000 a hectare. This was below target so at that stage it was decided to keep the trees growing.
That is the beauty of a productive forest, you have about a ten-year window in which to harvest, quite unlike a vat of milk or a prime lamb which must go to market almost irrespective of the available return. By February 2016 there had been noticeable rise in log prices and Forest Owners Marketing Services was again contacted. Re-calculation now estimated a nett return of around $20,000 a hectare. A 20 per cent rise in log prices had doubled potential nett returns.
The next question was to ask if there was a harvest crew available, which there was. As the blocks were close to the road and required no special roading, we were able to move quickly and two weeks later trees were coming down and logs were going out of the gate. This also coincided with dry conditions underfoot and good weather for harvest. The log price, contractor availability and weather all came into line for a potentially successful harvest.
A further question was raised about timing because waiting a further three years would add a significant volume of quality timber. However, given that the new farm owner wanted to recover some area for pasture and the investor had a new project to invest in, it was decided to go ahead with the harvest. Not all the forest was to be harvested, so any increase in profitability as a result of additional yield could be taken advantage of in the future.
Health and safety
The Health and Safety at Work Act came into force in April 2016 which was around the time the harvest started. The land owner was concerned that risks were managed and minimised. Hautapu Pine Logging was contracted to carry out the logging and already had a business relationship with Forest Owners Marketing Services.
The harvest manager put an environmental and safety management plan in place and took overall responsibility for these aspects. Particular considerationwas given to worker safety, sediment control and traffic management. Traffic management was required as some trees posed a risk of falling on to the road. Additional signage was placed at a distance from the road entrance because, although the road was sealed, it was only one way with poor visibility for about 1.3 km. The plan came to around 200 pages and was signed off by the land owner, harvest manager and logging contractor. This is a significant part of the project requiring specific expertise.
| Summary of costs and returns | | | |
| --- | --- | --- | --- |
| | Per tonne | Per hectare | Total |
| Logging | $35.80 | $17,930 | $152,403 |
| Cartage - road and rail | $29.20 | $14,636 | $124,404 |
| Harvest management | $6.70 | $3,357 | $28,533 |
| Other costs such as levy, re-fencing and machine transport | $11.00 | $5,511 | $46,840 |
| Total cost | $82.70 | $41,433 | $352,180 |
| Total income | $135.80 | $68,036 | $578,306 |
| Nett return to be split 50:50 | $53.10 | $26,600 | $226,126 |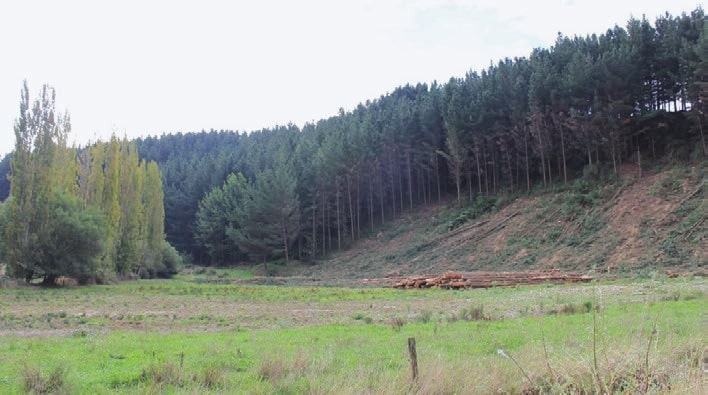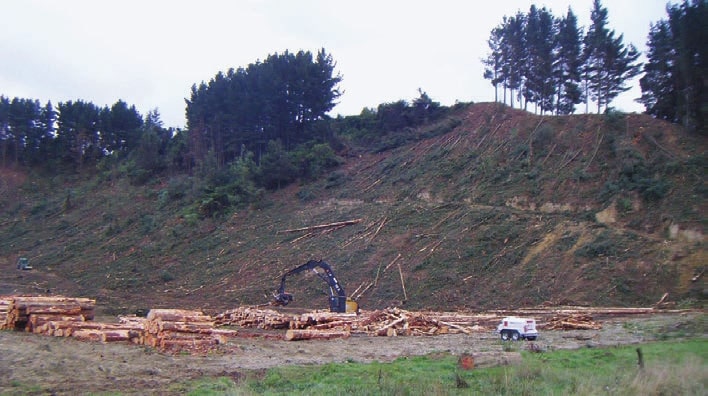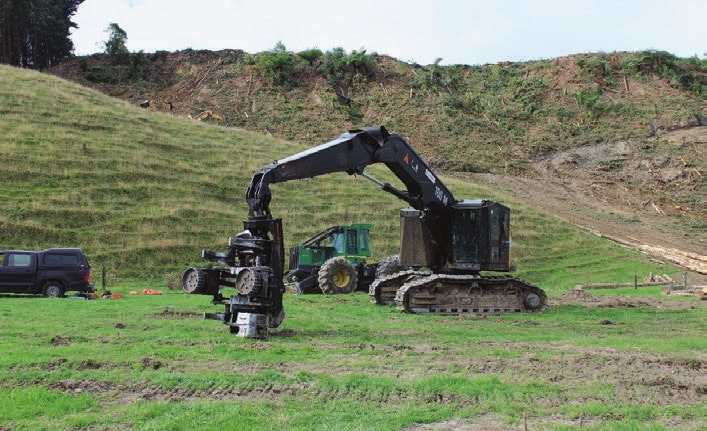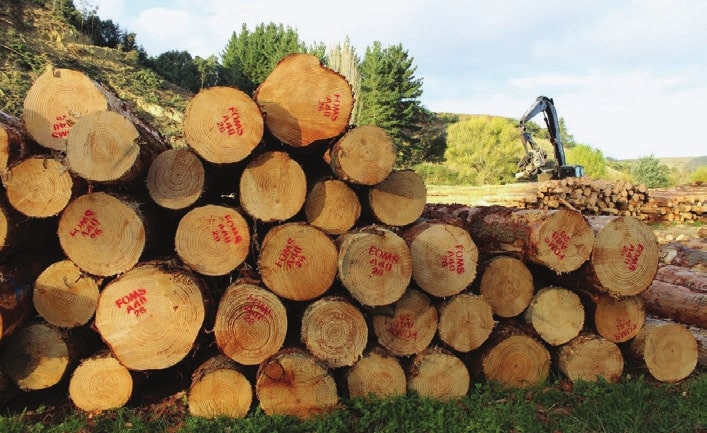 Harvesting begins and ends
Other considerations particular to this organic production site was that no chemical residues could be left on site. Petroleum products, paint and log dip were potential sources of concern. Petroleum products were managed to avoid spills, logs were raised off the ground for marking with paint and it was arranged that logs requiring anti-sapstain were treated off-site.
The job of harvesting and marketing amounted to around $40 or more a tonne. Some might be tempted to do the job themselves as the cost comes off your bottom line, but handling 4,000 tonnes of logs is beyond most people and there is also the management of health, safety and the environment to consider.
Logging was carried out mainly using a mechanical ground based system. Trees on steep upper slopes were felled manually while lower, shallower slopes were harvested by machine. Harvesting took about eight weeks between late February and early May 2016 using two excavator loaders, one tree processor and a grapple skidder.
Harvest analysis
A total of 4,264 tonnes of logs were sold from 8.5 hectares for an average yield of 501 tonnes a hectare. Costs included machine transport to site, harvesting, cartage, loading, commission on sales, traffic management, re-fencing, re-grassing and legal fees. The nett income or stumpage was $26,600 a hectare, about 33 per cent better than the initial estimate at the beginning of harvest due to a continuing rise in log prices and a better than anticipated log quality. A large range in log grades and lengths helped achieve this return.
Two modes of payment were offered. One was a variable rate based on actual returns at the time logs were paid for at the mill or port. This could be a good option on a rising market as it can be weeks between harvest and when the logs are actually paid for, and the method allows the forester to benefit from any rise in the price. The alternative, which was the option chosen in this case, prices were fixed and agreed on the first of each month during harvest and paid in the following month. This provided certainty to the forester in what can be a volatile business.
Approximately 800 metres of pines planted as a shelterbelt were also harvested. The income per tonne from this was about half that of the main two blocks because harvesting costs were relatively high, the quality of timber was relatively low and there was a significant re-fencing cost.
Conclusion
The decision on when to harvest is very important to the success of a farm forestry project. In this case the dairy farm and investor each received over $113,000 with some trees still to be harvested. The key to harvesting success was establishing a relationship with a harvest manager early and keeping in touch with movements in the market.
With the benefit of hindsight, I would suggest that it is never too early for this. Obtaining experienced harvest advice when you plant would be wise and can help avoid future losses. For the dairy farm involved, the income was welcome at a time when when successive payouts were low.
Traditionally, trees on farms are not valued on the books until they are cut down. However, having a profitable forestry block can improve business resilience by providing cash flow when income from pastoral enterprises is challenged by the market and the environment.
Dr John-Paul Praat is a director of Groundtruth Ltd and provides advice for sustainable land management.