Forestry management around transmission lines: Avoid the shock with prudent planning
Geoff Wishart, New Zealand Tree Grower November 2016.
For small-scale forest owners, nothing eats into profit more than special felling requirements at harvest time or having to fell mature edge trees. This could be in a hard to access mountain block or a plantation close to road, rail or electricity infrastructure. For the last of these, such as power lines, there can be a bit of a sting in the tail for forest owners, but a little prudent planning beforehand can go a long way to minimise that sting.
Transpower is the owner and operator of the National Grid – the network of high voltage transmission lines and substations that transport bulk electricity from areas of generation to towns and cities across New Zealand. Transpower is a State Owned Enterprise, owned by the government on behalf of New Zealand. There are no large batteries on the network, so the transmission lines are there to continuously take power to where it is needed 24 hours a day, seven days a week.
The core grid
The largest lines in the network, often called the core grid, operate at 220,000 volts, compared to your basic household power socket of 240 volts. The core grid use the big lines which are built through the middle of both islands. Many were built in the 1950s and 1960s as part of the large generation projects of the day. Branching off these and supporting smaller regional areas are the 110,000 volt lines – the remnant of New Zealand's frst generation transmission network from the 1920s and 1930s.
Transmission lines are a little like George Washington's proverbial axe. Over their lifetime, some of which are already well into their seventh and eighth decades, you can replace the steel, wires, foundations, and in some cases the complete tower, but it still remains part of the same transmission line.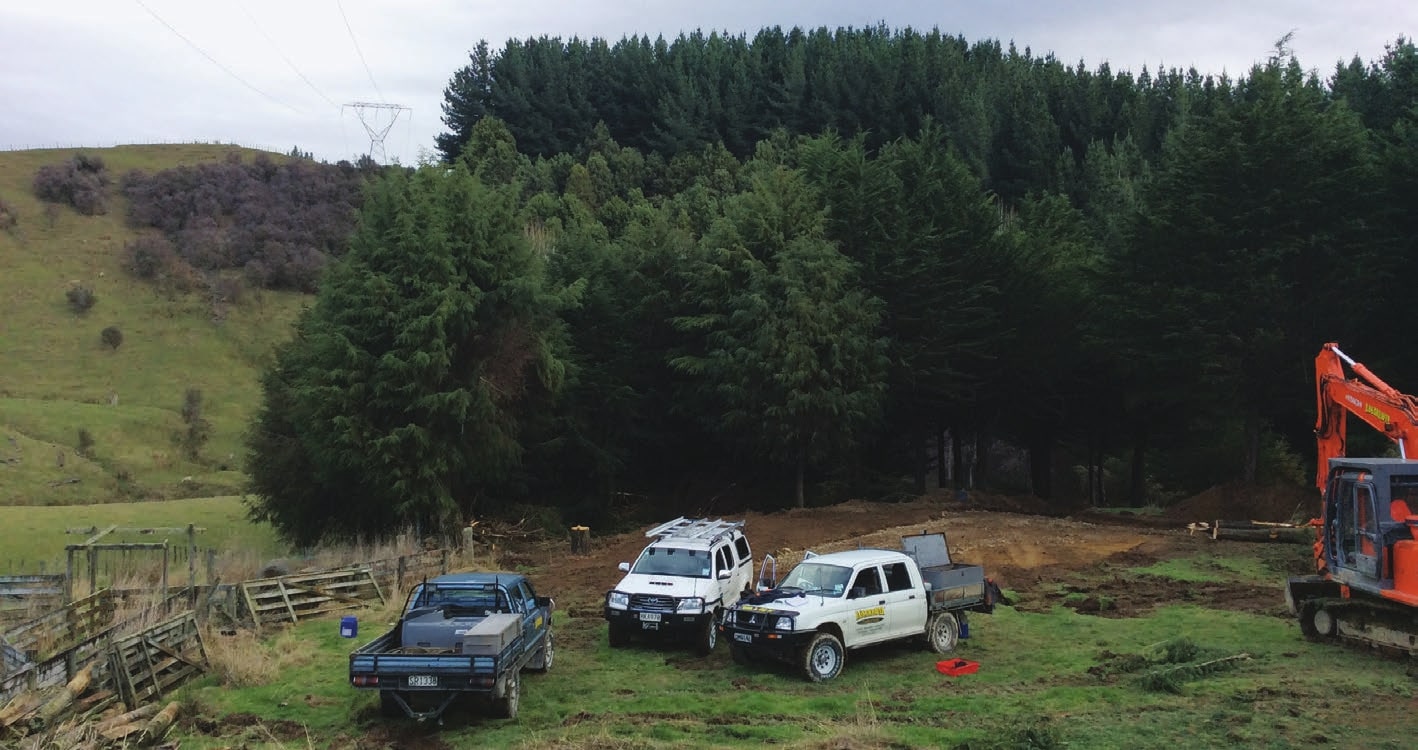 The wire space
While the line remains the same, something that does change daily depending on electrical current and environmental conditions, is the location of the wire in the space above the land. Greater electrical current will tend to make the conductor sag more, as will hotter days, and wind can cause the wire to blow out horizontally. As an example, a 600 metre span on a breezy day might see the wire blow out 22 metres in horizontal distance, and in that span the amount of sag could be as much as 35 metres from a theoretical straight line between the supporting towers.
Obviously, when you provide New Zealand's electricity there is an expectation that you keep the supply going, and Transpower has some statutory rights to allow it to undertake its work unimpeded. This includes provisions under the Electricity Act 1992 to enter land to access works on its lines and, in the case of an emergency, without the usual notice period to landowners and occupiers beforehand.
Keeping lines and trees apart
So where do trees come in? As anyone with any understanding of electricity would appreciate, electricity and trees do not play nicely together, which is why Transpower has a legal requirement to maintain lines to prevent any tree-related interruptions to supply.
The Electricity (Hazards from Trees) Regulations 2003 set out the need to keep trees from growing into the transmission lines by −
Defining safe separation distances between trees and overhead lines
Specifying who is responsible for ensuring separation distances are maintained
Placing potential liability on tree owners if the regulations are breached
Providing an arbitration system to resolve disputes relating to tree trimming.
Like a lot of regulations, the devil is in the detail. They are not always easy to read, but there are some simple rules.
Trees must not grow closer than four metres to an overhead conductor's lowest possible position including its blow out or high wind position − for safety.These are high voltage lines and you do not have to actually touch them to get an electric shock because a flashover can occur within four metres.
Given that four metres is the minimum distance, and a competent person still needs to get close enough to trim or fell them, the regulations specify a five metre distance which incorporates a one metre notice zone.
When Transpower's routine patrols notice a tree growing within five metres of a line they will get in touch with the tree owner.
A forestry crop is devalued if someone comes along at mid-rotation cutting a swathe through it, but that is what will happen if your trees get within the notice zone of five metres from a transmission line. Do not think this might not be noticed. Transpower's lines are patrolled at least once every year by its regional service providers Northpower, Electrix, Broad Spectrum, and Electronet, and tree violations are routinely assessed and managed.
If you want to avoid upsetting the regional service providers and having some of your trees cut down, think about what you are putting under the lines in the first place, and perhaps even consult with Transpower on what might be possible. They can provide advice on safe setback distances from their lines.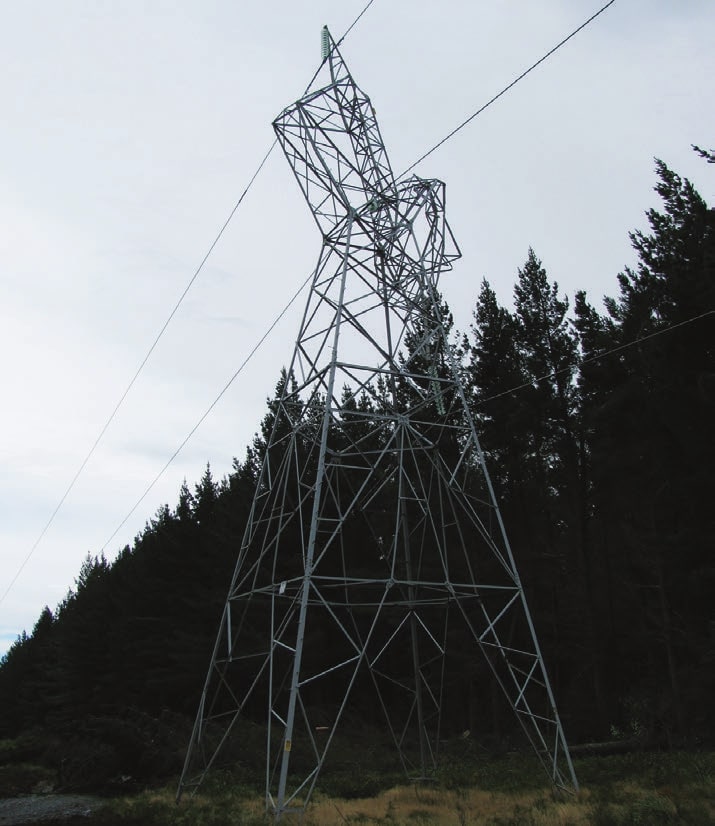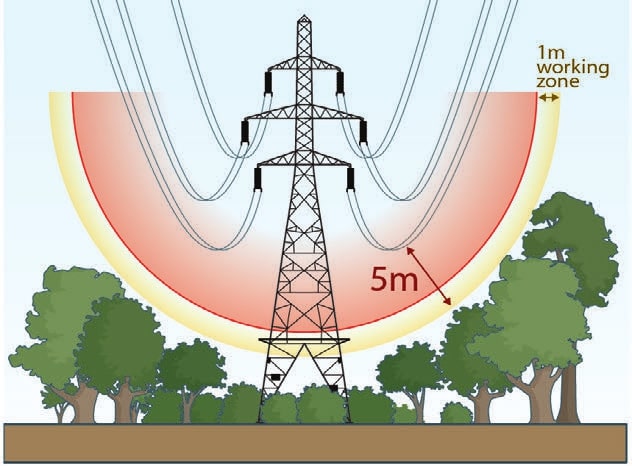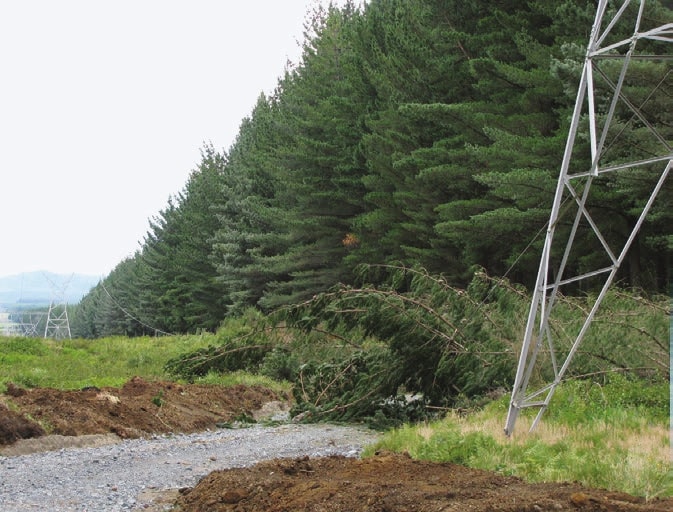 Falling trees
Trees growing into transmission lines are just one of the hazards, the other is the potential for trees to fall or be blown into lines. Given the average height of New Zealand's commercial plantations at harvest is about 35 metres, compared to an average height of transmission wires at 15 to 20 metres depending on topography, no rocket science is needed to see that trees have the potential to take a power supply out if they are too close. While that might not worry you initially, just remember that the act of the tree fall itself could cause a flashover where the electricity arc from the line ignites the tree and also potentially the rest of your forestry block.
Additionally, if your trees are within the fall distance of a transmission line, you will not be able to remove them safely at harvest time without talking to Transpower on how and when to do it. The Health and Safety at Work Act has really tightened the obligations to manage risk of activities within your domain. While there is a question over definitions applicable to working forests under the Act, it would be a brave forest owner who allowed anyone to remove trees near transmission lines without getting the consent and cooperation of Transpower. Industry guidance supports this with the forestry Approved Code of Practice requiring foresters to reach agreement with the asset owner when harvesting within two tree lengths.
Sometimes the line might even have to be taken out of service just to ensure the risk is mitigated effectively.
This all comes with a cost such as −
Likely work scheduling changes which might mean mobilising a crew more than once
Engaging competent people to oversee the electrical safety aspect of harvesting remembering that they have to be competent with high voltage transmission
Hiring specialised equipment that might be needed to undertake the harvest.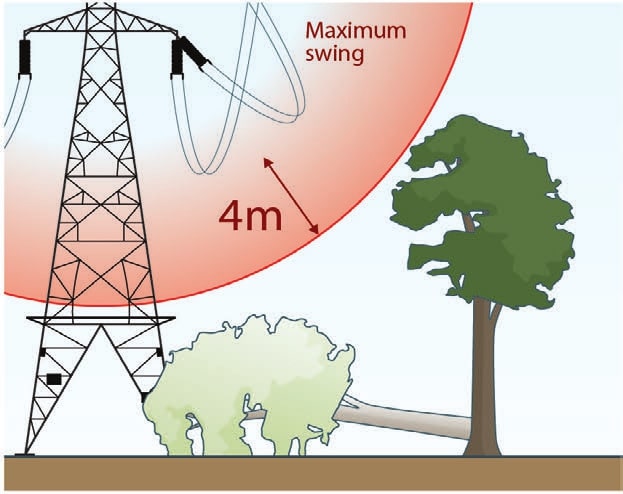 Plan ahead
It all comes back to prudent planning at the outset to prevent these problems. Transpower encourages all forest owners to talk to them about harvesting and replanting. It is always better to avoid the problem than having to solve it at harvest time, or after planting and before maturity. Transpower can supply electrical safety supervisors and advice on harvest plans.
New Zealand's terrain is varied, and there may be opportunities to grow trees closer to power lines than you think. For example, in valleys spanned by a transmission line where clearances are in excess of 40 metres. Transpower has some methods including a Lidar derived digital terrain model which can help identify the conductor heights and distances from ground along line spans. These will help forest owners understand where it is acceptable to plant and where to avoid.
Geoff Wishart works in Transpower's Customers, Stakeholders and Environment team, and has recently been involved in updating Transpower's land owner guides, including on managing vegetation near transmission lines.
For more information
In the first instance contact Transpower's service providers for your region:
North Auckland and Northland
Auckland
Howard Warren 021 546 628
Waikato
Bay of Plenty
Taranaki and Central North Island
Wellington, Manawatu, Wairarapa and Hawkes Bay
Stephen Howard 027 490 9464
West Coast Nelson/Marlborough
Canterbury
Myles Stichman 027 477 9693
Otago/Southland
Jimmy Cormack 021 357 996