Canterbury's big wind causes severe tree damage
Nick Ledgard, New Zealand Tree Grower November 2013.
The night of September 10 was one which many tree growers in north Canterbury will never forget. I returned to my home in Loburn, just north of Rangiora, at around 9.00 pm, with the car being buffeted and leaves and small branches flashing through the headlights. But the strongest gusts had yet to arrive, with my neighbour, a geography lecturer at Canterbury University, recording winds over 120 km per hour soon after midnight. These were the strongest winds I had experienced during more than 40 years in the area.
As is typical of a nor-wester, the wind appeared to bounce across the plains, leaving bands of damage where the strongest gusts hit the ground. Unfortunately, Loburn was in one of those landing zones. Further inland damage was much less. Just west of Oxford, well-known farm forestry couple John and Rosalind Wardle recorded a few trees down, but they had seen much worse. Similarly, with Dugald and Mandy Rutherford, at Melrose inland from Hawarden − two hours on the tractor and the major damage was cleared. Even more surprisingly, there was not a branch out of place in our 380 hectare wilding forest at Mt Barker near Lake Coleridge, despite the fact that just over the Rakaia River on Mt Hutt 10 km away, gusts of over 250 km an hour were recorded.
Bad news
In lowland parts of north Canterbury it was bad news. Matariki's Ashley Forest lost hundreds of hectares of trees, some of which were burned soon after they hit the ground, ignited by sparks caused when pylon wires were blown together. Further east under Mt Grey, Max Fleming, father of our secretary Gary, said the winds were worse than the fabled 1975 blow, with 'heaps of damage, especially on the shingly flats'.
It was the same at my place, with at least half of the larger trees on the deck by the time I did an inspection early the next day. Knowing that a storm was on its way, the previous evening I had put our few ewes and lambs in behind a belt of 22-year-old pruned radiata with a three metre understory of Viburnum bushes. You can imagine my alarm as I approached that paddock to see 60 per cent of the radiata on the ground, with a tangle at their base of up-ended root plates, Viburnum bushes, posts and wire netting. Amazingly, the ewes and lambs were bunched in a corner without any visible injuries. I had to cut the fence to get them into the neighbouring paddock where they went straight to the middle and sat there for the rest of the day.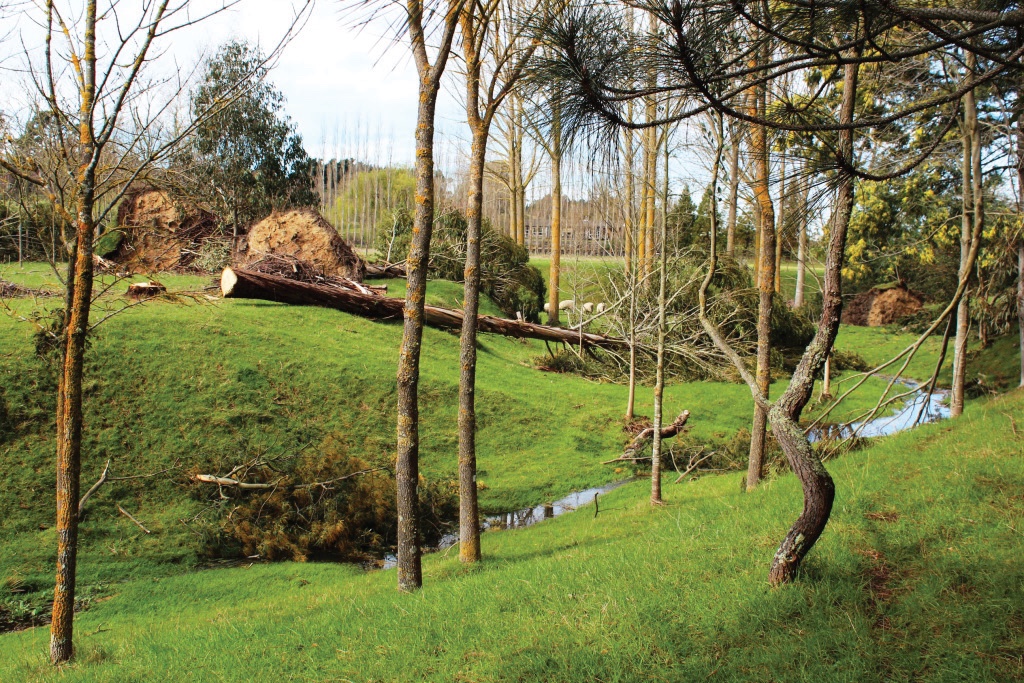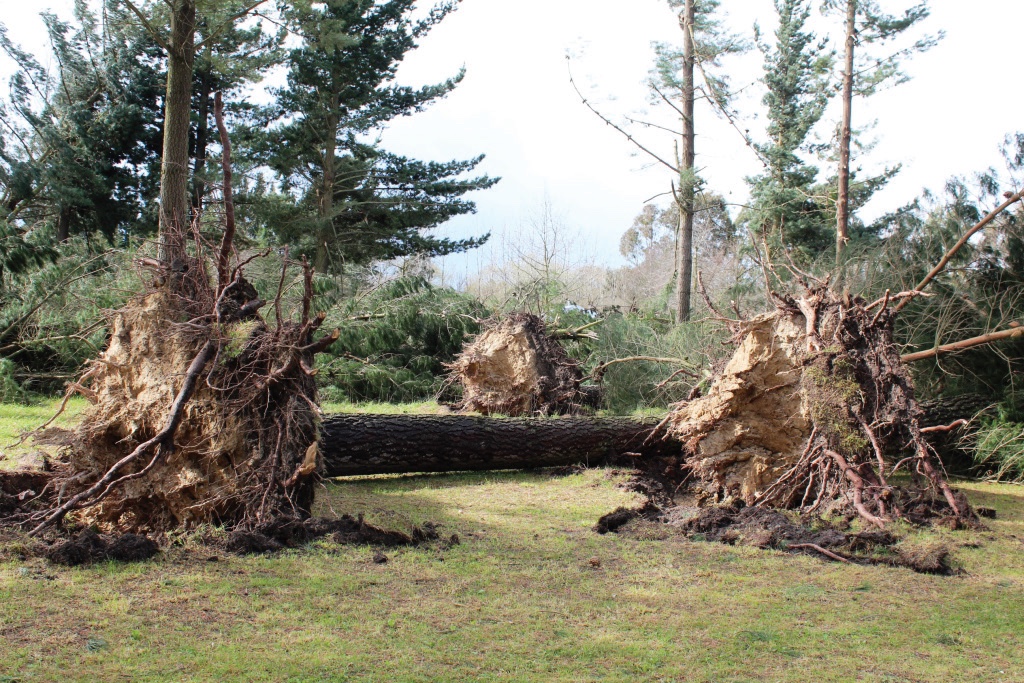 Harvesting still possible
Looking around locally, I almost got the impression that large pruned trees suffered more than unpruned. Of course, the majority of mine were well pruned. Fortunately, most came down with root plates intact, so should last longer to produce the possibility of a commercial return.
Such a return is not as influenced by major damage as you might imagine. A forest harvester told me that the only real change is an increase of harvesting costs of 30 to 40 per cent. Compare that to major damage to another plant crop, such as apples, grapes or grain, where the loss can be 100 per cent.
However, I am talking of a mature tree crop, which has taken at least 20 years to reach that stage. Younger plantations in this district have been so badly damaged that there will be zero return and a major cost incurred to get the land back to a plantable state.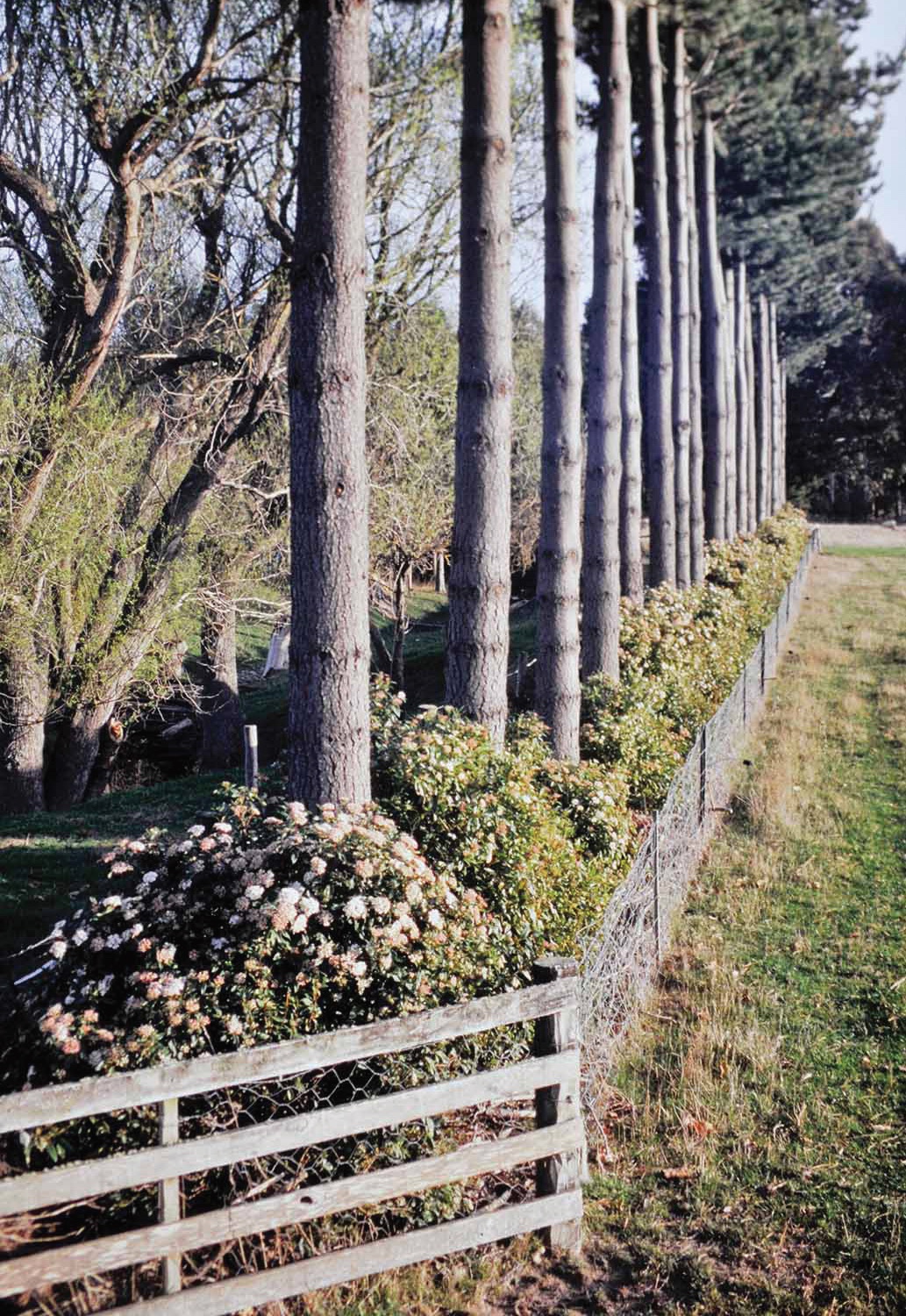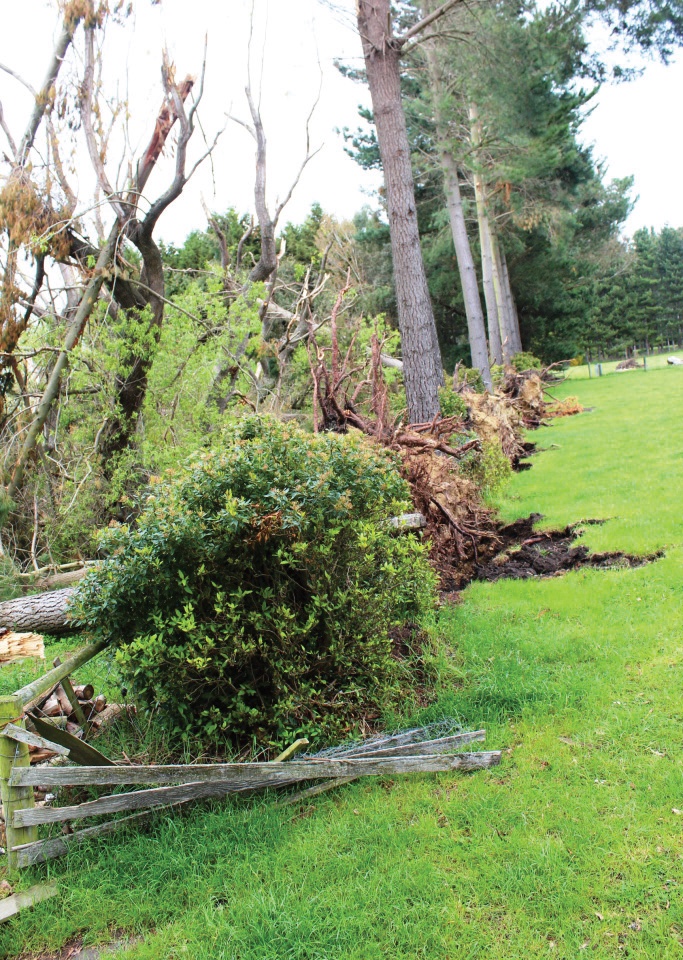 Defending trees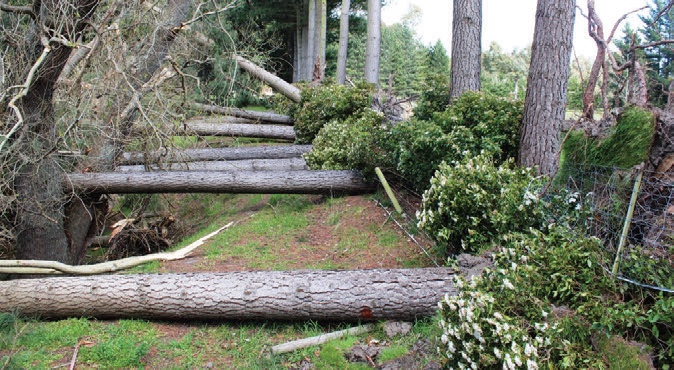 Just after the storm I was talking to a linesman fixing downed wires leading to the neighbour's place. 'Bloody trees,' he commented. I was prepared for that. I replied, 'Bad damage yes, but you cannot overlook the fact that for every tree down, there are thousands still standing and doing their job of sheltering people, buildings and stock. Just imagine what rural life would be like if there were no trees.' That should be very obvious to all.
Why is it that we farm foresters have to spend so much time defending trees? The big wind of September 2013 did not make this duty any easier.
Nor did another good nor'wester almost exactly a month later in mid-October. This largely missed us, but bounced further inland, knocking over many trees around Oxford. John Wardle estimated that it put 500 tonnes of radiata logs on the ground at their place, which was five times more than in the first blow.