Neil Barr interviews
Margaret Gray, New Zealand Tree Grower November 2012.
One of the conference field days in April 2013 includes Neil Barr's former farm, Beresford and a meeting with some Barr family members. Beresford is now owned by entrepreneur Alan Gibbs who is now becoming well regarded for one of the most comprehensive outdoor sculpture collections in the world. We will have two to three hours on site including some time with Alan as he explains his inspiration and how Beresford has contributed to that.
As well as developing his beloved Beresford, raising a family, and establishing the NZFFA, Neil Barr also left society a very important legacy. This is in the form of several interviews and accounts of his life which are now archived at the Helensville and District Historical Society.
They consist of –
An interview explaining the beginnings of the Lower North Farm Forestry Association and the NZFFA
An interview where he describes the life of Maori in the district from 1916 onwards and his working relationship with them
Two tapes of general memories made by Neil himself.
Those of you coming to next year's conference will be able to buy CD copies of these tapes.
The beginnings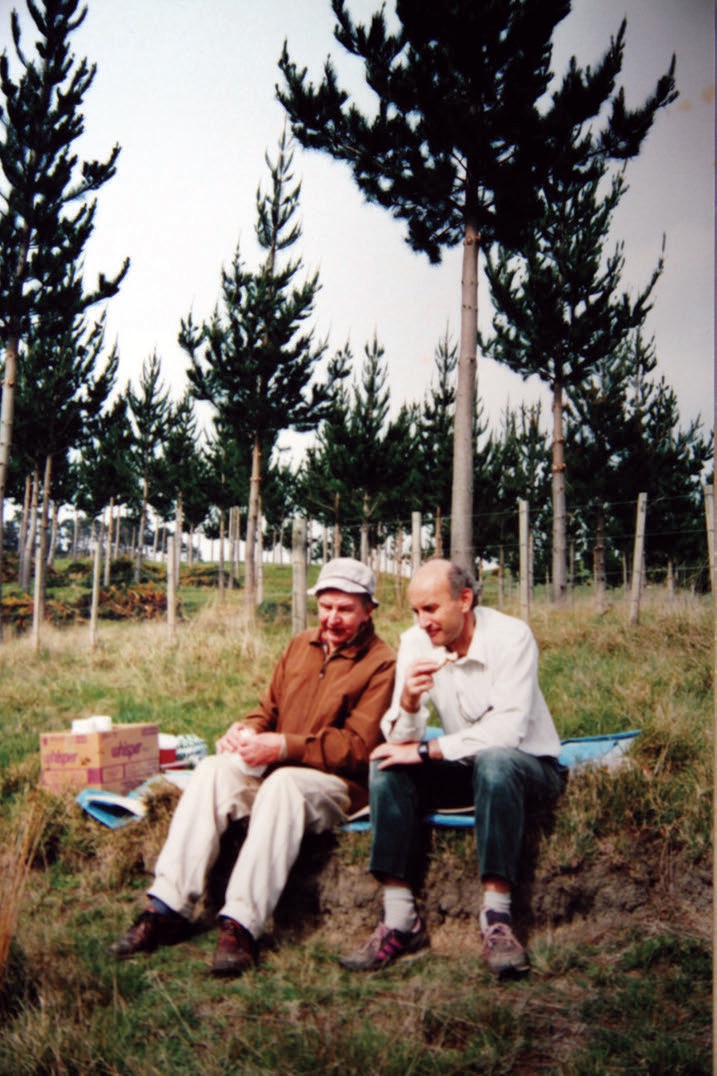 Neil's account of the founding of the NZFFA begins with the need for people in his district to find hardwood for fencing, quickly followed by a need to find shelter from the severe gales coming from any direction. He was soon able to win the support of men from all the relevant organisations, such as the Director-General of Forests and the Auckland Conservator of Forests. He gives a lively account of his trips around the country promoting his ideas.
The names of many people are included, probably the best known being Harry Bunn who, for a considerable period of time, was Director of Research at the Forest Research Institute. From regional associations to a national organisation with an annual conference, then on to a national magazine initially guaranteed by Neil himself, field days, national trials and ultimately the recording of 10 tapes which were copied and marketed, Neil's humble account of his efforts makes for 60 minutes of interesting listening.
Maori anecdotes
The 'Maori memories' tape describes how the government bought the land from Maori owners and its subsequent farming on a 99-year lease by Mr Barr senior until his death, after which Neil acquired the freehold. There are many stories of Maori subsistence way of life − fishing for mako sharks in the Kaipara then drying them on posts for months, gathering pipi, eels and fern root for food, and riding horses bare-back with a rope harness. Gradually Maori undertook more work on the farm for money to buy supplies.
A great deal of information about the development of farming in the area is also included with anecdotes about local people. Probably the best story is Neil's account of a visit to the district by the then Governor-General, Sir Bernard Ferguson, who was staying with Malcolm and Barbara Waller.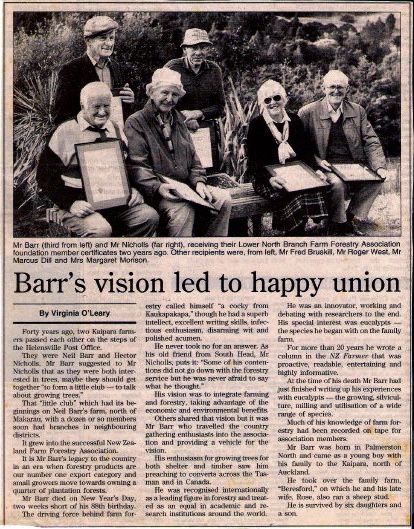 Sir Bernard wanted to meet more Maori, and as there were none living in his area Malcolm contacted Neil. The vice-regal party crossed the Kaipara harbour by launch and made a visit to a local marae which Neil and his wife had organised. This was so successful that Neil and his friend from the marae were subsequently invited to attend a reception at Government House in Auckland. That was also successful and Sir Bernard invited them to stay on for the night, but Neil thought it best to decline.
All available on CD
The two tapes of general memories describe the family's move from Palmerston North and the difficulty of living in what today seem to be very primitive conditions in a remote rural area. There are more stories about local Maori and their transition from a life on the marae. Transportation of stock was always a problem and there are stories of droves of steers and bulls disappearing in all directions when frightened by the approach of a train or of a then rarely seen car. The advent of modern amenities is described, such as bore water, rotary lawnmowers and tractors.
Originally recorded as cassette tapes, these interviews have now been converted to a digital format so are available as a CD. They date back to 1995 and cover a wide range of topics and include anecdotes which are probably not known to many people − Neil's story in his own voice.