Hawke's Bay 2011 weather bomb
Marie Taylor, New Zealand Tree Grower November 2012.
Coastal Hawke's Bay is still suffering the effects of last years April storms. More than 600 mm of rain in only 48 hours in late April 2011 caused massive damage in a 10 kilometre wide coastal strip from Blackhead to Cape Kidnappers and from Wairoa to Mahia Peninsula.
The Hastings Manager for the Ministry for Primary Industries, Gillian Mangin, said that 110 farms had significant damage. The torrential rain had a much bigger effect than Cyclone Bola in 1988, but Bola affected over 1,700 farms in Gisborne and Hawke's Bay. The highest rainfall recorded for 24 hours during the storm was 432 mm at the Waipoapoa meteorological station just west of Landcorp's Te Apiti Station.
Water flows created incised gullies, and beach settlements were inundated with flood waters and silt as well as slip debris as the rain sluiced hillsides behind them. The unusual weather pattern of a south-easterly low meeting high humidity air from the north conspired against the landowners.
A magnitude 4.6 earthquake in the middle of the storm probably helped loosen saturated and unstable hillsides even more.
Pines helped protect
Farms at the centre of the storm lost upwards of 40 per cent of their pastures in steeper paddocks as well as access to remaining pasture. Slips and flooding also damaged fences, access tracks, yards, water supplies and cut power. The government ranked the storm a small to medium-scale adverse event. The East Coast Rural Support Trust kicked into action quickly, and a Task Force Green programme employing eight teams of workers for 12 weeks started to help clean up.
The sort of rainfall received in the relatively confined area is beyond the capacity of even natural systems to cope. Native bush on some steep hillsides also slipped, and in places lone mature cabbage trees succumbed. Native or exotic trees can make slopes more stable, but they cannot provide total protection, although in general land in mature pines suffered much less damage than neighbouring pasture.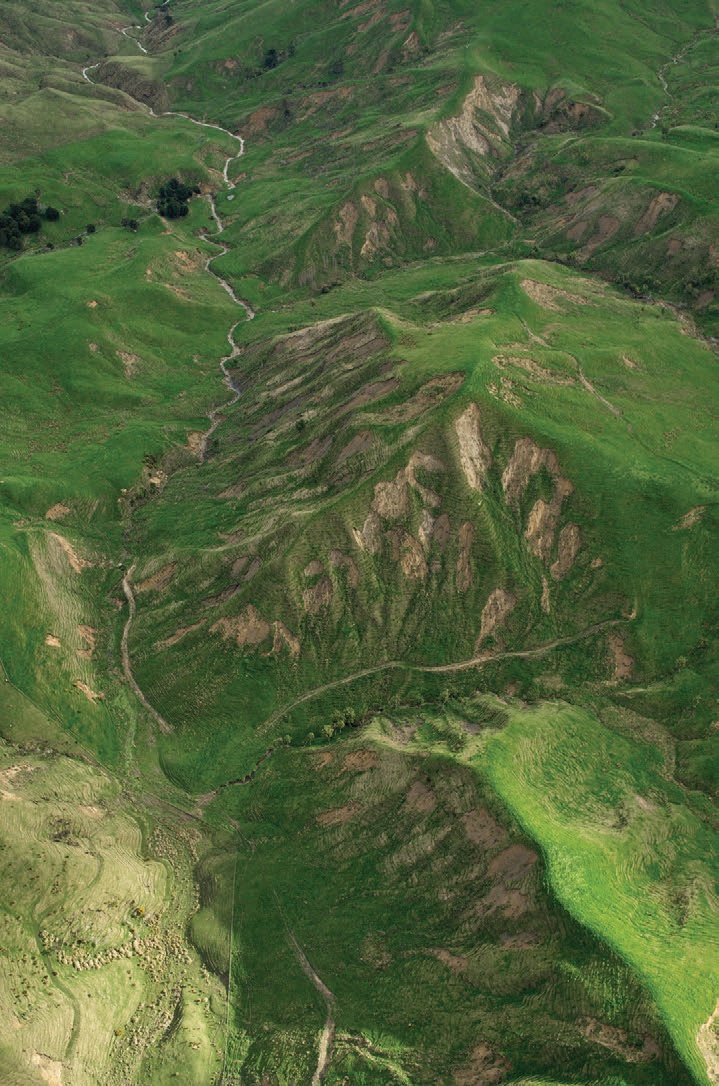 Hawke's Bay Regional Council Land Management Advisor, Warwick Hesketh, observed that although trees and soil conservation measures might not have been effective at the centre of the storm, they were effective at the periphery. Two farms hit are planting 600 hectares and 150 hectares in forests, but little planting occurred last winter because farmers were too busy cleaning up. Access was too difficult and conditions too wet for planting too.
Official figures put the cost of recovery from the storm at about $39 million for infrastructure, land and insurance claims. That includes $10 million of damage to local roads, $2.5 million damage to state highways, $60,000 in benefits and allowances, and $500,000 in labour assistance for farms.
No wholesale land use changes
Mike Barham, the Rural Support East Coast Coordinator, believes people have been so busy repairing their farms they have not had time yet to consider mitigation measures. Until the storm-affected farmers get their fencing reinstated they will not be looking at new projects such as major tree planting initiatives. However, most of the 110 affected farmers have come through the aftermath quite well, thanks to the combination of a good season for growing grass and good prices for sheep meat, wool and beef.
Most have been able to repair the damage out of last year's income. A few farmers who were stretched financially before the storm are still having some financial problems. While many people have been talking about tree planting initiatives, there had been no major land-use changes. People have other priorities at the moment.
More planting
Peter Manson, another Hawke's Bay Regional Council land management adviser, says there has been more tree planting in the storm-hit areas and an increase in demand for poles, mainly poplars. About 10,000 poles have been planted in the district in each of the past two years. The regional council had sold out of poles in both years, and had no chance of supplying other regions as it sometimes did. Farmers want a lot more than they have been getting, and most of the increase has gone into the storm-affected areas.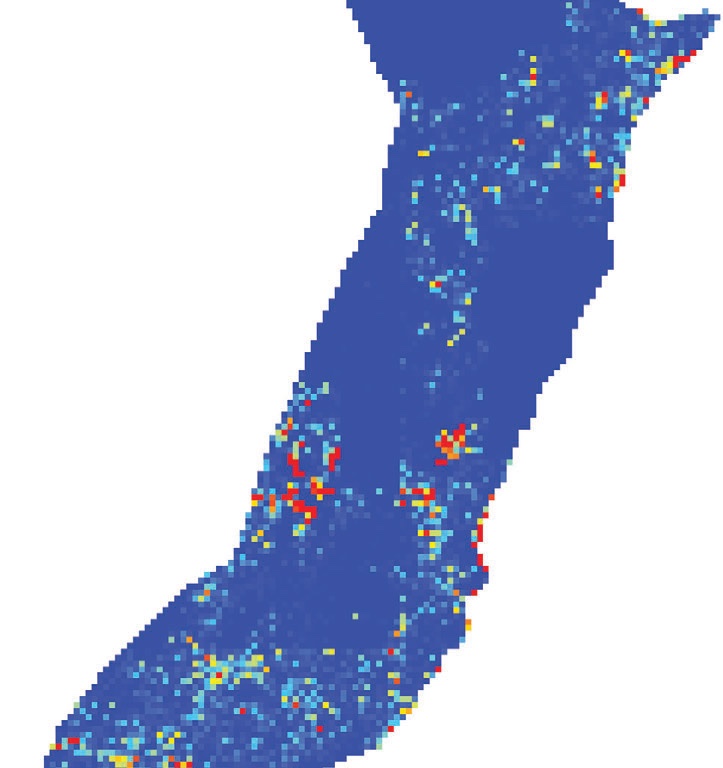 Although some farms have planted trees in the past two years, none were as a direct result of the storm damage. Farmers are waiting for a new scheme to be launched to make tree planting more attractive on their properties. This scheme had been talked about for a couple of years, and many farmers were holding off to see what options would suit them.
Life is not entirely back to normal for those affected by the storm, as there is still a lot of fencing to carry out. Pastures on flat land were covered by silt and it also takes many years for hillsides to recover from erosion damage. There was a good moist summer after the storm. It enabled any over-sowing to be very successful.
The real cost of storms
How much do storms really cost farmers? How much value do farmers actually get from planting trees? These are two particularly tricky questions a new Hawke's Bay study aims to find out. With money from the Sustainable Farming Fund a group of farmers, led by Porangahau's James Hunter, are looking at the nitty-gritty of the costs.
They are hoping to build a financial case for tree planting with their three-year study. The product of this will be to highlight how expensive it is not to have insurance policies for trees. Storms will be a regular feature of hill country farming and hills without trees are at risk.
Part of the project is an extensive questionnaire farmers will be asked about their costs. Ouepoto Station's Manager, Rob Eagles, who is part of the project team, has already worked his way through the questionnaire to give it a test run.
High costs of the storm
His numbers for the financial costs of the storm on his 1,150 hectare farm are very high. The overall costs will be more than $400,000 for this one storm, or $345 a hectare. He lost eight kilometres of fencing, and although he did not lose stock, he did have to sell earlier than usual. He estimates that due to storm damage he lost 200 hectares of grazing land. Before the storm he had 45 secure paddocks, after the storm only two. Now, 18 months later, he has 40 secure paddocks.
The effects are still continuing with work required on tracking, fencing and restoration work. Rob expects it will be a 10-year process getting back to square one. He mainly planted poplar poles and the area planted did fare a lot better, although planting earlier would have been more useful. They lost a lot of the 500 trees planted the autumn before the storm. He expects that he is typical of the coastal farmers affected by the storm, although he might have lost a bit more fencing than the average farmer as he has the double-fenced Gibraltar Road running through his property.
Benefits of trees
Mark Warren, a farm forester whose Waipari Station is just south of Elsthorpe, estimates his direct costs from the storm to be $130,000, and lost production a further $100,000. The storm brought home to him the benefits of trees. Flood gates at the bottom of the blocks of pine trees were intact, and floodgates at the bottom of unplanted blocks were washed away.
Project manager, scientist Ian McIvor, is hoping their information will lead to more farmers committing to soil conservation programmes. Part of the project is to get out into the landscape to measure the physical effect of having trees to mitigate erosion damage. He is asking if the trees prevented slips and if they reduced the extent of the slips.
In both Wairoa and southern Hawke's Bay there are farms with long-term conservation plantings, so he thinks it should be possible to make comparisons. Ian is hoping that up to 60 of the 110 affected farmers will be interviewed as part of the project.
The Burdens dig in
After last April's deluge, erosion control planting became a top priority on Keith and Sue Burden's Waimarama farm. As the storm swept up the Hawke's Bay coastline last year, their sheep, beef and deer property had 825 mm of rain – mostly over one night.
Keith returned home at about 5.00 pm on the night of the storm. He went out with a spade to check on some new tracks, make sure the water was running off and that the culverts were clear. It was not until first light that the full extent of the damage became evident. There were five large slips through native bush on the property's covenanted QEII NationalTrust block. A 300-year-old titoki tree had fallen but willow and poplar poles planted specifically for erosion withstood the test.
Since the storm about 1,250 trees have been planted – poles, pines and natives – with another 200 to be planted this winter. About a third of the farm has been over-sown with grass, with more to be done, and about 1.5 kilometres of fencing has been replaced. In preparation for a repeat storm, he says he will be more proactive about removing broken or dropped branches. Improvements are also being made to the floodgates at the bottom of the farm to make sure they open as they should with flood water.
Marie Taylor works as a rural journalist for NZXAgri and for Showdown Productions which produces Rural Delivery on TV1.