Thriving forestry industry in Hawke's Bay
Warwick Hesketh, New Zealand Tree Grower November 2011.
Hawke's Bay is perhaps better known for its vineyards and orchards than it is for forestry. Framed by the Ruahine and Kaweka Ranges to the west and the Pacific Ocean to the east, the region has a warm sunny climate with mild winters. Rainfall is highly variable, from less than 800 mm in drier plains areas to over 2,200 mm in the mountains of the main divide.
The Hawke's Bay landscape is surprisingly varied. The greywacke mountain lands and hill country give way to ash and loess-covered downlands. These are dissected by river systems which have in turn formed the productive alluvial plains. Northern and southern Hawke's Bay are characterised by large areas of hill country formed on mostly soft marine sediments. Not surprisingly, it is the steeper and vulnerable hill country areas where forestry has its niche.
Forest ownership in Hawke's Bay
Corporate owners
52 per cent
Partnership groups
11 per cent
Maori trusts
4 per cent
Small scale forest owners
33 per cent
Of the region's 1.79 million hectares, 150,000 hectares is in some form of production forestry. This area is increasing as more marginal land is converted to forestry. Similar to the rest of the New Zealand, there is both scepticism and cautious optimism at the prospect of a forestry renaissance supported by the Emissions Trading Scheme.
Hawke's Bay meets all the criteria for a thriving forestry industry with good growth rates and an extensive forestry infrastructure including a major log port. Continued growth of the forestry sector is also consistent with main regional environmental concerns, such as the loss and degradation of soil due to erosion and inappropriate management, and the region's vulnerability to the effects of climate change.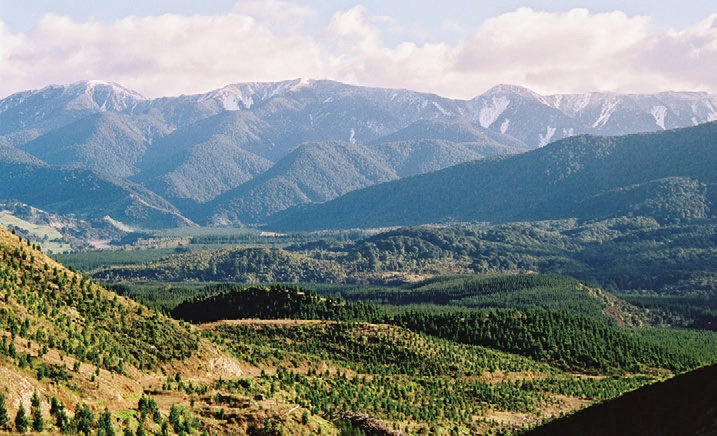 The Pan Pac pulp mill and sawmill at Whirinaki dominate the Hawke's Bay processing industry. Just over half the production forest in Hawke's Bay is owned by large corporates including Pan Pac, Rayonier, JNL and Roger Dickie, with the remainder privately owned including forests owned by farm foresters.
The Hawke's Bay Farm Forestry branch has a strong membership, the third highest in the country. The branch enjoys a good relationship with forest industry partners as well as the Hawke's Bay Regional Council, with both being represented at committee level.
The Hawke's Bay branch holds regular field days and seminars throughout the year. Non-members and members from outside the region are welcome to attend.