Pan Pac an important part of Hawke's Bay economy
Jade Elstone, New Zealand Tree Grower November 2011.
Pan Pac Forest Products is an integrated forestry company based on the outskirts of Napier. Established in 1971, with operations starting in 1973, the company was originally a joint venture between New Zealand company Carter Consolidated Ltd which became part of Carter Holt Harvey, and Japanese companies Oji Paper and Kokusaku Pulp. Since 2007, the company has been fully owned by Oji Paper in Japan.
The site was developed with a pulp mill which is still working hard in its original design. There is also a sawmill to help in recovering added value from sawlogs and to supply woodchips for the pulping operations. In addition to these operations, Pan Pac has the cutting and management rights to 32,000 hectares of crown-lease forests within the Hawke's Bay district.
Pulp, timber and trees
There are three operational divisions covering pulp, timber and forest logistics, with overview and support from a corporate team. The pulp division operates the pulp mill on a 24 hour 7-day-week basis producing over 200,000 tonnes a year of thermo-mechanical pulp. This is shipped mainly to Oji Paper's mill in Napier's sister city Tomakomai, located in northern Japan. Thermo-mechanical pulp is made from breaking down wood chips into wood fibre which is dried and compacted into bales for transport. In 2011, approximately 250,000 tonnes of wood chips will be exported from Napier to various destinations within the Oji group.
There are two boilers for drying the pulp and running the kilns. These run on waste from both log yard and mill operations, as well as some supplied from outside sources.
Timber production has recently expanded with the addition of new equipment, kilns and a tray sorter as well as a recent increase in operation. This has increased production through the mill, which now has a requirement for 750,000 tonnes of logs a year.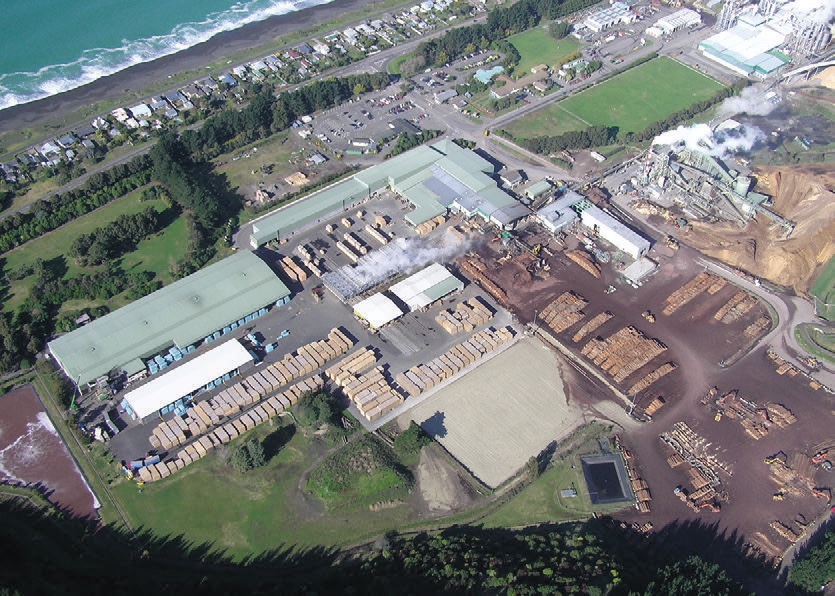 Timber is mainly appearance grade material from both pruned and unpruned radiata pine sawlogs, with a range of products from clearwood and cuttings grades, to industrial wood. Most of the timber produced is sold internationally, with markets in China, USA,Vietnam, Japan, Europe and the Middle East. Timber is either sold green straight from the sawmill or kiln dried and planed from the drymill. The drymill operates with leading edge technology using an electronic grader which develops computer based images of the boards to decide the final grading.
The forest and logistics division manages the customer process from forest to logs, including planting, silviculture, harvesting and transport along with many supporting functions such as roading, mapping and planning. Four crown lease forests are managed totalling over 30,000 hectares and several freehold forests. All silviculture, harvesting and transport is undertaken by contractors, with silviculture crews, harvesting crews and logging trucks supporting the daily operational requirements.
Logs to the mills
Pan Pac takes pride on being at the forefront of innovation and technology. A permit was recently issued under the new higher weights and dimensions legislation to allow the development of a specialised truck to carry timber between the mill and the port of Napier. Pan Pac also operates a processing yard behind the log yard at the mill to use 18 metre stems which are a regular sight on the roads in Hawke's Bay. The majority of the output from this yard is placed into stock for the sawmill and pulp mill.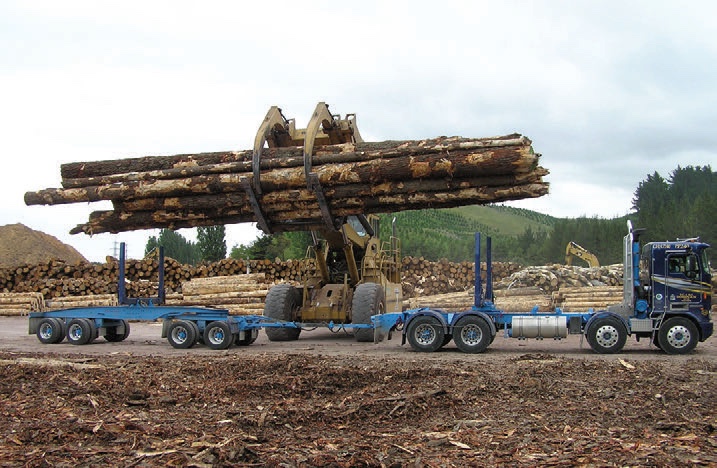 The forest and logistics division is also major a supplier of logs to local domestic mills, in some cases supplying up to 100 per cent of a mill's requirements. The benefit of these relationships is that the domestic mills maximise the value of logs which are unsuitable for Pan Pac milling operations and also supply woodchips back to the pulp operation. In 2011, an additional 180,000 tonnes of logs unsuitable for use in Hawke's Bay operations will be exported through to either China or Korea.
FSC accredited
All forests have been accredited with FSC forest management certification which shows that they are managed in accordance with strict social, sustainability and environmental standards. An FSC chain of custody certification is used to track the certified material through to the customer.
To meet the requirements on a sustainable basis, supply cannot be sourced just from Pan Pac's forests. Pan Pac is a major purchaser of on-stump forests within Hawke's Bay, and provides a service from pre-harvest engineering, harvesting, marketing, clean-up, replanting and silviculture management. The level of purchasing from private forest owners fluctuates depending on market conditions, which of recent times have been very favourable to the grower. The remainder of the wood required for the mill operations is from other major forest owners in Hawke's Bay, central North Island, southern North Island and around Gisborne.
Large part of the economy
Pan Pac operates several subsidiary companies to help management within their major exporting countries. Pacific Wood Products, based in Napier, is a subsidiary remanufacturing company producing solid and finger jointed timber for domestic and international markets.
In total the company employs 360 people and has well over 450 additional staff contracted for the daily operations. In addition, the many relationships with local business for supply of materials, expertise and services makes the company a large part of the Hawke's Bay economy.
Pan Pac recognises its importance to the local community and provides sponsorship to many different organisations including the Napier Municipal Theatre and the Hawkes Bay Opera House. They recently extended their long term annual support for the Hawkes Bay Rescue Helicopter Trust and are directly involved with many environmental initiatives.
Pan Pac has survived the variable world of commercial forestry and milling for almost 40 years. Compared to the life span of a radiata pine, they are successfully well into their second rotation, with many more planned for the future.