West Coast forest maps
Michael Orchard, New Zealand Tree Grower November 2010.
Forestry is a practical land based science, and tools to help in its management are essential. Aerial forest photographs or maps are one of the most important of these, as shown in the two examples. The first is an online geographical base map published by the Greymouth District Council, to help in the region's planning and management. The second, shown on the next page, is a special purpose infra-red map produced by Timberlands West Coast to help land use planning.
Landowners should fully research what is available for their project from the beginning. Google Earth maps vary in quality but can be a good start, or you can have your own taken by local resource management specialists for your site.
Regular flying and aerial photography for many purposes has been an important management tool for all the big forestry owners. We on the West Coast have been extremely fortunate because of the large amount of Crown land here and aerial photography of this almost always overlaps with our privately managed land and forest areas.
Bushby family forests
This 2005 Grey District Mapinfo aerial photograph is an example of resource mapping tools. It shows in detail the forest patterns of V-blading and hill planting, unstocked areas, native bush, wetland, sphagnum moss enclosures, tracks,
streams and roads.
This photograph is published here as a tribute to the hard work and effort that Jim Bushby and his family have put into developing private plantation forestry on the West Coast, and to thank him for his cornerstone work in supporting others and our branch.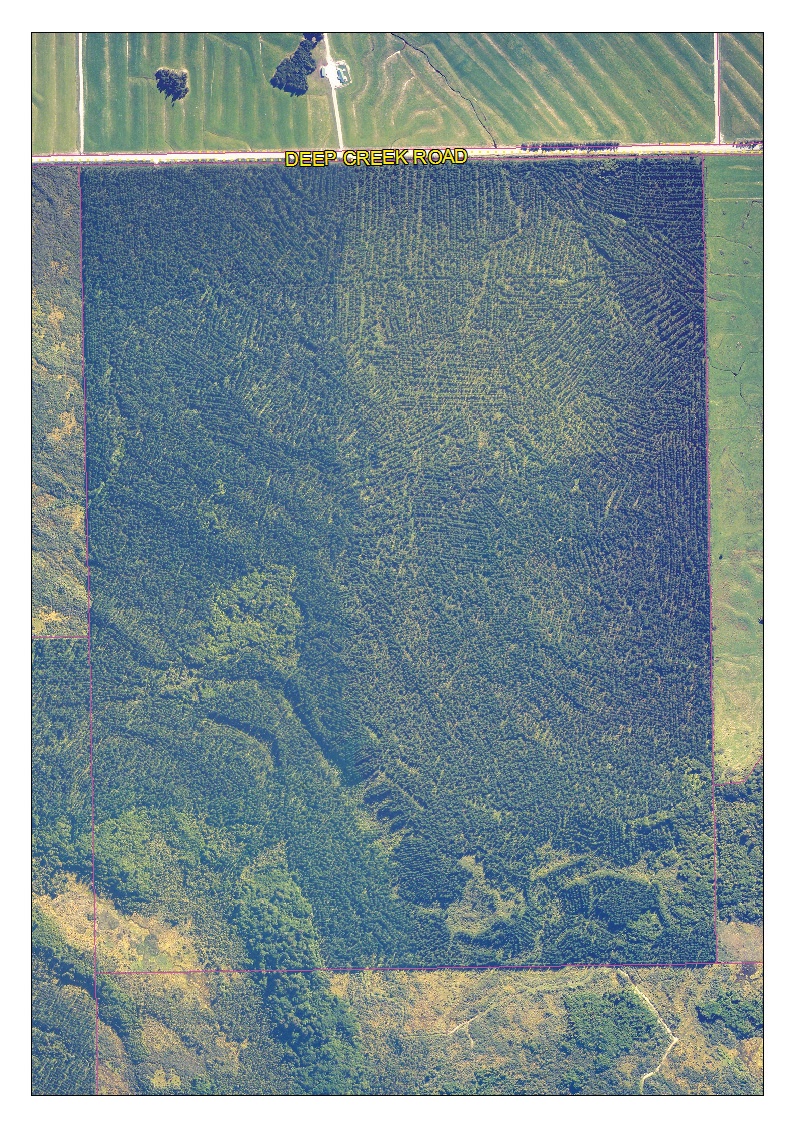 This property at Kotuku, in the Grey Valley towards Lake Brunner is one of their main forest properties. It comprises 200 hectares of freehold land, in which 170 hectares has been planted in GF 17 radiata pine in 1993. The trees have been thinned and pruned for log grades between 4.5 and 6 metres.
Management of surrounding land shows, the encroaching dairy farmland or undeveloped scrubland. Broader views, enlargements or area calculations can now be done at the flick of a computer mouse. The Grey District Council likes to encourage its ratepayers and landowners to make the maximum use possible of this Mapinfo series, as it does for its own statutory management work.
Special purpose infra-red
This 1997 Timberlands West Coast map was flown by Aerial Surveys Ltd. It was part of a West Coast forest management series, this one being part of the Waimea Forest run, near Hokitika. Initially sent as a base map for another purpose − Timberlands then would co-ordinate and undertake all the dothistroma spraying for private forest owners – it seemed to be a great new mapping tool. First it showed all the wet in blue and dryer in red portions of our forestry and surrounding farmland – very useful for planting planning. Then it indicated the reason why we had had to dig a large new drainage ditch to plant the northern forest half. There was a big snaking occasional waterway, seemingly feeding into the kahikatea forest, which was from swamp land to the east and was not detectable on the ground. A straight line separating red from blue near the bottom of the picture indicates the gravel base formation of an old logging tram route to Malfroy's Sawmill where the sleepers are still in place.
Secondly on the same photograph, infra-red shows up very clearly the difference between the tall regenerating kahikatea forest in blue, and the rimu and hardwood forest as red and white along the more well drained riverbank of Fox Creek. In normal photographs this could not be detected nor even could the river course be determined with certainty under the dense forest canopy. Individual trees show up and if you look carefully you can detect two giant kahikatea trees in the north near the prominent river bend.
Old photographs and new
In the late 1980s the government invested $300,000 to have the entire portion of the West Coast, south of the Cook River near Fox Glacier, photographed in high quality aerial colour positive film. This was mountains-to-the-sea resource mapping, and many black and white copies were made for use by field crews for forest mapping and recording data.
For your land you may be able to find older black and white stereoscopic paired photographs, which were the most common type taken. Although the land cover may change, the shape of the land surface does not, and the ability to see it in a three-dimensional format using a simple viewing tool is extremely useful.
Recently taken for their own management purposes, the new Crown Forestry series of images may be available for some areas of private landholdings. In my own forests, patches of windblow from recent storms were of concern because they catch the eye. However, looking at the new colour aerial photograph revealed the forests to be almost completely intact, only around two per cent damaged along one side of a track.