New land clearing and preparation for dairying
Michael Orchard, New Zealand Tree Grower November 2010.
Dairying is now the major industry on the West Coast, with an independent co-operative dairy company Westland Milk Products based in Hokitika. It is a multi-million dollar core industry of the West Coast with a turnover averaging over $400 million a year during the last four years. There are 380 individual farm suppliers, and dairy farm land occupies two per cent of the 2.8 million hectare land area of the West Coast. On the farms there are 140,000 cows, to give an average herd size of 360 cows per farm, the predominant breed being Jersey, followed by Hereford.
Westland Milk Products speciality focus is high quality nutritional products, together with milk powders, milk fat and milk protein. In the 2009 year it produced 44,000 tonnes of milk powders, 22,000 tonnes of butter, and 7,000 tonnes of protein. Over 340 employees are involved in processing and manufacturing milk products, mostly based in Hokitika, and the company owns a fleet of 20 milk tankers with trailers, seen daily on the roads from Karamea to Franz Josef.
High demand for dairy
With our high rainfall and mild climate, where generally grass grows most of the year and sufficient supplements for over-wintering can be made on site, it is not unexpected that there is a high demand for dairying quality land. However big investments are required in its development including draining, shaping and fertilising the land, as well as building modern shed facilities.
This puts pressure on the landowners to get as quick a return on investments as possible. This includes new land clearing and development, both of former exotic and indigenous forest. Each year a number of new suppliers are encouraged to join and convert their land from sheep, beef or deer, with an occasional greenfield development from previously unfarmed shrub or forest land.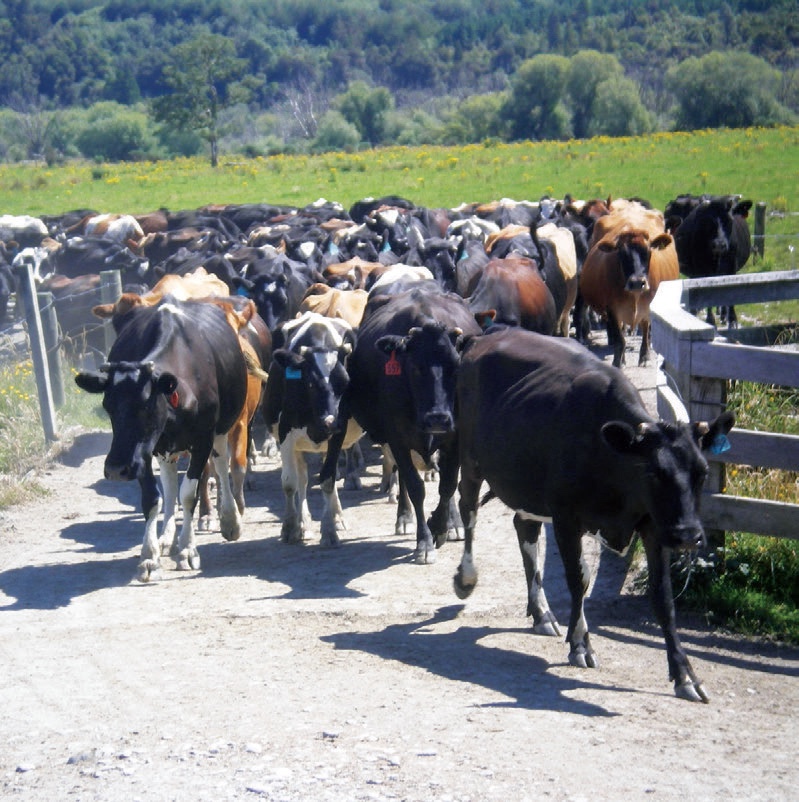 Forestry land conversion
We are seeing a number of exotic forestry block conversions as part of this process, both after logging of mature forest is completed, or where young stands are tipped over and cleared without material recovery. This also happens in some regenerating indigenous stand clearing, although recovery of small beech or rimu logs for private or commercial firewood production is often the normal practice.
I will not venture an opinion on whether this is a desirable practice or not, except to say that it would seem to be the economic natural order of things, to see land being put to best use at the time. I have seen a number of young stand conversions recently of 15-year-old trees. I can only assume that the timeline assumptions of annual dairy cash flow for the next 15 years is more attractive than a less certain forestry product payout when the trees reach the age of 30. It is time for the economists to do some studies again.
More effort needed
However, what is important is for the NZFFA is to make increased efforts to encourage dairy and other farmers to plant and manage more exotic and indigenous tree plantations, as well as natural biodiversity sites, on non-dairying land. In addition, to help these farmers meet the strict environmental conditions that are increasingly being applied to effluent run-off and streamside management, farm shelter and erosion control, we have a lot to offer in helping with species selection, landscape design and new bioengineering initiatives. In other words, we are experienced at growing trees.
There are lessons to be learned from the past in this respect. It was not that long ago that livestock and farm prices were so low that dry stock farmers, especially in the Canterbury high country, were under financial stress. Some then discovered old stands, particularly of Douglas fir on their properties, some even the result of past wilding regeneration. At the height of the wood price boom they were worth the extra equivalent of between a quarter and a third of the total property value itself, and renewable and economically sustainable. There has therefore been a steady increase in planting on these sites by entrepreneurs and owners ever since.
Mature stand conversion case study
The site owned by Anne Bradley, of a local farming family, was on old gold dredge tailings near her home farm in the Arahura Valley near Hokitika, close to some of our own forestry sites. Great mounds of shingle tailings from these giant machines lined all the major rivers of the West Coast, the top soil having been lost for ever by the poor practices of the past. Surprisingly these bare rocky sites were good for forestry, especially growing radiata pine, and the Forest Service and private owners made extensive plantings.
At maturity, about age 30, despite only partial pruning, a good spot price was obtained by the experienced logging company, to give a reasonable return to Anne. Our local branch took a close interest in the operation over several field trips. Following harvesting the owner decided to convert it to farmland, and we were privileged to see a land clearing and shaping operation of major proportions, using several earthmoving machines over a number of days.
We should remember that in terms of land use, that this has been a very dynamic site. In the space of less than 100 years, at different times in its history it has been virgin forest, supported a sawmilling industry, been mined for valuable gold, grown a mature exotic forest crop, and now it has been shaped and grassed for high value dairy farming.