Natives and those problematical pivots
Mark Robins, New Zealand Tree Grower November 2008.
I retired from farming a few years ago after living in the Ruapuna district of Ashburton. Trees have always been of great interest to me, an interest nurtured from my school days at Waitaki Boys High. Tree planting was encouraged as a way of working off a detention or an opportunity to get out and enjoy the rewards of a generous lunch and some freedom on an Oamaru Beautifying Society weekend planting project. Dr Eric Stubbs, the founder of that organisation, provided the inspiration for Neil Barr to set up the NZFFA back in the 1950s.
Natures need water
So what has that got to do with the relationship between trees and centre-pivot irrigators?
Quite a lot, because both north Otago and mid-Canterbury are low-rainfall areas. My whole experience of planting and encouraging trees to grow has been under climatic restrictions of nor'westers, hot dry summers, often inadequate rainfall, and periods of drought. Even with water on these soils, high summer temperatures in both air and soil, searing wind, and hot sun make establishing indigenous plants difficult. Except in sheltered pockets, natives need water to establish.
A centre pivot systems is one of the most cost-effective and water-economical methods of irrigating. The light, well drained soils of the Canterbury plains which are so good for irrigating, are not the natural habitat for our indigenous plants. Carbon dating of charred forest remnants going back to moa hunter days indicated that the plains supported large areas of forest. However 1,000 years on we can only have an educated guess at the climatic cycle then and the effect of the prairie conditions that developed after this period. Few woody plants colonised the resulting grasslands over the years, so we can guess that the removal of the vegetation and desiccating effect of the nor'wester were responsible for this.
Plants worth considering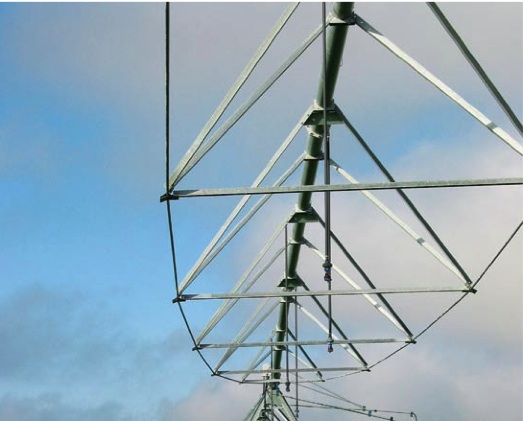 Through the tireless work of enthusiasts ? Nigel Buttery is a fine example in this part of the world ? a group of plants worth considering for planting in this difficult environment has been catalogued. The plants within these lists will grow within the boundaries of the zones set out, but the reality can be quite different. This is where the scientist and the farmer arrive at different conclusions.
Whether the centre-pivot is watering grass or crop, the basic shelter design is similar. Create the outer ring of tall shelter first. That is the most important initial exercise, because it will be the most effective shelter the area will ever have. Cropping farmers are usually only interested in tall nor'west shelter, and under a pivot system shelter needs to be planted outside the pivot area. Natives are not suitable for this.
Indigenous species can be both helpful and aesthetically pleasing on stock farms, particularly on dairy farms. The areas under the pivot, the calf-rearing areas and the landscaping near the dairy shed and tanker track are ideal for the use of natives.
The practicalities of designing shelter here have a lot to do with how the plan fits in with farm management. Consideration of lane direction, shading, animal flow and gateways are important to any decisions made. Pretty, stylised plans depicting natives doing a fine job providing meaningful shelter under a pivot are misleading and simplistic. The reality is different.
A typical dairy farm
The absentee owner would be keen to grow trees for shelter and aesthetic reasons, and mindful of presenting a good look for various reasons. He would employ a young herd manager who has a remuneration package that rewards production.
This person is usually not interested in trees and has to be persuaded to keep the electric fence system in top order. They will tolerate the trees only as long as someone else looks after them and the plantings do not interfere with day-to-day management.
The area to be watered under the pivot is a circle 1,000 metres across. The pivot towers are three metres tall. The area in which the circle is sited is a square. Its four corners are, you may think, an ideal area in which to plant some shelter.
However, this area is just as valuable as the rest for growing grass, so K-lines or portable sprinklers are installed to cover that. We must look at running narrow shelterbelts across the circle, to provide hedge-type shelter. The farmer will allow a bare minimum area out of grass production, so your allocation for shelter comprises strips up to 2.5 metres wide, with two-wire fencing, posts 10 metres apart, and 200 metres to 300 metres between fences.
Reliable flax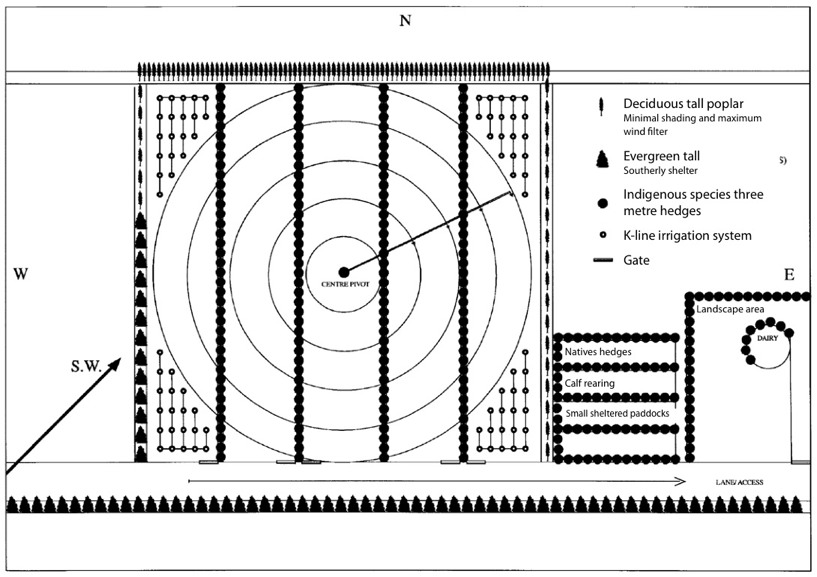 The diagram above represents a realistic situation and highlights the areas where indigenous plants can be useful. Theoretically, many indigenous shrubby plants will grow in these conditions and provide shelter of varying quality at highly variable growth rates. But the most reliable is New Zealand flax Phormium tenax because it is easy to grow, and the concept is seen as effective and uncomplicated. Flax grows quickly to between two and three metres, is easy to care for, not very palatable to hares, frost hardy, and can be mechanically trimmed. The pivot can pass over and through its floppy top growth. Most importantly, New Zealand flax provides dense shelter.
Other plants need some trimming and therefore have a maintenance cost, but are suitable and can be effectively planted in sections to relieve the monotony of hundreds of metres of a single species. Only flax is worth planting under two metre high pivots. The trimmed tops of woody plants need to be 150 mm below the pivot for safety. Flax has the advantage of a soft top for the irrigator to pass through.
Pivots can topple over backwards if they strike the top of a woody species in a straight line ? not a good thing. This is the disadvantage of poplars in such a situation. They grow so fast that the problem can develop between one pass and the next.
Preparation for planting is simple. Pre-plant spray in May with glyphosate, rip to a depth of between 400 mm and 600 mm in winter, and plant in early spring, either by hand or mechanically, at two metre spacing.
After planting, weed growth needs to be monitored. With the regular watering and the high fertility of the site, undesirable weeds such as nodding thistles, wild turnip and nightshade thrive. These suppress the growth of the native plants and annoy the herd manager if thistles seed. When knocked down, however, weeds provide effective mulch and keep the root-run cooler.
Site preparation
If you have areas to plant on dry land, site preparation is critical. Ripping, and planting deep in the rip, are essential to retain moisture and keep the root zone cool. Used sawdust from the calf-rearing shed or shavings are good mulches. These tips on planting and after-care apply to all indigenous plants.
Indigenous woody species that tolerate the plains climate, and which I have used successfully under irrigation and on dry land, include Pittosporum tenuifolium, Olearia 'Dartonii', Olearia paniculata, Coprosma robusta, C. propinqua, and C. crassifolia.
These plants are ideal for calf shelter areas and for landscaping the dairy sheds, as they can be mixed to provide attractive contrasts to an otherwise rather industrial landscape. The areas are usually watered by some other method, so height constraints do not apply. Such areas are also ideal for the inclusion of another favourite, the cabbage tree, which is very tolerant of almost any site and complements any indigenous planting. The tanker-track entrance from the road and its progression to the dairy shed can be quite a feature when planted in mixture of natives.
To sum up –
Choose a good supplier of indigenous plants
Keep it simple
Choose the most bomb-proof plant for the job
Prepare your site well
Be prepared to put in extra effort to assure success
Have a strategy to deal with hares as they can be a big problem
Place great importance on post-planting care for two to three years
Be on good terms with the person who controls the electric fence system and get their interest and co-operation.
It can be gratifying to see a manager suddenly get interested in their surroundings, even for part of the season. Remember, dairy farmers are busy people.
This article was first published in Indigena in 2006