Continuous Cover Forestry: A Handbook for the Management of New Zealand Forests by Ian Barton
Review by Allan Levett, New Zealand Tree Grower November 2008.
This is a timely book. Continuous cover forestry is suited to slower growing high value species. Increasing oil costs threaten export values for pine timber and call for alternatives that save imports and stimulate new industry. The recent climate change policies provide incentives to plant diverse exotics and natives especially on farms and in remote hill country.
Continuous cover forestry encourages a search for small coupe, cost-efficient harvesting techniques. The increasing importance of other forestry values such as environmental protection, biodiversity and sustainability add to the usefulness of continuous cover forestry at this time.
The name describes the process – the use of silvicultural systems whereby the forest canopy is maintained at one or more levels without clear felling. Harvesting is carried out continually by single tree or small coupe fellings through the whole forest area, followed by regeneration. Biodiversity, soil and water values, and the landscape are not compromised. 'Sustainability is at the heart of CCF and in a timber-producing forest this means that the annual or periodic cut does not exceed the annual or periodic increment.'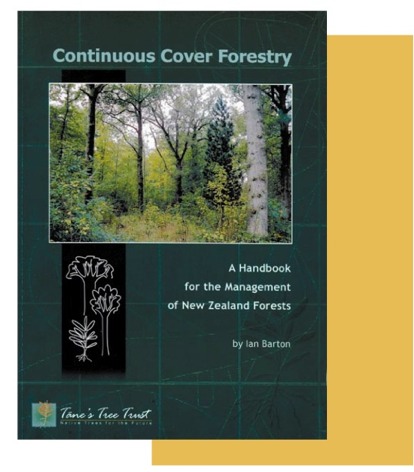 Ian Barton is well-known for his contributions to tree growing in New Zealand. He is a man of vision, with a disciplined mind and determination to carry projects through. After working for the NZ Forest Service he was with Hunua Water Catchment Board for 25 years where he wrote about work with kauri. He is the chairman and driving force of Tane's Tree Trust which encourages people to grow native trees for timber. This book is a natural extension of that important project, but it applies to all tree growing and is partly based on his own experience with continuous cover forestry at Amakiwi.
The handbook is a mine of useful information. The first chapter outlines the principles and objectives of continuous cover forestry, provides a brief historical background and compares continuous cover forestry with other forest management systems. The second chapter tells how to create a continuous cover forest, either starting from scratch or when converting an existing forest. It lists things to think about before planting mixed species in the one patch including the effects of soil and micro-climate features on each of the likely selected species and the critical future harvesting methods.
As an aid in choosing species the appendix provides detailed analysis of 10 native and 12 exotic species that are suitable for continuous cover forestry. These include site requirements and shade and competition tolerance for each. There is a supplementary list of trees that could be considered and a list of potential nurse species with their characteristics.
The third chapter deals with managing the mixed forest once it is underway. Inventory, monitoring and yield control are considered the essence of management. Harvesting methods are well-illustrated with photographs and, also in the appendix, accounts of techniques developed by John and Rosalie Wardle in North Canterbury and Paul and Ash Millen in the Marlborough Sounds.
The fourth and fifth chapters are valuable sections, the former discussing financial aspects – about which more will be known with future experience, and the latter, legislation that affects continuous cover forestry. The final chapter considers a variety of issues including research needs, planning, finance, taxation and legislation and the importance of training for continuous cover forestry. This is a benchmark study, but an excellent beginning.
Indigena is the magazine produced for members of the Indigenous Forest Section.
It is now A4, the same size as Tree Grower, 28 pages long and with a selection of excellent articles about indigenous forestry. If you want a regular copy, join theIndigenous Forest Section when you renew your NZFFA membership.