How to harvest and market your woodlot for profit
Glen Murphy and Harriet Palmer, New Zealand Tree Grower May 2020.
Always a hot topic, and offering plenty of puns to bright sparks, wildfire was been on people's minds over the summer. Images of the extreme Australian bushfires filled our television screens and coloured our sunsets, showing us that climate change affects our lives.
A survey of the interests of small-scale forest owners, reported in the May 2017 Tree Grower, showed a strong demand for more information around the harvesting and marketing phase of their forest ownership. There was also interest in accessing that information on the web and from the use of a software calculator.
As a result of the survey and other feedback from farm foresters, Forest Growers Research and the Forest Growers Levy Trust have funded the development of the Woodlot Analysis Tool and an on-line booklet called
How to harvest and market your woodlot for profit. The booklet is an updated version of a popular one produced some 25 years ago by Glen Murphy, and this time has been produced with input from Professor Rien Visser at the University of Canterbury School of Forestry.
The Woodlot Analysis Tool is freely available on line in the calculator section of the Forest Growers Research website www.fgr.co.nz. The booklet can also be downloaded from this website and provides step-by-step
examples. Both should also be accessible via the NZFFA website.
What it is all about
It is a web-based programme which provides projected semi-specific costs and returns from harvesting a woodlot. A user pinpoints where their woodlot is located on a digital map, gives a basic description of the woodlot, and then enters representative log grades to be harvested, anticipated yields and the log prices. A report is produced which gives expected gross and nett returns and costs associated with harvesting and cartage of wood from the woodlot to the wood buyers.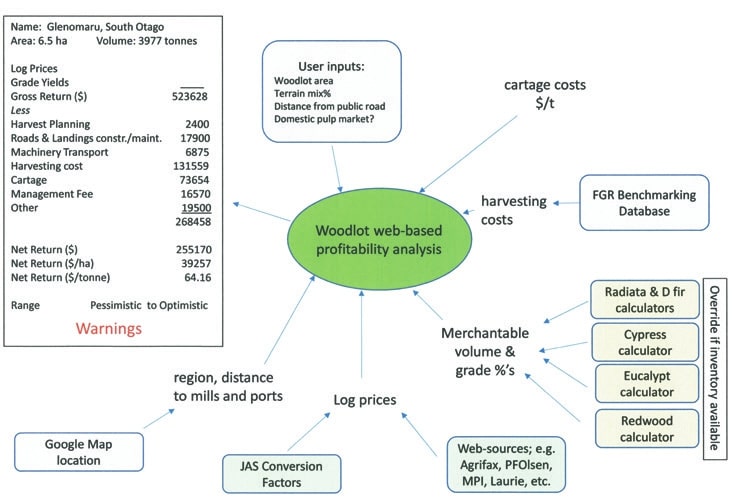 Before you begin
For people who have not carried out any inventory in their own woodlot, and are unfamiliar with the range of pruned and export log grades and price differentials which feature in the New Zealand radiata pine market,
some aspects can be slightly daunting. Take some time to read the user's guide provided and investigate other options mentioned and freely available, such as Google Maps and the forecaster calculator.
If you are relatively new to harvesting and marketing, we suggest that before attempting to run the programme for your own woodlot, first work your way through the two case studies provided. This will increase familiarity with some of the categories and terminology in use in radiata pine harvesting and marketing.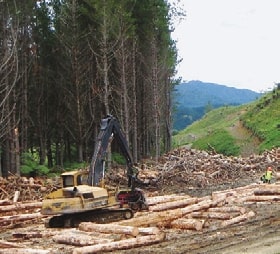 The five main parts
There are five main pages or tabs – a location page, a details page, a logs page, a costs page and a summary page.
On the location page the user needs to drag the red pin to the access point of the woodlot onto the public road. This lets the programme know where in New Zealand the woodlot in question is located, which is essential for many of the later cost calculations.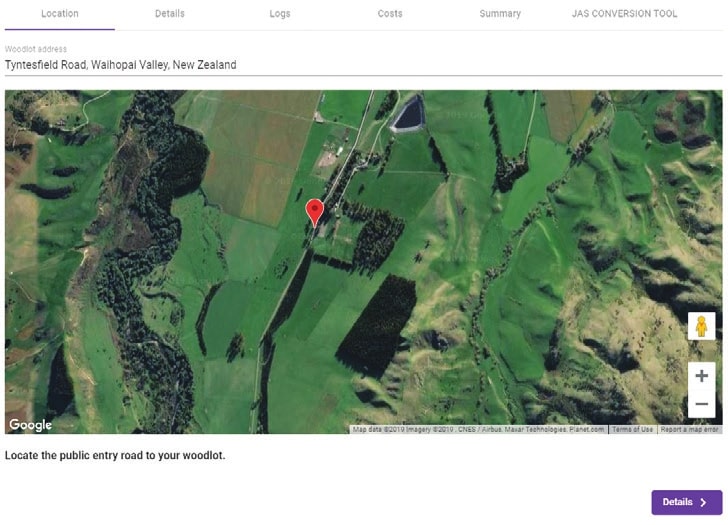 On the details page the user enters information on the size of the woodlot, a guesstimate of terrain mix, in other words, how much is − flat 0° to 6°, moderate 7° to 17°, steep 18° to 27° and very steep over 27° − the
region where the woodlot is located, the distance from the public road to the woodlot and whether a new access road will have to be built or an existing one can be upgraded.
Details
Name
Case study Marlborough
Zone
Nelson/Marlborough
Location
-41.6081,1737535
Area in hectares
10.56
Volume in tonnes
6,295
Distance from public road to woodlot edge in metres
480
Fibre mill within 200 kilometres
Yes
Woodlot access new
Yes
On the logs page the user enters log grade information such as generic log type, yields and prices. The user might have access to yield information from pre-harvest inventory assessments or this information might come from the yield calculators on the Forest Growers Research website. We recommend that you have this information to hand before you start.
Logs
Grade
Yields per hectare
Price per tonne in dollars
Gross returns
Pruned export
54
205.00
$115,817
Pruned domestic
80
198.00
$167,689
A
200
159.00
$335,472
K
77
140.00
$114,280
KI
68
127.00
$91,733
KIS
74
123.00
$96,117
Pulp
43
48.00
$21,745
Total gross returns excluding GST
$942,853
If you do not have log price information, you will need to generate this. There are links to some websources for log prices as well as a handy calculator for converting log prices between export volume units, measured in JAS per cubic metre, and tonnes.
On the costs page the costs are automatically calculated for planning, road and landing construction, machinery transport, harvesting, cartage and a management fee. Some of these costs are based on information derived from the location and details page. For example, the programme 'knows' the location of 88 mills and ports around New Zealand and calculates the distance to the closest mill or port which can handle each of the log grades. The region and terrain mix are used to calculate appropriate roading costs, machine transport costs and harvesting costs. Information about harvesting costs has been taken from the School of Forestry's contractor survey database, which has the best data available on regional harvesting and associated costs. The user can overwrite any of the costs if they have better information.
Costs
Harvest planning
$8,342
Roads and landings construction and maintenance
$65,224
Machinery transport
$5,750
Harvesting costs
$168,981
Cartage
$108,138
Management fee
$34,699
Other
$8,106
Total costs excluding GST
$399,240
On the summary page there are the calculated nett returns for the woodlot as a whole as well as per hectare and per tonne. Additionally, pessimistic and optimistic nett returns are presented, based on some assumed differences in log prices and costs. On this page the user can also click a button to get a printout of the analysis in hard copy or digital form.
Summary
Nett return excluding GST
$543,613
Nett return per hectare excluding GST
$51,478
Nett return per tonne excluding GST
$86.36
Nett return range pessimistic and optimistic
$436,584 to $650,641
A case study
Two case studies are provided in the user's guide and can be worked through on-line fairly quickly. The table on the previous page shows the summary information page related to the first case study which is a woodlot on relatively flat land in Marlborough.
Interpreting the case study summary
The good-looking financial return projected from the first case study woodlot is explained by closer analysis of the data.
High yields of almost 600 tonnes a hectare of good quality logs including a pruned component earning top dollars
A gentle site giving relatively low harvesting costs of $26.84 a tonne
Only a short distance of new road giving low infrastructure costs
A cartage cost of $17.18 a tonne indicating that the site is reasonably close to local mills or the port.
The fibre mill refers to the closest outlet for pulp and indicates that the programme knows that there is an economic market for low quality wood from this site. The log prices used were based on early 2019 figures. It is very quick and easy to re-run the analysis with the most recent log prices available. By way of contrast, the second case study is a bigger woodlot on steep land in the southern North Island. The programme predicts nett returns of $50.60 a tonne or $33,160 a hectare. Harvesting costs were estimated at around $39 a tonne, and cartage was around $20 a tonne.
The major costs related to harvesting and marketing a woodlot are harvesting, cartage, roading and landing construction. All of the other costs, such as planning, machinery transport, site rehabilitation and management fee for ensuring the woodlot is harvested and marketed in a professional manner, do add up. The user can go back to details, logs and costs pages to modify any of the parameters to see how this affects the result.
Every woodlot is different
As with any tool there are caveats to its use. The main one is that the underlying information is generic and should be treated as indicative only. No two woodlots are the same. Retrospective case studies have shown that the programme predicts actual costs and returns with a good level of accuracy. There will undoubtedly be differences between predicted costs and actual costs for specific woodlots. It is recommended that the woodlot owner finds professional helps when it comes to the time to reap the rewards of their forestry venture.
It is a good plan to work through the case studies, then generate or gather relevant information on likely harvest yields, log grades and log prices for your own woodlot before you start your analysis. You will need this information. Other resources such as the forecaster calculator are freely available if you have not yet had any inventory carried out on your own woodlot.
There is more money to be gained or lost at harvest than at any other time in the life of a forest. Woodlot owners are well-advised to invest a small amount of time, and use this calculator to forearm themselves with some useful knowledge about where costs are incurred and returns generated at harvest. It will help those new to harvesting to get to grips with the different elements of the harvesting process and the magnitude of the various financial flows.
The Woodlot Analysis Tool has been designed to run on desktop or mobile systems such as tablets and smartphones. Any feedback from farm foresters is welcome It is hoped to run some workshops for woodlot owners on how to use the Woodlot Analysis Tool.
Glen Murphy is Principal of GE Murphy and Associates gemurphy.nz@gmail.com Harriet Palmer is an independent forestry communications specialist.