Wensleydale 2016 woodlot harvest of an agro-forestry block
Nick Seymour, New Zealand Tree Grower May 2017.
We planted three agro-forestry woodlots with trees at a spacing of ten by eight metres equivalent to 150 trees a hectare. The first woodlot was planted in 1986 with GF 19 trees, the second in 1987 with GF 22 trees and the third in 1989 using GF 25 trees. Pruning was carried out in five lifts starting at 2.5 metres and finally reaching 8.5 metres.
All the agro-forestry woodlots were planted at the bottom of hill country paddocks on the least fertile and more erosion prone areas. They get the rain run-off from the livestock grazing country and had to compete for sunlight, being on hillsides.
The agro-forestry was incorporated into the livestock management. After shearing, the sheep were put into the trees for shelter and the gates opened the next day so the sheep were free to graze and return if the weather changed. The same applied at lambing time as there was good grass, shade, shelter and soil retention which was important to our pastoral farming regime.
The harvest
Finding contractors to harvest woodlots is not easy on the East Coast where there is so much hill country in large established forests. It is expensive to move heavy equipment and adds significantly to the cost for what was just three weeks of work.
I arranged for PF Olsen Gisborne to harvest two additional woodlots in our district. This meant three owners could equally share the cost of the machinery transport for the total of two months of work between all three. It made the project much more worthwhile for a contractor.
At Wensleydale there were 100 radiata on the perimeter of a QEII covenant, 25 very large poplar trees and a woodlot of 7.2 hectares of 1987 and 1989 plantings, pruned to 8.5 metres at 150 trees a hectare. PF Olsen managed the harvest operation along with all the relevant health and safety requirements while on Wensleydale.
The harvesting gang was Dewes Log 2. This involved a team of five which was productive and efficient operating differently from our previous gangs as they were fully mechanised. Safety was very good with signage, safety tape when felling near the road, plenty of hi vis clothing and only one man on the ground. He was the one with a spray can stencilling the log grades on the felled trees.
A Tiger Cat excavator with a waratah harvested 95 per cent of the trees, while a skidder with a large grab hauled the whole trees to the skid site. Another excavator had a waratah and a computer. This machine de-barked, de-branched, graded and cut to length the specific log grades, producing 33 per cent pruned clear wood grade. That is the best grade and fortunately we were rewarded for quality on the export log price at the wharf and at Juken NZ Gisborne. Another excavator worked on the skid site and loaded the logging trucks and the fourth one was bunching and shunting felled trees for the skidder to haul down to the skid site.
The figures
The weather was fine for most of our harvest and the costs were very reasonable. Felling and grading was $32 a tonne and transporting logs $13.62 a tonne.
The roading and infrastructure came to a total of $7,219. Clean-up costs and fence lines were $5,768.
Machinery costs totalled $5,075 but this was divided among three properties and came to $1,647 for each one. The remaining costs including traffic management, management fees and levy totalled $26,943.
From the 7.5 hectares at 150 trees a hectare there were 1,125 to be harvested. They produced 4,653 tonnes of wood with an average of 4.1 tonnes a tree. The gross revenue was $662,000 or $588 a tree. When I purchased the GF22 cutting grown trees from the Owhata and Puha nurseries, a cousin and good friend Peter Bolton, said we would get $500 for each tree. I thought that would be a dream but we cracked it.
The trees in the agro-forestry woodlot took lot of work to get established with controlled grazing by sheep, pruning on time but with no need to thin. I salute the wisdom of the good management principles described in Neil Barr's booklet and demonstrations of pruning. Along with ultra high pruning, this was the key to a good harvest with good financial returns.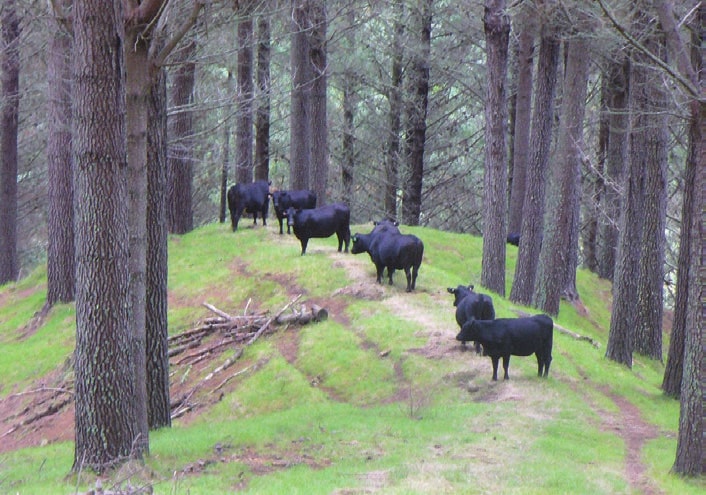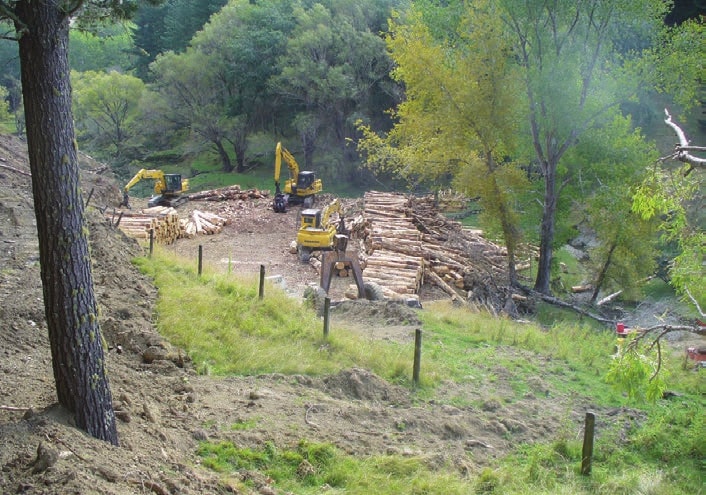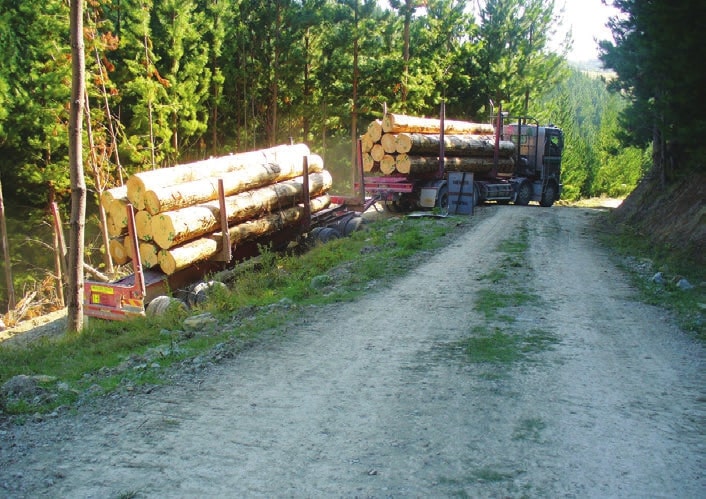 Income, costs and average returns
Log sales or gross income
$662,083 − $140.45 a tonne
Costs at 42.3 per cent
$279,906 − $59.33 a tonne
Nett revenue less GST at 57.7 per cent
$382,176 − $81.07 a tonne
Harvest area
7.5 hectares
Tonnes harvest total
4,652.77 tonnes
Harvest per hectare
$50,957
Return per year per hectare at 30 years
$1,698
Pruned grade
33 per cent
Breakdown of costs
Woodlot roading infrastructure
$7,219
Logging cost
$161,400
Total cartage cost
$64,200
Machinery transport cost (shared)
$1,647
Site clean up
$5,768
Levy to Forest Growers Levy Trust
$1,250
Harvest management
$25,691
Total costs for the harvest
$279,906
Why agro-forestry 30 years ago
Here is a bit of background explaining why we had the trees as agro-forestry blocks. In the 1980s Neil Barr questioned the need for planting radiata pine seedlings at a high stocking rate of 1,000 to 1,200 stems a hectare on farmland pasture.
At the time the Forest Service plant breeding section had bred superior radiata seedlings by collecting the seed from the best plantation trees, those with good growth, form and structure, and developed seed orchards. They identified this crop of seedlings as GF 16 which were far superior to the normal Forest Service seed lot and seedlings. The GF 16 seedling trees had lighter branches, good leaders and good growth. Over the next few years the gene pool was reduced and with selected pollen control higher rated GF 22 to GF28 seed was sold to nurseries.
A number of forest service trials were grown throughout the country and Leith Knowles managed one at Tikitere near Rotorua. The trial included GF16 radiata pines planted at different spacing plots varying from 100 trees a hectare which were in 10 metre by 10 metre spacings, to as many as 500 trees a hectare. They were all pruned to six metres and the records showed that the closer the trees were planted, the taller they grew to fight for light. They also had small branches.
The 10 by 10 agro-forestry plot had a lot of grass around them, large branches above the six metre prune, did not grow as high and the log volumes were low so came last in this trial.
With the Tikitere trial underway Neil Barr was supported by Harry Bunn's experience using the improved GF seedlings and not initially planting so many radiata into woodlots to be established in pasture. Together they travelled around the NZFFA branches holding pruning clinics, encouraging and mentoring participants to keep pruning while the branches were small.
The aim was to prune to 12 cm diameter over the stub on the stem of a young radiata. This left the tree with a third of its greenery to grow rapidly with all the pruned knots in the centre core, allowing clear wood to grow for the rest of the tree life of the tree. A 12 cm gauge was easily made with number eight wire fork or using the back of a jacksaw. On their travels Neil and Harry were amazed to see that Geoff and Gill Brann were using this agro-forestry method or silviculture on their Roydon Downs property near Rotorua.
The Gisborne East Coast branch were very active and made a series of trips outside the region, including to Rotorua and Roydon Downs. As we were all hill country farmers we knew that with livestock quality pays when selling. The same principal should apply to trees even if it is 25 years away.
Post harvest operations
To continue the cycle of trees on Wensleydale, we are replanting with GF Plus seedlings. We have previously planted them in the slash in the winter following harvest, then spot sprayed in October. The results have been good for the young trees but has been a battle with new weeds that we have not had before such as pampas, blackberry and senecio as well as poplar roots sprouting and regeneration of radiata. Some seeds must have arrived with the harvesting machinery, birds or wind and to control them is difficult and time consuming.
The 2016 harvest area has been re-fenced and will be grazed until autumn 2017. A blanket spray of the area by helicopter is planned to alleviate the hard work and then the planting area will be over-sown with clover. The planting will begin in July 2017 with radiata pine or redwood at 1,000 seedlings a hectare.
We will be aiming to prune twice up to six metres, thin one year after the second prune to between 280 and 300 stems a hectare with all operations finished by year eight. The aim is to keep the pruned trees tall with light branches. We could look at pruning the outside trees to 8.5 metres because they tend to grow longer branches without the competition and are usually larger trees. However, health and safety rules may make this too difficult and such specialist pruners may not exist. This is one reason for not continuing with agro-forestry. The other is that it needs to be carried out properly and with all pruning on time.
All my experience has been gained by being a member of the NZFFA. I have attended many field days, national conference, seminars and workshops and met many role models. You have to sift out the information which suits your climate, land and management. Become an active member of your NZFFA branch and read the excellent Tree Grower which you receive four times a year, and ask for practical advice − you can change the landscape.
Nick Seymour, a past President of the NZFFA, is a member of the Gisborne-East Coast branch.