Landcare Trust Award for Innovation in Sustainable Farm Forestry 2016 - David and Helen Vollweiler
New Zealand Tree Grower May 2016.
For David and Helen Vollweiler, running their 860 hectare property in a sustainable and environmentally friendly manner has long been a key component of their management practice. In 2009 they formalised this process by having a comprehensive land and environment plan drawn up for their Berriedale farm by local consultant Murray Harris. The plan, which followed the then Meat and Wool NZ template, covers many aspects including water quality, shelter and shade, biodiversity and carbon footprint.
The main recommendations at the end of the plan did not indicate that any dramatic change in management was required. Instead it suggested doing more of what had already been carried out on the farm. This included fencing off lower riparian areas, establishing more shelterbelts, more native planting, instigating water testing and more forestry planting to protect unstable gullies.
Increasing shade and shelter
A visit to the property which is 15 km north of Milton in South Otago, confirms that those recommendations have been implemented. The total area of planted forest has increased from 75 to 110 hectares and in all cases these new plantings have also increased the shade and shelter for stock. Recent plantings of natives are thriving in gullies leading away from their stock yards and also in riparian areas from where stock are now excluded. Natural stands of kanuka which cover some 50 hectares have also been progressively protected.
Harvesting problems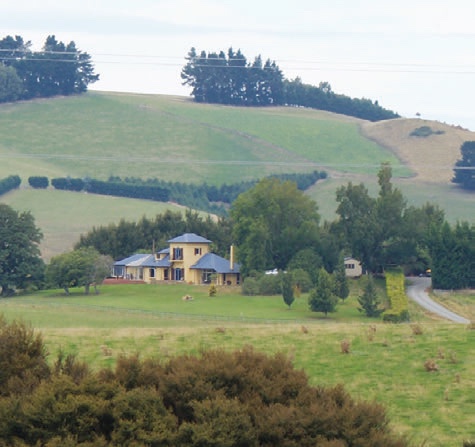 The property, like many in South Otago, consists of broad topped ridges broken by a network of steep-sided gullies. The woodlots are in the gullies where there are also natural waterways and this combination has led to some problems at harvest and replant preparation time.
Before harvesting 15 hectares in three separate areas in 2014, David was asked by Otago Regional Council staff if they could monitor water quality over the logging process.
In one of the gullies they discovered a colony of nationally endangered fish species Eldon's galaxia. It was thought these 100 mm long non-migratory fish had survived there because a small downstream waterfall had prevented predatory trout from travelling any further upstream. When planted in 1984 the setback of trees from the streams was minimal and although carefully harvested, some slash ended up lying over the small stream.
After harvest a contractor was employed to prepare the sites for replanting and when removing these discarded branches, sediment was released into the stream which was observed by an Otago Regional Council employee who happened to be monitoring the galaxia. Subsequently the Otago Regional Council took court action against the Vollweilers, their harvest manager and the contractor. This resulted in fines for the harvest manager and contractor, with diversion for the Vollweilers on the condition they did restorative native planting in the affected gully.
The prosecution was a bruising experience for those involved and is widely seen in the community as heavy handed and unreasonable given the relatively minor damage done and the land owners' record of environment stewardship. Happily the galaxia have survived mainly untouched and can be observed without difficulty enjoying their protected environment.
The financial returns from the harvest were very satisfactory with a nett return of nearly $32,000 a hectare from a yield of 489.5 tonnes a hectare. David and Helen remain enthusiastic about forestry as a land use, have replanted the harvested area with a greater setback and this winter are planting another 7.5 hectares of Douglas-fir, partly funded by the Afforestation Grant Scheme. Douglas-fir is an increasingly favourite choice as it thrives in their environment but they also have impressive stands of macrocarpa to supplement their well tended radiata.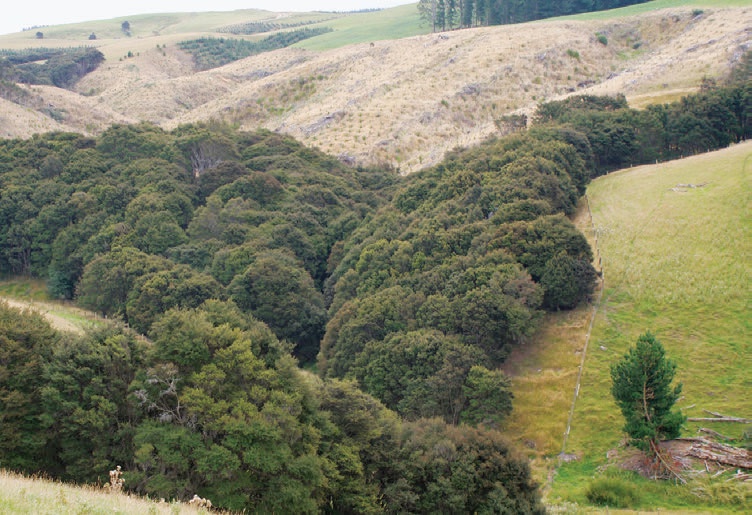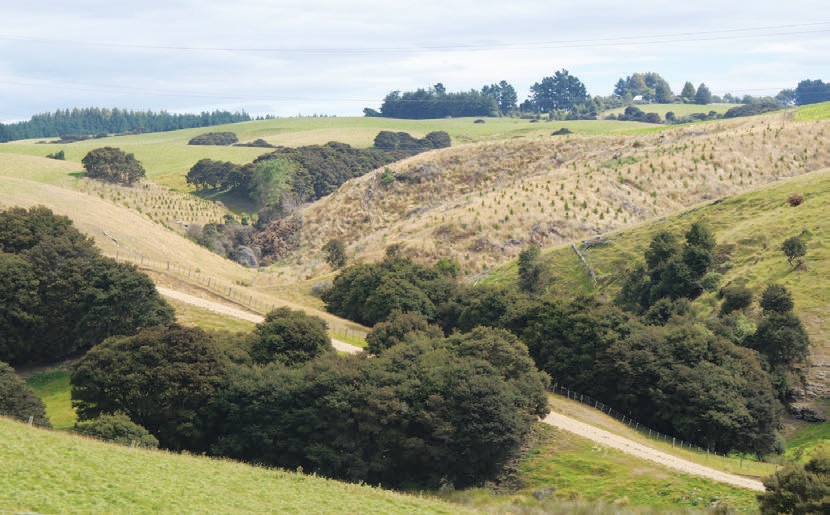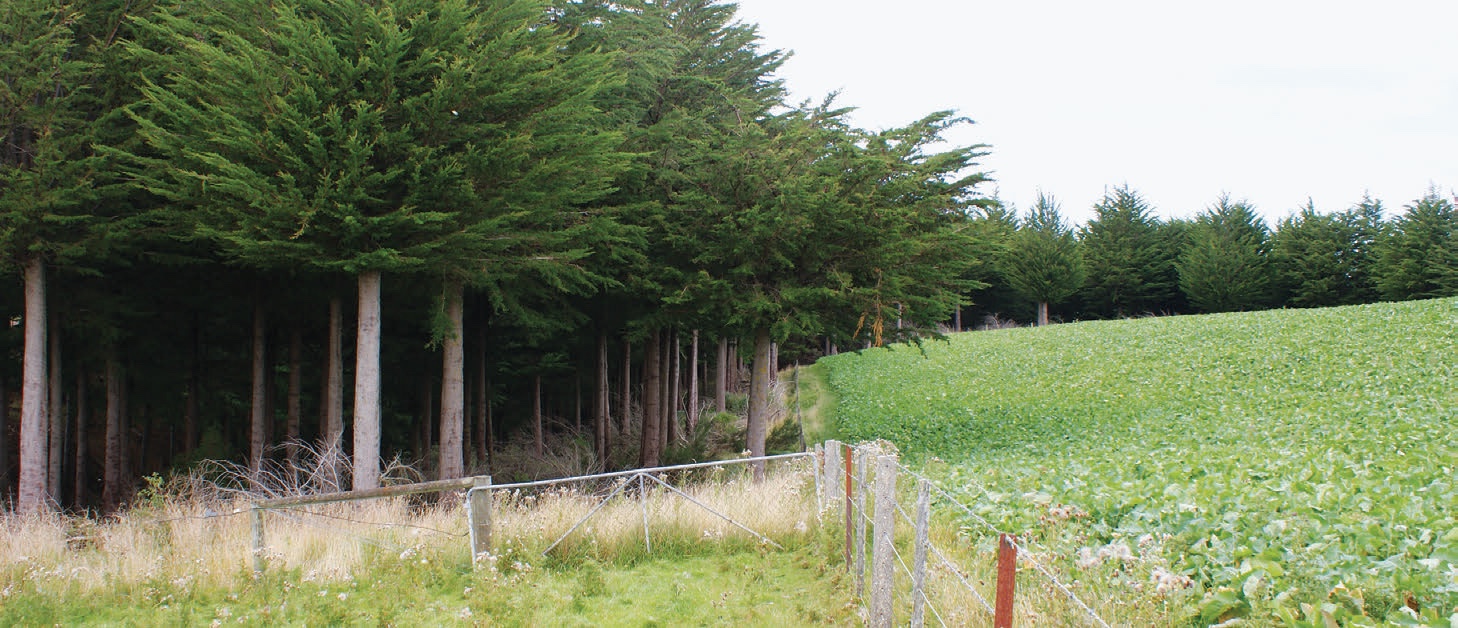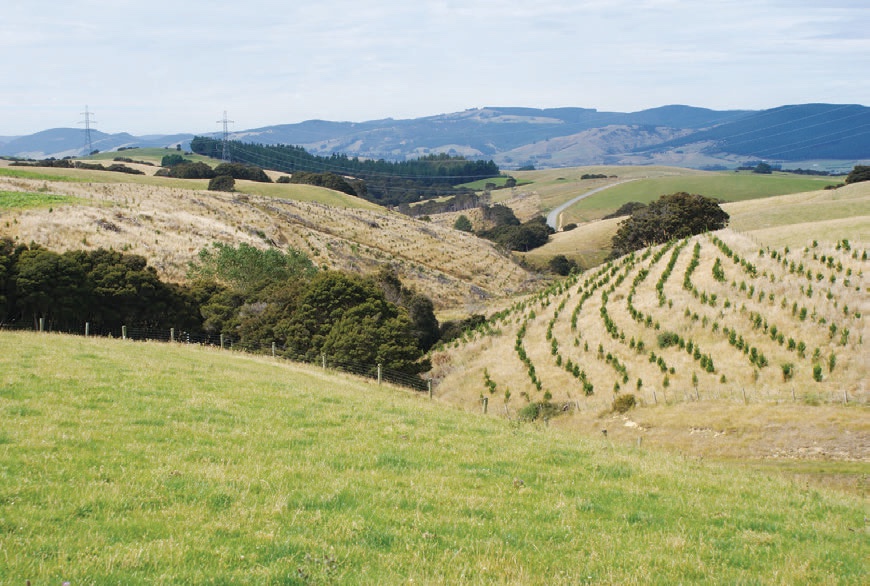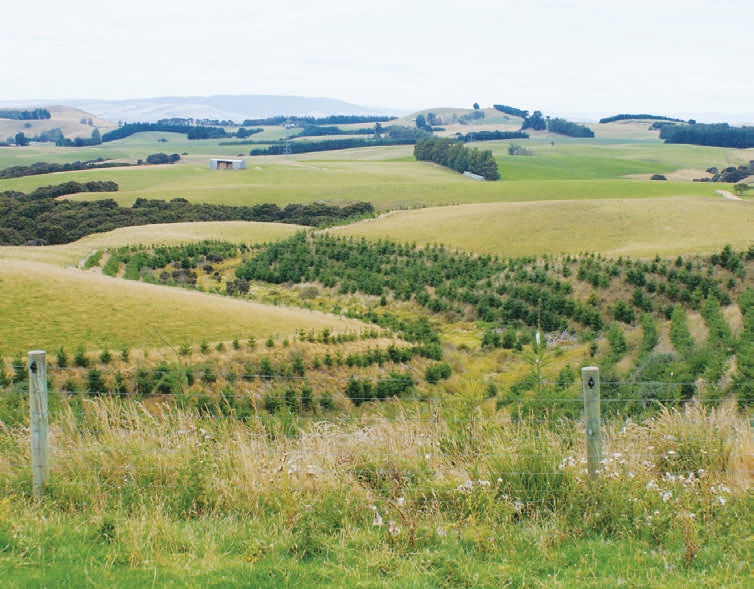 QEII covenant
Near the highest part of their farm at 350 metres above sea level, there is an area which is the top end of the Tokomairiro River catchment. A 16 hectare area of gullies and wetlands has been fenced and protected under a QEII covenant. Flax, toi-toi, carex, tussocks, and olearias populate these gullies and provide an ideal start for the waterway.
The rest of the farm drains north into Lake Waihola some five kilometres away. In 2006 David became the inaugural Chairman of the Waihola and Waipori Wetlands Society whose objective is to enhance and protect the water and wider environment of this extensive water system. In that role he oversaw a major crack willow control project involving spraying 360 hectares with glysophate. This has greatly reduced that choking weed and allowed native foliage to make a comeback.
The society continues to work with the Department of Conservation and Otago University to improve the quality of this 2,000 hectare wetland complex which is home to 80 different species and treasured by hunters, boaties, and conservationists. Because the wetland area effectively acts as a sump for the intensively farmed Taieri plains, David feels it is important that farmers are seen to take a proactive role in the society and in improving the quality of the water leaving their farms.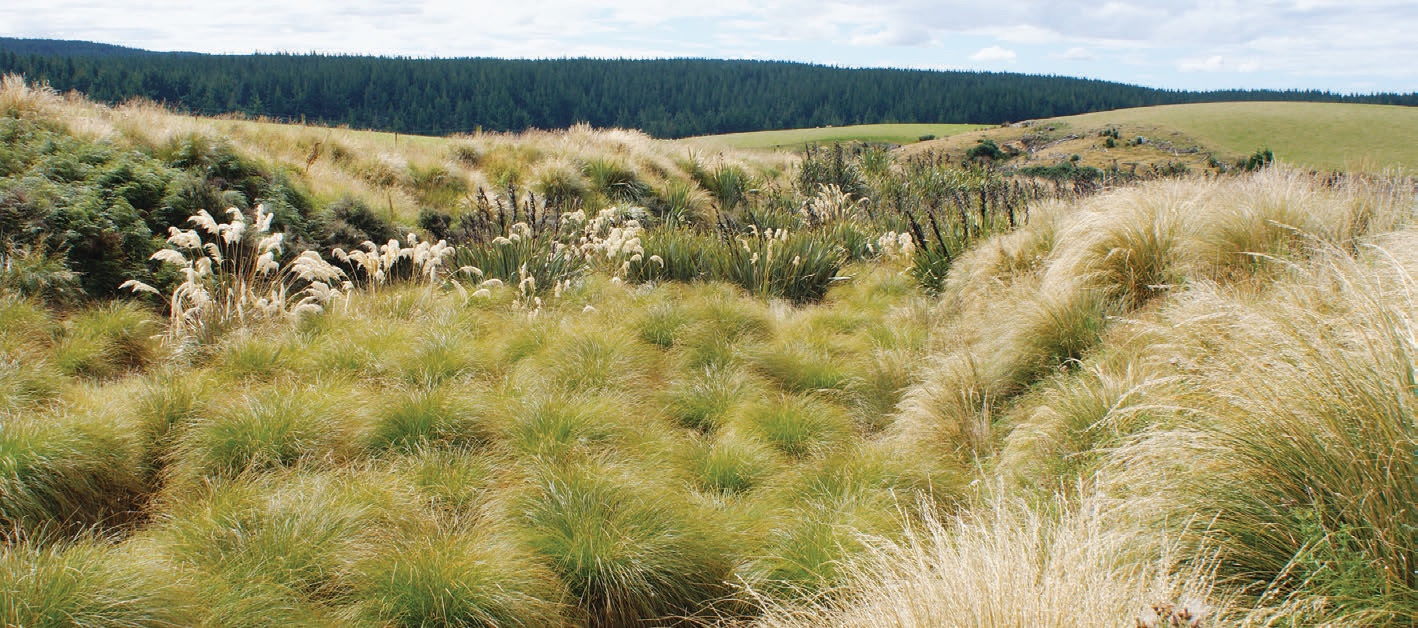 Alternative land use
Also of interest at Berriedale are the seven hectares near their farm entrance planted in hazelnuts. This resulted from David and Helen's time as a Meat and Wool Monitor farm for South Otago when they were urged to consider alternative land uses. Several other farmers planted hazelnuts at the same time and it was originally hoped a joint harvesting and marketing scheme would be developed. However, this has not proved viable and the 14 to15-year-old trees are not being commercially picked. Because they can still graze the area the Vollweilers do not plan to remove the trees.
David and Helen and their son Byron run a high performance sheep and beef farm which has won several awards and the respect of their peers. This award recognises the importance they have given to protecting the natural environment and how they have incorporated forestry so successfully into their overall land use.