Life-styler's super fund achieved
Graeme Robinson, New Zealand Tree Grower May 2015.
After 25 years we recently harvested our 6.5 hectare woodlot at Tangye Road, 12 km west of Taupo. This woodlot is adjacent to the 300 hectare Pukerimu Forest owned by Ontario Teachers Pension Fund, managed and being harvested by P F Olsen Ltd.
We came into possession of our woodlot when the then owners Fletcher Forests Ltd sold 50 acres with homestead and woolshed to defray setup costs. I was employed as a silvicultural contractor to Fletcher Forests Ltd at the time and played a big part in establishing the forest in 1988. Now a semi-retired townie I hung on to this small woodlot as a hands-on super fund, trotting out every two years to measure DBH and assure myself that I was keeping ahead of rising harvesting and transport costs, despite erratic market returns.
Being a pre-1990 forest, our block was automatically covenanted as forest land by the Emissions Trading Scheme. Surrounded by keen life stylers I felt this impinged on my freedom and quickly gained an exemption.
In November 2012 Taupo hosted the annual special interest groups weekend and included a visit to this woodlot to discuss problems facing small woodlot harvesters. PF Olsen had begun harvesting the main Pukerimu Forest, so I approached them thinking that with the harvest infrastructure in place, cost savings would follow. I was sent to Craig Fisher of PF Olsen Woodlots.
Being aware of the risks of non-compliance as well as health and safety in forestry I wanted a professional harvesting manager on my job. After speaking to Craig, I felt I need go no further. His experience in small woodlot harvesting and marketing showed through and was very assuring.
Harvest begins
As harvest time of February 2014 approached, requested by my accountant to spread returns over two years, I began to get very jittery as the bull market of late 2013 had been holding for six months and could not possibly last. Harvesting got under way late in February but there were a couple of unexpected costs. These were power line disconnection and reconnection at $1,500 and traffic control for seven days at $5,250. This last was a surprise because we were felling alongside a private road, but because it was being used by the other harvesting contractors, felling within two tree lengths of the road had to be managed with qualified traffic control contractors.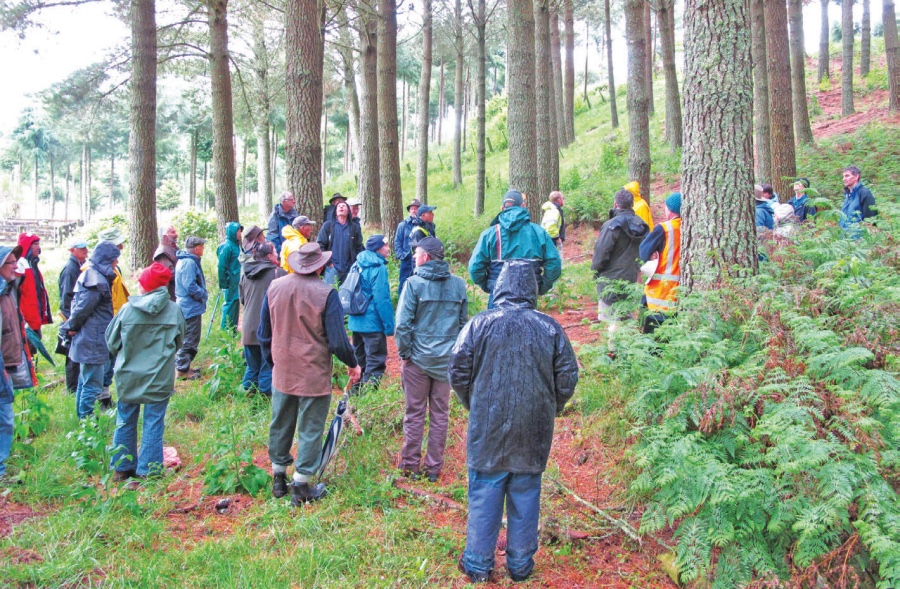 Frank Carran of Longwood Logging was the harvesting contractor and he managed to lease a waratah harvester for the duration. This greatly increased the efficiency and safety of the operation with no tree fallers at the cutting face. As the harvest progressed over the space of six weeks or so it became obvious that we were going to easily exceed the target of 500 tonnes a hectare.
Harvest figures
The area was 6.5 hectares planted in 1988 with radiata pine producing a total of 4,331 tonnes of logs in 2014, at 656 tonnes a hectare.
Costs
Logging
$33 a tonne
Transport
$16.5 to $28.75 a tonne
Traffic control, earthworks and levy
$4.2 a tonne
Management fee
$5 a tonne
TOTAL
$58.7 to $70.95 a tonne
Income
Pruned
19 per cent
$144 a tonne
Utility grade
62 per cent
$134 a tonne
Industrial grade
9 per cent
$120 a tonne
Pulp
10 per cent
$44 a tonne
| | |
| --- | --- |
| Gross return | $125 a tonne |
| Nett return | $57 a tonne |
| Nett return per hectare | $38,044 |
| Annual nett return per hectare | $1,522 |
When we left the market early in April 2014, export prices were already sliding on some grades.Within a month a 20 per cent fall across all grades was evident. The realisation that this 20 per cent drop in gross income equates to roughly 44 per cent of our nett return is rather chilling.
Factors contributing to our reasonably healthy return I put down to a stocking rate of 350 to 400 stems per hectare on a sheltered west Taupo site, originally prime podocarp forest. While a full pruning to six metres had been undertaken, not all stems achieved the 40cm small end diameter at this stocking rate, giving a lower prune content of 19 per cent. However the Chinese market came to the rescue with comparable prices for all utility and industrial grades which in normal times would struggle to break the $100 a tonne barrier. I am confident that this is where good marketing agents can achieve the best result for your nett return.
As I went into this harvest, I was of two minds as to whether I would replant another radiata crop, landscape with natives or ryegrass into pasture. Considering the costs of the second and third options and the welcome surprise I got with this harvest, I am happy to plant another radiata crop. I intend to manage the replant and silviculture of the next crop myself, just to have that hands on feel again.