A lot going on with safety in forestry
Julian Bateson, New Zealand Tree Grower May 2015.
A lot has been happening recently with regard to safety in forestry and on farms. In late February the Safer Farms project was launched, in early March there was a forestry safety conference and during this conference the project Safetree was launched. More details of these are given later in the article.
In addition, the government has just released drafts of some of the major regulations which will accompany the new Health and Safety Reform Bill once it becomes law. The purpose of these 'exposure' drafts is to give those interested an opportunity to see how the new regulations will look and get feedback on whether the decisions taken are adequately covered in the proposed regulations.
Confused and not alone
Many of you may be confused with what is happening with the current and proposed new laws involving health and safety. Unfortunately I am also confused. I will give you a couple of examples.
When a person is not a person
The new term in the Health and Safety Reform Bill replacing the current term 'principal' is a 'person conducting a business or undertaking'. This seems clear if a bit long-winded. However, I was contacted
by a lawyer from Worksafe in response to a question a member had raised about the changes. The lawyer said in the conversation that 'a person is not a person'. Naturally I queried this statement and he clarified with 'a person is not necessarily a person'.
The actual wording in the draft of the Bill states that a 'person conducting a business or undertaking' is a person conducting a business or undertaking whether the person does so alone or with others and whether or not the business or undertaking is conducted for profit or gain.' Also in the draft Bill it states that 'for an individual who is a PCBU, or an officer of a PCBU, a term of imprisonment not exceeding five years or a fine not exceeding $600,000, or both, for any other person...'
It is quite clear that individuals are responsible and that the term person can very often be a person. So if you have been told, as some of you have, that only companies will be liable and not individuals when the Bill becomes law, this is not correct.
Reasonable or not
On another confusing point I have been told on many occasions that the new health and safety law will use the words 'so far as is reasonably practical' instead of the current 'take all practicable steps'. The word 'reasonably' is the fundamental difference. It has been emphasised to me in many meetings with MBIE and Worksafe that use of reasonable or reasonably in this context is a new concept and makes it fairer for everyone. It is a very important difference.
However, I have now been told that if you look at section two of the current 1992 law, buried in a place I would never look, the actual wording is 'all practicable steps, in relation to achieving any result in any circumstances, means all steps to achieve the result that it is reasonably practicable'.
This means that what I have been told in meetings by Worksafe and MBIE, in relation to the new use of the word reasonable in the Bill, is not entirely true. It also means what I have been telling other people, based on trusting Worksafe and MBIE experts, is also not entirely true. I can only apologise for this. But nevertheless the term 'reasonably practical' will be prominent in the new law.
The review
The Independent Forest Safety Review produced its recommendations and a three year plan at the end of October 2014, as you will have seen from the inserts in the November Tree Grower.You may be asking what has happened over the last six months.
I understand there have been many discussions concerning the first part of the project which is the formation of the Forest Industry Safety Council. It seems agreement has now been reached and that there will be 11 members of this council. There will be a full time paid chief executive, a part time chair, one NZFFA representative, two from the Forest Owner's Association, two from forestry workers, one union representative, two contractors' representatives and one from WorksafeNZ.
By the time this Tree Grower is published the aim is for the Forest Industry Safety Council to have had the first meeting in April. However, the chair and chief executive have to be appointed and at the time of writing, this process was at an early stage.
There is a provisional budget from levy funds of $550,000 a year to run this council. It has not been made clear how all the money will be used, but an outline is in the provisional levy trust annual work programme which can be found on the web at fglt.org.nz.
The Health, Safety and Training committee
How the current levy-funded health, safety and training committee will fit in with the new Forest Industry Safety Council is also not clear. This committee, of which I have been a member for five years, has been running for a long time, first funded by the Forest Owners Association and since the beginning of 2014, funded by the levy. As far as I am aware no decisions have been made about who does what, even though a third of the year has elapsed and money is being spent on projects planned quite some time ago.
Safety Summit conference
This conference was held in early March in Rotorua organised by the Forest Industry Engineering Association. The aim was for people to learn from the various leaders in forest health and safety who were making presentations.
The number quoted as registering was 320 and consisted of representatives from a wide range of companies and government departments. Cable loggers, harvest operation managers, health and safety managers of forestry companies, contracts managers, foresters, crew managers and mill operations managers are examples of the people attending. They came from all parts of the country.
Along with these attendees was a sizeable contingent of around 20 from Worksafe and four or five from ACC, a similar number from Competenz the ITO.All of these people at the conference were, as far as I could ascertain, paid for by their companies or government departments, as were their travel and accommodation costs.
It is worth noting that out of over 300 people there was just one representative for small-scale forest owners or farm foresters at this conference. He was not paid any expenses for attendance or accommodation.
Truck drivers
Overall the conference was well worth attending to see what was happening in forest safety, to find out what other countries are doing and to remember that improving safety is a long process. It was also fascinating and worrying to hear some of the information from part of the industry which is often not considered.
In this case I refer to log trucks. Almost 20 years ago in 1996 the Log Transport Safety Council looked to try and reduce the number of trucks rolling over as this was a significant problem. Apparently the results produced significant reductions in roll-over accidents.
During his talk the presenter, Warwick Wilshier, mentioned a recent survey of truck drivers in general. The results showed that 65 per cent of truck drivers admitted to having less than six hours of sleep each night, with some as sleeping four hours or less a night.
I drove big 40 tonne articulated trucks for four years when I was in my 20s. I knew even then that I had to get a good night of sleep before a day of driving as it was such hard work mentally and physically. I would not have considered myself capable of driving a truck after just six hours of sleep.
SafeTree project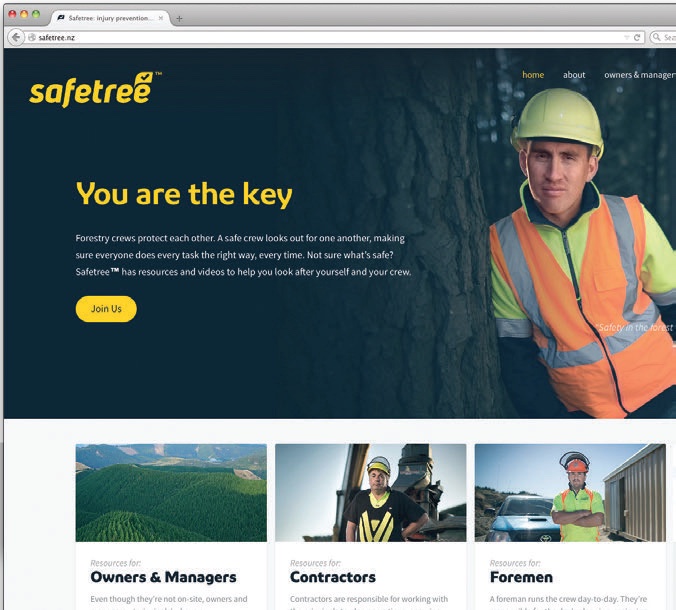 One of the projects launched at the conference was Safetree. This is part of an industry push to reduce the number of deaths and injuries in forests. The initiative has been developed with the support of ACC, Council of Trade Unions, Forest Owners Association, Forestry Industry Contractors Association and WorkSafe New Zealand.
The website is www.safetree.nz and it all starts there. You can join to get a regular newsletter and updates on forest safety. Unfortunately although there is useful information on the website a lot is still labelled as 'coming soon'. This is a real shame and is very unlike the Safer Farms website mentioned below.
Safer Farms
Many of you should be aware of the Safer Farms initiative funded by WorksafeNZ and launched in February with a five year plan to reduce injuries by 25 per cent. This works out at a target of five per cent a year. Whereas every reduction is worthwhile it seems to me that it is a rather pathetic target, especially when compared to the reduction in forestry injuries of around 45 per cent in one year without a defined project.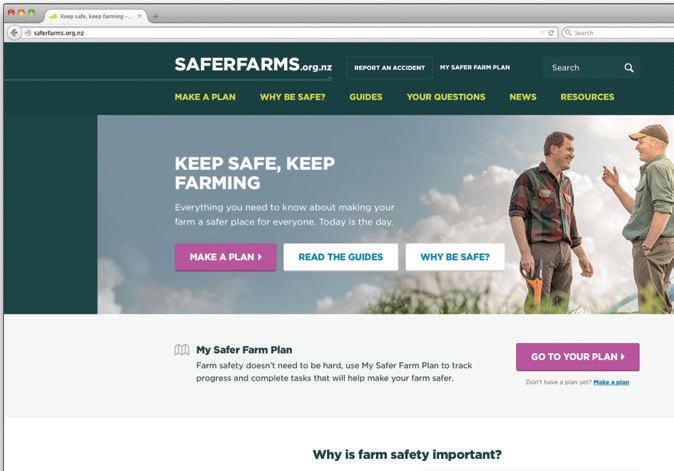 The safety target should always be 100 per cent reduction. Having said that, anything which reduces the injuries and fatalities in what is a very dangerous industry is worthwhile. In farming there are around 17 deaths a year as well as 20,000 injury related claims made to ACC.
As with all new projects Safer Farms is based on a website, although I was lucky enough to get a pack of printed material. I went on to the website and there is a lot of information. It starts with guiding you through a farm safety plan. However, I discovered when I started, rather grandly calling my property a farm with forestry, I had 42 items to read and comment on to make this plan. I stopped after just two as I ran out of time.
I would recommend that you have a look at what the Safer Farms information is available. You may find it frustrating, as I do, to have to find and print your own publications. However this website has some good leaflets and a few of them are illustrated here.
General information
Worksafe are planning to produce a how-to guide for small-scale forestry with regard to safe working. It will be quite some time before this is produced as work will not begin until July at the earliest, and based on past experience, may be a lot later. Many of you could be thinking that you had heard this all before with respect to the ACC funded project. This was started almost five years ago and then, after significant work, was cancelled by ACC about a year ago. I am hoping that a lot of the information put together for this project can be reused, but my hopes have been dashed before.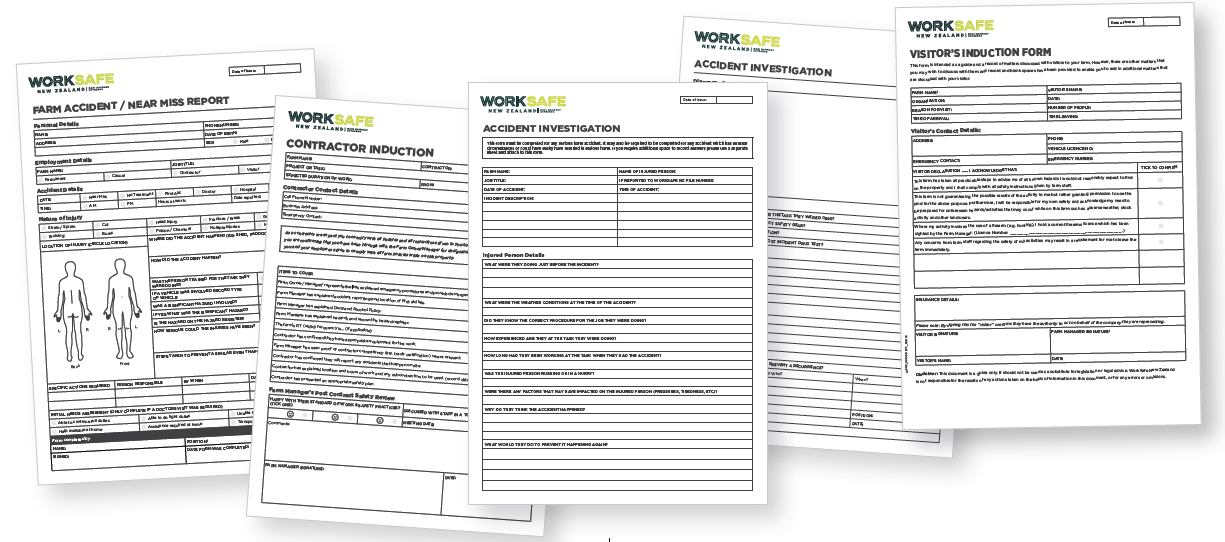 Meanwhile I have been asked to put up a case to Worksafe for having this information, if and when it is produced, in printed form as opposed to having it all just dumped on a website. I must admit to a level of despair to have to 'make a case' for having some printed versions.Websites have their value, but printed information is also very important.
Quad bikes
I have not mentioned quad bike safety recently but the problem has not gone away. Over the past month there have been two deaths on farms caused by quad bikes. I have no further information on either of these accidents.
However, it is clear that the fatalities are continuing in spite of all the efforts and publicity about the risks associated with quad bikes.
Julian Bateson is the NZFFA health and safety representative.