Action groups partly virtual weekend
Julian Bateson, New Zealand Tree Grower May 2014.
The weekend in November each year when all the special action groups meet is becoming much more of an event these days. In November last year, around 100 people turned up for the field day, which is close to half of the number who go to the annual conference. The aim of the weekend is to concentrate on alternative species which the action groups cover.
All the attendees first met in a car park in Whanganui for the sawmill Eastown Timber Products. We were given an introductory talk and then started the tour of the mill. For the first part of the tour it was very difficult to hear what was said but we saw a lot of the machinery and wood that you expect to see in a sawmill, but rarely get the opportunity.
Timber treatment for radiata pine
The weekend was meant to be radiata pine-free but a significant part of the operation of the mill involved radiata pine. Some of the processes carried out in the mill were a bit of an eye-opener. First we were shown the treatment using light organic solvent preservatives or LOSP which involves the use of solvents to impregnate timber with chemicals such as tributyl tin. It is a very automated process, but expensive. However it does protect timber without the use of the environmentally unfriendly chemicals used to treat most of the radiata pine. However tributyl tin is itself quite toxic, especially in water.
We were then shown how copper chrome arsenic or CCA treatment is carried out in the process used for all radiata pine exposed to weather and water. This was followed by an explanation of ACQ treatment which virtually none of us had heard about before. It is alkaline or ammoniacal copper quarternary-based and does not have the toxic chrome and the carcinogenic arsenic content of CCA treatment. However, the higher levels of copper increase the corrosion potential if steel and galvanised steel fixings are used. It is an environmentally acceptable alternative to the normal radiata pine treatment. It protects timber up to H3.2 which is for wood used above ground or in contact with ground, but not for below the ground.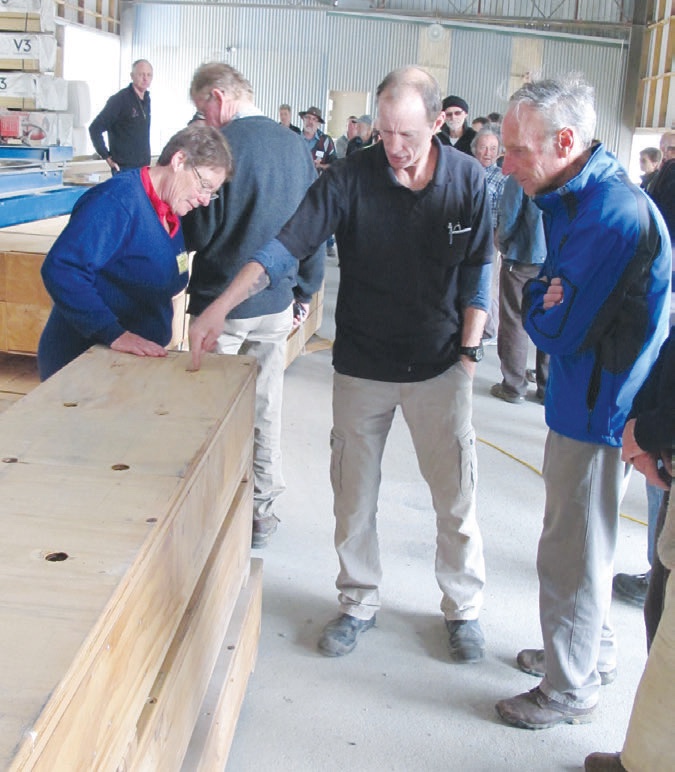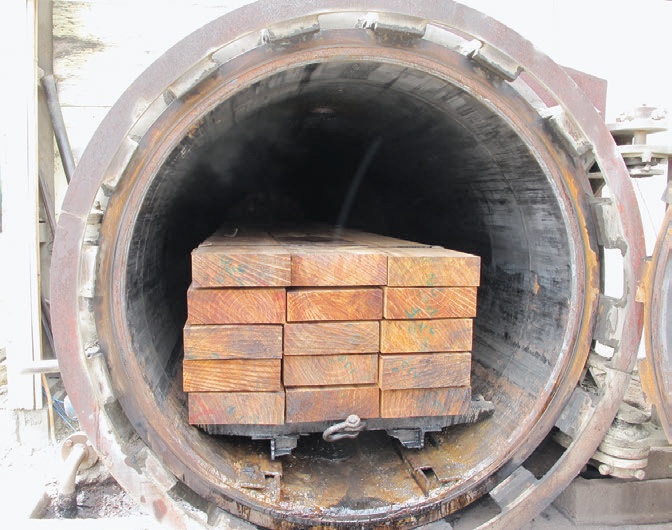 Eastown are the only processor in New Zealand which treats wood in this way for retail sale. The process is used in the United States and Australia where wood treated by copper, chrome and arsenic cannot be allowed to come into contact with bare skin, such as on decking. In New Zealand virtually all pine timber used outside is treated with copper, chrome and arsenic.
Costs of treatment are comparable. The standard copper chrome arsenic treatment is cheaper for the first part of the process, but by the time the timber is dried and the waste properly disposed, the total for either process is around $160 a cubic metre. Obviously naturally durable timber is a better option than virtually any form of treatment, but it seems to make sense to move to using ACQ treatment of pine wherever possible.
Back to alternative timber
Vaughan Kearns has a part business interest in Eastown Timber Products as he stores a lot of his timber, mainly macrocarpa and eucalypt, in large sheds on the property. He explained that he needed to know what timber he had easily available and so had to have the timber he sold or processed kept in one place.
There was a lot of discussion about the time involved in storing and drying, and therefore the cost which can make the timber less affordable to customers. Questions were asked about cutting this cost by growers drying and storing their own timber and making it available only when Vaughan needed it. He explained that timber stored in what is probably a remote site on a farm is not very useful for him and it is difficult to then determine its quality. That is why he has the large sheds at the mill so that he can quickly see what timber he has available at any time.
He explained that there were always business opportunities for alternative timber. One, for example, was bee boxes for beehives which were now not being produced in the South Island due to the Christchurch rebuild after the earthquakes. Therefore he decided to make a few bee boxes to fill the gap and has now built up quite a business in them.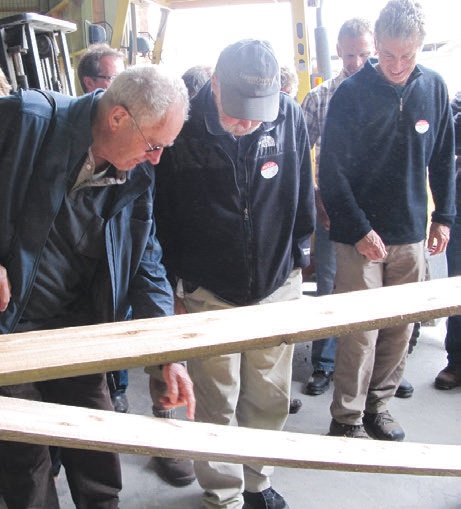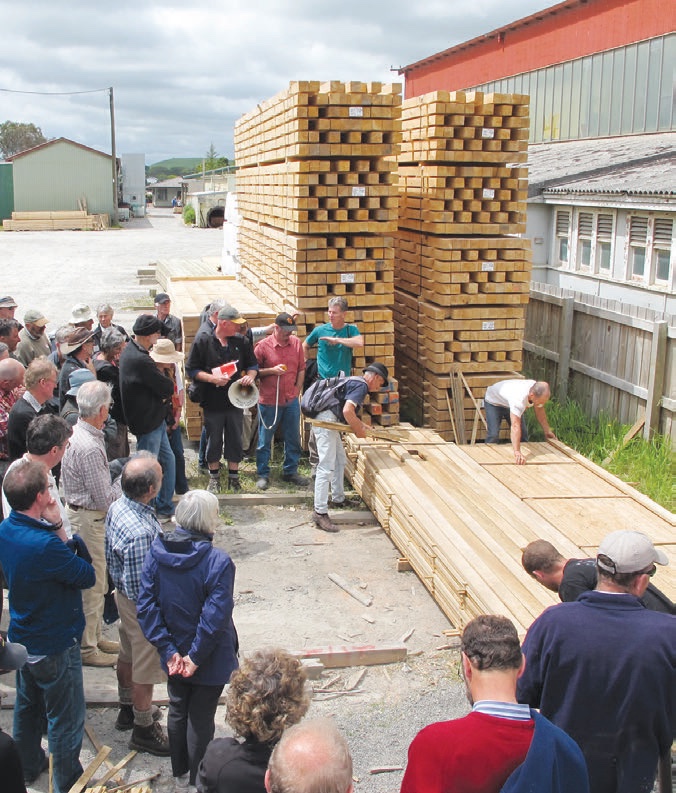 We then moved on to a discussion about eucalypts and were shown how eucalypt timber was stacked and filleted, then stored to dry. This is a very careful process for the timber to reach around 16 per cent moisture content. It will take about three years.
O'Keefe's Joinery
The next visit in the afternoon was to a small joinery company, an ideal customer for special purposes timber. We were shown around a compact site which had a variety of machinery, some old and some very new. The owner Rob explained that if he gets a request for specialist timber, he goes to the suppliers, not a small-scale forester. This way the suppliers act as a store for his timber and as a bank.
If anyone rings up with their own timber he said that, from experience, he finds that it is usually not worth going to see as the timber as it is generally a lot worse than described. By using a specialist supplier he says he gets good timber and if there are any faulty bits they go back, with no questions.
The wood Rob needs has to be durable for inside use, which means it needs to be hard and not warp. He will give good prices on that basis and is always looking for alternative timber and thought a website with timber availability would be a good idea. He was very surprised to hear that the NZFFA website for specialist timber existed. He gets through about $20,000 worth of timber each month or a quarter of a million dollars a year, not an insignificant sum.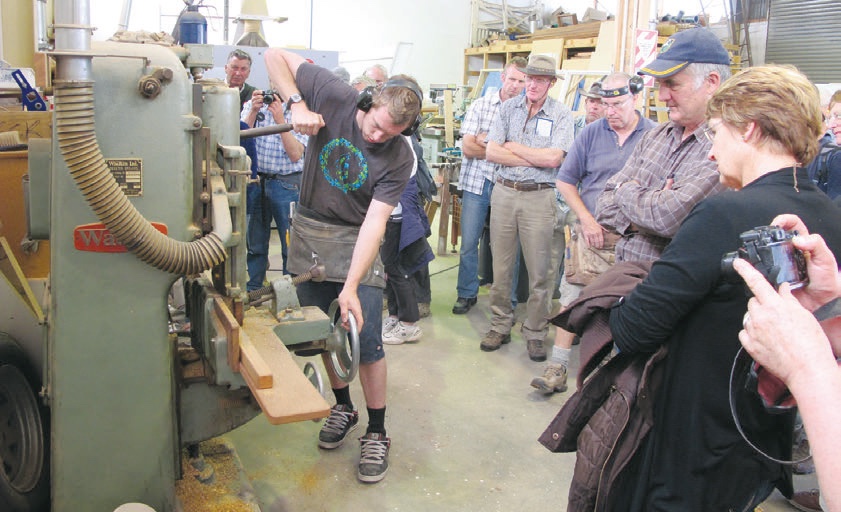 The virtual mill
The second morning of the weekend involved a visit to Denis Hocking's property which is mainly on sand dunes. Denis explained that he got bored with growing pine on sand dunes and after much experimentation found that the eucalypt Euclayptus muelleriana was the best option. He has given up experimenting with any other eucalypts and this species is the one he plants on the warm northern slopes.
Then came the main event, which was virtual milling. A number of trees had been milled earlier and then put loosely back together, as shown in the photograph. This saved all the time, problems and noise of milling it in front of a large group of people, but allowed for analysis of the wood milled.
The first virtually milled log was cypress from trees which were less than 300 mm in diameter. The verdict was there was too much sapwood for cladding as the heartwood is needed or it will rot. The few green knots in the sample were fine and for the standard of wood a price of between $800 and $900 a cubic metre should be expected. There was further discussion about macrocarpa. It was suggested that if you are not sure what final size you might need when milling macrocarpa, to leave it as a large cross section until you know what size you are going to eventually need. Often lusitanica is sold as macrocarpa.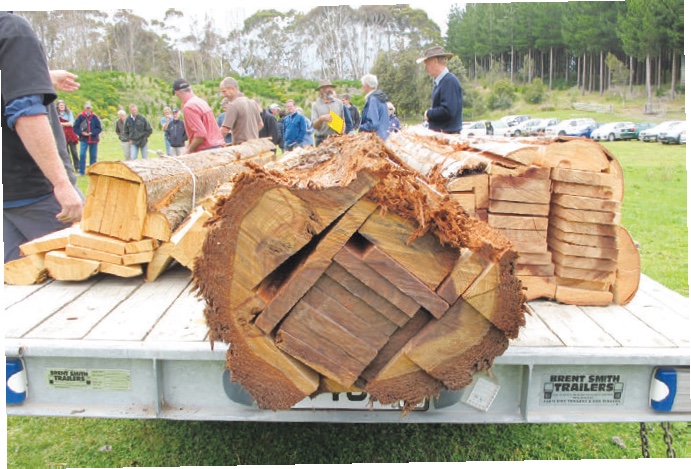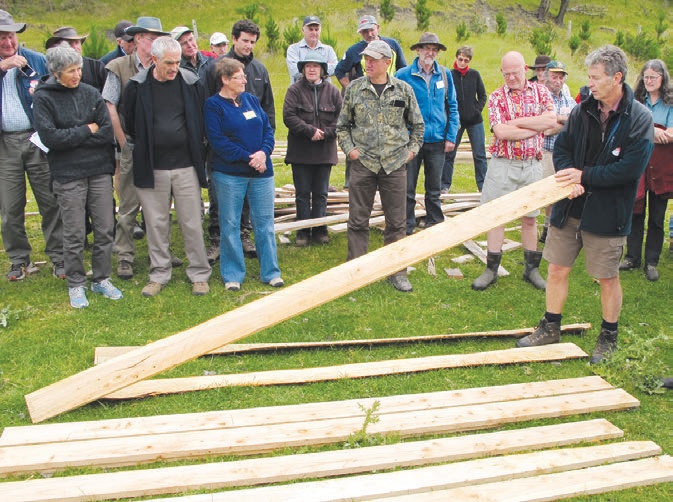 The next milled wood to be seen was a eucalypt which is frequently much more difficult to mill. This eucalypt was Eucalyptus saligna. This species needs to be milled as soon as it is felled to avoid end splits and you have to decide what sizes you want, as you cut. It is important to dry it very slowly if left as slabs. Stringybark eucalypts are much easier to mill.
Redwood was next for the virtual mill. We heard a lot, yet again for many of us, just how good New Zealand-grown redwood currently being planted will be, will apparently become known in the future. The redwood which was virtually milled was quite small, but planted in the 1950s and was therefore a very suppressed tree and much smaller than its neighbours. There was significant discussion on the quality of redwood, but the sample was a bit of a one-off.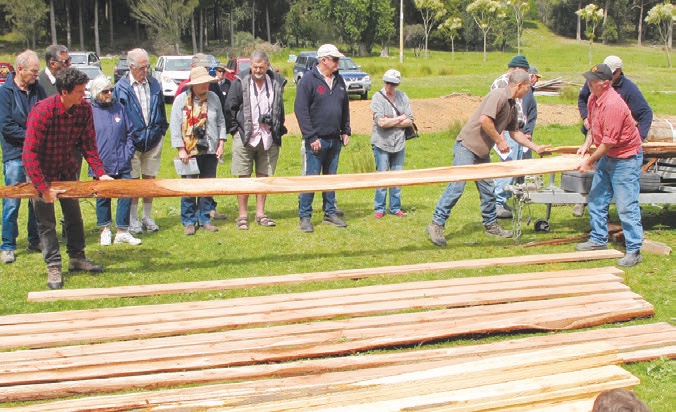 The final tree to be milled was Acacia dealbata, although some thought might be blackwood, a different acacia species (Acacia melanoxylon). The milled wood was a hardwood with a coarse grain and could be suitable for flooring, although it only grows to about 30 years of age. There was a difference in the quartersawn and flatsawn boards and it was explained that quartersawn is better for hardwoods.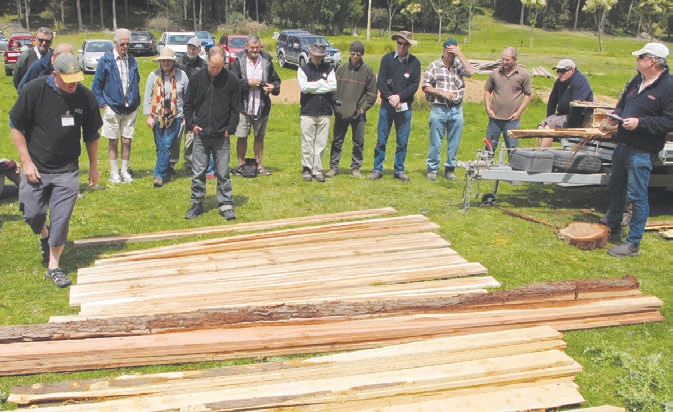 There was significant discussion about the various milling processes and the wood milled which filled up the rest of the morning. Overall the virtual milling was a great success and could be used at other field days. The demonstration gave us all the opportunity to see and understand more about the milling processes, but used less time and without the noise and dust. We also benefitted from the advice of experts on growing and milling some of these alternative species.
This article only briefly touches on these discussions and you need to be there to get the best value. On that basis I suggest you leave a slot in your calendar for the next action group weekend in November this year.