Southern portable sawmilling
Blair Stewart, New Zealand Tree Grower May 2013.
I never set out to be a sawmiller. However, after a stint at farming as a teenager, and at the time looking for a change of direction, I was offered a job at a large New Zealand timber mill.
Twenty-five years later, and having secured New Zealand timber grading qualifications along the way, I was offered the opportunity to buy a portable sawmill and jumped at it. I had been thinking about buying one for a while, and having worked on the Mobile Dimension machine for some years, knew it inside out. It is ideal for the types of contracting I am interested in, and takes no time at all to hook on to my truck and operate single handed.
After the purchase of this machine just over four years ago, I began trading as Southern Portable Sawmilling and have not looked back. The business offers a milling service to locals.
Milling as a career path – especially involving on-site portable set-ups – is not the lifestyle for everyone. But for me, it is perfect. It is challenging, keeps me fit, and has me out there in some of the most amazing countryside New Zealand has to offer. I cannot imagine doing anything better.
Mobile Dimension
The biggest advantage of the Mobile Dimension portable sawmill is the capacity to handle logs of up to seven-and-a-half metres in length. Unlike many portable sawmilling machines, the logs are milled using three saws simultaneously. One vertical blade and two horizontal blades, with the top horizontal blade fully adjustable. It means that three faces of felled logs are cut at once and allow for immediate milling. Many other portable set-ups offer just one or two blades working at a time, which obviously decreases the recovery of timber from each log.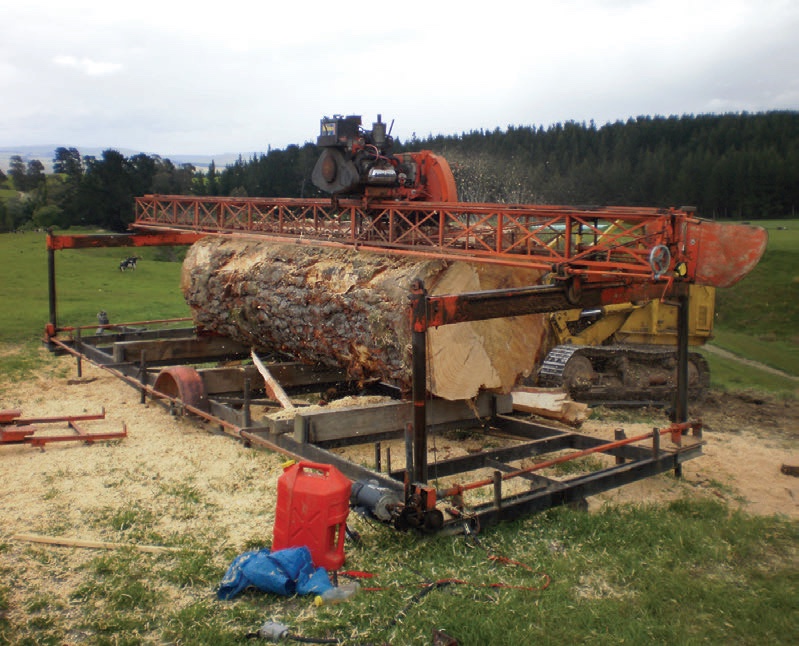 Operating on a 1800cc VW industrial motor, Mobile Dimension saws do not need cooling. This is especially convenient on high ground or land where there is limited water supply. The machine is belt-driven and petrol-powered with a seven litre removable tank. I would use on average around 22 litres of petrol in a day, which is easily transported on-site in containers.
Driven hydrostatically, the Mobile Dimension is self-propelled. I simply stand at one end operating levers that saw the top, bottom and back edge of the log before it is reversed and returned. From there I manually grade and stack the timber beginning with a number one which is a good structural grade and suitable for use in framing and beams. Next is appearance grade which is generally used for furniture making, weatherboards and the like. Finally we are down to lower grade timbers which are suitable for boxing, pallets and trade supplies. There is very little wastage, and obviously with colder conditions in the south, landowners usually appreciate of a bit of extra firewood.
Business growth
Word of mouth soon builds a solid business and after completing several contracts locally, recommendations started coming in. For example, a farmer or landowner will give me a ring about a line of shelterbelts or a block which needs clearing and we will sort out a mutually convenient time to assess the work. This is generally with the intention of using the timber for on-farm improvements such as cattle yards, new sheds or even house renovations.
Often it is not until I arrive for a consultation that they tell me someone they know suggested me, which is always very satisfying. In other cases, they might have spoken to local merchants about selling the milled timber and been offered my business card. Either way, happy clients and a great deal of pride in my work keeps me busy.
Careful assessment
Having said that, no job is just dropping the trees and milling them into a stack of graded timber. I do not agree to taking on a job without an on-site inspection or walk with the landowner. A range of factors have to be considered including elements of potential danger such as a house or building placement, power lines, roading and accessibility. I also need to check that the trees are worth milling.
Factors such as wind tension, protruding branches, or even age and condition need to be considered before a client commits to such an investment. Sentimental value can also come into it, as many trees on family farms are older than the owners.
Accessibility less of a problem
With most of my clients felling radiata or 'old man' pine, using these sawmills is a more cost-effective way than most alternatives. Being completely portable, there are very few areas that not accessible. If I cannot get the truck to the site due to steep contouring or heavy bush cover, hooking it up to a bulldozer is generally a lot cheaper than employing a forestry crew to fell the trees, then add cartage, milling and treating costs before returning it as usable timber.
Once a contract is confirmed, and having assessed the area I need to work, a systematic plan follows. It is extremely important to keep the environment as clear as possible, especially if the land is still being used by the farmer or landowner. Trees look tidy standing, but once they have been felled it is a completely different story.
I choose to drop two or three at a time, and de-limb and cut them into logs manually before any machines are started. Green waste, which includes small branches, leaves and foliage, is piled into manageable lots to be burned. Bigger limbs suitable for firewood are stacked for the landowner and logs moved by the bulldozer for milling.
Once the entire site has been prepared in this manner, milling begins and daily averages are around seven to eight cubic metres of finished timber. It is then stacked into filleted packets, strapped, numbered and documented. This documentation is essential, especially for treatment processing or merchant purchasing. Most clients prefer to have the whole job completed and cleaned up on-site, which is obviously the biggest advantage of portable milling.
Native species
While employed at one of the leading producers of both contract and commercial timber supply, I grew to particularly enjoy working with native timber. I got considerable satisfaction from turning unwanted standing trees into stacks of good graded and very usable structural timbers.
Over recent years, regulations have changed from the quota system to the more recent sustainable yield regulations. To work with native trees, registration with the Ministry for Primary Industries is essential. When I started milling during the quota system, most contracts required a couple of weeks at a time residing in the bush. Obviously this would not appeal to everyone, but for me it was as good as it gets. I could work up to 12 hours a day and still have time to get in a couple of hours of hunting deer or cast the odd line in one of the local streams.
With the introduction of sustainable yield milling a lot less natives were available for milling. Although that is disappointing for those like me who enjoy the bush lifestyle, it is essential to preserve our native trees. If this system had been in place during the 1940s or 1950s we might still be enjoying the abundance of native timbers that my age group grew up with.
There is nothing more satisfying than completing a contract and seeing packets of beautiful rimu, compared to the more bland colouring of timbers not native to New Zealand. It can be harder wood to mill, but as long as the gear is correctly and regularly maintained, native timbers are a pleasure to work with. This is particularly when they are allowed to dry naturally.
Drying practices are imperative, especially with the density of native timbers such as rimu, matai, tawa or kahikatea. They generally have natural preservatives but they must be dried slowly and out of sunlight. Quick drying increases the risk of checking, which is the cell walls in the timber breaking. Movement and warping is also more common in timbers that have been dried too quickly.
Blair Stewart is the owner of Southern Portable Sawmilling in Palmerston, Otago.