Farm forestry with a difference
Michael Orchard, New Zealand Tree Grower May 2010.
A history of trees
With a history of gold mining then coal mining, sawmilling and forest clearing for agriculture, the West Coast has been very lucky to have had a natural tree resource of the highest quality. It seemed endless and as a result the concept of planting new, often less durable exotic timber, was slow to develop.
Sandwiched between valuable agricultural river flats and vast hill country native forests, our landowners have practised farm forestry or more often, forests on farms on the West Coast, with a difference. The large government and private cutting resources and sawmills have also moulded our views.
Change
It was not until the mid-20th century, when concerns arose for future wood supply and the seemingly slow regrowth of indigenous seedlings, that change came. As elsewhere the establishment of the Forest Service was pivotal in this change. It introduced better management of natural forests, improved use techniques, identifying best sites for the new species, and began the phase of large scale conversion of some areas to exotic forest.
Initially, as in all new ventures, it was a process of trial and error. New exotic species with the best attributes for the West Coast soils and climate showed themselves. These were from early plantings in the clearings along logging tramways or in the old trees now left as often the only markers of former gold rush mining towns.
Initial planting survival was variable, so better establishment techniques were called for. With heavy native forest cutover sites being the only sites available, or younger regenerating scrubland from earlier historic burns, fire became an essential tool in the process of conversion of selected sites to faster growing exotic forest.
Trees benefited from the ash bed effect which promote initial fertility on clean sites. But when a wet year had meant a poor burn, the vigorous native regeneration quickly overcame the young trees.
Land use challenges
Times change and in the 1980s, as burning became politically discouraged and difficult in the wet climate the extensive manuka/kanuka shrublands and pakihi country became favoured new planting sites.This needed new techniques and new machines. With its history of heavy engineering associated with the early extractive industries, the West Coast has always been an innovative place.
Innovations including digger mounding to provide planting sites free from ponded water, and V-blading, using a wingedV-shaped plough on a large bulldozer to provide drainage and two planting rows in one pass, became the tools of the 1990s. The NZFFA members who attended the 1994 West Coast conference may well remember the field demonstrations at the time in the appropriate weather conditions.
Land use and development for farming has also always been a challenge on the West Coast. This is due to the widely varying soils often with low nutrients, the probability of flooding on lower river flats and the generally wet and swampy nature of some of the best land. Along with all this is the inherent process for it all to regenerate back to native shrubland, then tall forest, as quickly as possible.
On the positive side, the climate is mild and mostly wind free. There are extensive river flats and terraces that can be turned into grass reasonable easily, as well as hill country and terrace edges providing well drained sites most suitable for trees. There is a good road, rail and air network and the central wood industries, with generally a high level of self sufficiency and motivation among the population.
Organising the resources
Farm forestry had its beginnings in the late 1970s on theWest Coast, mostly by the Forest Service Forest Encouragement Loans, with specialist Forest Extension Officers evaluating sites, providing advice to farmers, seeking funding and maintaining record systems. Forestry on farms even preceded this with large private block plantings. Examples include Ron Ferguson's 242 hectare plantation near Greymouth.
Important forest history
From 1987 when the Forest Service was disestablished, some similar functions were transferred and are now undertaken by MAF. Despite changes in the support structures over those early years, the West Coast branch had gathered such strength, that in the five year period around the 1993 timber price boom, were undertaking an important proportion of the planting on the West Coast. As the private stands mature, this will become an important segment of the local forest industry harvest.
By the start of the new millennium the winds of change in forestry were beginning to blow again. Timberlands (West Coast) Ltd, along with its immediate predecessor the NZ Forestry Corporation (Westland), had established an efficient forestry business based on a mixed exotic and indigenous forest estate of about 160,000 hectares.
West Coast Forest Accord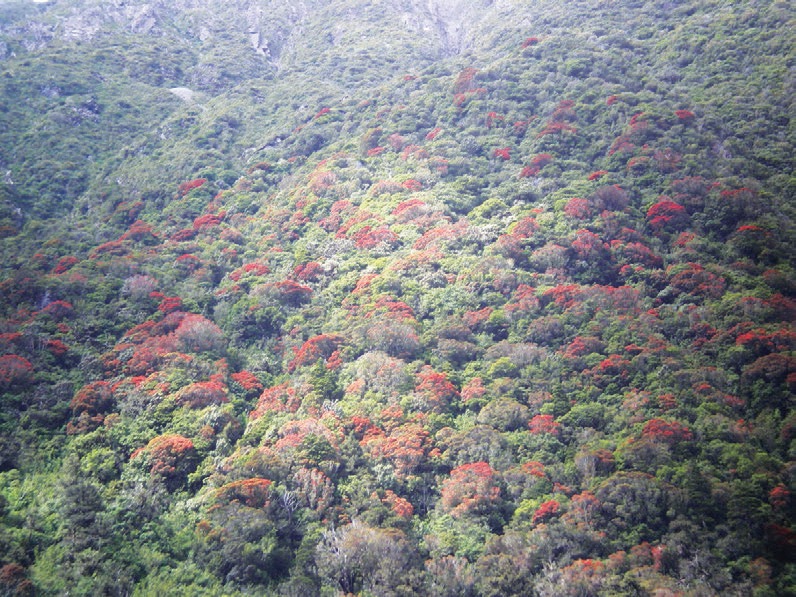 This all followed because of the existence of the West Coast Forest Accord, established as a partnership between government, the forest industry and local government. Its aim was to ensure a measured transition from traditional indigenous harvesting methods at higher levels of extraction to a truly sustainable management operation for beech and rimu forest. It included substantial planned area plantings of new special purpose exotic species, such as cypress and blackwoods.
However in about 2002, the Labour government, in the face of pressure from a few green groups, overturned this Accord. They cancelled an innovative sustainable beech forest management proposal in which Timberlands West Coast had, on behalf of ourselves and the country, invested research and planning.
It was a time of great unrest and protest by most West Coasters, angry that the government would not stand by its word. That they had overturned a previously hard negotiated and agreed forestry document designed to stand the test of time, was inconceivable. Nearly 80 per cent of West Coasters had been in support of the Accord.
Worse still, a fact almost unknown even today, when the Labour government cancelled all indigenous logging on Crown-owned land, the small but successful sustainable rimu forest areas of Saltwater and North Okarito were also caught up and systematically closed down. These extensive terrace forests had previously been carefully gazetted by Act of Parliament under a National led government some 15 years earlier. They were then harvested annually and managed to provide New Zealand a sustainable rimu timber supply of 7,000 cubic metres a year, intended in perpetuity whilst fully protecting their biodiversity values. The equivalent sized forests of South Okarito and Waikukupa, the kiwi breeding areas, had already been gazetted for National Park status, as part of this overall agreement.
The future
Today the intricate network of neat management roads through this tall native rimu forest still exists and represents a considerable financial investment by the nation. It was from an industry that would have generated several million dollars of income each year, and still could. The forests are a joy to visit and study − birds singing, good access, all ages of trees well represented, regeneration everywhere, older trees senescent, and an ideal site for low cost, low impact harvesting by professionals using modern continuous cover forestry management.
With 85 per cent of the West Coast land area comprising 1,913,000 hectares now in the conservation estate, there can be no question that biodiversity habitat could be at risk. Many would say that the pendulum has swung too far one way. There are still some valuable remnant lowland jewels in the crown on privately owned land which will be addressed in future Tree Grower articles. But less than 10 per cent of the above publically owned area was ever proposed for sustainable forest harvest management. As a young country of short history we need to revisit these opportunities on a regular basis in the future.
Our forestry and member organisations, along with successive governments, need to keep asking where long term heritage supplies of rimu will come from. For beech the West Coast has more privately owned, but small areas, to keep the necessary management skills alive. And we must not forget the words of eminent New Zealand botanist Leonard Cockayne who said 'I feel that I can assert with all confidence that in her beech forests New Zealand possesses a perpetual source of great wealth, but only so long as they are properly conserved and managed.'
Private land resources
Down on the farm during this time, things were changing rapidly as well. While beef, sheep and deer have been part of our rural landscape, dairying was beginning to take off in a big way. This was driven by an increasingly innovative equipment investment at the central Westland Milk Products dairy factory in Hokitika, and land management techniques to turn wet pakihi into high productivity dairy land. The scrub covered pakihi was seen as an ideal landbank for exotic forestry and cranberry growing near Westport, but new drainage and development techniques were developed enabling rapid pasture establishment. One was humping and hollowing another 'flipping' – a complete turnover of the top layer of a wet vegetation paddock surface upside-down, and then rapid grassing and fertilising the bare shingle surface created.This formed a solid, well drained green paddock while retaining all previous soil and organic material deeper down.
Farm dairy conversions are continuing, for this seems to be the natural order of things. Even today if you drive over Arthur's Pass, beyond Otira, past the last of the highest rata forest's red flowering late summer burst, and into the Taramakau RiverValley,a new scene more reminiscent of the Serengeti Plain will catch your eye.
Here is a new expansive plain of green grass dotted with black cows grazing among bounding forested and mountain pinnacles. At Karamea, south of Westport, in the Inangahua and Grey Valleys, near Hokitika and down to South Westland, dairying is becoming king. Some native shrubland and forest continues to be cleared here and there, and young exotic woodlots are going too – if only we could encourage some new planters.
The New Millennium
In 2010 forestry of all types is very much under review in the region due to competition for land, and only average economic performance of New Zealand and world forestry. Little private planting has taken place over the last several years. While the demand for timber remains from the sawmills, local production has not been able to match it. Periodic episodes of exceptionally strong gales have seen sizable areas of windthrow and toppling of trees on many classes of land.
The second rotation of pine on higher ridges, after original native forest milling, also seems to be suffering from nutrient loss because of our high rainfall and difficult soils. We have always had to fertilise exotic trees on the West Coast, and overall productivity may have been overestimated in growth models. In the commercial world Timberlands West Coast, deprived of its income from sustainable indigenous forest harvesting, and with exotic production not able to meet previous targets, has become loss-making and was closed at the end of 2008.
Remaining management
The small residual Crown Forestry unit is responsible for management of the remaining publically owned West Coast forest resource of 30,000 stocked hectares of exotic forest, on an estate of 45,285 hectares of land. Incidentally this includes 11,000 hectares of remaining native forest and shrubland.
In 2000, much of this land which was subject to Crown Forestry Licences, was sold to Ngai Tahu as part of a Treaty of Waitangi settlement. Timberlands and Ngai Tahu renegotiated the occupation agreement which was registered on the relevant titles as a forestry right.
Since the beginning of 2009 Crown Forestry has contracted PF Olsen Ltd to undertake day-to-day management of these forests. As a result the latter established a new branch in Greymouth employing several of the staff who previously worked with Timberlands West Coast, along with a contracted workforce of 70. A full review is being undertaken on these forest resources, with much of the information available on general websites. This is pending further longer term decisions on the future use and replanting of the resource, being promulgated by the Minister of Forests and recently reported in local newspapers.
Farm forestry's new role
Meanwhile down on the farm and forest, we owners are getting on with life as usual. Our stands are passing mid point in their rotation, and many of us are in the last quarter of ours, so it is time to reflect on a job well done. We have established useful resources for the region and the nation, but how have we managed them? Could we have done better? The professional forestry information needs are still as high as ever – if only we had more land to practise our skills, so that we could harvest and plant and tend each year, like a normal forest.
There are still some land banks out there on farms on the hill slopes and dropovers. We need new owners, new members, new initiatives, while we retire to reflect on wood market prices, the world's economics, best use practice and what next as our 30 year West Coast tree rotation lengths are reached.
Vibrant branch membership
The West Coast branch is quite a vibrant organisation, with a mainstay of regular field trips. Increasingly these are now to sawmills and processing plants, to learn what our trees might be like inside and how much they could be worth. A greater range of harvesting companies and the practice of increased multiple segregation of log types to different customers should bode well for the future. We have also been able to help owners without a forest background to successfully sell their existing mature stands.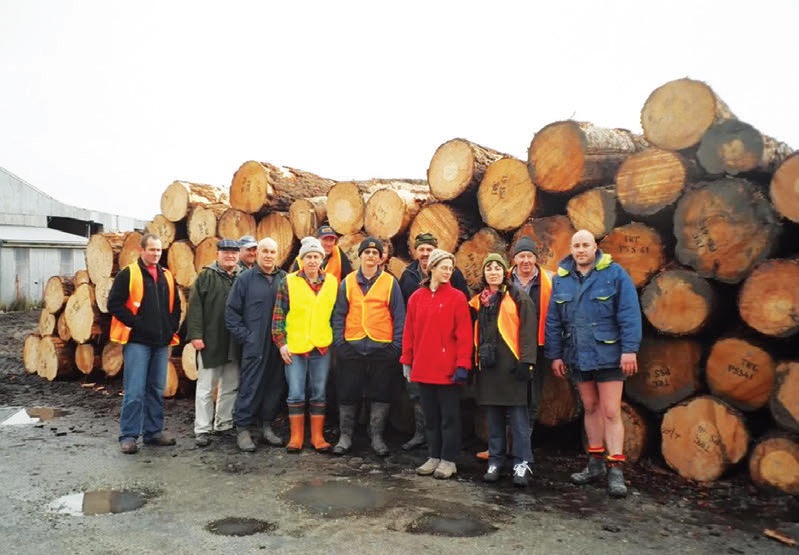 A recent initiative has been to survey our members, to find out more detail of their properties, species and age classes of trees. We will build on this by providing extra mapping and technical services including the extensive knowledge to be found in back issues of Tree Grower and other forestry journals. As a result we have also been provided with detailed year-by-year resource planting and species information on the adjacent large Crown Forestry estate.
We will use this valuable data along with our own evaluation of species and site performance, to attempt to rationalise the best bets for our forestry futures. We will also attempt, using a planned campaign, to encourage a much wider range of West Coast landowners to successfully plant trees on their own and MAF assisted programme initiatives.
A busy time
On the environmental side the new issues are many, including biodiversity protection, retention of young regenerating stands, indigenous forest appreciation, animal and predator exclusion fencing, streamside planting and protection, special indigenous wildlife management areas, carbon forestry and the ETS as well. It is a big ask – we will be busy.
One of the West Coast's biggest challenges is to convince government and landowners that the sizable indigenous forest areas on almost every farm here are worthy of retention as part of an overall climate change and biodiversity strategy. These forest areas comprise both fast growing mixed regenerating native stands and blocks of mature virgin forest.
There has been much debate and scientific examination of these issues recently, as the government sought to prepare itself for the new meeting rounds. As an initial response MAF has in place a number of forestry incentives in respect to carbon sequestration and its monitoring. Government ministers are encouragingly talking about promoting and recognising more practical forestry based scheme solutions including 'life of wood products'. This makes sense to farm foresters because we have always sought sensible resource based solutions to environmental problems.
Incentives needed
However there is an anomaly that needs a solution, for the greater good, within the above framework of new planning. Perhaps people wrongly perceive it as only a West Coast problem because it is only the West Coast who have the large resources of maturing private forest, which still have no restriction on clearing for other use. However the new Land Environments of New Zealand land cover databases will reveal that regenerating indigenous forest cover can be widespread on private land throughout New Zealand
For some reason, incentives and control mechanisms for retaining mature growing forests apply only to exotic forest species. That is apart from new financial planting, carbon credit incentives for owners and planting, young indigenous species into bare land.
The great bulk of privately owned native forest actively growing outside public conservation land falls through the cracks in this respect. It is an oversight based on the vagaries of the Kyoto process, but new New Zealand solutions are required. Our landowners should have the same carbon sequestration credit incentives that are available to others, to encourage permanent retention of regenerating, actively growing young stands, and mature indigenous forest. Because of the forest's diverse natures this will take a little more calculating and classifying, but that is what we have professional foresters and a world renowned School of Forestry for.
What a great boost such recognition would be too, for the practical implementation of the International Year of Biodiversity in New Zealand this year.