Down on the farm or forest
West Coast branch members, New Zealand Tree Grower May 2010.
West Coasters plant trees for pleasure, profit and keeping warm. An old adage here is − plant your first 10 hectares in radiata and you can put what you like in for the rest. Our reasons are that this handles a wide range of sites, is cheap and easy to obtain. It grows fast and so is a rewarding student by which to study forestry principles, needs and responds well to silviculture, is relatively free of pests or diseases and well supported by a high level of scientific research. Importantly, there is a guaranteed market for the products, both here and overseas, and there are a number of processing facilities scattered throughout the region. In short there is a guaranteed economic return... or at least some income.
That being said we are however, also a region with some of the greatest opportunities for growing special purpose species. With our long history of native timber milling, particularly of rimu and beech, we have had a sizable specialist milling industry and logging history. Apart from the newer big mills, some small sawmills still remain with skilled operators.
Careful siting needed
From 1928 our first exotic plantations were tried in the Mahinapua Experimental Forest, among native blocks near Hokitika, and we have been advancing from there. On better drained sites a variety of species including western red cedar and Lawson's cypress grew untended to produce sufficient older timber for commercial production. However, with our poor soils and often impeded drainage, we need to site species carefully.
For example, once the Lawson cypress site was harvested a crop of open grown blackwood was established. These failed because of the arrival of an attacking psyllid, now less important, and the poor nature of the site. All was not lost as in its place a good naturally regenerated crop of Lawson's cypress again appeared, suitable for retention and management.
We are all keenly trying a range of interesting species, and our challenge at present is to continue to visit tree stands of members, to observe and measure tree performance on various sites, and to encourage others. We also are beginning to take a closer interest in learning more about wood processing as the stands get older.
Opportunities
The good news recently is that we have obtained access to the detailed Crown Forestry planting records of the previous Timberlands West Coast estate. These reveal sizable young stand resources of 1,750 hectares of blackwood, planted from the mid 1980s, along with 4,230 hectares of lusitanica planted from the mid 1990s. These quantities would be suitable for the establishment of a base industry as has been done with sustainable private beech resources.
Opportunities are now available for plantings to build on this valuable timber asset base. A further 1,700 hectares of minor species have also been planted here, including eucalypts, some macrocarpa of variable health and other trial plantings. Additionally there are 1,360 hectares of variable age Douglas fir, along with the extensive main radiata crop, the plantings of both of which will continue into the future.
The following is a regional roundup. Those who have visited the West Coast on conferences in 1974 and 1994 may well recognise some places.
In the north of the West Coast
The warm climate and fertile lowlands north to Karamea are good for tree growing, but competition for land means that they are more favoured for dairying and horticulture. There are large native forests in all the mid and upper catchment areas of the Buller River. A main exotic pine forest area at Mokihinui Forest was originally intended to be a local supply forest but sizable wind damage occurred in a 2008 storm. Eucalypts, regenerating native forest and other woodlots are scattered along the coastal areas, amongst an increasing dairy pasturage. Planting of high quality timber species as horticultural shelterbelts and along the hill country edge would appear to offer the best tree opportunities.
Around Westport, the area is dominated by the continuing conversion of former Landcorp sheep and beef farms to dairying units in the Cape Foulwind area, including the setting aside as QE II covenant areas of remaining wetland and bush areas. A few trial blocks of radiata pine had been planted in the area, but these too are in the process of being cleared for dairying. Shelter forest rows do not seem to be a planning component in this wetter dairy country.
Just to the south, in the relatively infertile old marine sands and quartz sediments north of Charleston, Brailsford Forest Management has helped landowners in a number of areas to establish special trial management cypress areas, including regular aerial fertiliser application. Given the difficulty of establishing cypresses on other similar wet, poorly drained areas of the West Coast, a review of these sites in the near future will provide useful management guidelines. Local lifestyle block forest plantings will give the best indication of which tree growing future opportunities might exist.
In the centre of the West Coast
Along the warm wet Punakaiki coast, a land of natural nikau, northern rata and kahikatea forest, below the windswept beech and rimu slopes of the Paparoas, exotic forest lessons can also be found. Here, as anywhere adjacent to the coast, salt laden winds make eucalypts a poor choice, except perhaps inland for firewood.
Attractive native regenerating stands being considered for formal biodiversity protection were ravaged by the same devastating wind mentioned above, but they will recover and regenerate again as they always have. Shelterbelts along the toe of the slopes have benefited horticultural blocks, and adjacent are some surprisingly good looking wider spaced radiata pine stands, extending up on to the slopes.
There is a permaculture management style property close by, establishing production in virtually bare stream outwash gravel using a variety of species. The owner commented that he tends to be astounded at the high biomass production and soil building qualities of radiata pine, beating all others.
Typical tree mix
Noel Hardie's property is in the GreyValley.It was a cornerstone site visit for the 1994 conference to illustrate new planting techniques of V-blading and digger mounding, on pakihi land sites once considered too wet for conventional land uses. His early planted property of 77 hectare of exotic trees, with an additional 109 hectares of indigenous forest and some grazing areas, is probably typical of our tree mix.
There are about 37 hectares of 1980s radiata pine, 18 hectares of similar aged eucalypts and macrocarpa, and 26 hectares of younger 1997 radiata. Lessons have been learned here and elsewhere. On these poor sites, when the trees run out of nutrients, they just stop growing until they get some more and show the now characteristic lower green stem dieback and main trunk epicormic growth.
Jim Bushby, our former secretary and mentor for our local branch, has even larger planted stands located more on the hill country, a tribute to his vision and work. Many other planted private stands exist in this central area, and encouragement will be given to the owners to join the NZFFA.
Forests on the rolling hill country or older mining tailings sites are probably the best sites for future planting here on the West Coast, with greater tree stability, better drained and with more fertile rooting conditions. Some planting has taken place on general farm sites with variable preparation, but the trees never looked more than average, and these mid aged stands are all being rapidly cleared for dairying. Identifying shelter planting potential and terrace sites would seem the way of the future, to give a more traditional farm forestry model.
To the west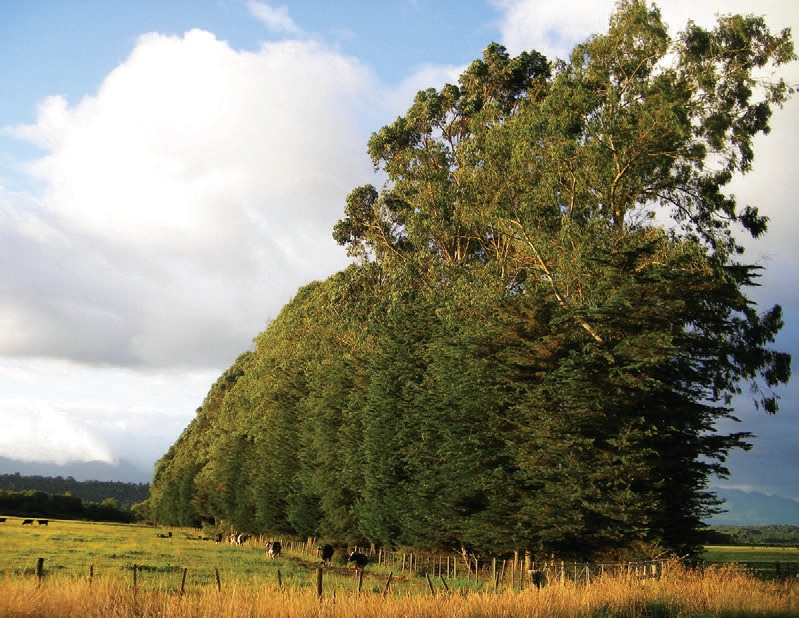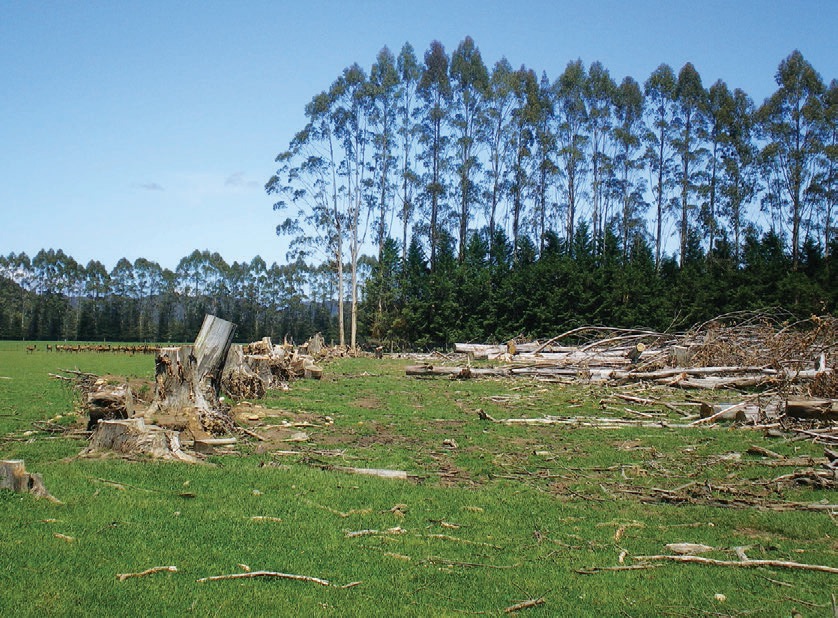 Ken Ferguson's family property, on terrace gravels at Waipuna up the Grey Valley, was another important site visit at the 1994 conference. On the family farming units he and his brother Mark have 2,000 hectares of extensive deer, beef and sheep developed pasture land. They also have 800 hectares of sustainably managed indigenous forest managed by detailed prescription over a 100 year management cycle. In addition there are now 25 hectares of hill and terrace edge pine plantations, with 20 kilometres of single row and multiple row shelter belts, particularly of Douglas fir, and a eucalypt and cypress mix.
Successful planting
The 1994 conference booklet site maps showed many of the Forest Research Institute assisted exotic agroforestry planting trials for the area. These and regular stands of 60 hectares planted in the early 1970s have now mostly been evaluated and felled, then returned to farmland.
The mixed shelter plantings have been mostly successful but the flats are not really suitable for radiata, as they are too prone to blow over in a storm. Even a mixed eucalypt/cypress shelterbelt around a trial site blew over once central trees were removed. However hill country and terrace edge sites, especially of Douglas fir, appear to be productive and stable.
Ken is planning some new exotic planting soon to tidy up sizable areas between his new Significant Natural Area designations and other native or exotic forested areas. These will probably be more longer lived species including conifers such as Douglas fir and redwood. They will possibly be managed on a continuous cover forestry system which could be integrated easily with sustainable beech management harvest.
Eucalypts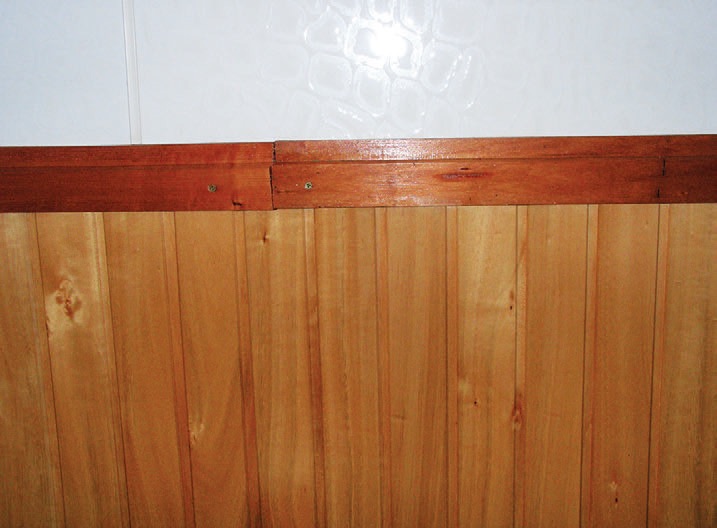 One of the species which has been quite widely planted on the West Coast is Eucalyptus nitens, but for timber stability quite large diameter trees need to be grown. This species, one of Ken Ferguson's trial block plantings, was illustrated as the cover photograph of the May 1994 Tree Grower.
One of these trees was taken to Christchurch for veneering, and is now the feature timber in scientist Dudley Franklin's new home. An enterprising move by Ken resulted in the remaining stand being processed into further veneer material by the same firm, Gunn's Veneers of Christchurch, and exported to Australia and sold under the generic name of Tasmanian oak.
Eucalyptus fastigata is another good species for the West Coast, and with its large masses of yellow flowers in spring is attractive to birds and as a forest feature.
The photograph below shows panelling in the home of Susi Thompson shows locally grown and milled E. regnans together with red beech.
In the south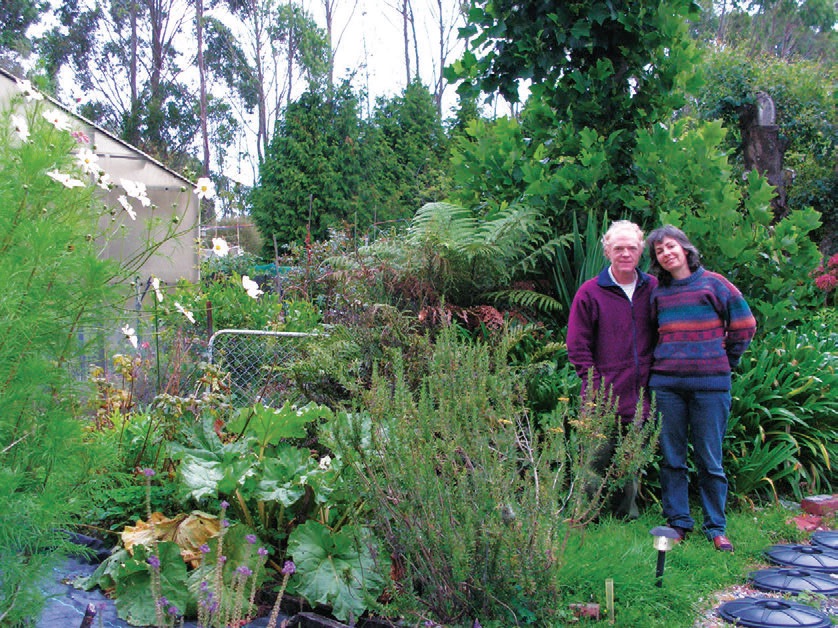 West Coast farm foresters Susi Thompson and partner Rob Danford are continuing to enjoy their property at Stafford Loop Road near Hokitika. This property was initially featured in the Tree Grower seven years ago with photographs revealing all stages of development of a bare West Coast site.
Now some 20 years on Susi, also with a nursery management background, brings in the non-farm income from teaching while the trees mature. Rob a nurseryman, originally from North Carolina, brings a wide range of horticultural and tree growing experience including organic gardening and permaculture, landscape design, heritage fruit trees, tree crops and plant breeding. Rob is currently testing tree crops to find varieties suited to West Coast conditions.
Variable results
Of the main species, the GF17 radiata pine planted in 1992 on V-blading, has been thinned to 500 stems a hectare and pruned to an average height of seven metres. This is a high stocking based on the desire to retain all good trees.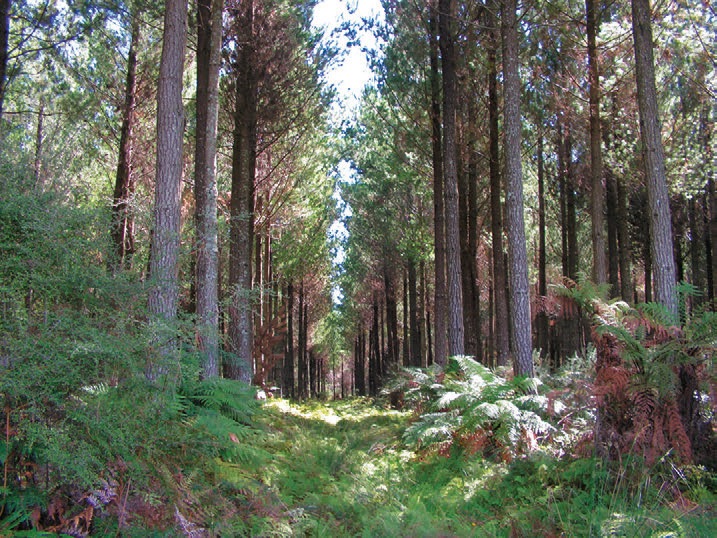 Of the eucalypt species, Eucalyptus nitens has grown spectacularly on well drained sites, while E. ovata has handled the challenging less well-drained sites and has been described as having superior firewood properties. Results from the cypresses have been variable. Low natural site fertility and a high water table have hampered growth on both the digger mounded and V-bladed sites. Western red cedar and Japanese cedar have grown well in places, but lusitanica has been less successful because of a difficult site.
The first plantings of blackwood on unmodified pakihi are 22 years old now – stunted and of poor form. But plantings on drained, sheltered sites with improved fertility show the potential for blackwoods. A regular pruning regime would have been better.
New Zealand has adopted many western United States trees but Rob notes that there are many timber trees from the eastern United States that remain less well known here, but which may be suited to our conditions. Examples include tulip tree, black locust, swamp white oak, black spruce and American larch.
Tree nurseries
With the unfortunate death of David McIntosh a few years ago, and closing of the former Timberline Nursery, just one forest planting orientated nursery remains in the region. But his enterprise and work grows on in the large number of sites planted and tended, using trees grown here or supplied by him. Bulk exotic trees are now more likely to come from Appleton's Tree Nursery in Nelson, Southern Woods or Rangiora Tree Nurseries in Christchurch, or Oregon Nurseries in Oamaru. Ben Gaia, with many years of experience in West Coast tree planting and management, including horticultural crops, runs his local tree nursery at Ruatapu, just south of Hokitika. He is available for consultation, and as with most of us also has his own forestry managed properties.
He also has forestry species available for supply, an on-line tree nursery called Dial a Tree, undertakes forest contracting work, and is regular columnist in the Canterbury Farming magazine.
Local sites on the West Coast
Brent and Maria Robinson's property south of Hokitika, and Michael and Janet Orchard's properties to the north also both featured in the Tree Grower in February 2003. Revisiting properties is of great importance for farm foresters, to continue observations and update the mental picture. Sharing is helpful, often providing new solutions or the incentive to get back into the forest for further work.
Lost in gorse
At the Robinson property, on thin soiled hard glacial country on a rocky terrace base, the now over 10 years old lusitanica were steadily growing with good form, but were lost in a sea of gorse and manuka.This situation made the trees virtually inaccessible for management, and with the ties of young family time constraints meant the block at times may have seemed more of a liability than an asset.
Suggestions made on a local farm forestry field day were that a mulching mower could be used to improve access because the site was flat and hard. Precise row spacing meant little risk of side damage to the trees. This was done by the owners and now that you can see the trees the simple but effective prescription is to just go out to select and prune the bigger ones, or shape correct others. This means half can be left till they get bigger, and all effort from whatever time is available can be put on to the best crop trees.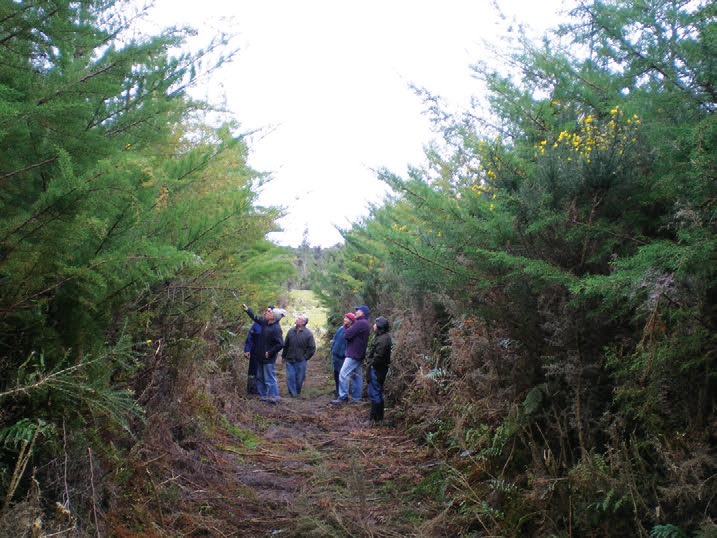 The additional advantage is it is just 100 metres from the house, and as the young family grows with the trees a potential future on-site labour force may result. Sites such as this, while good for house views, can be hard for trees and any organic material source or fertiliser available should all go towards helping the soil building process. The native trees adjacent look quite healthy, and while this forest rotation will be long term, the trees should become an attractive family parkland, with tree value to add, and the potential to thin and manage more on a continuous cover basis.
Dense radiata stands
Similarly at the Orchard properties, life and growth beside Fox Creek at Arahura continues. The trees on this quite productive site, like the Thompson property, are dense standing at over 600 stems per hectare, as they were never able to been thinned. It is considered too late for this now although fully pruned, and so will be kept to maintain all essential wind stability, and with the hope that some markets will exist.
Upper log branch control is good, the trees are quite widely spaced and sizable in places, with some natural selection of dominants also taking place. With three different owner properties side by side all treated to a different regime, observation and measurement of these stands will be an interesting exercise.
Wind stability, especially on these former pakihi terraces as the trees grow larger, is becoming an important factor for consideration. Wind effect can be local and devastating, worse after a prolonged wet spell, but most stands survived the recent big blow relatively unscathed. Whilst most of the tress are well used to and wind hardy against the frequent north westerlies, it was an unexpected easterly blow that caused some damage.
On the Orchard property only a few trees were toppled, with occasional individual scattered tree snapping, often at a node, being more common. This has occurred occasionally at random since day one, and so the loss of a few trees each year is to be expected. This is one of the reasons for retaining a high stocking, giving a more natural forest effect and ensuring replacement trees are available.
Another previous forest of 10 hectares further inland at Kawhaka, established as a joint venture, has been sold to a new owner. This has been a beneficial and rewarding experience all round, establishing many working friendships and pleasant days out. Without such combinations of land and expertise, this site would have remained unplanted. The new owner, Todd Stewart, is enthusiastic and was able to contribute new resources and finance to complete the silviculture and roading development. Funds released from the investment in the site were then be used to prune another site, and undertake important access roading.
Poplars and willows
Poplars are another species and timber with potential, given our frequent mixes of farming and forestry sites, and backed by previous research from the Plant Materials Centre at Aokautere, near Palmerston North. A number of selected new timber species tested on local forestry sites were quite disappointing, especially where it was wet. But the same species grown on the deep river silts of the Orchard property horticultural section on the banks of the Hokitika River have become impressive large fast growing trees.
If only we could get more farmers interested as we have a multitude of such rivers and edge sites adjacent to dairy pasture and similar farmland on the West Coast. New low stature non-spreading willow varieties are available and help river bank sediment trapping, land build up and edge stabilisation. A range of shelter stand varieties is also available, and both polar and willow can usefully be cut for foliage to provide extra palatable stock food in times of shortage.