The Kargan story
Gary Blake, Rob Aspen and Alan Milne, New Zealand Tree Grower May 2009.
In 1965 two young engineers and a hydrologist employed by the Ministry of Works and Development out of Whangarei became involved with a group to plant trees on gorse covered gumland soils near Kaitaia. The land sold at 30 shillings an acre to someone with pastoral interests, and the engineers and the hydrologist transferred to Wellington.
The idea
The desire to plant trees did not go away, and in 1969 Kargan Forests Ltd was born with the purchase of 61 hectares in the Waikanae river catchment north of Wellington. The initial purchase was 20 hectares, the balance achieved with purchases from neighbours. It was moderate to steep, scrub covered hill country backing on to the Tararua Forest Park, parts of which Odlins were still logging at the time. The land was known as Carter's farm and had previously been cleared for pasture.
The directors were Keith Chandler a forester, Alan Milne a surveyor, Rob Aspden an engineer, Gary Blake a hydrologist, and Alan Chandler and Nick Rogers also engineers. The directors were ably supported by the shareholders namely their wives Catherine, Mary,Anne, Rosalie, Pat and Margaret.A total of six families seemed a good number and this is what it proved to be.
Now after over 37 years, the team approach has carried us through without disagreement and there was always somebody available to do what was necessary. If the company was to be formed today I am sure there would be female directors.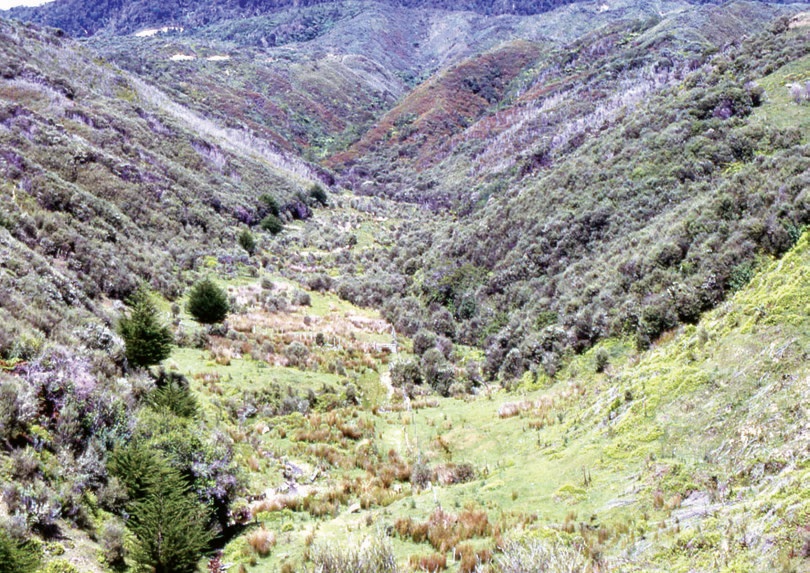 The land
We paid $92 a hectare for $5,650 worth of land. Each family had to find $1,000 which was not an easy task. Our average age was around 30 years and we all had mortgages and toddlers. Kargan became our weekend sport. We quickly learnt that when clearing scrub and you feel like a beer, do not try it in the middle of the day.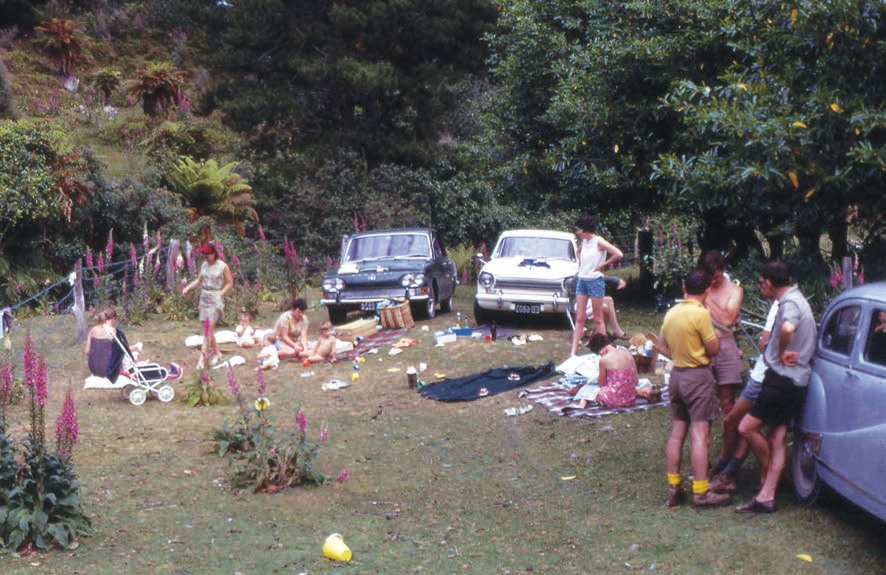 Without the Forestry Encouragement Grant Scheme Kargan would not have happened and the current Afforestation Grant Scheme could learn something from this. We contributed labour for which half was reimbursed. This provided us with a cash-flow over the first 11 years of forest establishment. We were also close to Ivan Frost and colleagues in the Forest Service head office which allowed us to help fine tune the Grant Scheme.
Site preparation
Access crossed ridges covered with regenerating scrub and the more advanced forest regeneration in the gullies, which was not planted for all the good reasons. We figured, with Ivan's help, that a part time forester could look after no more than 10 hectares and so we would manage 61 hectares on a four year rotation with six labour units.
Initially the land clearing seemed an impossible task but where one person may have given up, a team keeps going. We cut fire starts around the edge of small catchments and while we only had to prepare for the first year we did have to think about the implications of future burns.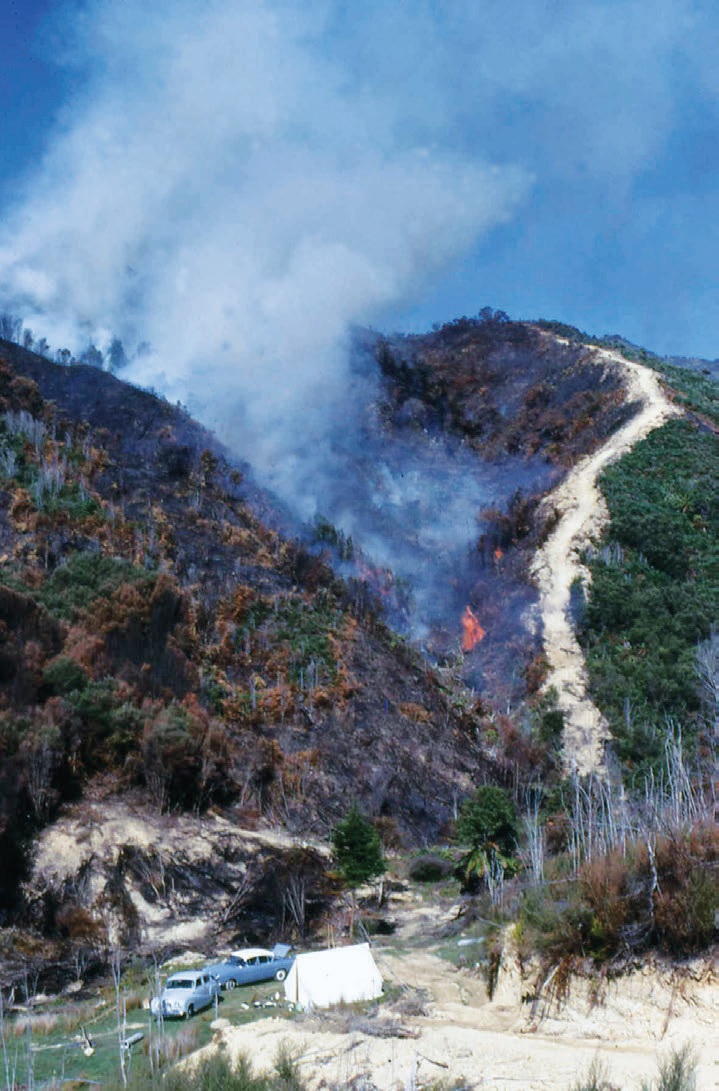 The apparatus was one person with the diesel knapsack and one with the torch lighting the fire start and in nearly all cases the conflagration burnt into the catchment centre. We had one or two little excitements and ended by burning the property in two major burns along with a little of a neighbour's to avoid damaging our tree plantings and those of neighbouring forests. We burnt during a dry period and we were amazed to note how easily fire gravitates downhill on steep slopes through dry forest litter, and how fire can burn through hard grazed pasture by consuming the top soil.
Planting
In 1970 vehicle access was virtually non-existent. But track development advanced as required to a point where we had a skyline hauler and logging trucks operating from the rear of the forest.
Initially we walked or wheel-barrowed trees for planting before purchasing a Ferguson tractor which greatly helped. The forest was divided into 11 compartments. GF 19 radiata pine seedlings were planted at 1,000 trees per hectare and released. They were thinned and pruned to 500 trees per hectare in about year five with a final thinning to 200 trees per hectare and pruning to six metres around year 10. Bracken was a major releasing problem and chainsaws and handsaws were used for pruning.
Other plantings included Douglas fir, eucalypts, blackwood and poplars. There was then no encouragement to plant natives and we used phosphorous jam to control possums which mainly liked to eat the poplars. Semi-feral Perendale sheep were always present to be rounded up weekly but they did little damage to pine seedlings.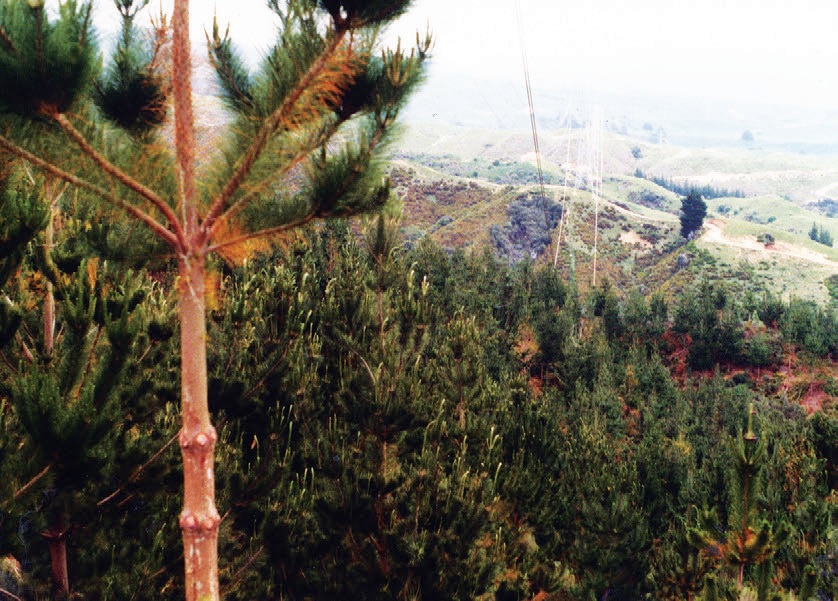 Logging after 20 years
The years after pruning and thinning provided the opportunity to look back and feel satisfied with what had been achieved. By 1990 the benefits of planting forests using the Forestry Encouragement Scheme were starting to show. The question was what to do with our trees at harvest if we were not within reach of a log export port or relevant sawmills.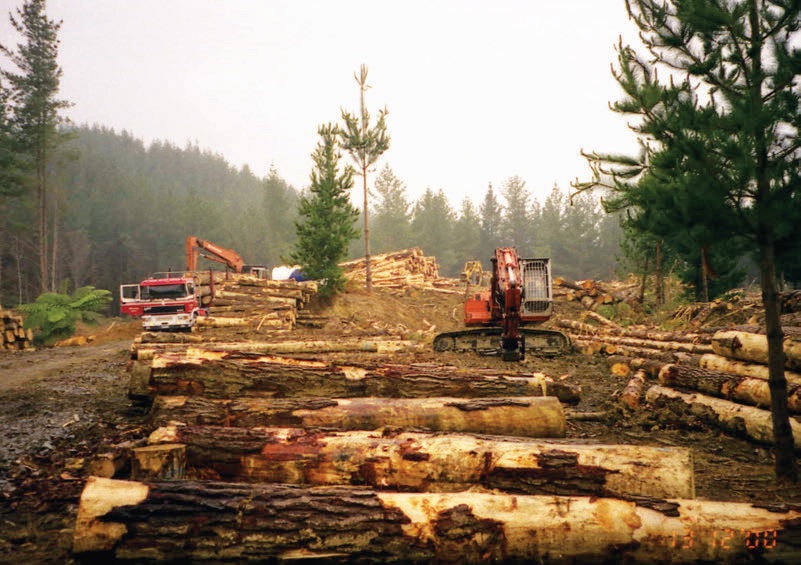 The lower North Island was saved by Rayonier's desire to see a log port established at Wellington. Kargan was asked to contribute logs to a pool of logs from the Horowhenua and Wairarapa regions to fill shipments. We agreed to supply 20 hectares of 20-year-old trees which were combined with older trees from the extensive forest east of Levin for the Korean market. The logging was carried out with rubber tyred skidders rather than skyline hauler and slope damage was considerable.
This provided Kargan with an earlier cash flow.The logged area was replanted with GF 19 trees using contractors. Replanting of a cutover pine forest is a debatable activity. Family members spent hours trying to release the planted trees from the accompanying regeneration.
Logging road
Mangaone road provided a satisfactory access to the forest from Waikanae with a new bridge and tight sections improved to the satisfaction of property owners. Initial access to the forest was a small track alongside a stream. Our engineering expertise then sited a more permanent zig-zag access up the steep front face which allowed car access to the base hut.
By the time logging started in 1990 the track was upgraded with extensive earthworks to pass logging trucks. This exercise consumed $84,000 of company funds which upgraded the road to the hay paddock, about 1.5 km. Further roading was carried out by the logging contractors at a cost of around $60,000.
The task was made easier by the greywacke geology which, although well weathered, provided a strong base for trucks. River gravel was placed in soft spots. If at the beginning when surveying the surrounding Waikanae district more thought had been given to the lie of the land or river catchment, Kargan's access problem would have been easier. Neighbours also made use of the road to extract their logs.
Another disruption was a request to site a 220 kva electrical conductor between Wellington and Palmerston North through the forest. Kargan was part of five other forest neighbours totalling 250 hectares and this represented the largest private forest to be involved to date. Much discussion took place and we were eventually compensated $5,000 for loss of land and trees to pylon sites and clearance for the conductors. Radiation implications were not considered important.
Was it worthwhile?
| Income | |
| --- | --- |
| NZ Forest Service Grant | $30,230 |
| Shareholders' loans | $49,900 |
| Christmas trees | $1,742 |
| Log sales | $985,899 |
| Land sales | $495,480 |
| GST refunds | $184,659 |
| Total income | $1,662,922 |
| Expenditure | |
| --- | --- |
| Land purchase | $5,650 |
| Forest work | $115,201 |
| Tracks | $86,681 |
| Accounting fees | $58,689 |
| Shareholders' refunds on | $116,091 |
| loans and interest | |
| Dividends to shareholders | $791,095 |
| GST to IRD | $143,588 |
| Tax to IRD | $328,831 |
| Total expenditure | $1,662,922 |
The company has meticulous records thanks to Rob and here are some details of income and expenditure.
We made some money. Our wives had hoped for more and I think we all felt the returns did not reflect the enormous amount of effort involved. The taxation issues occupied our minds. We spent a considerable amount of time discussing co-operative arrangements with other forests and in the 1980s we purchased a post peeling unit to try and add value to our product. Low post prices at the time did us a favour.
With regard to tax we did not do well because the majority of our expenses, apart from the logging, were incurred in the 1970s and were only offset against income in the 1990s. This was a drawback to being a company.
Keith, our forester, declared Kargan to be a very good hobby. For 37 years it kept us off the streets at the weekends and six families stayed together without a crisis. We decided to sell the forest rather than try and pass it on to our many children who are all doing their own things. The government certainly invested well in Kargan but by the same token, without the Forestry Encouragement Grant, Kargan would never have happened.