Integrating trees with high productivity irrigated dairying
Harley Gray, New Zealand Tree Grower May 2006.
Pencarrow is a 207-hectare dairy unit running 730 cows producing 313,000 kg milk solids. The farm is owned by Andy and Tricia Macfarlane. Andy has his own farm consultancy business, so share milkers are employed.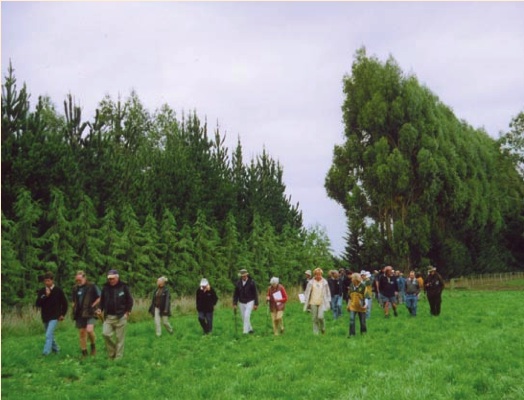 The principal operational objectives include environmental, aesthetic and landscape values with a long term vision. There are financial imperatives too. The farm is close to Ashburton and there is pressure to subdivide, so an income goal of $6,000 a hectare has been set.
Tensions between trees and irrigation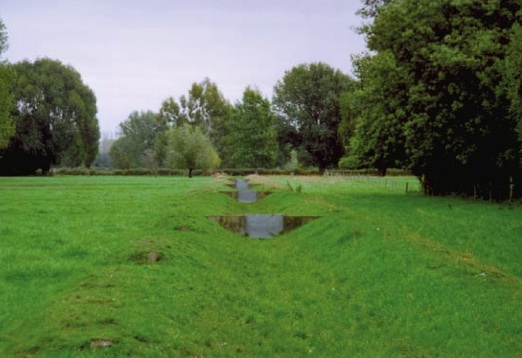 The farm illustrates the tensions between the need to provide shelter and the requirement for as much open space as possible to accommodate modern mechanical irrigation systems. Irrigation is the life blood of all farming activity at low altitudes in mid Canterbury, and several methods are employed on this farm. Centre pivot irrigation is the most efficient system in terms of water use, border dykes are energy efficient but labour intensive, and K Line sprinkler systems are even more so.
Border dykes are also vulnerable to water restrictions which have the potential to be crippling. Solid set lines are used under trees at Pencarrow. Some criticise the wasteful use of water of large mechanical irrigators, but as Andy pointed out, an annual power bill greater than $100,000 is a strong incentive for carefully planning your water use.
Effluent disposal an important issue
Effluent disposal is an important issue. On 45% of the farm, effluent mixed with fresh water is spread by rotorainer. Cows can be returned to these paddocks within two days compared to the 20-day delay when conventional spreading is used.
A range of shelter designs
The nor'wester is the most feared wind in Ashburton, but the cold south wester is also a major hazard. In general the traditional double row wind break system used in mid Canterbury is employed. Designs at Pencarrow reflect an awareness of the need for much denser, impermeable shelter to protect stock from cold southerly winds, and more porous shelter to combat the hot, dry nor'wester.
Typical east/west lines are eucalypts, Eucalyptus nitens, and Leyland cypress planted at the same time. In the north/south lines, eucalypts are planted two years later. Radiata pine and flax as well as poplar and flax are some of the other combinations used. Poplars are used alongside raceways because their deciduous nature means less winter shading, allowing faster drying of races and less pugging damage.
The two-row shelter philosophy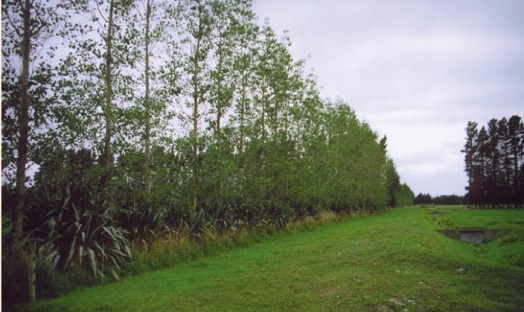 The traditional philosophy with the double row system is to plant the slow growing trees to windward. These are planned as the main long term break line. They help to ramp the wind up over the leeward higher trees, and will provide some strength to the latter's windward roots. They will also have been hardened by exposure to the wind rather than being sheltered by the faster growing trees. At other farms this view was challenged, particularly where eucalypts deprive the partner species of nutrients and water. A case will be made in other reviews below for planting a single definitive row from the beginning.
A parkland setting
This is a beautiful farm with great shelter and world class productivity, and the owners obviously derive great satisfaction and pleasure from the environment they have created.
At our first stop there was an impressive array of deciduous midpaddock shelter trees which were aesthetically pleasing and created a parkland setting. The sharemilker felt that the stock were happier in this area. However, there is a clear need for data on the effect of shelter on productivity. Surprisingly this does not seem to be available. With the advent of more centre pivot systems it may be possible to compare dry matter and milk solid production in farms with similar irrigation profiles and soil types with significant differences in shelter. Morning tea was provided near a most impressive 50 bale rotary shed, surrounded and well-sheltered by native plantings.