Growing a new hardwood industry is not just about planting trees
Paul Millen, Clemens Altaner and Harriet Palmer, New Zealand Tree Grower February 2020.
In 2020 the NZ School of Forestry celebrates its 50-year anniversary. The School of Forestry was established in 1970 to educate professional foresters needed to expand and develop New Zealand's forest sector and this continues today.
There have always been strong links with industry supporters who offer diverse academic and work experiences for students. This ensures graduates can gain the experience and skills that the industry needs to continue in the long term. Over the past 50 years the School of Forestry has also built up an impressive research capability which is recognised internationally and attracts high-calibre staff and postgraduates from all over the world.
One current and very productive collaboration is between the School of Forestry and NZ Dryland Forests Initiative. Two alumni of the School of Forestry, Shaf van Ballekom and Paul Millen, are chairman and manager of the project respectively. Shaf and Paul would be the first to acknowledge the major contribution the School of Forestry has made towards the vision of developing a sustainable hardwood industry.
Working together
The genesis of the NZ Dryland Forests Initiative goes back to 2003 when Paul Millen and his brother Ash recognised an opportunity to provide naturally durable posts to the Marlborough viticulture industry. They began planting trials of a wide range of durable eucalypt species with the help of university colleague Shaf van Ballekom.
Shaf is the managing director of Proseed NZ Ltd, New Zealand's major supplier of forestry tree seed. Proseed undertook seed collection in New Zealand and Australia to provide the initial range of species identified
as having most potential on dryland sites.
Shaf also suggested that Paul visit Professor John Walker at the School of Forestry who had been their wood science lecturer. Professor Walker was head of the Wood Technology Research Centre at the School of Forestry. He was becoming increasingly concerned about the New Zealand forest industry's reliance on a single, relatively low value commodity species – a view he shared with his students. Therefore he was keen to
support an initiative focussing on high-value hardwoods.
This offered the opportunity for the School of Forestry academic staff to design and undertake a tree improvement and forestry research programme with wood quality as a main element. This was quite novel as until then many tree breeding initiatives had concentrated only on traits such as growth and form.
The first colleague Professor Walker called in to help was Luis Apiolaza, lecturer in tree genetics who had worked on eucalypt breeding programmes in his native Chile. At the time, Luis was also working with John on
a breeding programme to enhance wood quality for the Radiata Pine Breeding Company. Together they were able to rapidly design the NZ Dryland Forests Initiative breeding programme and this is now on track to produce the first improved nursery stocks in 2021.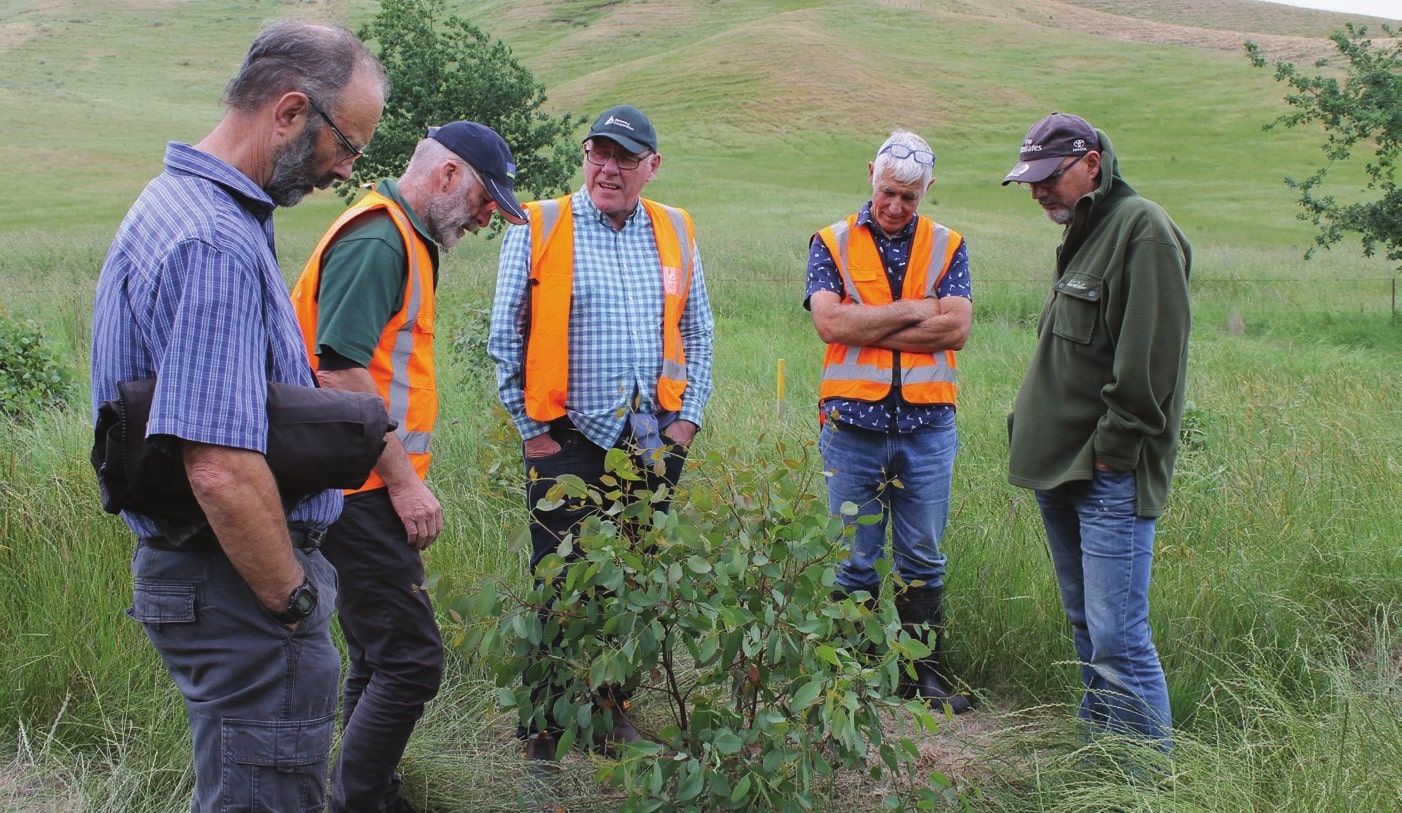 The science team and the School of Forestry
Since its formal launch in 2008, the NZ Dryland Forests Initiative has operated with an integrated science team that works on the underlying research which is fundamental to their objectives. This team is currently led by the School of Forestry's Clemens Altaner, with the support of Professor Bruce Manley. The team includes several other academic staff, specialist consultants and Proseed NZ staff.
The overall aim is to build sustainable regional hardwood industries based on high-value durable eucalypts grown to produce −
Ground durable timbers predominantly for the agriculture and viticulture sectors
High stiffness veneers for structural engineered wood products such as laminated veneer lumber or LVL.
For this to take place a broad-ranging strategy needs to be implemented. At the heart of this is the production of superior planting stock of good genetic diversity which must grow to produce durable wood with desirable properties. Land owners need to know what species to plant where, how fast the trees are going to grow, what the timber will be worth and also be confident that their trees are at low risk from pests and diseases. All this translates into the science team's five main research areas.
Integrating students into a real-life research
Forestry students at all levels are involved including a significant number of PhD students, supervised by the academic staff in the science team. Research projects are planned to ensure the science remains relevant to the overall picture. The NZ Dryland Forests Initiative benefits from other resources which are all part of the School of Forestry's research capacity, such as support from skilled technicians, as well as equipment, laboratory and workshop facilities.
The School of Forestry benefits from having access to a wide range of well-maintained trials and working on an internationally distinctive research programme which has potential to augment the forest industry as
well as creating novel fundamental understanding of tree growth. Outside funding for research has come from a variety of sources including industry, regional and district councils, Agmardt, the MPI Sustainable Farming Fund, the Neil Barr Farm Forestry Foundation and the Specialty Wood Products Research Partnership.
| | School of Forestry input | Main research areas | Other researchers |
| --- | --- | --- | --- |
| Genetics and tree breeding | Dr Luis Apiolaza | Design of sustainable breeding programme including trial design and management | Paul Schroeder, Dr Ruth McConnochie, one PhD underway |
| Wood science | Dr Clemens Altaner | Heartwood formation, quantity and quality; growth strain, processing options | Three PhDs completed, two underway |
| Productivity and growth modelling Site and species interactions | Prof Euan Mason Dr Justin Morgenroth | Trial site analysis to develop growth models and species management guidance for landowners | One PhD, one MSc completed, one PhD underway |
| Tree health | Dr Tara Murray | Identification of insect pest threats, relative tolerance between species and families, and managements strategies to reduce risk | One PhD completed, one underway |
Current research students
The first group of six PhD students who were part of the collaboration have all now successfully graduated. Following in their footsteps are five recent additions to the research team.
Daniel Boczniewicz is a fourth generation forester from Poland whose PhD studies focus on modelling stem properties of durable eucalypts. This summer he has planned to complete felling and analysis of the heartwood and sapwood of at least 100 E. globoidea trees from mature and semi mature stands in several regions. From his data he will develop equations for main stem properties including whole-tree taper, heartwood taper, heartwood and sapwood volumes and bark thickness.
A second component of Daniel's research is to explore the links between heartwood development and the trees' growing environment. Initial assessments have indicated that there are likely to be some significant links between site factors and how heartwood develops.
Ebenezer Iyiola is from Nigeria and has a master's degree in wood technology. Ebenezer's PhD research is on E. globoidea wood properties including the genetic correlation between key traits and optimising the sampling intensity of breeding trials. Sampling is one of the most resource intensive aspects of research into wood properties.
Ebenezer took core samples from an eight-year-old E. globoidea breeding trial in the Wairarapa. From analysis of the cores he was able to calculate the heritability of traits including heartwood diameter and extractive content. He then identified some of the top-performing E. globoidea families which rate highly in both traits. He concluded that there is large genetic variability for the traits studied, and they are highly heritable. This is good news for tree breeders who can now incorporate the best families into future breeding plans.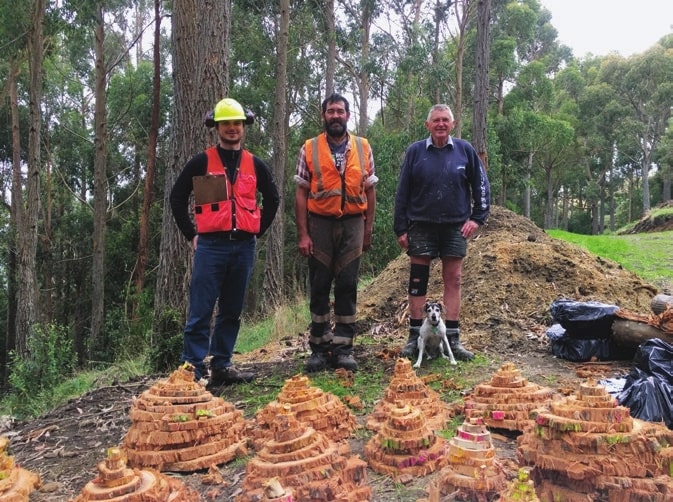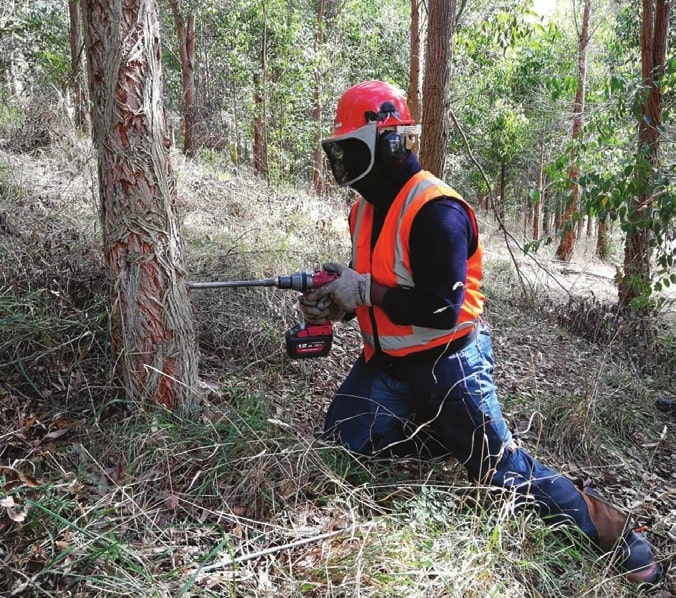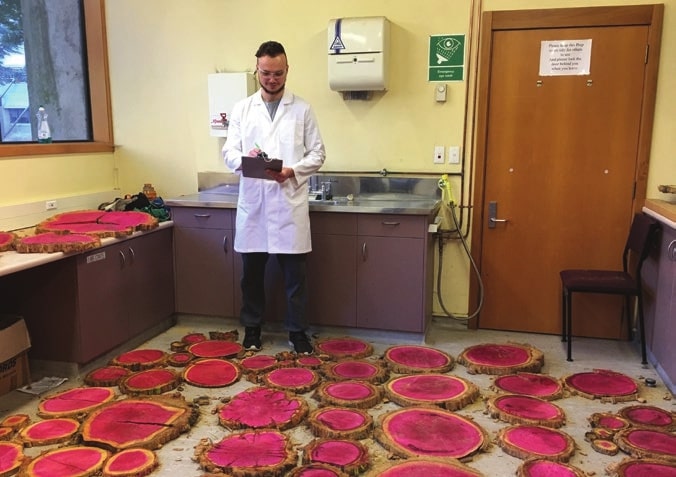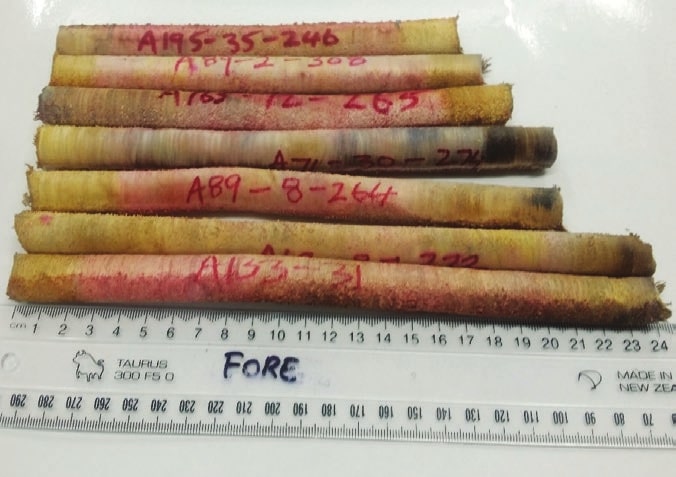 Seoljong Kim is from South Korea. His PhD is a genomic and taxonomic study of eucalypt species. One of the main research areas is to describe the differences between two closely related species, E. argophloia and
E. bosistoana. Seoljong is working with an international initiative to develop an improved version of a high-throughput single nucleotide polymorphism genotyping system for eucalypts. This describes the genetic make-up of trees in great detail, and can be used for future genomic selection in breeding programmes.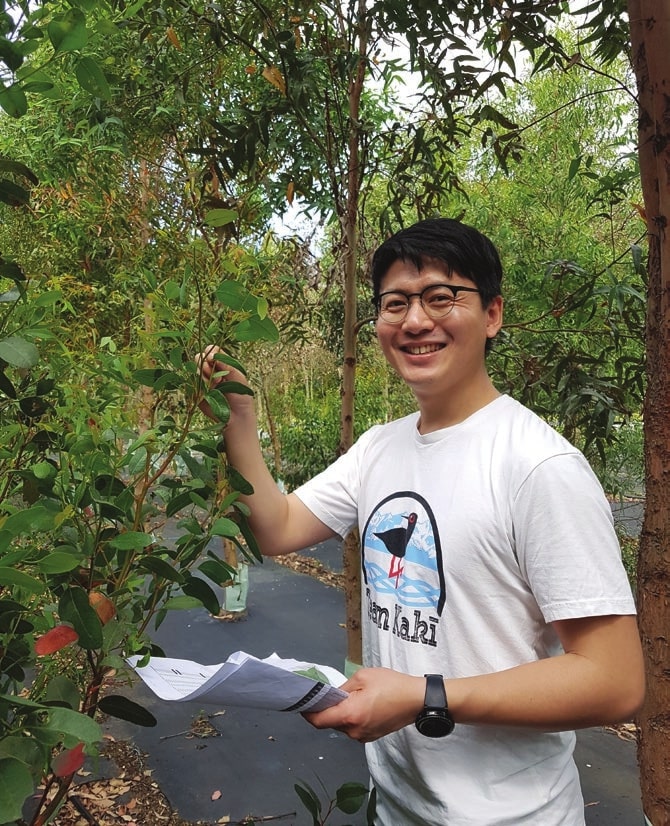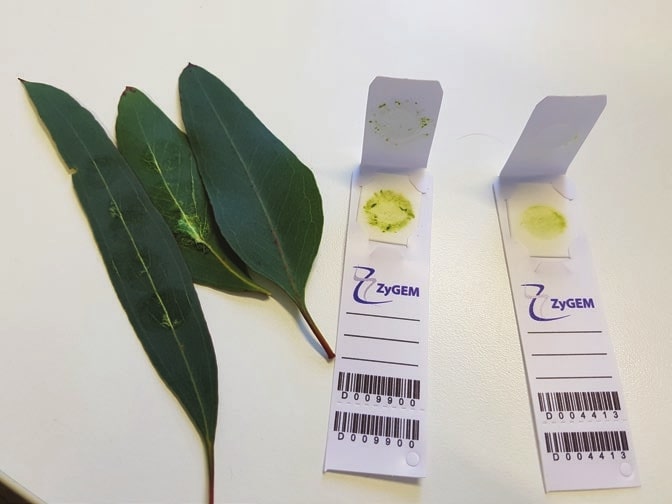 Chamira Rajapaksha is from Sri Lanka where she is a lecturer at the University of Kelaniya. Chamira received a Sri Lankan scholarship to carry out her PhD at the University of Canterbury. She comes with knowledge of natural compounds and the analytical techniques of extraction and identification of these compounds.
Chamira's work will contribute to assessing the potential for essential oils as a by-product of a durable hardwood industry. A second important aspect is to research whether the oil content of leaves is related to the level of insect pest damage.
Chamira has been sampling E. bosistoana each month since March 2019 and analysing the oil content of leaves, assessing in particular the amount of 1,8-cineole, the key essential oil component in eucalypts. She has found that the amount and quality of essential oil in E. bosistoana is comparable with E. globulus, the main global eucalyptus oil resource.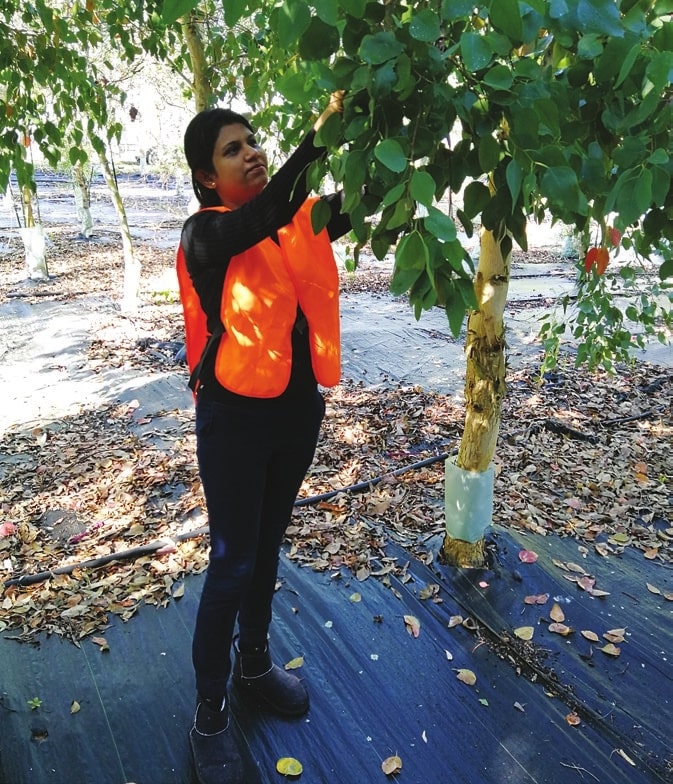 The results of an initial analysis of total essential oil content

| Species | Total oil in micrograms per litre | Percentage 1,8-cineole |
| --- | --- | --- |
| E. bosistoana mature | 7.78 ± 2.91 | 57.1 ± 4.16 |
| E. bosistoana young | 11.01 ± 2.16 | 41.1 ± 8.29 |
| E. argophloia | 1.4 ± 0.61 | 0 |
| E. quadrilangulata | 6.1 ± 0.92 | 16.8 ± 1.2 |
Leslie Mann from Switzerland is in the initial stages of research into eucalypt defoliation by paropsine beetles including Paropsis charybdis and Paropsisterna variicollis the eucalypt variegated beetle. One of her research areas will be in the use of drones to monitor and assess pest defoliation, as well as looking into the heritability and site effects of pest tolerance. Leslie's first challenge has been undertaking field work during the 2019/20 summer, hoping she can time her presence at trial sites to match that of the pests she wants to study.
Leslie will be building on the work of Dr Huimin Lin, one of the first PhD candidates, who looked at the susceptibility of different species and more specifically, different E. bosistoana families, to defoliators including the newly arrived eucalypt variegated beetle. Huimin's research identified some families in the eucalypt trials which are more tolerant of insect pests than others.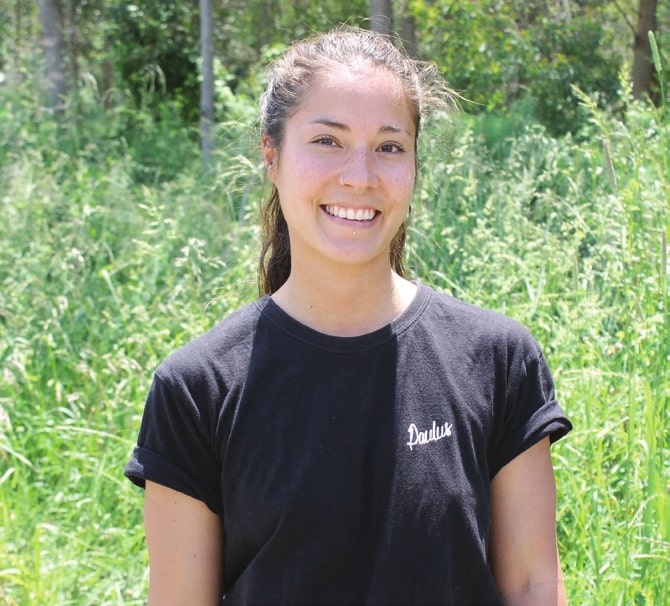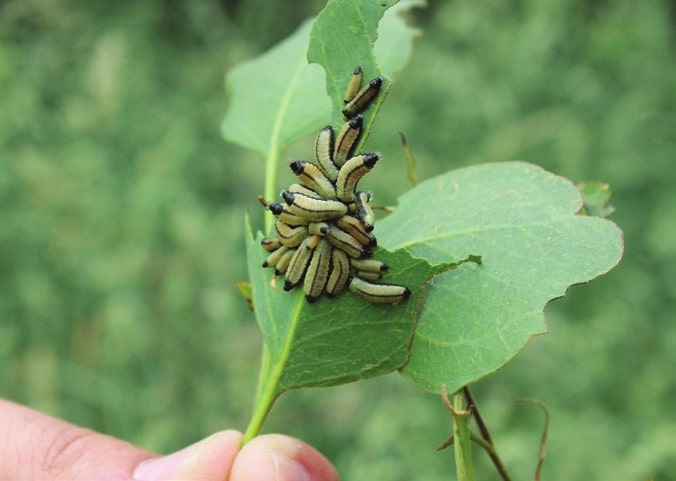 Opportunities for undergraduates
Up to 40 undergraduates enrol for the forestry science degree each year. All undergraduates can link up with the NZ Dryland Forests Initiative for project work, including finding topics for honours theses. One such thesis was completed in 2019 by Lisa Nyugen, entitled 'Assessing the wood properties of two-year old Eucalyptus tricarpa'. Lisa is now working as research assistant at for the School of Forestry. Other recent
undergraduate projects include an assessment of the agricultural post market, a study of machines which make posts, and a business case for laminated veneer lumber made with eucalypt timber.
Students are regularly offered the chance to help with NZ Dryland Forests Initiative research fieldwork and around 30 students were acknowledged as having contributed to a recently completed Sustainable Farming Fund growth strain study. Many of the undergraduates have taken jobs with companies who host trials or are otherwise involved with the NZ Dryland Forests Initiative.
Extending the reach
A further result of the involvement with the School of Forestry has been the widening scope of research being undertaken such that it now involves scientists from other university departments and science organisations in Christchurch and beyond when specialist skills are needed. This brings new perspectives and ideas into play with examples including −
Callaghan Innovation especially Lan Le-Ngoc, who played a big part in developing the lightweight battery-powered coring tool used for coring young trees to assess heartwood development
Department of Biological Sciences Pieter Pelser a plant systematics specialist and currently joint supervisor for PhD candidate Seoljong Kim
Department of Electrical Engineering Bill Heffernan and Nurzhan Nurzultanov who have designed an electronic tool to measure sapwood depth in standing trees
Radiata Pine Breeding Company which now has an office in the School of Forestry, enabling on-going collaboration with geneticist Luis Apiolaza.
Inevitably the combined work of the School of Forestry and the NZ Dryland Forests Initiative has also resulted in many international connections. Three international workshops have been held since 2009 and academics have close links with scientists and industry working on hardwoods and timber properties from Australia, Japan and Germany, as well as growth and modelling specialists in Sweden and the USA. The School of Forestry is establishing a reputation as a leader in durable wood research, and this is reflected in the quality of PhD candidates.
Summary
As a result of working closely with the School of Forestry, the NZ Dryland Forests Initiative continues to make good progress with the first improved material becoming available in 2021. This is only a start towards giving future growers confidence in durable eucalypts. Even a well-researched species such as radiata pine is far from completely understood and will be actively researched for the foreseeable future. The School of Forestry will continue to work with NZ Dryland Forests Initiative and durable hardwoods in this research initiative.
This article aims to highlight the contribution which the School of Forestry has made and continues to make in training the next generation of young professional foresters. It does this by integrating teaching and research, and working within the forest industry. Staff and students make a significant contribution to the forest industry in general and the NZ Dryland Forests Initiative in particular. We look forward to the next 50 years.
Paul Millen is NZ Dryland Forests Initiative Project Manager, Dr Clemens Altaner is Associate Professor of Wood Science, School of Forestry and Harriet Palmer is an independent forestry communications specialist.