Riparian planting - Tips and tricks for maximising success
Clare Ridler and Lucy Ferguson, New Zealand Tree Grower February 2019.
This article was first published in Indigena in 2018.
Riparian planting has a wide range of benefits for both waterways and ecosystem services. These can include the following −
Providing shade which reduces water temperature, algae and macrophyte growth
Stabilising banks to reduce erosion into the stream
Intercepting overland flow, reducing sediment, nutrients and bacteria entering waterways
Over the long-term it provides more channel variety such as overhangs and woody debris which increases habitat for aquatic biodiversity such as invertebrates, freshwater mussels or kakahi, freshwater crayfish or koura, and fish
Food supply to the system – leaves from native trees provide a consistent food source for invertebrates in the stream
Habitat for aquatic invertebrates in their terrestrial phase of the lifecycle
Providing roost sites for migrating terrestrial birds.
Below are some helpful hints to make your planting a success.
Planning
One of the main bits of advice is to get on to it early. It is best to be planning in advance to ensure you can get the advice, plants and contractors you need for the project to happen in your preferred timeframes.
Identifying your objective
Riparian planting does come with some cost, both for the works and maintenance. Where there is a number of sites or a longer length of stream to plant, it is important to prioritise works. Be clear on the aims of the project and work out how to best get there. Is your primary aim to cool the waterway with shading, improve habitat for fish, minimise nutrient and sediment inputs, provide food for bees or native birds or increase the aesthetic appeal of your property? Projects are often a mixture of the above but it is useful to be clear on the main results you are after.
A good place to start is by talking to your local regional council land management or freshwater advisor. They can provide advice about what fish species, koura or kakahi are likely to be in your stream, or if any water quality problems have been identified from monitoring in the catchment, and this can help with prioritising work and planting design.
Keep in mind the longer term vision for your property and create a written plan which can be as formal or informal as time allows – from drawings on a map through to a full plan. Once you have a plan of what you want to do, you can then start to prioritise. Regional council staff or other organisations such as Fonterra or DairyNZ might be able to help with various aspects of a riparian plan.
Regional councils often have grants to help with planting, or can obtain plants at wholesale rates. Learning what help is available early on may help the budgeting or scale of planting you can manage each year.
Councils also have a range of information leaflets which will provide background information, and help you decide on which plant species to use. Some useful Horizons leaflets include −
A Community Guide to Stream Restoration
Riparian planting species lists for various ecological districts within the Manawatu-Whanganui region
A guide to flowering times of plants for bees recognising that riparian margins often provide an important over wintering sites for hives.
These are available on the freshwater page of our website www.horizons.govt.nz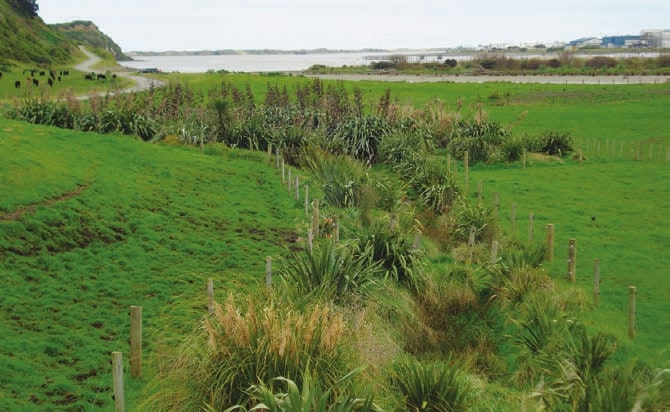 Species and timing
Think about the challenges or advantages your specific site has which will affect plant species and timing of planting. For example, key soil moisture zones – are some areas wet all year or do you have dry north facing slopes in your planting area? What zone of the stream will flood periodically – you can either avoid planting on it where there is active erosion or a high likelihood of losing plants, or ensure that only appropriate species such as flaxes and sedges are put within it.
Plan areas that need to be kept clear. Sometimes one side of the stream needs to be kept clear for access. If this is the case, aim to plant on the northern side of the stream where possible to maximise shading benefits. Keep in mind other restrictions such as needing to choose low growing species under power wires.
Take photographs. Photographs are a good way to monitor your progress and remind you how far your site has come. Chose a position such as a post or gate and take your 'before' photographs which you can replicate from the same point each year to see your progress.
The wider catchment
Are there any fish barriers such as perched culverts downstream − those with a drop or waterfall at the lower end – which could limit what migratory fish you are likely to have in your stream? Are other neighbouring landowners likely to work with you to extend the riparian zone? This could help your project, not only in terms of improving more of the waterway, but potentially also with bulk purchasing of plants and contractor rates.
Preparing your site
Good site preparation is an important factor in success. Identify or get advice on what weeds are in the area. Controlling weeds growing in the riparian zone before planting is vital as they are much harder to manage once planting has occurred. Look wider than the zone − what weeds are likely to grow once grazing is removed from the area? Can other weeds nearby be controlled to limit seed sources?
Before planting, graze the area lightly if the grass is long to allow for spot spraying and to ensure it is as easy and as safe as possible for your planting team. Spot spraying should be carried out four to six weeks before planting.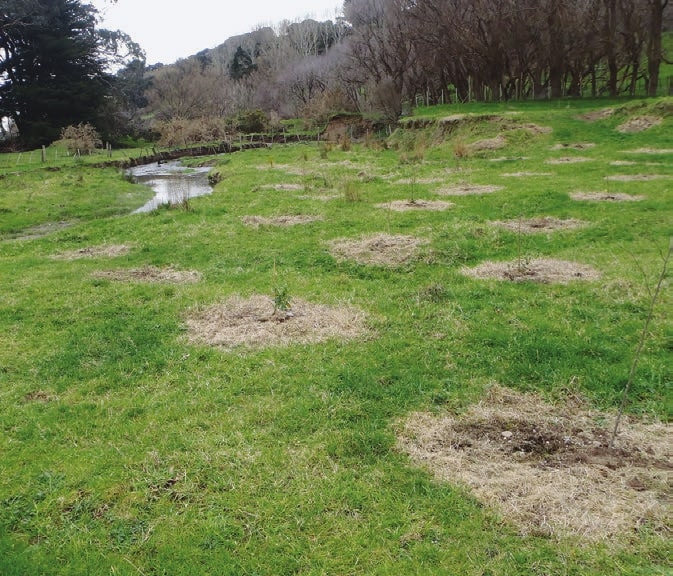 If erecting a new fence to exclude stock from your riparian zone, take into consideration the outer bends in the stream and how prone they are to erosion. It is advisable to leave a greater area on the outer bends to allow for more plants and future changes in the stream. Note that in lowland streams which meander through soft sedimentary valleys the stream channel is likely to widen once stock have been excluded and planting has occurred. This is a natural process and space should be factored into the riparian margin for this.
Get on top of your pest control. Hares, rabbits, goats and deer all can cause significant damage in a short period of time so managing them well before planting is important. It is obviously critical to prevent stock from grazing your site after planting.
Budget and costs
Below are some costs to factor into your planning. These are approximate costs and may vary across regions and district. The prices assume the project is of a reasonable size − at least 150 plants.
Fencing costs if new fences are needed to protect the area from stock grazing
Pre-planting spot spray and weed control approximately 30 cents per spot
Animal control costs such as hares, rabbits and goats
Plants cost between $1.80 and $5.50 a plant depending on size
Planting labour costs if using contractors of $1.25 to $2.35 a plant
Bamboo stakes which are useful if you are not keeping the plants clear of grass at about 20 cents a stake
Plant protectors if you are using them
Release spray after planting at about 50 cents a plant
Maintenance.
Riparian planting costs during the 2017 winter ranged from $4.10 to $6.70 a plant excluding GST. This included the pre-planting spray, the plants, a contractor to lay out and plant and one release spray although several release sprays may be required even into the following year. The variation in cost comes from the plant type − bare rooted or in a planter bag − and the difficulty of the planting site for contractors to carry plants to and lay out.
Planting density is an important factor in costs. Planting at two metre by two metre spacing equates to 2,500 plants a hectare. This spacing is good for establishing cover quickly and which minimises weed invasion. Widening it to three by three metres brings the plant numbers and therefore cost down to 1,100 plants a hectare, but it is probable the maintenance costs would be higher and it will take longer to fill out.
Working out the numbers of plants required can either be done on a per hectare rate as above or by multiplying the length of stream by between-plant spacing distance and by number of rows of plants. For example, 100 metres of stream at two metre spacings will need approximately 50 plants for one row, or 100 plants if they are planted two rows deep.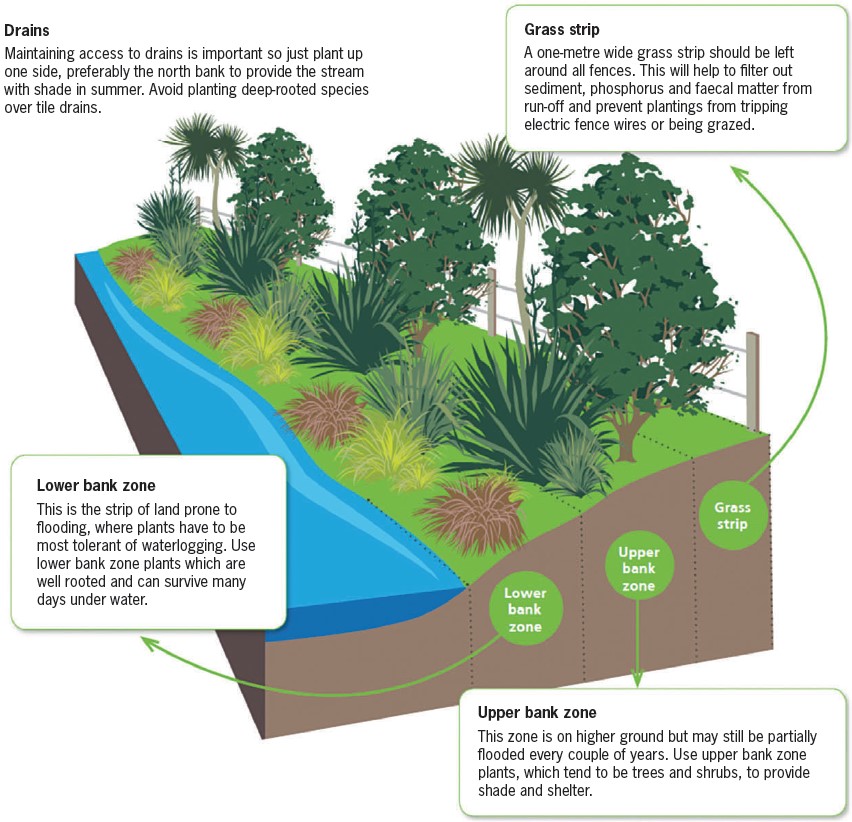 Decide on the appropriate plants
Buying a plant of a good size, particularly in terms of the root mass, can increase its chance of survival as well as speed up the growth and reduce maintenance costs such as releasing. We generally recommend planter bag size three or 1.5 litre grade for most sites. Dividing plants can be a cost-effective solution for increasing plant numbers, but it can result in lower plant survival, and the budget would need to factor in additional maintenance costs while they grow to size.
It is best to plant species endemic to the area or district into which they are going as they have a higher survival rate. Better still is to eco-source your plants. This means collecting seed or cuttings from a remnant bush or wetland site within the general area of your planting project and using these seedlings for the project. Eco-sourcing the seeds, and having them grown locally will ensure the plants will be well suited to the climatic conditions and more likely to establish and thrive. Have a chat to nurseries local to you as they may already collect seeds close to your project site.
Identify the specific conditions the plants are likely to be exposed to and choose species appropriately. Consider whether the plants will be hit with frosts, salt spray, winds or drought. When sites are windy, try to avoid very tall plants as the movement caused by the wind can disturb or damage the roots.
Plan your planting for the appropriate time for your project and area – normally May to September for riparian zones. The aim is to balance how long they have to get established before the summer dry period, offset by minimising the number of frosts they are likely to be subject to. Coastal areas tend to be planted earlier from around May, and more elevated sites often a bit later after the worst of the frosts or snow. Wetland areas can be planted over a wider range of seasons. Again, get in early with your plant order to ensure you get a good range of species and good quality plants.
Planting day
An important tip here is to have the logistics planned well and keep communicating with suppliers and contractors to ensure everything runs smoothly. Think ahead in terms of plant delivery. Is there sufficient room and solid ground for the truck? Where will the plants be stored until they are planted? How will you get them out to the site? Having a plan for these logistics can save on time and minimise double handling of plants.
Do you want to involve a school group or community group in the planting? It can be a lot of fun and a very useful educational exercise but needs more planning and plenty of supervisors to ensure the plants are put in well to allow them the best chance of survival.

Good planting technique
Place the plant in a hole which is wide enough to accommodate the plant roots without them being bent or curled up. The hole should be deep enough so the base of the stem is one to two centimetres below the soil surface.
Fill the hole with soil and pat down firmly.
It is a good idea to leave a dip in the soil around the stem of the tree to encourage water to flow to the plant when it rains. This will help the plant through dry summer months.
If you place a stake next to each plant it will help you find them when you are weeding. Do not attach the plant to the stake. Using stakes is a useful way to tell if any plants have died and need replacing. It is amazing how difficult it can be to locate plants once the surrounding weeds have started to grow in spring and summer.
Looking after your investment
It is essential that the plants are checked regularly for signs of pest damage and competition with grass. The plants should be released, which involves removing the grass or other vegetation around the base of the plant to reduce competition for water and nutrients. This should be carried out at least once and preferably two to three times, depending on the size of the plant when planting, the soil type and grass competition.
Releasing can be by hand, pulling away the long grass from around the plant or by using herbicide. If using a non-selective herbicide, a guard should be used to protect the plant during spraying.
In some situations, where it is drought prone or extremely windy, it is sometimes best not to release the plants except to pull away the grass where they are getting smothered, as long rank grass can hold in what little soil moisture there is. Check regularly for other invasive weeds and get on top of those quickly.
Riparian planting has very positive results for waterways if planned and executed well. By following the tips here, and seeking advice from local experts there is no reason that your planting will not be a success. Enjoy watching you project grow.
Clare Ridler and Lucy Ferguson work for Horizons Regional Council.